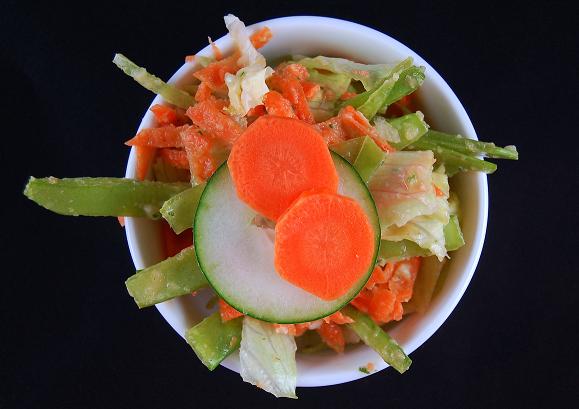 When I married a man from Alabama, I threw myself into the world of Southern Cooking. I researched, bought cookbooks, begged for Southern Family recipes and so on. Irony of course is that I love Southern food more than my husband. In fact, he really only seems to eat fried chicken….of course.
In all of my research one thing I came to notice, especially in the Junior League and church based cookbooks, was that to most people in the South, salad means either being in a Jello mold or something with mayonnaise. Of course my salads that I grew up with of iceberg lettuce and drowned in Ranch dressing, probably wasn't any better for you. 😛
So when Cath of A Blithe Palate asked me if I wanted to get a copy of The Lee Brothers Simple Fresh Southern, I must admit that it peaked my interest. She told me she had the idea of doing a pot luck, which I am always up for a pot luck, and said bring it on (she's calling it The Complete Meal).
So I was excited, that was until of course, I was told dessert was taken. Hmmm. So I decided I would take the next thing I eat the most of next to dessert…salad. I was hoping that I wouldn't be picking from a myriad of mayo covered veggies. So when the book arrived I was quite happily surprised. Now, there were a few recipes with mayo in there but those were mostly few and far between (I mean, potato salad kind of needs mayonnaise)…but I did not a Jello mold (though there is nothing wrong with a Jello mold).
I had many options. I thought about the Cabbage and Lime Salad with Roasted Peanuts. The Field Pea Salad with Gingered Beets and Lemon sounded lovely as well. But the minute I saw the Snow Pea and Carrot Salad with Ginger Dressing, I knew that would be the one.
For one thing, I can eat this on a daily basis…since I eat those weird fruits and veggies on a regular basis. And second, I was in awe of the dressing. It's made with fresh ginger juice and cucumber. I have never in my life made dressing with cucumber in it. What is fantastic about the dressing is that after you put it in the blender and give it a spin it comes out creamy. So you think you are getting a creamy bad for you dressing, when really you are not. The original recipe uses iceberg lettuce, the next time I make this will be with butter lettuce. I am just not an iceberg girl, but I went with it for the first time making this. Sadly, I can't give the recipe due to copyright stuff.
I must say that this is definitely one to ask for to put under the tree. You may be eating the goodies now, but we all know that when January rolls around you will be reaching for the fresher foods. Which this book has, but also still is nice and keeps bacon fat in some of the recipes….just not buckets of it. 😛 (though nothing wrong with buckets of bacon fat).
To see what our first course of the potluck was, head over to Phe/MOM/enon and see the what was made.