This Chocolate Gingerbread Layer Cake has chocolate cake layers infused with gingerbread spice all topped with Chocolate Orange Swiss Meringue Buttercream.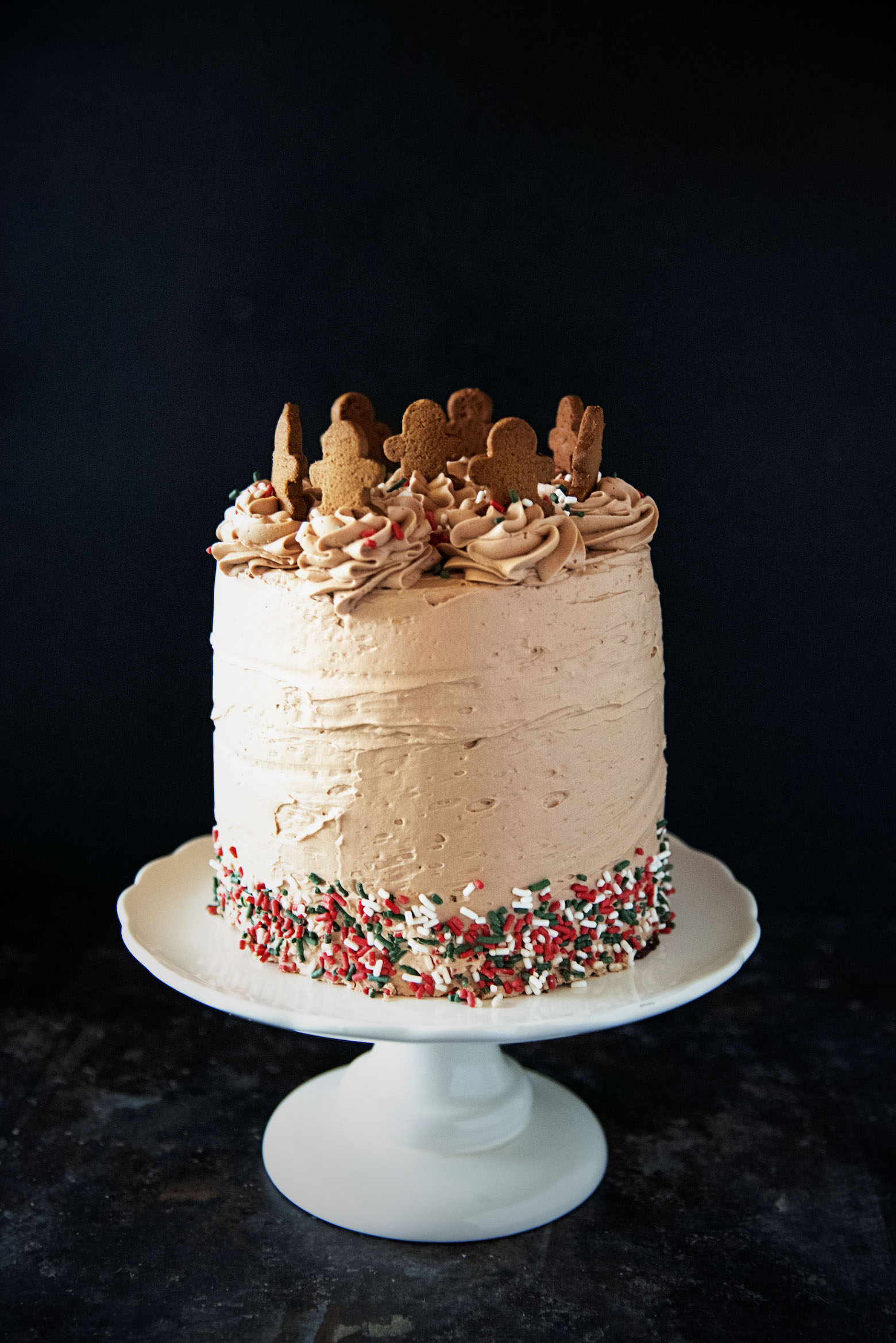 This post is sponsored by my longstanding partner Rodelle. As always the opinions, bad grammar, and overuse of emoji's are all mine.
Just like I did the last two years, I wanted to showcase Rodelle's Gourmet Baking Cocoa Powder because I feel it's highly underrated.
The cocoa powder contains one of the highest levels of cocoa butter on the market which makes for a great baked good.
Everyone one knows (or at least those that read this blog) Rodelle vanilla products are awesome, now is the time to learn that their cocoa is too.
This year, as I did a few years ago, I wanted to make something chocolate gingerbread.
I actually made two recipes for Rodelle but I'm having this one be the "official" sponsored post.
Why two?
Well, see I have had a long standing relationship with Rodelle that they pretty much let me make what I want.
They trust it will be good.
Which is nice and one of the reasons they are one of the few sponsored post a year.
That, and I love their products.
But if you read the blog you already know that ten times over.
The other recipe will be up in a few days and you will just have to wait to see.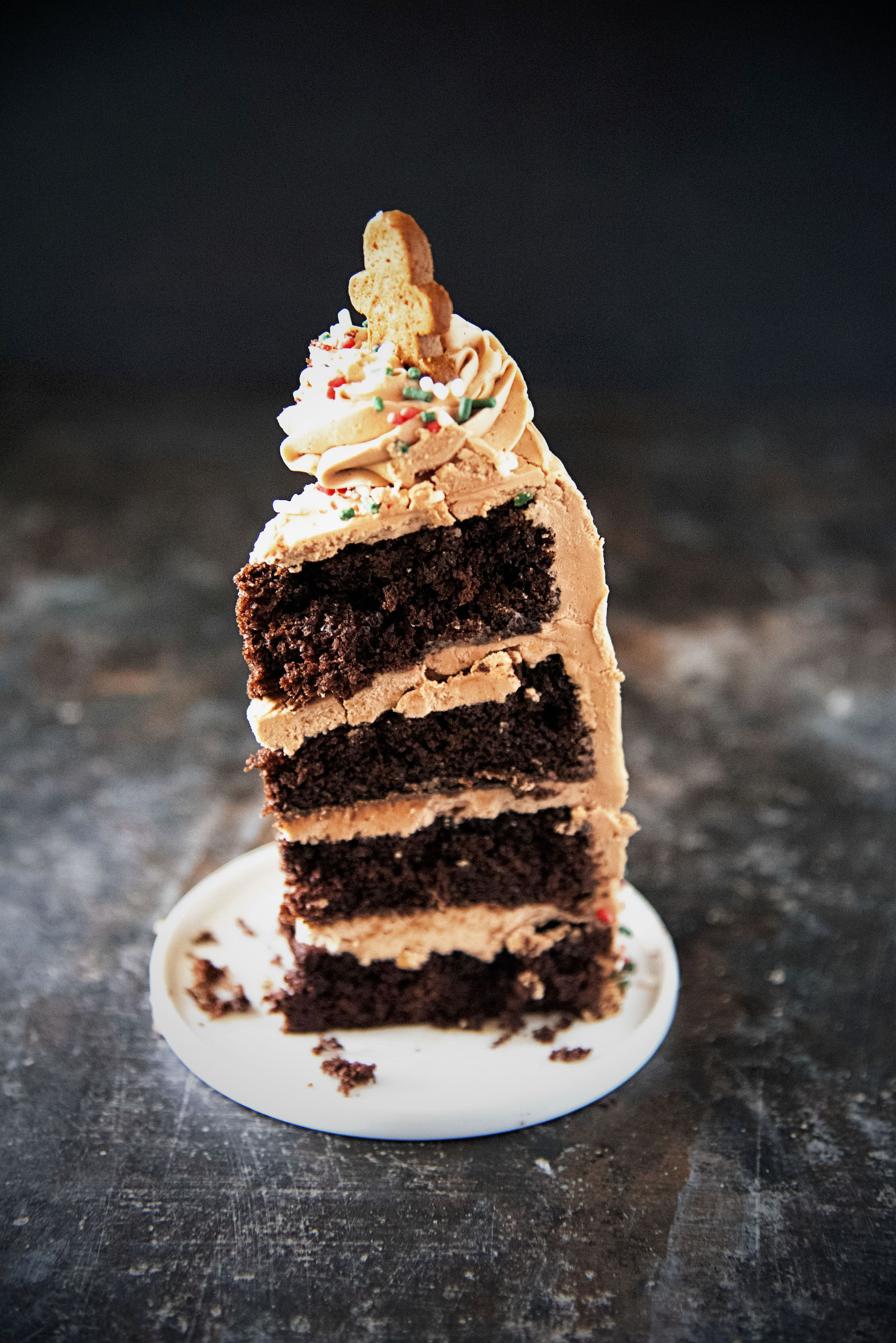 Why this Chocolate Gingerbread Layer Cake for the official post then?
Because layer cakes are impressive.
They are.
Plus this one has Chocolate Orange Swiss Meringue Buttercream which takes way longer than American buttercream but is way, way better.
And it had happy little gingerbread men.
Which purposely don't have faces.
I feel bad when I eat gingerbread men with faces.
Without faces, I don't care as much. 😀
This cake is moist and chocolatey with a good hint of gingerbread spice.
All frosted in that yummy buttercream.
If you love making layer cakes, add this to the list of must makes.
Once again, I'm a proud ambassador of Rodelle and their amazing baking products. I would love if you would support Rodelle and the companies that support this blog.
P.S. It's a great day to buy my cookbook Holy Sweet!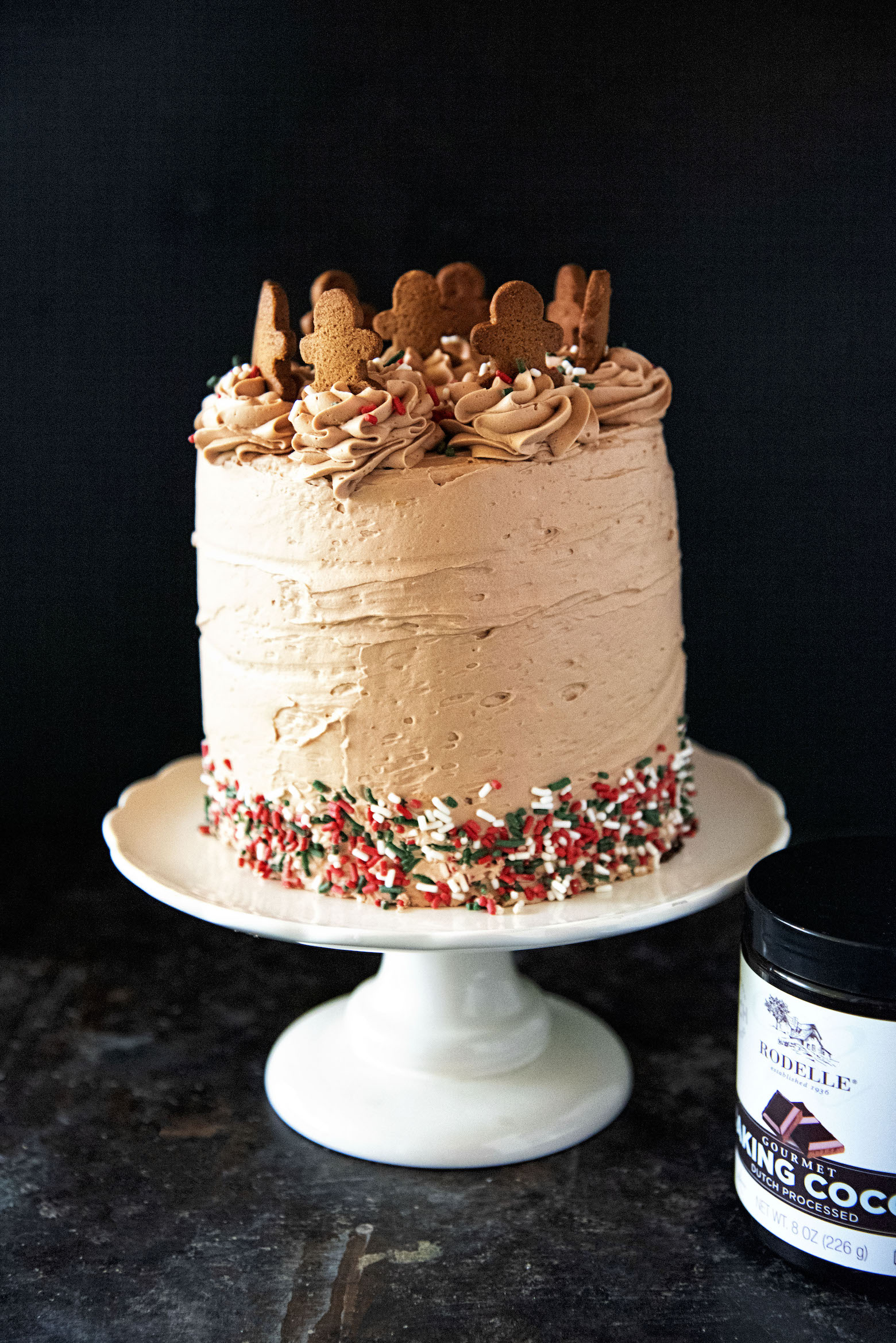 Want more Gingerbread Recipes?
Bourbon Brown Butter Gingerbread Cake
Gingerbread Lemon Cream Cheese Cookies
Clementine Upside Down Gingerbread Cake
Milk Chocolate Gingerbread Fudge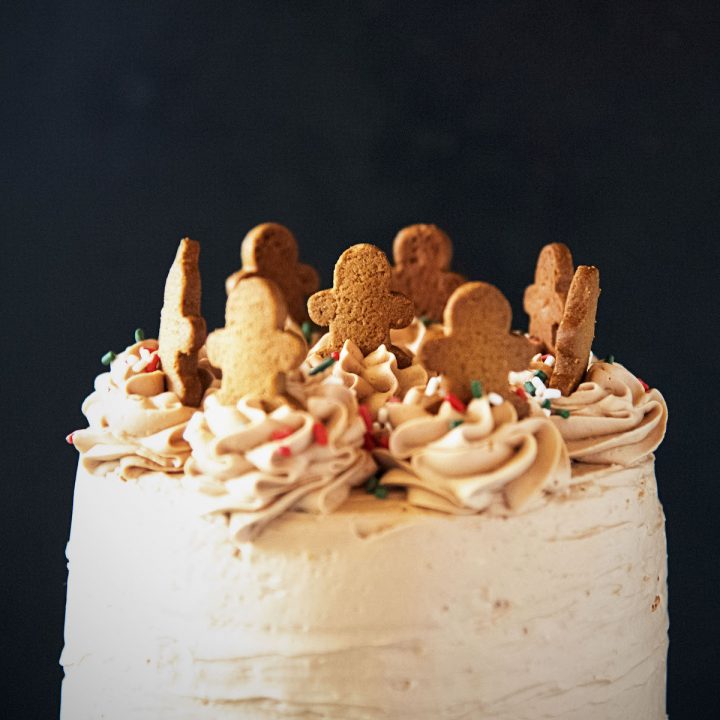 Chocolate Gingerbread Layer Cake
Ingredients
For the cake:
1 cup buttermilk
3 large eggs
2/3 cup grapeseed or canola oil
2 tsp. vanilla extract (I used Rodelle)
2 cup all-purpose flour
1 cup granulated sugar
1 cup brown sugar
1/3 cup molasses
1 TBSP gingerbread spice
1 cup Rodelle Gourmet Baking Cocoa Powder, Dutch Processed
2 tsp. baking powder
1 tsp. baking soda
1 tsp. salt
1 cup hot water
For the frosting:
1 cup (about 7-9) egg whites
2 cups granulated sugar
3 cups unsalted butter, cubed and at room temperature
zest of one orange
1 tsp. vanilla extract (I used Rodelle)
1/4 tsp. salt
10 oz. semisweet chocolate, melted and cooled slightly
For assembly:
mini gingerbread men cookies
holiday sprinkles
Instructions
For the cake:
Pre-heat oven to 350 F.
Grease and flour four 6-inch round cakes and set aside.
In a large liquid measuring cup, measure out the buttermilk and oil.
Crack the eggs into the liquids and add the vanilla.
Whisk together to break up the eggs and stir until smooth.
Whisk in molasses.
In a large mixing bowl, add in all of the dry ingredients.
Stir together until mixed.In two batches, stir the wet ingredients into the dry.
Keep whisking until smooth.
While stirring, stream in the hot water.
Mix until smooth.
The batter will be pretty runny.
Evenly distribute the batter between the prepared pans.
Bake for 26-30 minutes, or until a toothpick inserted into the center of the cakes comes out clean.
Cool on a wire rack for 10-20 minutes before removing the cakes from their pans.
Allow to completely cool before filling and frosting.
For the frosting:
Place the egg whites and sugar in the metal bowl of a stand mixer and set over a small pot of simmering water (the bowl should not touch the water).
Heat, stirring occasionally, until mixture is 160F or hot to the touch.
Transfer bowl to stand mixer and beat on high speed with a whisk attachment to medium stiff peaks, about 8 minutes.
Reduce mixer speed to medium low and add butter a tablespoon at a time, letting it incorporate into the meringue for few moments before adding more.
Add vanilla extract, orange zest, melted chocolate, and salt and beat on high for 1-2 minutes until smooth and creamy.
To assemble the cake:
Set one cake layer on turntable cake stand.
Cover with 1/2 cup buttercream.
Top with another cake layer.
Repeat till cake is assembled.
Use an offset spatula to frost cake with buttercream.
If desired, first make a thin coat to seal in crumbs and chill for 30 minutes.
Cover completely with another layer of frosting.
Pipe some decorative swirls on top of cake and top with holiday sprinkles and mini gingerbread men cookies.
Chill cake for 30 minutes.
Serve at room temperature.