These Peanut Butter Sandwich Cookies have a creamy peanut butter filling sandwiched between two peanut butter cookies.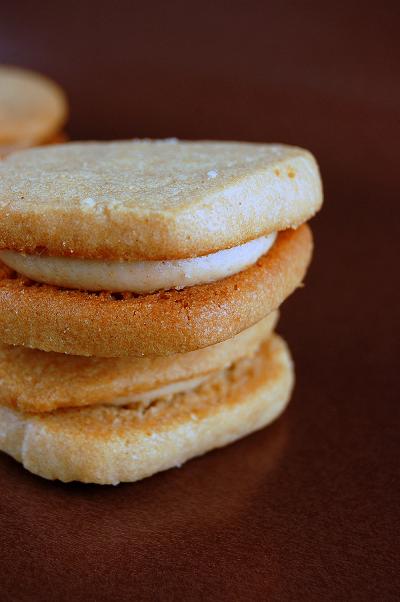 Crazy Cocker Spaniel's least favorite holiday is here!
The one where not only does she get stuck in a costume but where people come and ring the doorbell over and over again.
And boy does she hate that.
In case you are too young, Crazy Cocker Spaniel is not just a shark, but a Land Shark, ala vintage Saturday Night Live.
If I could just teach her to say "candy gram" the outfit would be complete.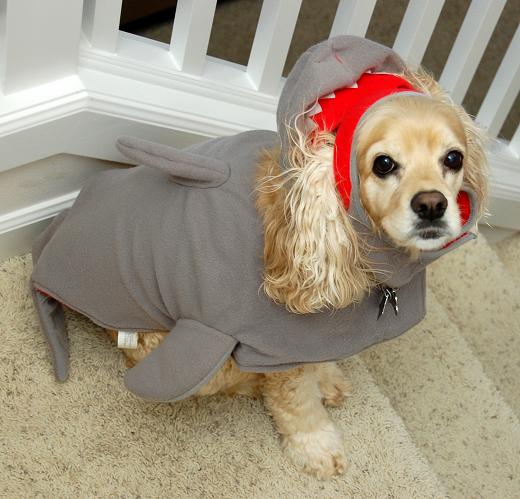 So I haven't been around.
I know.
That whole taffy thing is still around.
And so is cheese.
Cheese, cheese, cheese.
Believe it or not I am so anti-cheese right now.
I was shooting cheese for a magazine article.
I am cheesed out.
If that is possible. 😉
Don't worry, I'm sure it won't last long.
Jessie over at Cakespy
Tweeted about getting The Grand Central Bakery book.
They are a Portland and Seattle Bakery.
I immediately grew jealous of not owning it and two days later thanks to the evil that is Amazon, I owned it.
These are suppose to be like Nutter Butters, and to some extent they are.
I photographed quite possibly the worst looking ones.
Totally my fault though.
I put them into baggies to keep fresh.
Not thinking.
See, once something goes in a baggy, that means my husband gets to eat it.
And eat them he did.
The other half of these went to the refs and hockey teammates.
So I was left with the ugly ones.
Oh well. 😉
I hope everyone has a great Halloween.
We are getting lots of rain so I doubt it will be much fun for our local kids.
But hey, free candy is free candy!
P.S. It's a great day to buy my cookbook.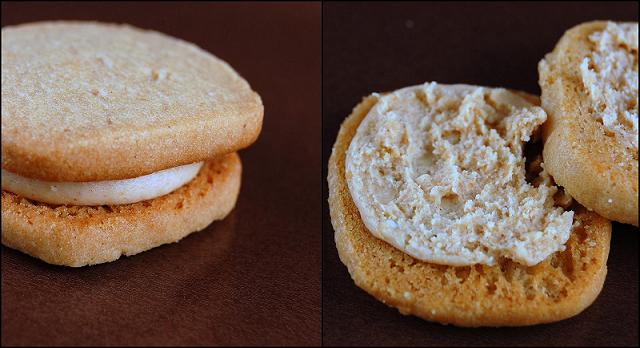 Want More Cookie Recipes?
White Chocolate Berry Linzer Cookies
Roll Out Shortbread Sugar Cookies
White Chocolate Chip Creamsicle Cookies
Vanilla Bean Caramel Thumbprint Cookies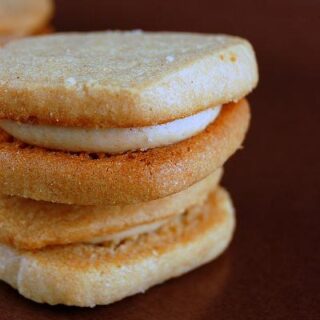 Peanut Butter Sandwich Cookies
Ingredients
For the Cookies:
2 cups all-purpose flour
½ tsp baking soda
¼ tsp salt
12 TBSP unsalted butter, at room temperature
2/3 cup granulated sugar
½ cup light brown sugar, packed
2/3 cup peanut butter
1 egg
1 tsp vanilla extract
For the Filling:
5 TBSP unsalted butter, at room temperature
2/3 cup peanut butter
pinch of salt
2/3 cup powdered sugar
splash of milk or cream to make a spreadable consistency
Instructions
For the Cookies:
In a medium bowl, combine the flour, baking soda, and salt.
Set aside.Using a stand mixer (or with a hand-held beater) with the paddle attachment, beat together the butter and sugars on medium-high speed for 3 minutes.
Add peanut butter and beat for another minute.
Reduce mixer speed to low and add the egg and vanilla, and mix until just combined.
Add the dry ingredients and mix just until they disappear into the dough.
Chill the dough for 30 minutes so it will be easier to work with.
Divide the dough into 2 equal piece and roll each into an oblong log 8-10 inches long; aim for a cross shape of a biscotti and a peanut (I just made a square because I am lazy).
Wrap the logs in plastic wrap and refrigerate for at least 2 hours, up to 3 days (or freeze up to 3 months).
Preheat oven to 325F.
Line 2 baking sheet with parchment paper.
Slice the cookies ¼ to ½ inch thick and place them about 1 inch apart, in 3 by 4 rows, on the prepared pans.
Bake for 15-20 minutes, rotating the pans halfway through the baking time.
The cookies should be dry, firm to the touch, and deep golden brown.
Let the cookie cool completely while you make the filling.
For the Filling:
Using a stand mixer (or with a hand-held beater) with the paddle attachment, mix the butter, peanut butter, and sugar on low speed until evenly combined.
Add the cream if you need to thin out the filling. You want a spreadable consistency.
To Assemble:
Turn half the cookies upside down, then use a small tsp to put a dollop of filling about the size of a nickel on the inverted cookies (I used way more filling 😉 ).
Cover with the remaining cookie and press together gently so the filing spreads to the edges of the sandwich.