This Neapolitan Pound Cake is ice cream turned into cake. Now you don't have to choose between strawberry, chocolate, or vanilla pound cake.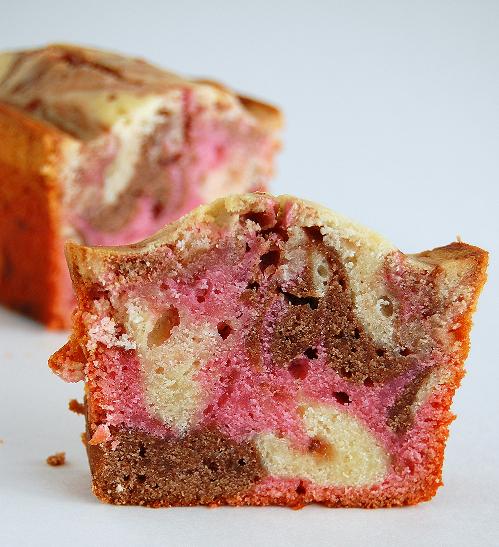 Tastes certainly do change over the years.
When I was a kid going out to the ice cream parlor meant that I was going to get Bubble Gum Ice Cream.
I mostly just wanted the gum.
The frozen solid gum that I would cover in my saliva and then spit out into a napkin.
And when I was done with my treasure hunt for gum, I would wrap it up in the napkin to eat later.
Of course by the time I got it home to eat, the paper napkin had stuck to all the gum.
So there I was eating licked, paper covered gum balls.
Mmm. Yummy.
And eat them I would, paper and all.
Of course logic would have told me to buy a bag of gumballs and then get a different ice cream flavor.
But what is logic to a little kid.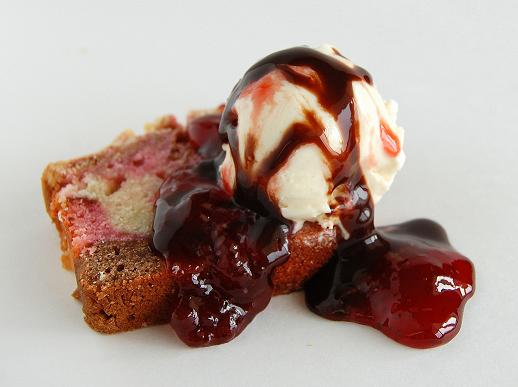 Now back in those days they didn't offer Bubble Gum Ice Cream at the store.
So when my mom brought home ice cream she usually brought home Neapolitan.
More bang for your buck.
Not only were you getting ice cream, but you were getting vanilla, strawberry, and chocolate all rolled into one.
Strawberry was my favorite so my mother could always tell when I was sneaking ice cream as there was a large dent in just the strawberry section.
A cleaver six year old I was not. 🙂
But now that I am older I prefer many, many ice cream flavors over Neapolitan, but I still like the concept.
So while strolling through the vast amount of Southern cookbooks I have, I found a recipe for pound cake.
Now there are a lot of recipes for pound cake, but this was the kind that you started with a cold oven.
I have never used that method and wanted to give it a try.
Not sure if it is the batter or the cooking method, but this makes for one really dense pound cake.
I replaced most of the cream cheese with mascarpone cheese, as I wanted to take the tang away as I was using other flavors.
You don't have to use the pink food coloring for the strawberry batter, but it's nice for effect and all.
I hope those of you celebrating it had a nice Thanksgiving!
We are having a pretty low key one.
Complete with Neapolitan Pound Cake Sundaes.
To do that, you just top a slice of pound cake with vanilla ice cream, chocolate sauce, and a little heated up strawberry jam.
Good stuff.
P.S. It's a great day to buy my cookbook Holy Sweet!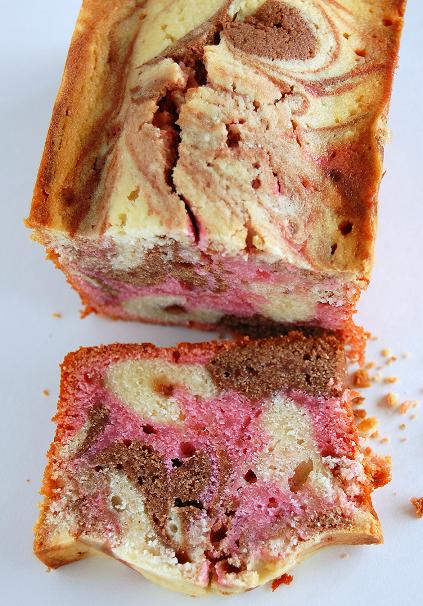 Want more recipes like this? Try these:
Strawberries and Cream Bundt Cake
Big Red Soda Vanilla Pound Cake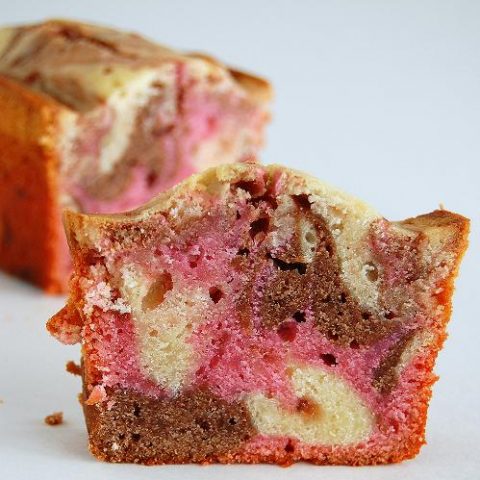 Neapolitan Pound Cake
Ingredients
3 oz cream cheese, at room temperature
5 oz, mascarpone cheese, at room temperature
1 ½ cups unsalted butter, at room temperature
3 tsp vanilla extract, divided
6 eggs
2 cups granulated sugar
1 cup powdered sugar
3 cups cake flour
pinch of salt
6 TBSP strawberry jam
3 TBSP unsweetened cocoa powder
4-5 drops neon pink food coloring
Instructions
Spray a 16-x-4-x-4 ½ -inch loaf pan with baking spray. Set aside. DO NOT preheat oven.
Using a stand mixer with the paddle attachment (or a bowl and a hand mixer) on medium-high speed, cream together cheeses and butter.
Add 2 tsp vanilla and beat for 30 seconds.
In a medium bowl sift together the granulated and powdered sugars.
While beating add two of the eggs.
Scrap down the sides and bottom of the bowl.
Add 1 cup sugar mixture.
Beat until combined.
Add 1 cup flour plus pinch of salt.
Beat until combined.
Repeat until all of the eggs, sugars, and flour are used.
Divide the batter equally between three bowls.
In one bowl combine the batter with 6 TBSP strawberry jam and the drops of pink food coloring.
In another bowl combine the batter with the unsweetened cocoa powder.
And the third bowl combine the remaining 1 tsp vanilla extract to the batter.
Using three disposable piping bags (or just scoop with a spoon if you don't have) fill each one with a different batter.
Using a random pattern, just pipe a little vanilla, then strawberry, then chocolate batter into the prepared pan.
Keep doing this until all of the batter has been used.
Take a butter knife or wooden skewer and mix the batter together to form swirls in the batter.
Place in oven.
Turn oven on to 295F.
Bake for 2 hours.