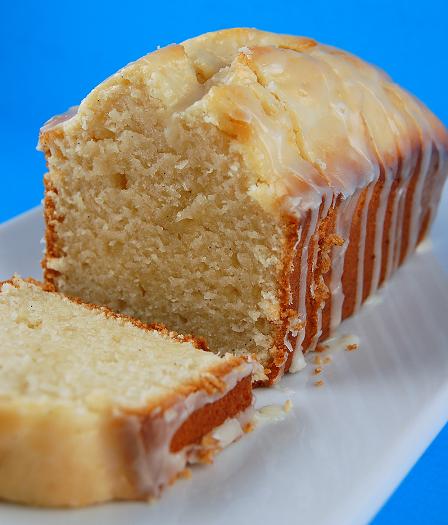 No, this cake has nothing to do with Taffy. But taffy is what I feel like. I feel like I am being pulled in 20 different directions lately. And what does that leave me, besides being tired? It leaves me doing a whole lot of stuff mediocre and all round half ass. And oh how I hate that.
I focus on one thing, all the others go on the back burner. So then I start to concentrate on something else, but then the first thing I was focusing on is now going to crap. And it seems to be a never ending cycle as of late. I've got cookbooks to review, magazine pictures to shoot, products to feature, a insanely dirty house to clean, a large pile of laundry that mocks me daily, baking for my blog, baking for my side project. And well, none of it is being done.
So with my life in perpetual mediocrity I decided to stick with something simple. Yes, I know, another loaf cake. What can I say, they are easy, and you don't have to frost them. One thing people always bug me about is why don't I make a full size loaf ( I usually use 6 x 3.2 x 3.4 inch loaf pans). Perhaps we can clear this up once and for all.
Peabody's Reasons for Baking In Smaller Loaf Pans
1. When you make mini loaves, you can share the love. More loaves, means more people can get them. Not just you. Stop being greedy. 😛
2. You hardly ever get the problem of a gooey middle when you bake in mini loaf pans. I like people to actually be successful when they bake my stuff, so go mini, you have better odds of it working out. Which means less emails/hate mail to me telling me something didn't work out.
3. Portion control. Eating a whole mini loaf is way better than eating a whole regular size loaf. Therefore I don't have to buy bigger jeans. So really, it's helping my budget. 😉
4. They fit in my freezer so much easier.
5. Mini food is cute.
6. Makes your hands feel huge when looking down and holding a whole loaf of bread in your hands. Which in turn makes you feel powerful. Well, okay, maybe not powerful.
7. I'm holding out one day that they fine people of Chicago Metallic (along with the Jif people) will give me kick backs for always using their mini pans.
8. They photograph way better than a full size loaf.
So there you have it. My reasons for using mini loaf pans. And with that I will giveaway a set of 4, Chicago Metallic Professional Mini Loaf Pans, in hope of shutting up one person about my use of mini loaf pans. 😉
Sorry to say that this contest is for US residence only. I know, I suck. Simply leave a comment and the winner will be chosen at random. You have until Friday October 23rd, 12:00pm (PST) to enter. Good luck.
As for this cake, it is a simple yogurt cake (I used Greek) with both vanilla beans and vanilla extract and coated in orange glaze. This has both oil and yogurt so it is super moist. Simple. Moist. Good.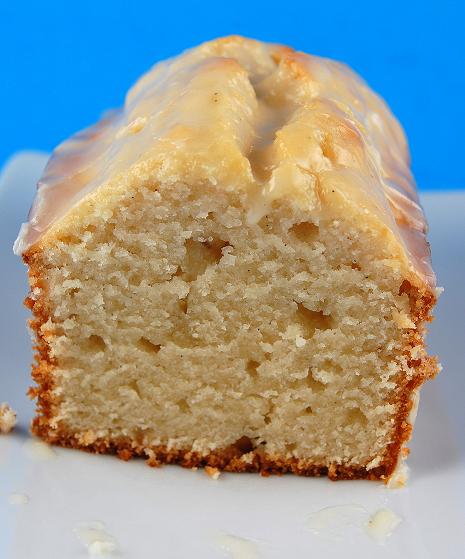 Vanilla Yogurt Cake with Orange Glaze
1 2/3 cups all purpose flour
½ tsp baking powder
¼ tsp baking soda
½ tsp salt
1 egg
1 egg yolk
1 cup granulated sugar
1 vanilla bean, seed scraped out, pod discarded
1 ½ TBSP vanilla extract
7 oz Greek Yogurt
½ cup vegetable oil
4 TBSP orange juice, divided
Spray two 6 x 3.2 x 3.4 inch loaf pans with baking spray. Or coat with butter and flour.
Preheat oven to 350F.
Using a stand mixer (or a large bowl and and electric hand mixer), beat together the egg, egg yolk, and sugar on medium-high speed, until it turns pale yellow, about 3 minutes. Add the vanilla beans, vanilla extract, and oil, beat another minute, until fully incorporated.
In a medium bowl, sift together the flour, baking powder, baking soda, and salt. Set aside.
With the mixer on low speed, add half the amount of dry ingredients. Then add half the amount of Greek yogurt, and 2 TBSP of the orange juice. Add remaining dry ingredients and followed by the remaining yogurt. Remove from mixer and finish mixing by hand using a spatula until all of the ingredients are fully incorporated.
Pour into prepared pans and bake for 35-40 minutes.
Remove from oven. Using a toothpick or large wooden skewer poke holes into the cake. Using a pastry brush, brush orange juice over hot loaves.
Let cool for 10 minutes and remove from pan. Place on wire rack to finish cooling. When cool, glaze cakes.
Orange Glaze
2 cups sifted powdered sugar
6 TBSP orange juice
Combine the two ingredients together with a whisk. Pour over cakes.