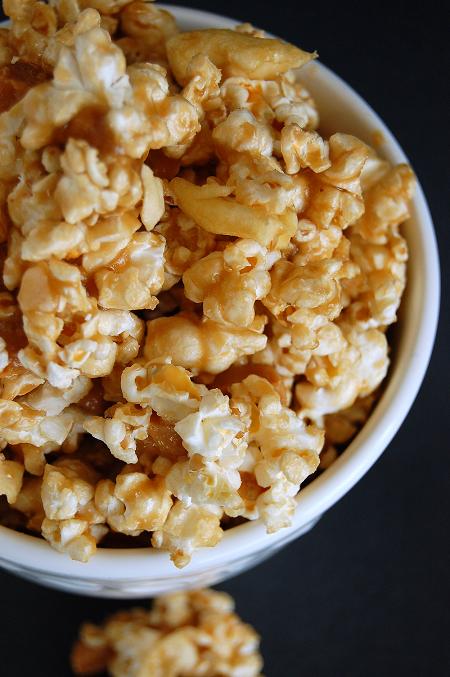 Fall is in full swing around these parts and I am loving it. About the only thing I am not big on these days is Halloween. I mean, it's alright. But we don't have kids so it's not all that fun. It is however the only time of year that Crazy Cocker Spaniel wishes we had kids (see here).
I like when the kids come by, the little kids. The one waddling in their costume and trying their hardest get the words "Trick or Treat" out while their parents stand there next to them beaming with delight. Those kids are cute. What isn't cute are the teenagers.
Now, I will be the first to admit that I Trick or Treated in my teen years…pretty far up into them too (hangs head in shame) BUT, I at least put some effort into it. I did full out costumes, full out. Now a days they don't even try. A couple of them will have a mask, but they don't wear it, they just have it in there hand and sort of flash it at you. Then mumble out a half hearted "Trick or Treat" while rolling their eyes at you. Special.
And the crappy thing is that you have to give them candy. Because if you don't those suckers come back later and either smash your pumpkins or egg your house. Again, special.
But the Halloween stuff is all out and I do like purchasing the candy. And I especially love that caramels are on sale (which I totally stock up on). When I had my Open House a few years back, my friend E came and brought some homemade caramel corn. It was awesome (as is she), and everyone at the party asked for the recipe. Hers had peanuts in it, but I thought it would be fun to play with the idea of caramel apples. So I did. Her recipe has been changed a little. I used both granulated and brown sugar and used Lyle's Golden Syrup instead. If you can't find it, then use corn syrup, but really, the Lyle's is the way to go. It gives it a more caramel flavor. I can find it at all of my local grocery stores, so you can probably find it if you look.
As you can expect, it's highly addictive.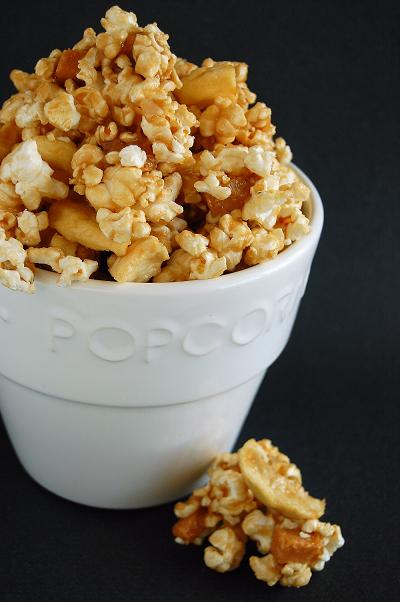 Caramel Apple-Caramel Corn
3 bags plain (not buttered) microwavable popcorn (about 16-18 cups depending on how much pops), popped
1 cup granulated sugar
1 cup dark brown sugar, tightly packed
½ cup Lyle's Golden Syrup (if can't find, use corn syrup, but I like Lyle's way better…you can buy it on Amazon.com)
½ tsp salt
1 cup unsalted butter
1 tsp vanilla extract
½ tsp baking soda
14 oz bag of caramels (unwrapped…because plastic doesn't taste that good), chopped into fourths (yep, kind of a pain in the butt, but yummy)
12 oz dried apples, chopped into bit size pieces
Line two baking sheets with parchment paper. Set aside.
Preheat oven to 200F.
Divide the popcorn evenly between to large bowls. Unless you have a really big bowl, but I do not. So I used my stock pot and a large bowl. Evenly divide up apple piece and caramel pieces and toss with popcorn. Set aside.
In a large saucepan bring sugars, syrup, salt, and butter to a boil, over high heat. Boil until all the ingredients has dissolved and it is boiling away at you.
Add vanilla extract and baking soda and stir quickly. Be warned, it's going to bubble up and get mad at you.
Divide the caramel evenly between the two bowls (or if you are using one bowl, just dump it all in) and mix thoroughly.
Spread out evenly onto prepared baking sheets and place in oven for 20 minutes. Remove from oven and let cool. Your caramels will melt, but will firm back up as they cool, don't panic. Enjoy.
If you don't want to do the baking method, and you own a candy thermometer, you can skip the oven step by brining the caramel mixture up to 300F while it is boiling (right before you add the vanilla and baking soda). This method allows for the caramel bits to stay their shape better.