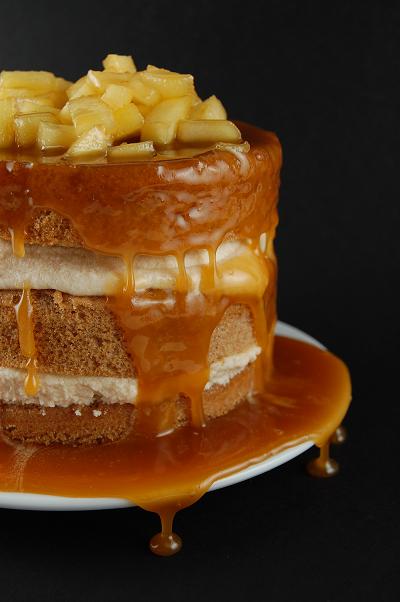 No doubt you've often asked yourself, if I were a Spice Girl, who would I be? I'm sure not a day goes by without you thinking about that. 😉 I'd like to be Sporty Spice but that one has been taken. I can be Scary but usually just in the morning. I can be a Baby if I don't get my way. Posh, um…no. I think the last one was Sexy spice…can I be sexy in those green sweat pants? I am thinking no.
So that leaves me with Sarcastic Spice. Yes, I think that is the Spice Girl that best describes me. Of course then there is the problem with the whole I can't actually sing thing. I mean, I can sing. I just sound like I am beating a cat to death when I open my mouth to sing. I can actually make my dog leave the room when I sing (note to you…don't ever take me to karaoke).
And dance moves. Let's just say that until they make the bobbing slug a pop star dance move, I am screwed in this area. Not familiar with the bobbing slug? I bet you are. You know, your feet are planted firmly on the ground. Those don't move. You bob your upper body back and forth and move your head from side to side. That is it, the whole dance. Works well with the 80's music I grew up listening to.
The more I think of it perhaps I should just stick to Spice Cake instead of Spice Girls. The rest of this half of the world is all giddy with the hopes that Spring will soon be here. Me? I am mourning the loss of Fall and Winter. Gone will be my crisp and chilly days. Others will be enjoying the weather outside while I will be cowering inside to stay away from tree, grass and weed pollen (my worst allergies). All I will have left are some of the flavors of Fall. Spice. Spice you can have year round but really, most of the spices in spice cake are what we use in Fall and Winter foods.
Our five year wedding anniversary is coming up. Our cake had a caramel mousse in it and so I was trying to find a recipe to help recreate that cake. That got me thinking…spice cake with caramel mousse. And then of course I needed apples.
It's pretty much caramel overload and I love it! For those still bothering to count those WW points, I am pretty sure you don't enough points in a week just to take a bite out of this. 😛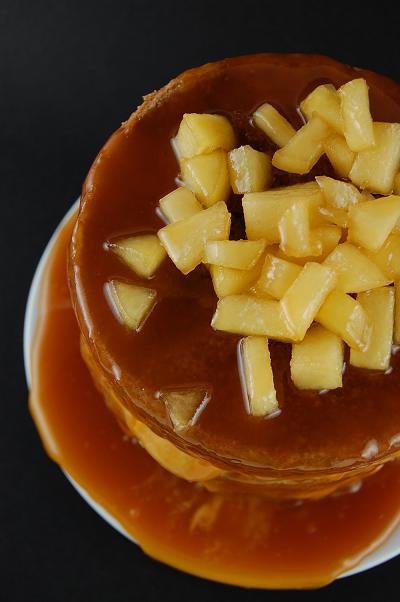 Spice Cake with Caramel Mousse and Caramel Apple Topping
Spice Cake (recipe follows)
Caramel Mousse (recipe follows)
Caramel Sauce (recipe found here)
Sauteed Caramel Apples (recipe follows)
Spice Cake
2 ½  cups sifted cake flour
1 tsp baking powder
1 tsp baking soda
1  tsp salt
1  tsp ground cinnamon
½ tsp ginger
¼ tsp ground cloves
¼ tsp freshly ground nutmeg
½  cup unsalted butter, at room temperature
½  cup light brown sugar, firmly packed
1 cup granulated sugar
2 eggs
1 tsp vanilla extract
1 ¼  cups buttermilk
Sift together the flour, baking powder, soda, salt, cinnamon, ginger, cloves, and nutmeg.
Cream butter in a mixing bowl; add brown sugar, granulated sugar, eggs, and vanilla extract. Beat at high speed of an electric mixer for 5 minutes, or until light and fluffy. Scrape bowl often.
Add sifted dry ingredients, alternating with buttermilk, mixing at lowest speed just until smooth.
Pour batter into two greased and floured 8-inch round layer cake pans.
Bake at 350° for 30 minutes, or until a wooden pick or cake tester inserted in center comes out clean. Cool in pans on rack for 5 minutes, turn out of pans onto racks to cool completely.
Source: About.com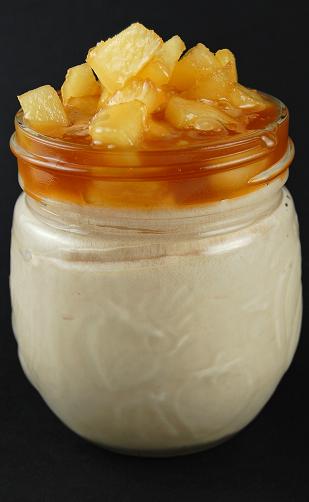 Caramel Mousse
3 TBSP plus 3/4 cup water
1 envelope unflavored gelatin
2 ¾  cups sugar
2 TBSP light corn syrup
pinch of salt
1 ¾  cups whipping cream, room temperature
2 ounces unsalted butter (the original recipe called for 4 ounces, which I made but found it made it a little too greasy…so this is how I will make it next time)
1 ½  cups chilled whipping cream
Pour 3 TBSP water into ramekin or custard cup. Sprinkle with gelatin; let soften while preparing caramel sauce.
Combine sugar, corn syrup and ¾ cup water in heavy large saucepan. Stir over medium-low heat until sugar dissolves, frequently brushing down sides of pan with wet pastry brush. Increase heat; boil without stirring until syrup turns deep golden brown, occasionally brushing down sides of pan with wet pastry brush and swirling pan, about 10 minutes. Remove from heat. Add 1 ¾  cups cream and butter (caramel will bubble up vigorously). Return to low heat; stir until any bits of caramel dissolve.
Pour 1 ½ cups caramel sauce into glass measuring cup; set aside pan of caramel sauce. Place ramekin with gelatin mixture in small skillet of simmering water. Stir until gelatin dissolves and mixture is clear, about 1 minute. Mix gelatin into measured 1 1/2 cups hot caramel; cool just to room temperature, stirring occasionally. Add salt and stir.
Beat chilled whipping cream in large bowl to medium-firm peaks (do not overbeat). Gradually pour cooled caramel-gelatin mixture over cream, folding constantly but gently. Chill mousse 15 minutes (mine took way longer than 15 minutes, more like an hour to get it the constancy I wanted for the cake).
Adapted from Bon Appetit, September 2000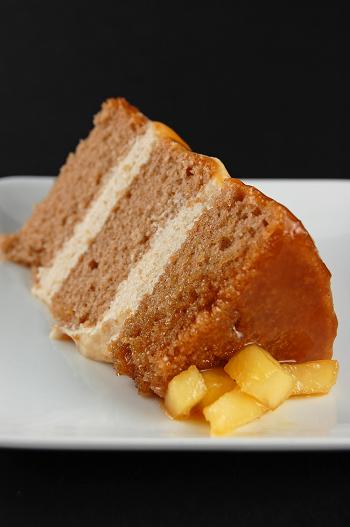 Sauteed Caramel Apples
3 apples (your choice, I used Pink Ladies because that was what was in the fridge), peeled, cored, and diced
1 TBSP unsalted butter
1 TBSP granulated sugar
¼ cup caramel sauce
In a saute pan add the apples, butter, and sugar, Cook over medium-low heat until the apples start to become soft. Turn to low. Add caramel sauce, making sure to coat every apple piece with the sauce.
Assemble the cake. Cut each cake round horizontally in half. You will end up with 4 rounds of cake, but I always mess up so a spare is nice. If you don't want to cut the cakes, you can just make a two layer cake.
Place one layer on a plate. Pipe or spoon desired amount (that is up to you) of caramel mousse onto that layer. Add another cake layer. Repeat again with the mousse. You will have a lot of mousse left over, I suggest putting it into dishes and topping with caramel apples (as pictured above in the post). Top with third layer. Pour caramel sauce over cake and top with caramel apples.