This Bananas Foster Bread Pudding is a banana custard bread pudding topped with a caramelized bananas in booze.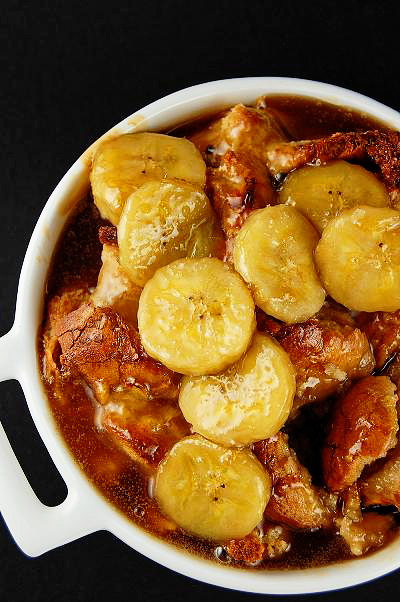 I finally realized why firefighters get laid so often…including the non-attractive ones.
So besides the quality high school kids, my gym seems to be the home of our local firemen.
I see them working out their often, usually in the weight room.
Usually it is the younger, more in shape guys as well.
Nice eye candy and all but, and here is where it is a flameful confession…firemen don't do it for me.
I mean, sure, if they were cute to begin with that is another story.
But I can't tell you how many times my friends would be dating a guy that I thought, ugh, really, only to find out they were dating him because he was a fireman.
I just never got it…at all.
Until yesterday.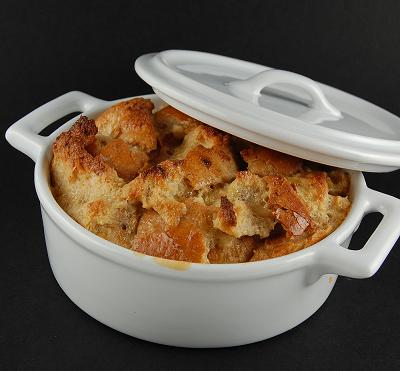 Yesterday I was at the gym plodding along on the elliptical trainer when over at the stairmaster was a guy.
He was probably in his mid-thirties going into his forties.
He didn't have the greatest body and I didn't find him cute in the least.
Then out of nowhere he puts on a firefighter mask and full tanks and starts climbing the stairs with it all on.
Suddenly the man I didn't find attractive in the least became incredibly attractive.
There he was practicing going up stairs with his gear on.
Practicing rescuing people…possibly me someday.
Yes, the light bulb went on and I came to understand how even the ugly firemen get a lot of loving, even from the hot chicks. 😉
So in honour of my new found lust of firemen, I decided to make a dessert that you set on fire.
I mean, if I set the kitchen on fire, then one of them might have to show up, right? 😉
Though I would much rather not have to met them in that circumstance, I think I will just stare at them at the gym. 😀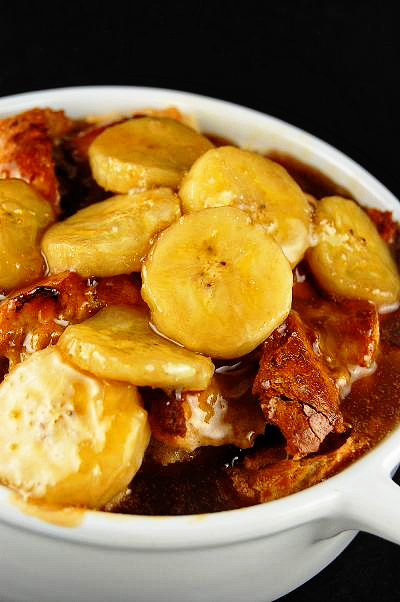 This here is Bananas Foster Bread Pudding.
Ah, bread pudding, how I love you so.
What I really like about this recipe is that you add pureed banana to the custard mixture, so you really end up with the banana flavor in every bite.
Instead of rum, I added banana liquor…either way I got to light something on fire.
P.S. It's a great day to buy my cookbook Holy Sweet!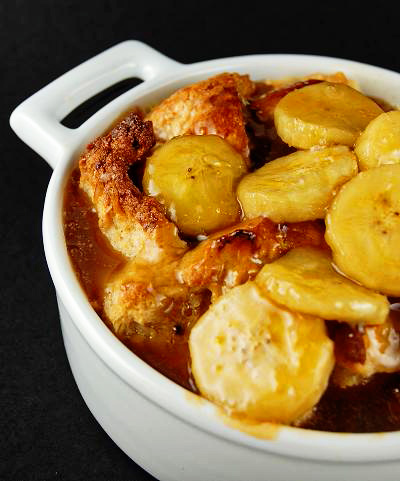 Want More Bread Pudding Recipes?
Oatmeal Raisin Cookie Bread Pudding
Sticky Toffee Pudding Bread Pudding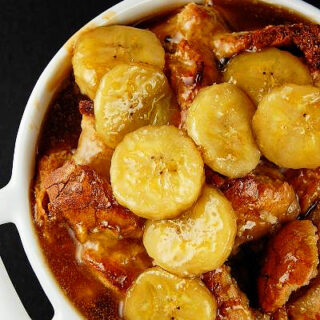 Bananas Foster Bread Pudding
Ingredients
For the Pudding:
3 eggs
2 egg yolks
¼ tsp ground nutmeg
1 tsp ground cinnamon
1 cup very ripe bananas, pureed
1 tsp vanilla extract
1 cup granulated sugar
½ cup light brown sugar, firmly packed
1 ¾ cup heavy whipping cream
1 large French bread loaf (about 5- 6 cups torn up)
For the Bananas Foster Sauce:
½ cup unsalted butter
½ cup firmly packed brown sugar
1/3 cup heavy whipping cream
2 bananas, sliced
3 TBSP banana liqueur
Instructions
For the Bread Pudding:

Preheat oven to 350F.

In a large bowl combine eggs and egg yolks, whisking until frothy.

Add in nutmeg, cinnamon, banana puree, and vanilla extract.

Whisk until fully incorporated.

Add sugars, whisk until incorporated.

Add in cream and again, whisk until incorporated.

Add bread pieces to egg mixture.

Mix until bread has absorbed most of the custard mixture.

Pour pudding into a shallow baking pans (you can use a 8-x-8-inch pan if making one large one).

Let sit for 30 minutes.

Place bread pudding into a slightly larger pan and add about 1 inch hot water to the larger pan to make a water bath.

Bake uncovered for approximately 1 hour (this is true for both smaller and larger size, the smaller maybe cooks 5-10 minutes less), or until pudding is no longer runny.

For the Bananas Foster Sauce:

Heat a large skillet over low heat.

Add butter and brown sugar and cook, stirring constantly, just until sugar begins to melt into butter.

Add banana slices.

Moving the skillet back and forth, cook for 1 minute.

Remove skillet from heat and add liqueur.

Return skillet to the stove.

Tilt pan to ignite liquor (maybe meet a firefighter at this step)

After alcohol burns off, add cream.

Whisk to make sure it is fully incorporated.

Serve immediately over bread pudding.