This Apple Candy Bar Bread Pudding is inspired by Snickers Apple Salad you get at potlucks with vanilla pudding, apples, and candy bars.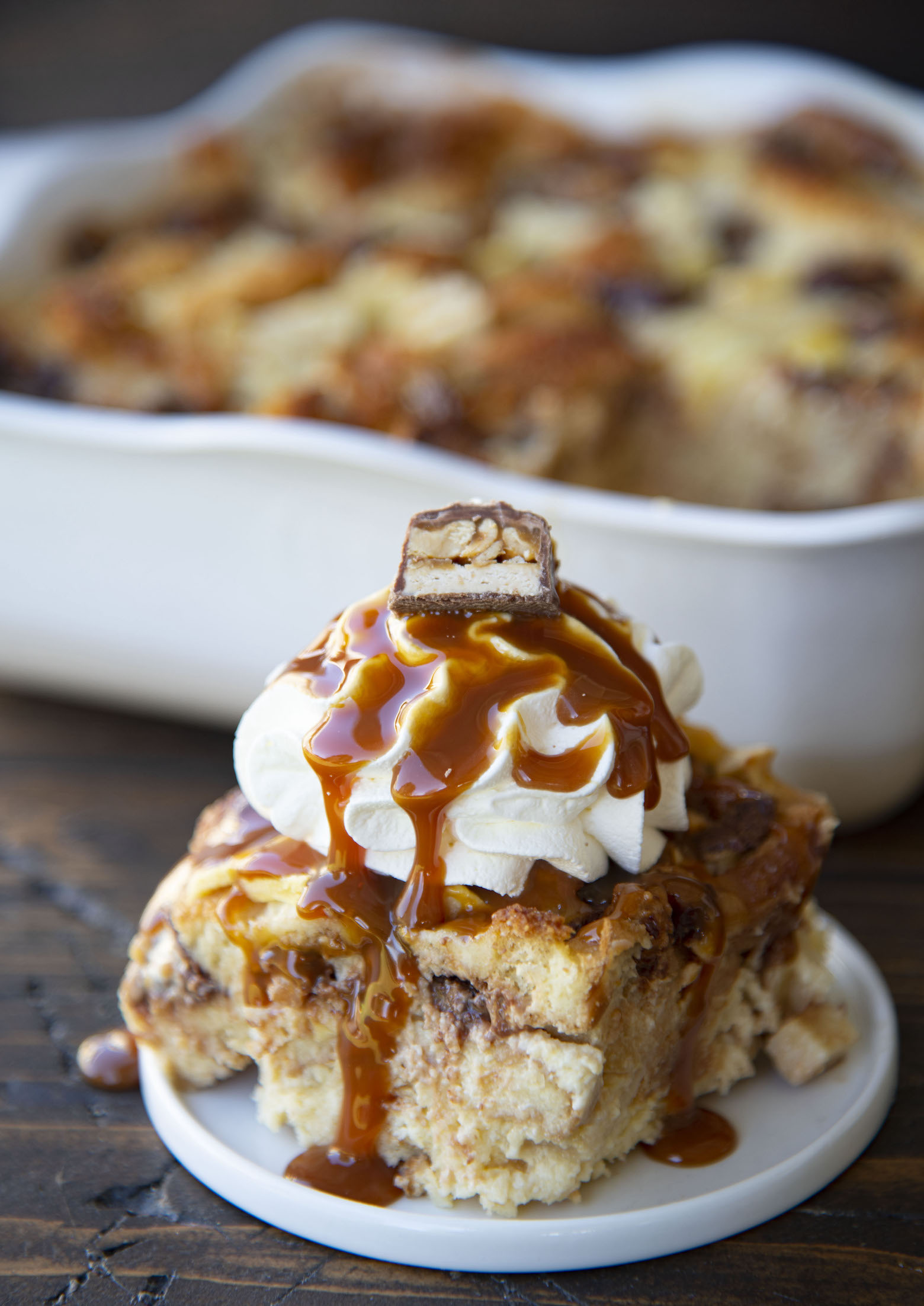 This Apple Candy Bar Bread Pudding is my dessert spin on Snickers Apple Salad.
The first time I had the "salad" was in upstate Michigan at a friend of my mom's house.
I remember looking at it and wondering what the heck?
Until someone told me it was chopped up apples, Snickers bar pieces, vanilla pudding, and whipped cream.
Ummm, that's salad?
I remember thinking I had found my people.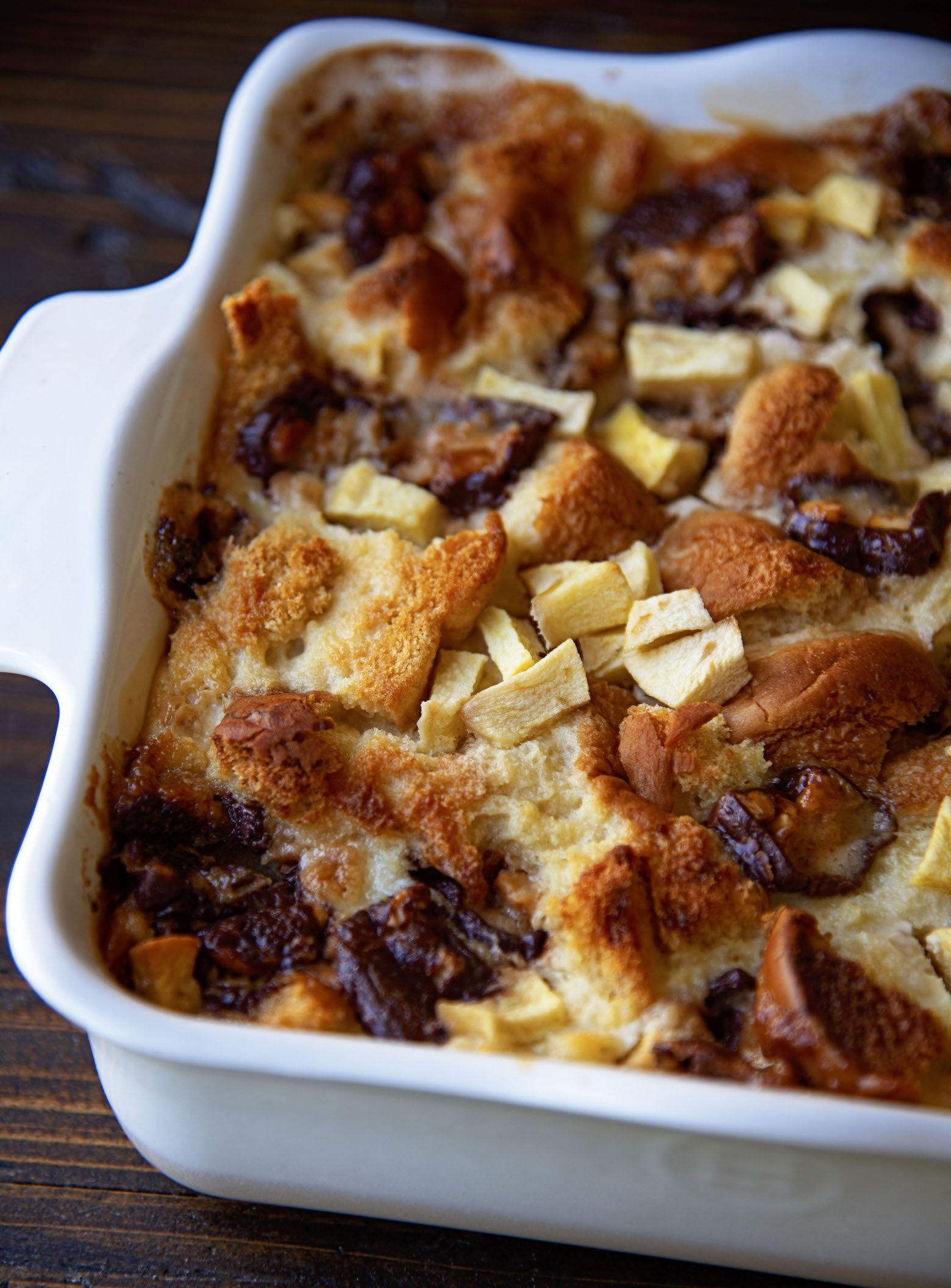 In fact, this bread pudding is salad too.
Bread salad.
Like the Italians do it.
Panzanella.
Except my bread salad has apples, Snickers, vanilla pudding, and heavy cream.
I think I'm going to start calling everything a salad.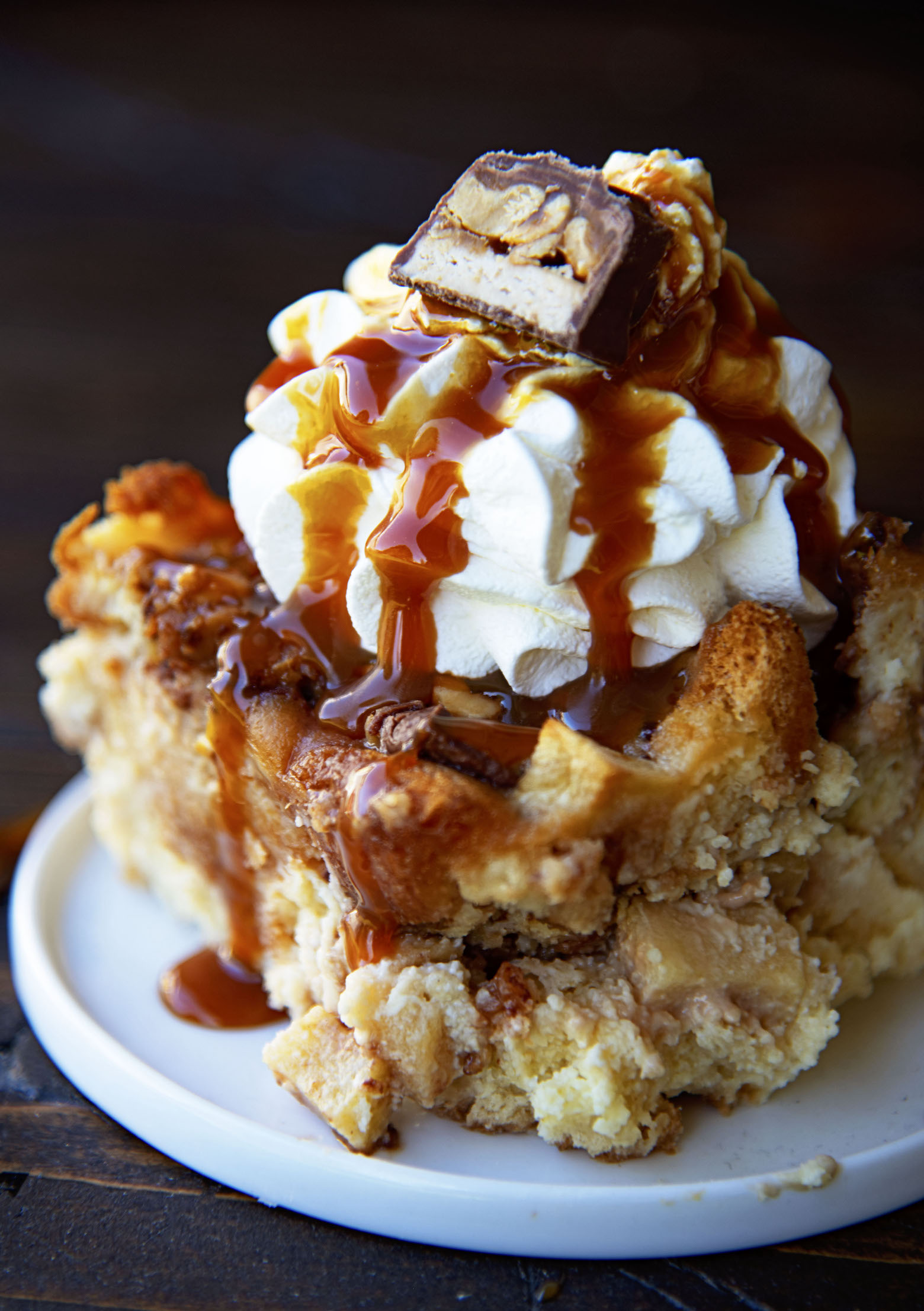 I think salads like this exist for two reasons.
One: Someone let their kid decide what goes into the salad.
I was quite the experimenter with food growing up.
I'm sure from my recipes on here that you could have guessed that.
I championed the Frito with cream cheese that has a strip of grape Fruit Roll-Up wrapped around it.
I was on the salty sweet train from an early age.
The Ritz cracker with port wine cheese spread on it with a dollop of tomato rice soup.
And my college staple of tuna fish salad on a sour cream and onion Pringle.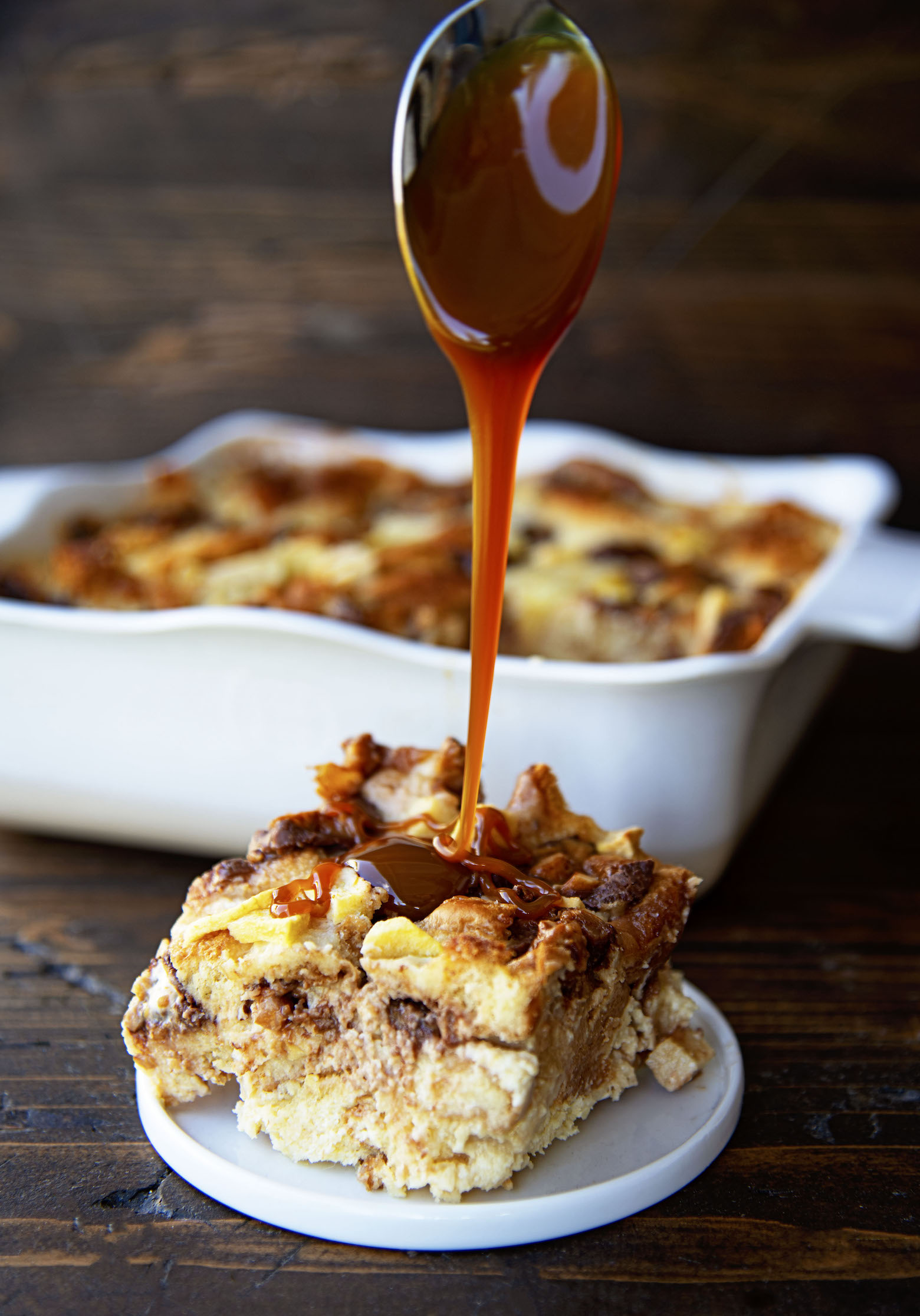 Or Two: Someone was seriously stoned and got the munchies.
And decided you should indeed put candy bars into salad.
While I do not partake in that myself, I do give a big thank you to the stoners of the world.
Because I'm quite sure you created a lot of my favorite concoctions with your munchies. 🙂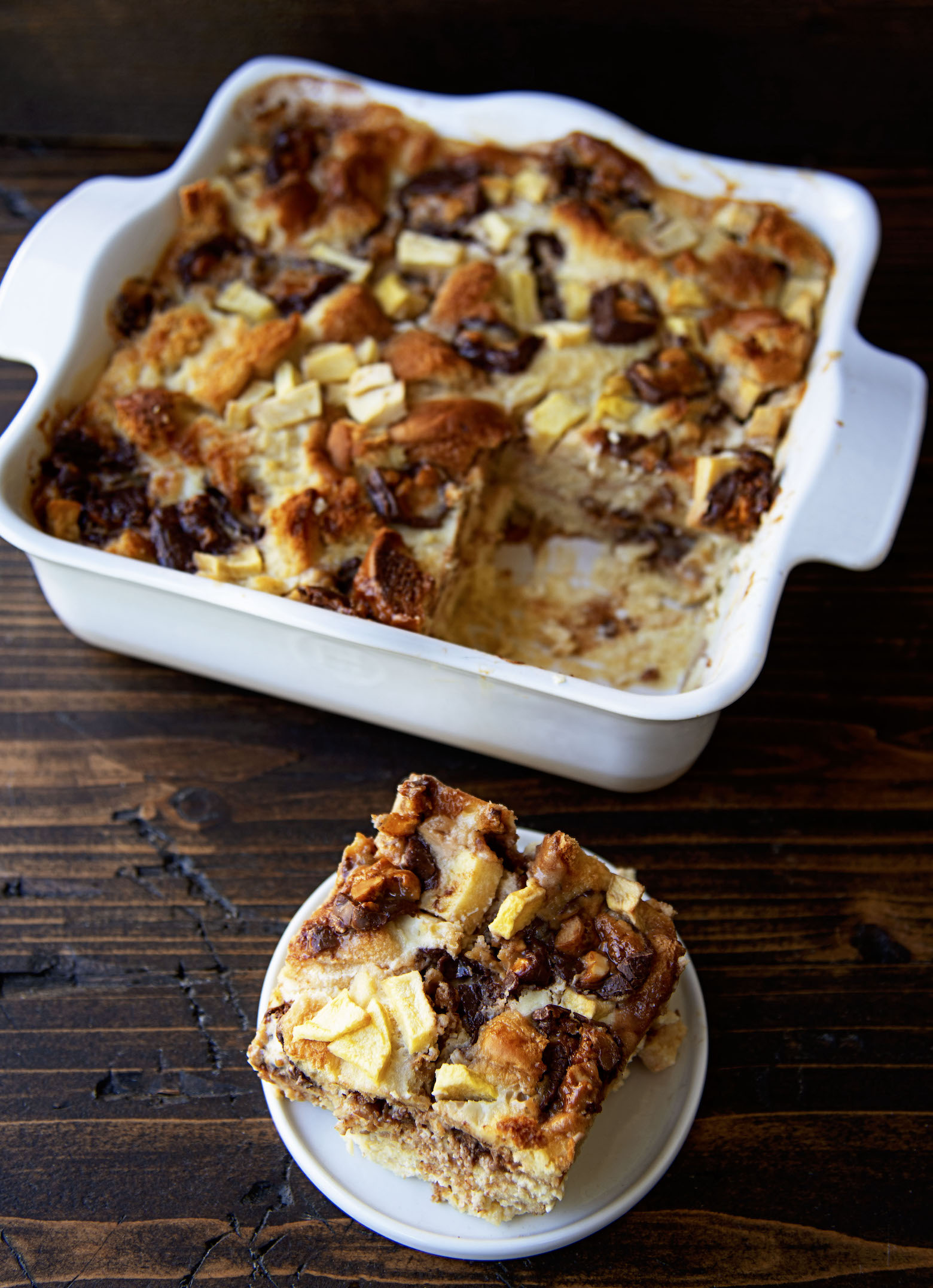 This bread pudding is no different than most.
In that bread pudding is an ugly food.
My husband first thought the Snickers pieces were figs.
Which they kind of do.
But they definitely don't taste like figs.
But it is a boring, beige food.
One that screams for whipped cream or ice cream.
And one that requires in this case….caramel sauce. 🙂
P.S. It's a great day to buy my cookbook Holy Sweet!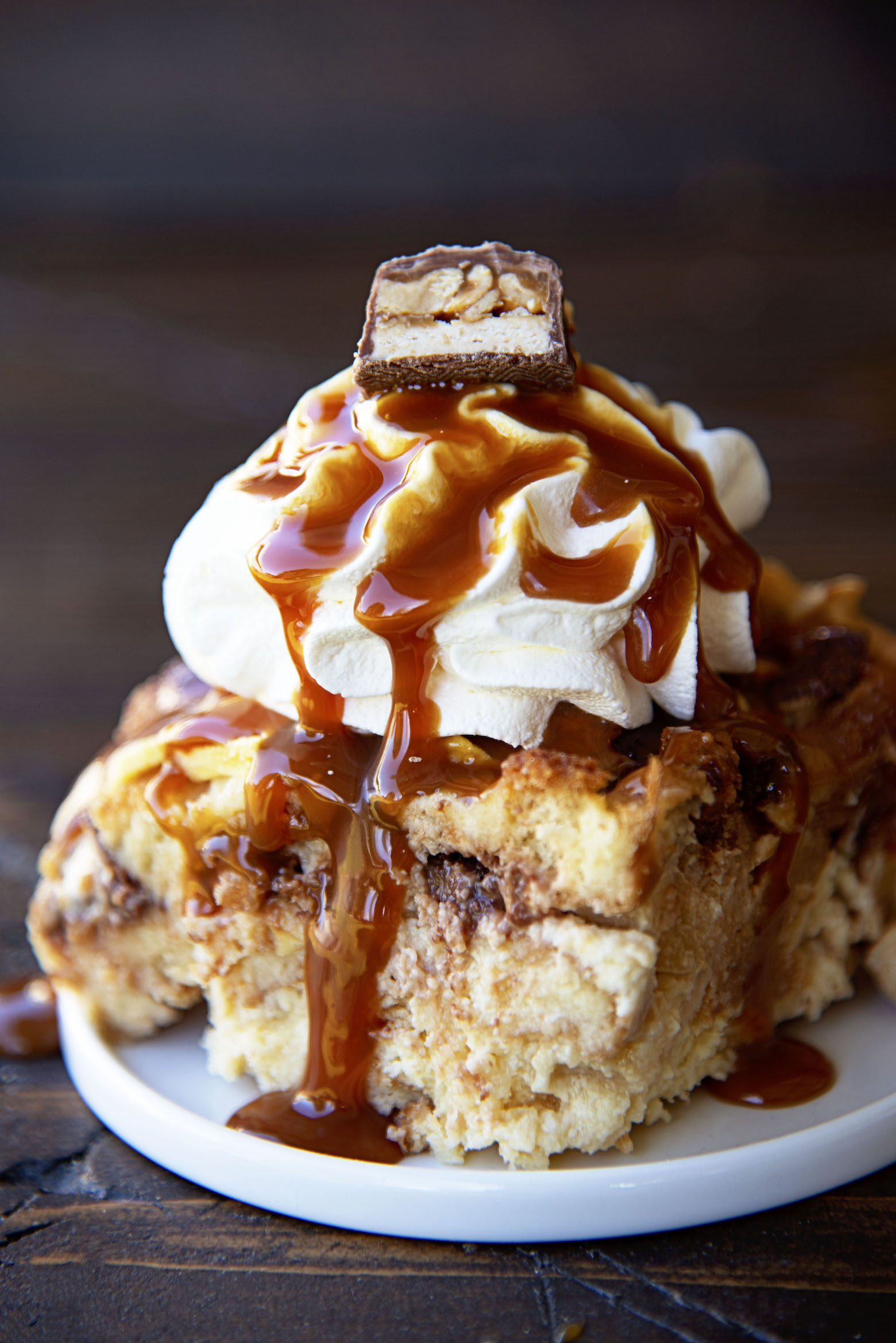 Want More Bread Pudding Recipes?
Oatmeal Raisin Cookie Bread Pudding
Sticky Toffee Pudding Bread Pudding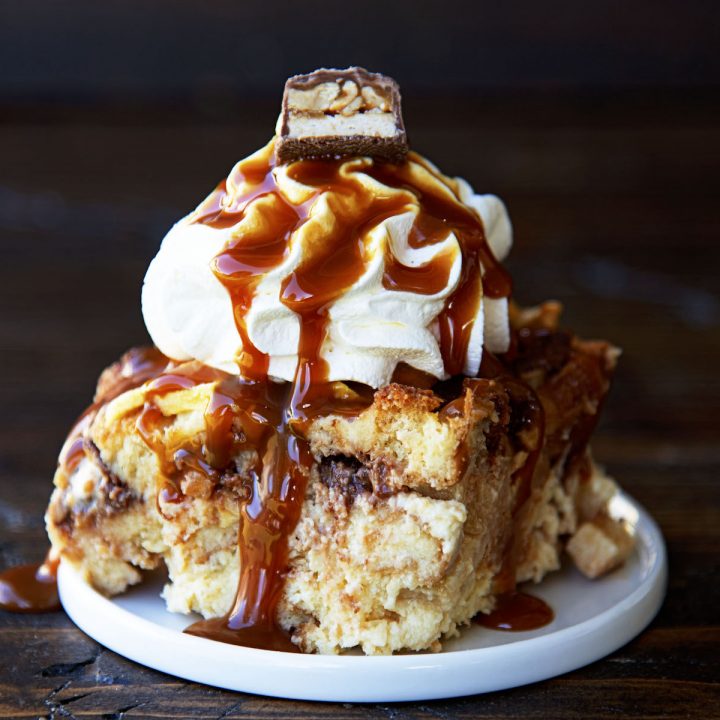 Apple Candy Bar Bread Pudding
Ingredients
For the Bread Pudding:
8- 10 cups Challah bread or Brioche, torn into pieces, getting stale
3 egg yolks
2 whole eggs
1/2 cup granulated sugar
1/8 tsp salt
1 1/2 cups heavy whipping cream
1 1/2 cups whole milk
1/3 cup vanilla pudding mix
2 large tart apples (I used Granny Smith), peeled and diced
2 cups chopped Snickers pieces (Or Milky Way Bars if you don't like nuts)
For Garnish:
Whipped Cream
Caramel Sauce
extra Snickers pieces
Instructions
Preheat oven to 350F.
Rip 1/2 the Challah or brioche into pieces and place into a baking dish that has been sprayed with baking spray or lightly coated in butter. I use a 9-x-9 inch pan but you can use an 8-x-8-inch or 10-x-10-inch pan, basically whatever pan will hold the amount of bread you have.
Sprinkle half the apples and half the Snickers pieces over the bread.
Mix the egg yolks, eggs, sugar, and salt together in a bowl.
Then whisk in the heavy cream, whole milk, and vanilla pudding mix and beat until fully incorporated.
Pour half the custard over the bread.
Press down the bread pieces with your hands until the bread is soaked with the custard.
Add the remaining bread pieces.
Add the remaining apples and Snickers pieces.
Then pour the remaining custard over the bread.
You may have extra custard depending on how stale your bread is. Don't feel like you have to use all the custard.
Place pan into another pan that will hold a water bath.
Bake the bread pudding covered with foil for 45 minutes.
Remove the foil and bake for another 15 minutes until golden brown.
Cool for 10 minutes and serve warm with whipped cream and caramel sauce.