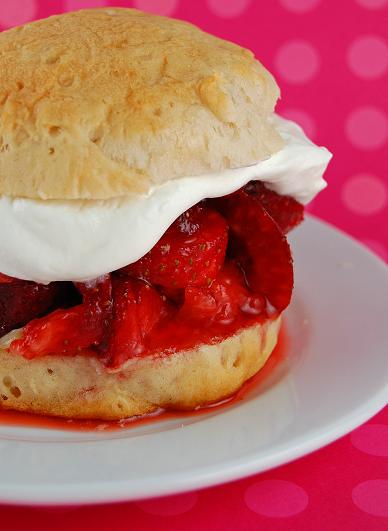 Growing up Strawberry Shortcake to me were those little package of four sponge cakes that they sold at the grocery store. They were shaped liked large Rolos and tasted something like the cousin of a Twinkie, without the filling. This is what I knew, this is what I liked.
We went to Michigan one Summer to visit my grandparents. While there my aunt mentioned that we would be having Strawberry Shortcake for dessert that night. Yum I thought. When dessert came there sat an alien creature to me. Umm, "it's a biscuit"…I am good at stating the obvious. My mother explained that this is how she knew strawberry shortcake, on a warm buttered biscuit instead of cold, odd textured sponge cake. I poked at it and being a pain in the butt kid, without really eating it declared that I didn't like it. My dad declared this too. My mom knew my dad would protest so she had already gone to the store and bought our versions.
It wasn't until years later that the biscuit variety of Strawberry Shortcake was placed in front of me again. This time I was far less picky and gave it a try. It's my favorite way to eat Strawberry Shortcake.
I didn't plan on making shortcake this time of year. Strawberries aren't really in season but my husband and I have a problem. We like bread with our dinner. Sometimes that appears in biscuit form. And though my husband can throw back a lot of biscuits, the average recipe makes about 12. So I have a lot of leftover biscuits.
I had an overwhelming craving when I stared at those leftover biscuits to make Strawberry Shortcake. This is simple and straightforward flavors, with just the key lime juice being the exotic ingredient. I like to use the key lime to add a refreshing element to the strawberries.
So if you have only ever eaten the little yellow sponge cake discs I challenge you to try the biscuit version. It would make my mama proud.
After seeing my Strawberry Shortcake, Crazy Cocker Spaniel will have nothing to do with hers!
Biscuit Strawberry Shortcake
6 Southern Biscuits
2 pints fresh strawberries
2 TBSP key lime juice
1 1/2 cups sugar (this will greatly depend on your sweet tooth)
Whipped Cream
butter for biscuits
Southern Biscuits
2 cups flour
4 teaspoons baking powder
1/4 teaspoon baking soda
3/4 teaspoon salt
2 tablespoons butter
2 tablespoons shortening
1 cup buttermilk, chilled
zest of 1 key lime
Directions
Preheat oven to 450 degrees.
In a large mixing bowl, combine flour, baking powder, baking soda and salt. Using your fingertips, rub butter, zest, and shortening into dry ingredients until mixture looks like crumbs. (The faster the better, you don't want the fats to melt.) Make a well in the center and pour in the chilled buttermilk. Stir just until the dough comes together. The dough will be very sticky.
Turn dough onto floured surface, dust top with flour and gently fold dough over on itself 5 or 6 times. Press into a 1-inch thick round. Cut out biscuits with a 2-inch cutter, being sure to push straight down through the dough. Place biscuits on baking sheet so that they just touch. Reform scrap dough, working it as little as possible and continue cutting. (Biscuits from the second pass will not be quite as light as those from the first, but hey, that's life.)
Bake until biscuits are tall and light gold on top, 15 to 20 minutes.
Adapted from Alton Brown on Foodnetwork.com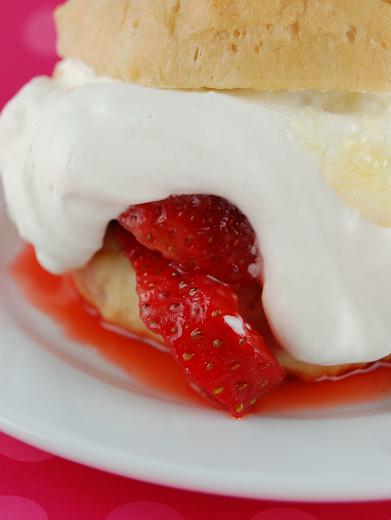 Strawberry Filling:
Take strawberries and roughly slices them. Add key lime juice and sugar. Mash lightly with a fork. Refrigerate for at least two hours or overnight (I prefer overnight).
To make the shortcake:
Take warm biscuit, cut in half. Slather butter on both sides of the biscuit. Add strawberries on top bottom biscuit. Add some whipped cream. Top with the other half of the biscuit.