Most of my doctors are all under one clinic. Different buildings but they are all connected by computer so they know what is going on with you. Apparently they must have all decided to adopt a new phrase, a new phrase that drives me crazy…Person of size. They are now using this instead of calling someone fat or obese. I find this odd, as everyone technically is a person of size. We all have size. Some just smaller or larger than others.
I think I threw my last doctor for a loop. He is kind of on the serious side (read no fun and has personality of a rice cake) and so when he busted out the person of size phrase on me I said back to him, "If my Wii Fit can call me obese, you can too". The man had no idea what to say and stood there with a blank look. I don't know if it was because he was in shock that I would call myself obese (by BMI standards) or if he had no idea what a Wii Fit was.
Then he was asking me general questions and we came to exercise. He asked me how many times a week do you exercise. I told him 7. He said, "no, really". I said, "yes, really, 7 days a week". He went on about he was not talking about a walk down to the mailbox (if you were in the office you might have seen smoke coming out of my ears) but real exercise. I explained that I do his definition of real exercise 7 days a week, plus ice hockey and yoga. I know he still doesn't believe me. Because ladies and gentlemen, if you are fat all you do is sit around and do nothing but eat bags and bags of chips, ice cream by the gallons and boxes of Oreos. You can't possibly exercise.
A reader turned me on to another blog. One about being fat. It's called Shapely Prose. They have a great section that shows what people look like and what they are according to their BMI. It's very interesting and you will laugh at some of the people who are overweight.
When I am pissed I bake or cook something. I came home pissed from the doctors office. So I pulled out the left over Snickerdoodle tart dough and thumbed through some cookbooks to figure out what to put in it. I settled on a pine nut and pecan crostata, which I made be a tart since I already had the dough. What can I say, we fat girls are lazy. 😉 Though, when I was skinnier I was still that lazy. 😀
Super easy to make and would be great to throw together for any people stopping by unannounced or with short notice (if you already had the dough made). I really like the flavor the pine nuts give this, just gives it a little something more.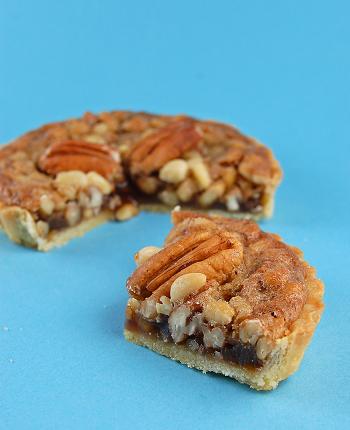 Pine Nut and Pecan Tart
1 egg
2/3 cup firmly packed brown sugar
pinch of salt
1/3 cup pine nuts
1/3 cup pecans
1 TBSP melted butter
1 prepared tart shell (or this will make two 4 1/2 inch tarts)
Preheat oven to 350F.
Mix egg, sugar, nuts, salt, and butter in a medium bowl.
Pour filling into prepared tart shell. Even out the filling with a knife or off set spatula.
Decorate with pecans and pine nuts if desired.
Bake 20-23 minutes, or 15 minutes if making the smaller tarts.
Remove from oven and let sit for 20 mintues.
Adapted from Baking for All Occasions by Flo Braker
Pastry Tart Shell
Makes 1 (10 ½-inch) tart shell
1 1/3 cup all-purpose flour
pinch of salt
½ tsp cream of tarter
¼ tsp freshly grated nutmeg
½ cup unsalted butter, cut into cubes and chilled
½ cup plus 2 TBSP powdered sugar
2 egg yolks
cinnamon sugar
Using a food processor, combine the flour, cream of tarter, nutmeg, and salt and pulse to mix. Add butter and pulse until mixture resembles coarse bread crumbs.
Add sugar and egg yolks and pulse again, just until the mixture comes together and pulls aways from the sides of the bowl.
Transfer dough to a sheet of plastic wrap. Form into a disc ans wrap in plastic. Refrigerate for at least 1 hours or overnight.
Prepare fluted tart pan by buttering pan and then sprinkling cinnamon sugar into the pan. Get both the bottom and sides of the pan.
Roll pastry out on a lightly floured surface into a circle. Fit dough into prepared tart pan, pressing evenly over the bottom and up the sides. Line tart shell with parchment paper and fill with dried beans or pie weights.
Bake tart shell for 20 minutes (at 350F), or until edges are very light brown. Remove parchment paper and weights.
Bake tart shell for 5-10 minutes more, or until lightly golden throughout.. Cool on a rack before filling.
Adapted from Taste of the South February/March 2009