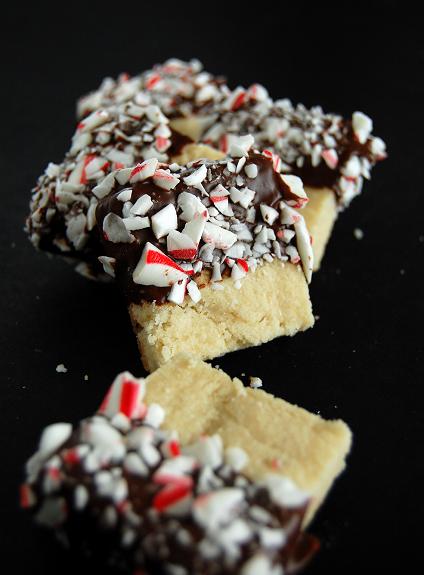 When asked my favorite Christmas movie people are often surprised by the answer. Why you ask? Because most people have never heard of it.
I only saw it twice when I was a kid, as it was on HBO. I own it now but it is not the same as Kermit the Frog was in the origninal and do to legal stuff it was cut out. That movie is Emmet Otters Jug-Band Christmas. It was put out by Jim Henson (you know the Muppet guy) in 1977. Yep, it's an oldie…but a goodie. I'm not sure why I like it so, perhaps because I made my 8th graders join a jug band (but that's a story for another time). Perhaps because I love otters. Perhaps because I love an underdog story. Either way, sitting down to watch with a cup of hot chocolate is one of my most happy holiday times. And even better was getting to watch it today while the snow falls down. We don't get a lot of snow around these parts, so the ½ foot of snow outside (and still falling) is quite odd.
The snow has sent everyone into a giant tissy. On Wednesday they canceled school because snow was predicted…didn't come to most places but was predicted (we got it though). My friends and family in Canada find that most amusing. As do I, though in there defense our area doesn't really have the equipment to deal with snow. I think there are just a handful of snow plows. Plus we have lots of hills. The post office is still delivering but the wimps at UPS are not. Same with our garbage guys. We now get to sit with our garbage and extra week.
But me, what has the snow done to me? It's made me bake. When I was younger, once the first flake hit the ground I knew what that meant. That meant my mother would be baking, anything and everything. I guess it's genetic as I baked 20 dozen or so cookies yesterday as the snow came pouring down. Among those cookies were these scrumptious shortbread that I saw over on the Examiner. They come from a local bakery and they are a perfect cookie for this time of year.
These are simple to make, though you might panic when you make the dough and it doesn't come together. Just dump it in the pan and press it down and when it starts to bake it all comes together. The original recipe calls for dipping the tops, but I chose the side because I am lazy and it is easier that way.
Hope you get time to sit around and watch your favorite holiday movie this year. Hopefully with some snow and hot chocolate…and maybe these cookies as well.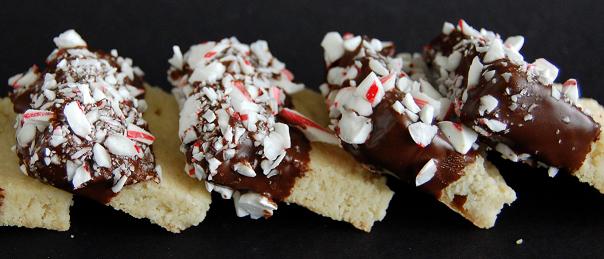 Peppermint Bark Shortbread
1 cup granulated sugar, plus 2 TBSP for the top
2 cups unsalted butter, at room temperature
1 tsp peppermint extract
3 ½ cups all-purpose flour
1 cup white rice flour (I only had about 1/3 cup so I used cake flour for the other 2/3 cup)
½  TBSP salt
Parchment paper
In a standard mixer or with a hand-held beater, cream sugar, butter and peppermint extract until light and fluffy.
Add flours and salt and combine until mixture just starts to come together. (The dough should be crumbly but stick together when squeezed.) Don't panic as the dough will be very crumbly, when they start to bake they will form into a cookie.
Line a 12-by-16-inch pan with parchment (I used a 9 by 13-inch pan just fine). Place dough into the pan and break up any large clumps, spreading evenly.
Press dough down gently and sprinkle the remaining sugar on top I skipped the extra sugar).
With a rolling pin or drinking glass, roll out the dough evenly. (Use a little additional sugar if the dough sticks to the rolling pin.)
With a meat tenderizer or fork, press indentations into the top of the shortbread. (This prevents the shortbread from rising unevenly.)
Bake at 350 degrees for 20-25 minutes or until shortbread is golden brown.
Cut into squares while still warm and remove cookies from pan to cool.
Makes 24 2-by-2 inch cookies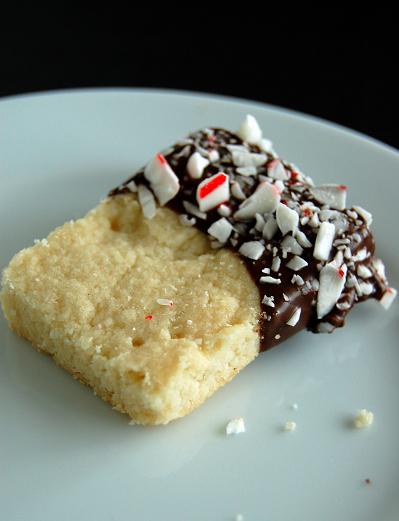 16 ounces semi-sweet chocolate
1TBSP vegetable oil
Crushed candy canes (8-10 mini canes)
To finish, melt chocolate and vegetable oil over double boiler or in a microwave, watching constantly to prevent chocolate from burning. When melted, remove from the heat and stir to cool slightly.
Dip bottoms of shortbread in melted chocolate (I did just the side), then dip in crushed candy canes.  Place on parchment to dry.
Source: Adpated from Sugar Bakery & Cafe right here in beautiful Seattle.