This Peppermint Mocha Shortbread is a chocolate, peppermint, and espresso based shortbread that is dipped in chocolate and candy cane pieces.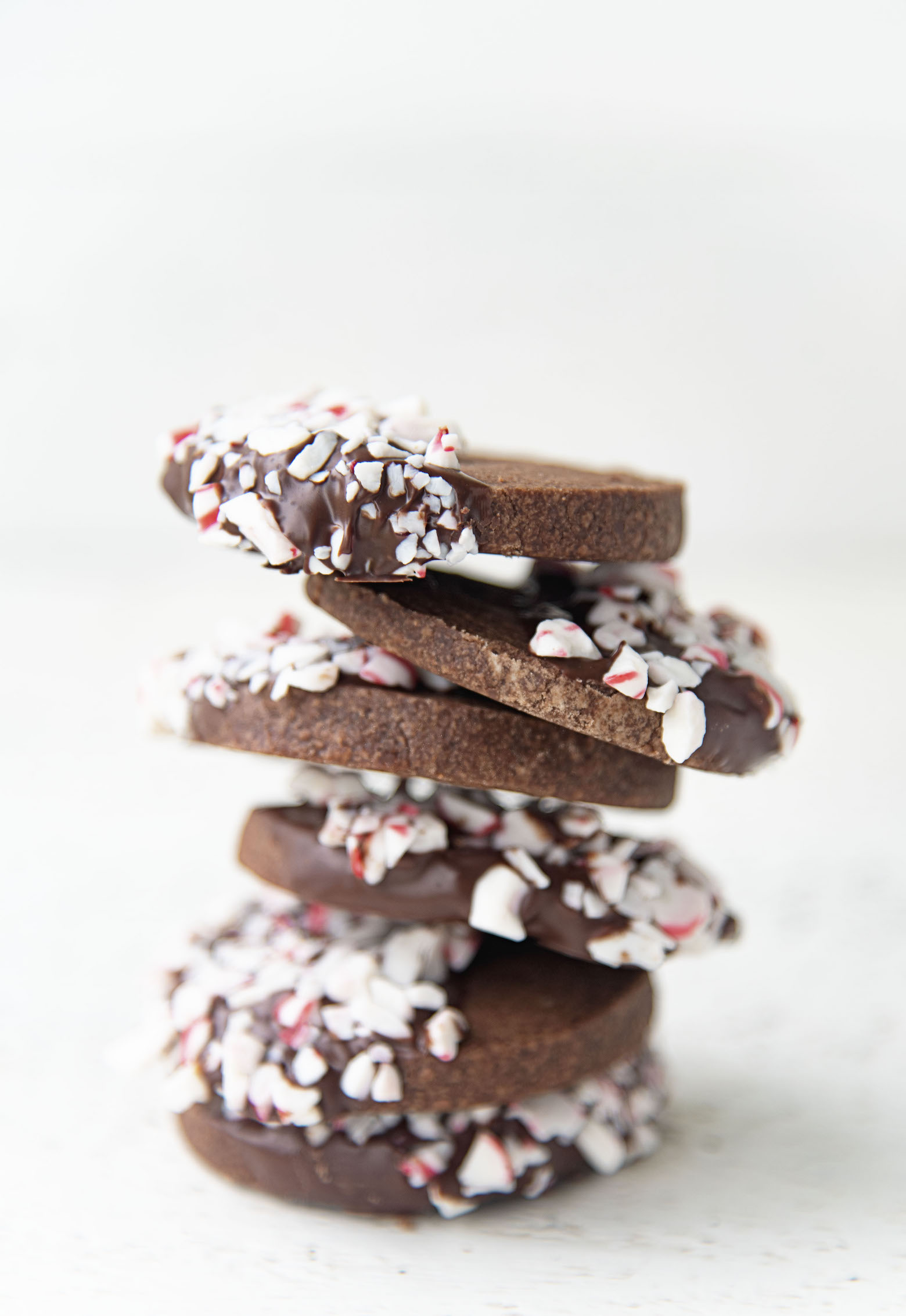 These Peppermint Mocha Shortbread Cookies were made for the Rodelle 2021 Cookie Celebration.
This is not a sponsored post but I am a Rodelle Brand Ambassador which supplies me with Rodelle products throughout the year.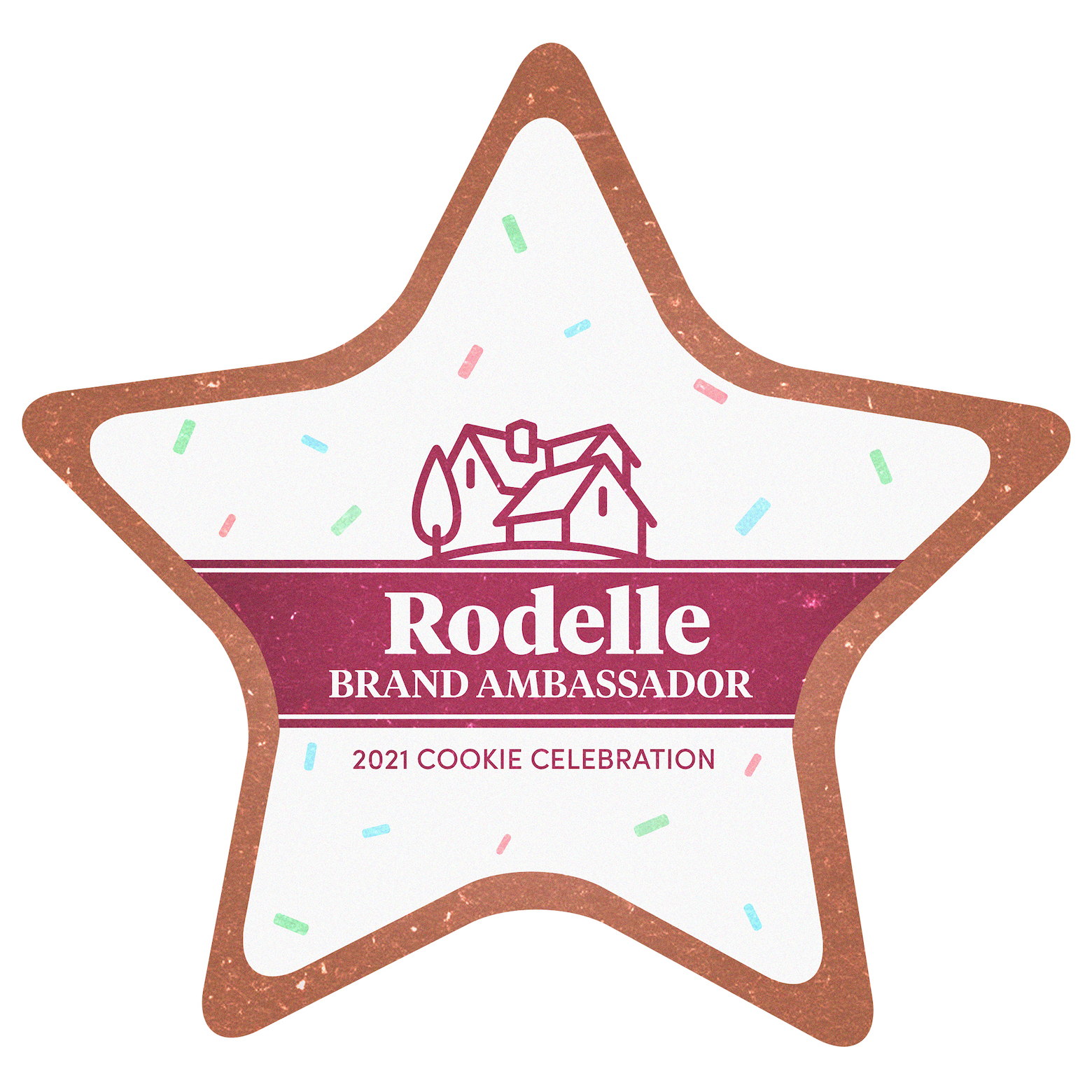 It's that time of year again.
The Rodelle Cookie Celebration.
It used to be called different things throughout the years.
Usually based on how many of us were participating.
I was the second ever Rodelle Ambassador many, many years ago.
I love their products and the people that work there so I've stayed with them all these years.
The cookie celebration involves a holiday cookie each day by those ambassadors who chose to participate this year.
I've always participated and obviously did again this year. 😀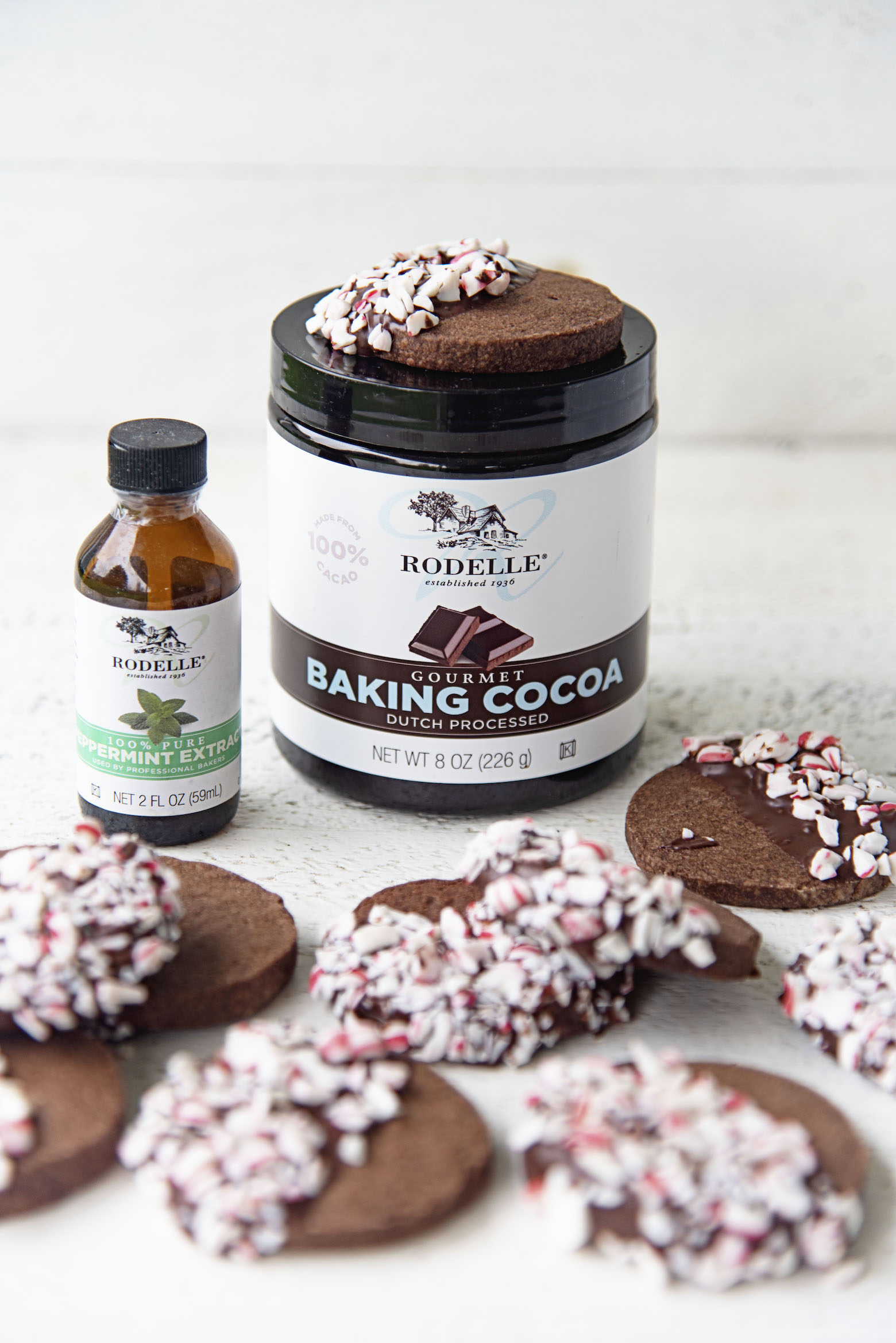 While most readers of this blog are aware of Rodelle vanilla as I use it on here in almost every recipe. 😀
And I have converted many of you over to Rodelle vanilla.
But not as many know about their many other products.
There are so many products not just for baking.
But since I run a predominately baking blog I stick with the baking supplies.
For these cookies I used the Rodelle Baking Cocoa and the Rodelle Pure Peppermint Extract.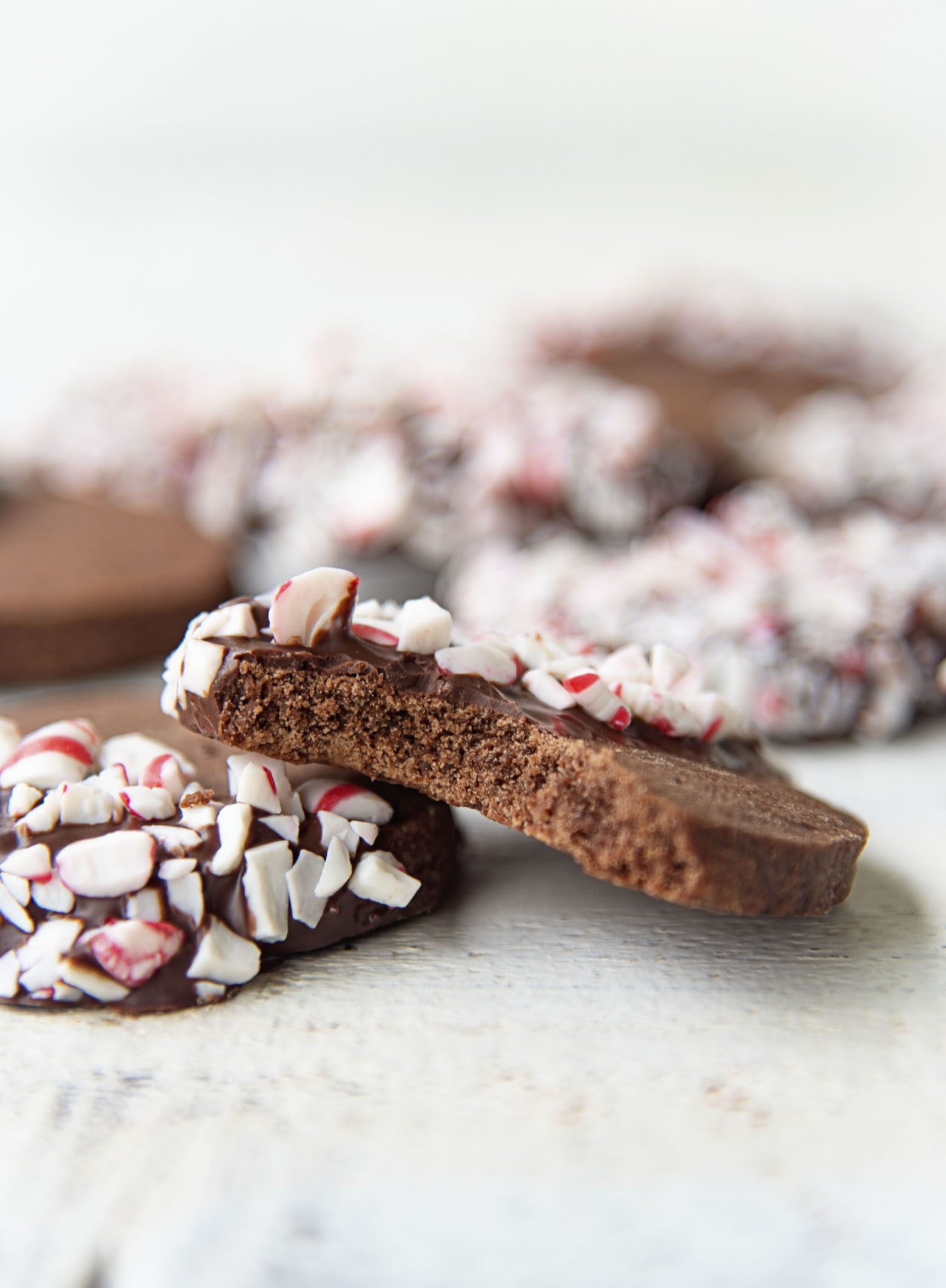 This year I am all about easy.
And while dipping these cookies in the chocolate coating is an extra step, it really doesn't take that long.
Plus you save time by these being slice and bake cookies.
Can you roll them out and do different shapes?
Sure.
But I already have to roll out gingerbread and sugar cookies and was really not in the mood to roll out anymore cookies. 🙂
I'm all about the slice and bake.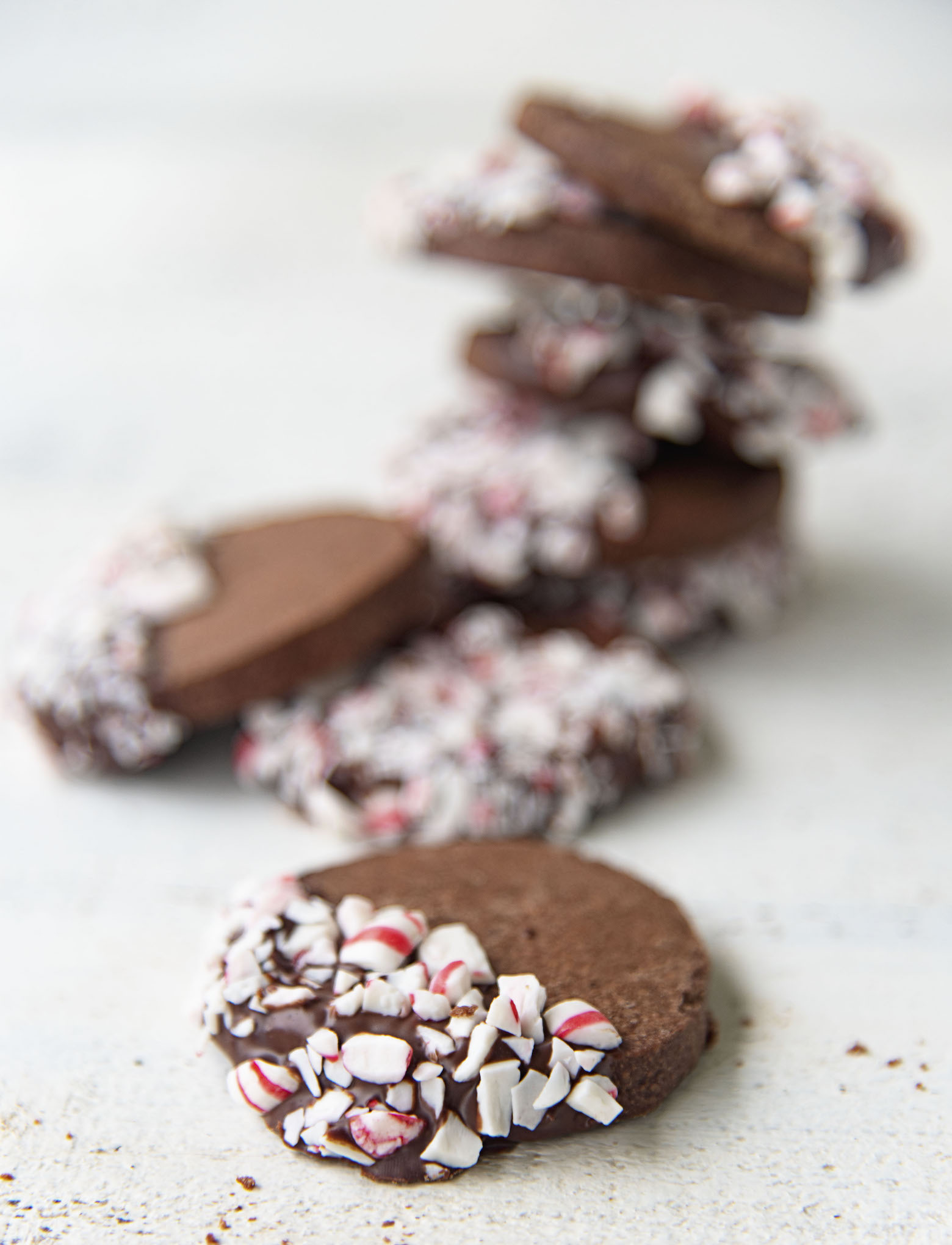 Maybe it's the Scottish in me, but I love shortbread.
And over the years all of my roll out (or slice and bake in this case) cookies have been shortbread based.
My sugar cookies and gingerbread are now shortbread based.
They just make for such a better cookie in my opinion.
I mean…all that butter. Mmmm.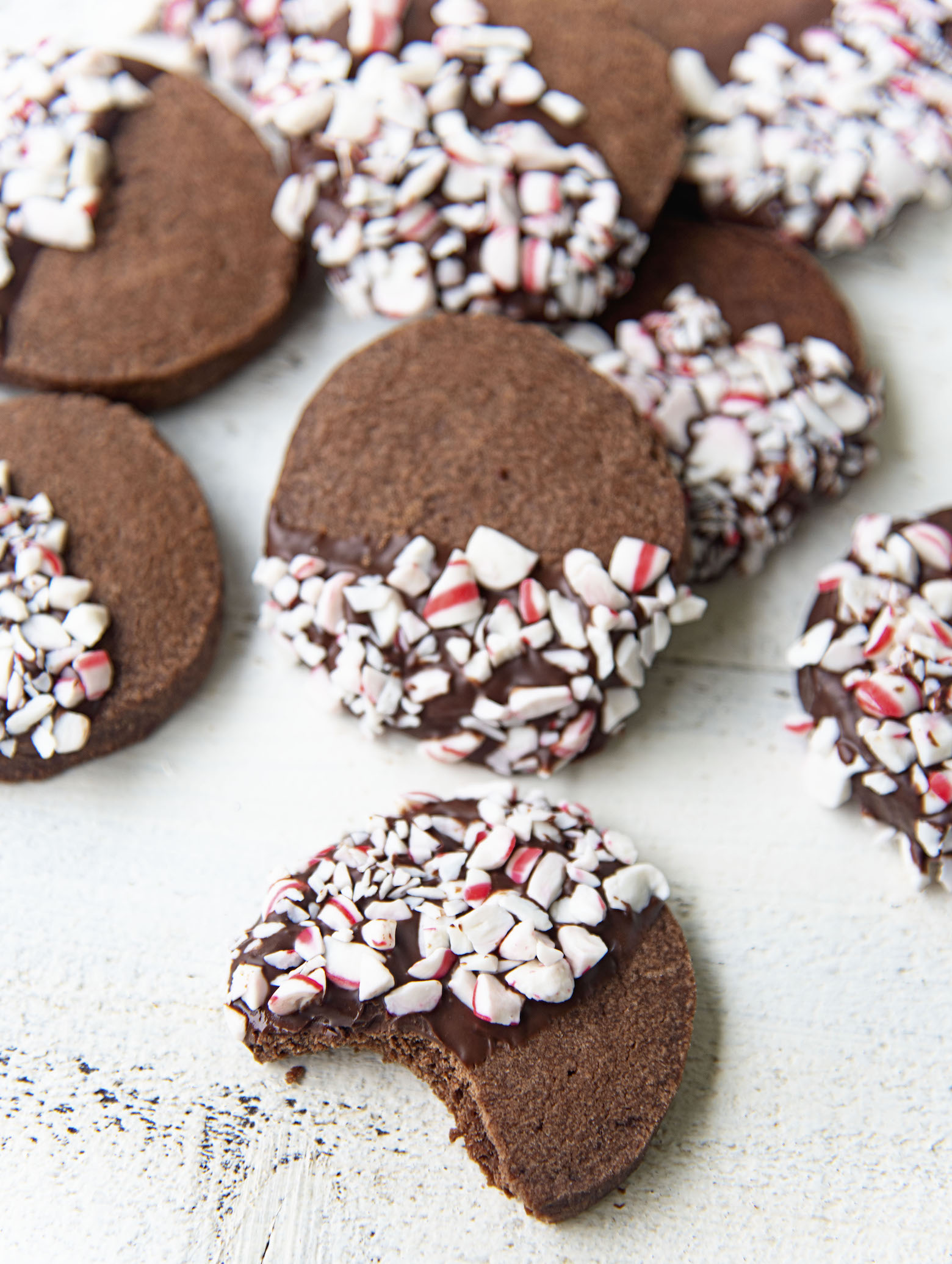 If you are not a fan of coffee you can easily leave out the espresso powder.
However, if you do that I would sub in another 3 TBSP of cocoa powder for consistency reasons.
I only added a little bit of peppermint extract to the actual cookie base since I was dipping them in candy cane pieces.
If you really love peppermint feel free to add more extract.
While the chocolate coating is an extra step I really think these cookies need that.
So don't skip it.
If you are more of a candy melt person you can feel free to use a chocolate candy melt in place of the semi sweet chocolate if that's your preference.
And as always it's a great day to order my cookbook.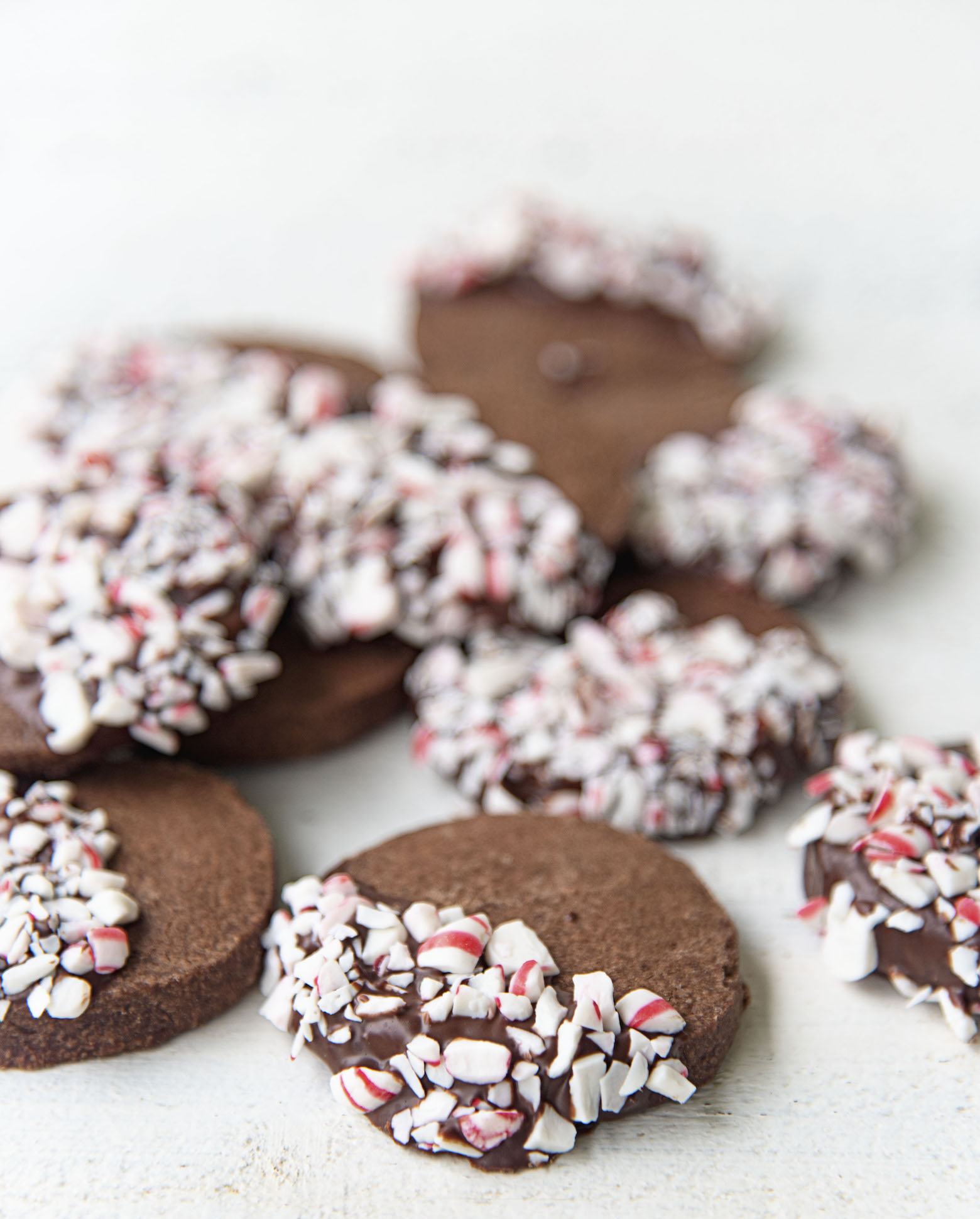 Want More Holiday Cookies?
Mini Chocolate Gingerbread Men Sandwich Cookies
Shortbread Roll Out Sugar Cookies
Cranberry Orange Pistachio Cookies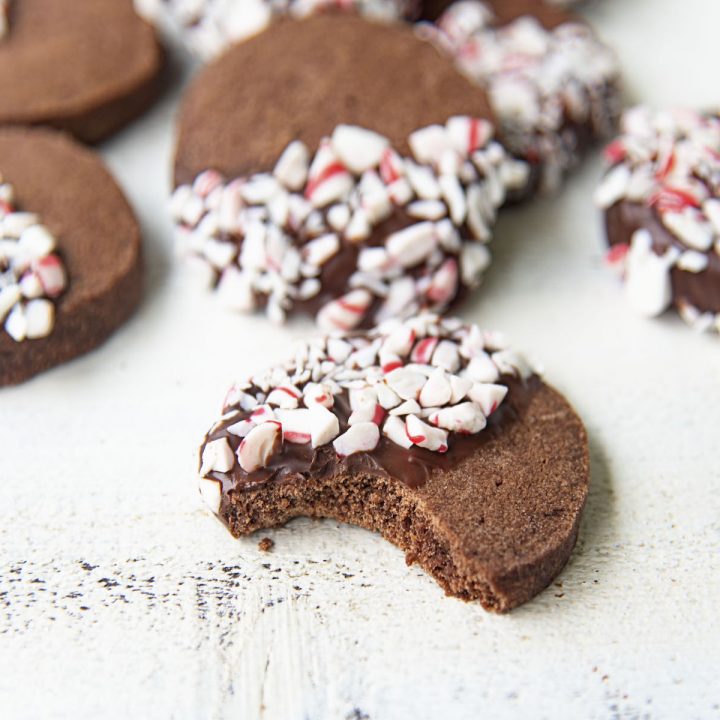 Peppermint Mocha Shortbread
Ingredients
For the Peppermint Mocha Shortbread:
1 cup unsalted butter, at room temperature
1 cup powdered sugar
1 1/2 tsp Rodelle Pure Peppermint Extract
2 cups all purpose flour
1/3 cup Rodelle Baking Cocoa
3 TBSP espresso powder
1/4 tsp salt
For the Chocolate Coating:
16 ounces semi-sweet chocolate
1 TBSP vegetable oil
Crushed candy canes (8-10 mini canes)
Instructions
For the Shortbread:
Using a stand mixer with the paddle attachment beat together the butter and powdered sugar until fully combined.
Add the peppermint extract and mix for another 30 seconds.
Add the flour, cocoa powder, espresso powder, and salt mix just until combined.
Move the dough to a flat surface and gently roll the dough into a log shape, wrap in plastic and refrigerate for at least an hour.
Remove from fridge and remove the plastic wrap.
Slice the log islice about 1/4- 1/2 inch thick slices and place on parchment paper lined cookie sheets. If you prefer to do cut outs you can roll out the dough and cut out with your favourite cookie cutters.
Refrigerate while the oven is preheating.
Preheat oven to 320F. Yes, 320...I know it's unusual temperature but you want the lower heat with these.
Bake for 12-14 minutes. It's a little hard to tell because of the cocoa powder but if you press on them and they form a dent then they aren't ready yet.
Let cool on the a wire rack while you prepare the chocolate coating.
For the Chocolate Coating:
To finish, melt chocolate and vegetable oil over double boiler or in a microwave, watching constantly to prevent chocolate from burning.
When melted, remove from the heat and stir to cool slightly.
Dip one half of shortbread in melted chocolate then dip in crushed candy canes.
Place on parchment or wax paper to set up.