These Vanilla Bean Shortbread Roll Out Cookies are studded with vanilla beans and filled with a luscious orange-cranberry buttercream filling.
After most of our hockey games (because we usually play on Friday nights) we go out afterwards to a bar that has karaoke.
None of us sing karaoke but it's close to the rink and has REALLY cheap drinks.
The crowd changes almost weekly and sometimes they are singing country western.
Sometimes its rock ballads of the 80's…which is a tad depressing.
Sometimes oldies but goodies.
Mostly a mix.
From time to time we get enough liquid courage and one or two of us go up and sing.
I've done it three times…and we have played hockey together since 2009 for reference.
For some reason a few weeks ago we were at the bar and no one was there.
Well, two other people besides us.
This never happens.
Two guys went back and forth singing.
One guy was good.
And one guy was not.
The guy that was not is a regular who is there every week.
For whatever reason one of my defensemen and I decided what the heck no one is here, the bar is about to close, let's sign up to sing.
To sing…Ghetto Superstar.
It came about because a year or two back I was running an errand in the middle of the day and two men came out of the bar and asked if I could sing the female part of a song with them.
And for some reason I said yes.
That song was…Ghetto Superstar.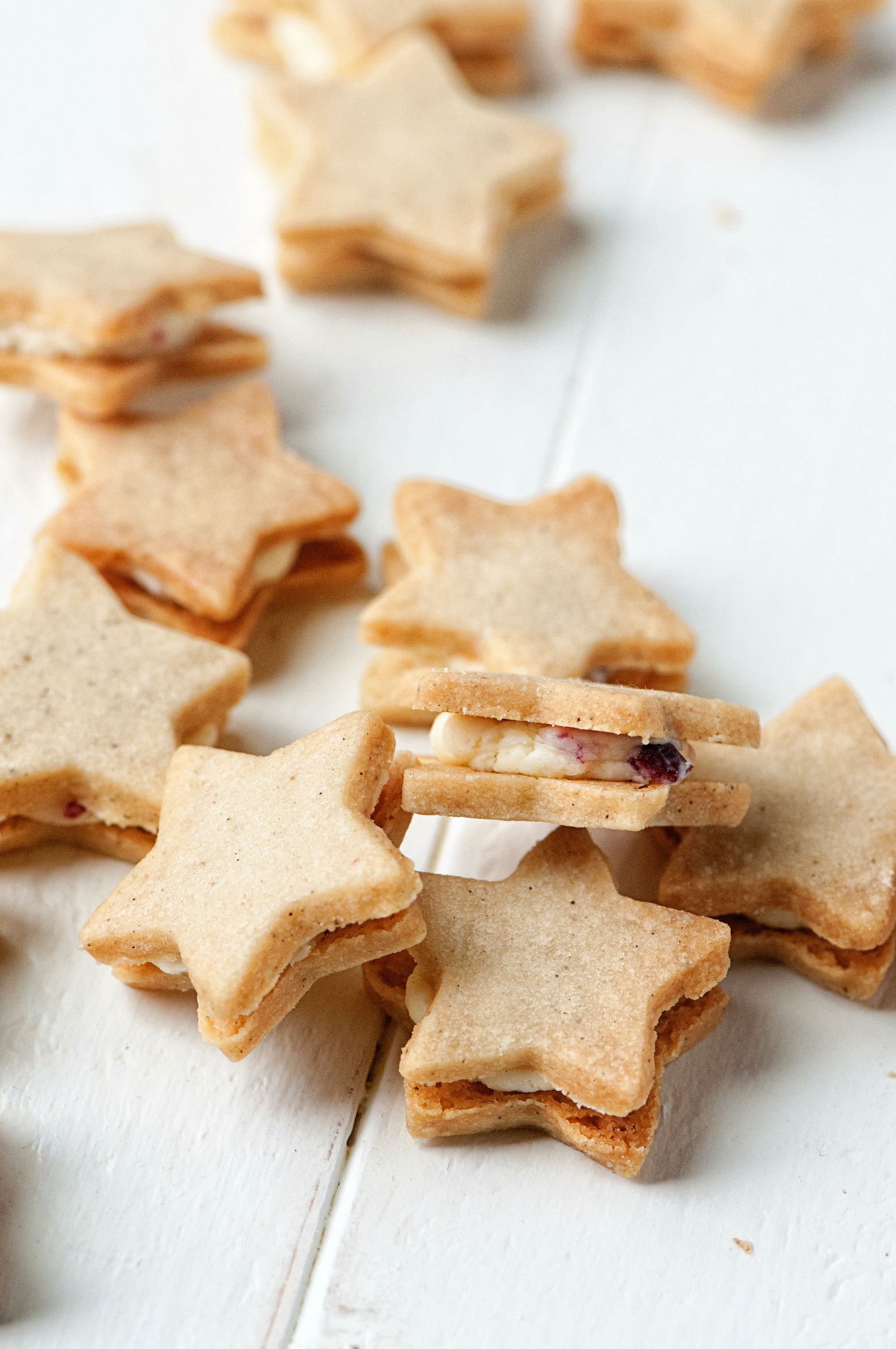 Now that story had been told to the team and so we got to talking about it and that became our song choice since he knew the song too.
Right before we got up to sing…12 people poured into the bar. 12.
My defensemen and I started to laugh hysterical with the element of fear in our voice.
It was too late to back out and now we had an audience.
Oh boy.
As luck would have it those 12 people were BEYOND drunk.
I mean beyond drunk.
They also LOVED our song choice and sang along with us the whole time.
My defenseman and I decided that this would become our song.
We would learn it better (because if you don't know the song inside and out karaoke can be hard).
For the record, my defenseman can rap decently for a pasty white guy rapping, but he did it rather well.
I sound dreadful.
Neither of us will be quitting our day job anytime soon to start our singing careers.
What does that have to do with cookies?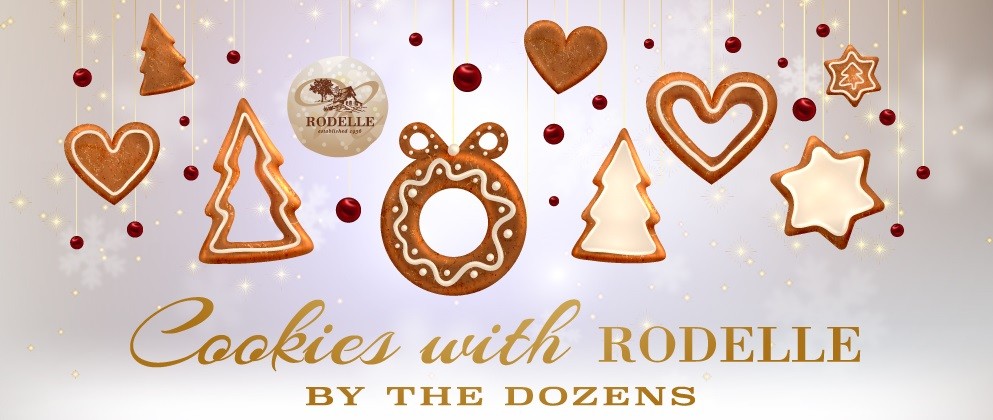 Well, once again it's time for Rodelle's yearly cookie event that the ambassadors participate in.
I was trying to figure out what to make when on my iPhone came Ghetto Superstar on shuffle.
So I decided I would make my favorite roll-out cookies (the kind I make to decorate with) but turn them into mini stars…Ghetto Superstars. 🙂
Technically they are Vanilla Bean Shortbread Roll Out Cookies.
Which I also decided to make them into sandwich cookies, filling them with an orange-cranberry buttercream.
This is a great dough and you can roll-out all your cookies and bake them…then freeze.
These freeze beautifully.
Just don't fill them until you need them.
In fact, I made all my roll-out cookies and are in the freezer to decorate closer to Christmas.
You can use Rodelle Vanilla Extract instead of vanilla bean paste but I really like seeing the flecks of vanilla beans in the cookies.
You can't go wrong with any of the Rodelle products.
And as always it's a great day to order my cookbook.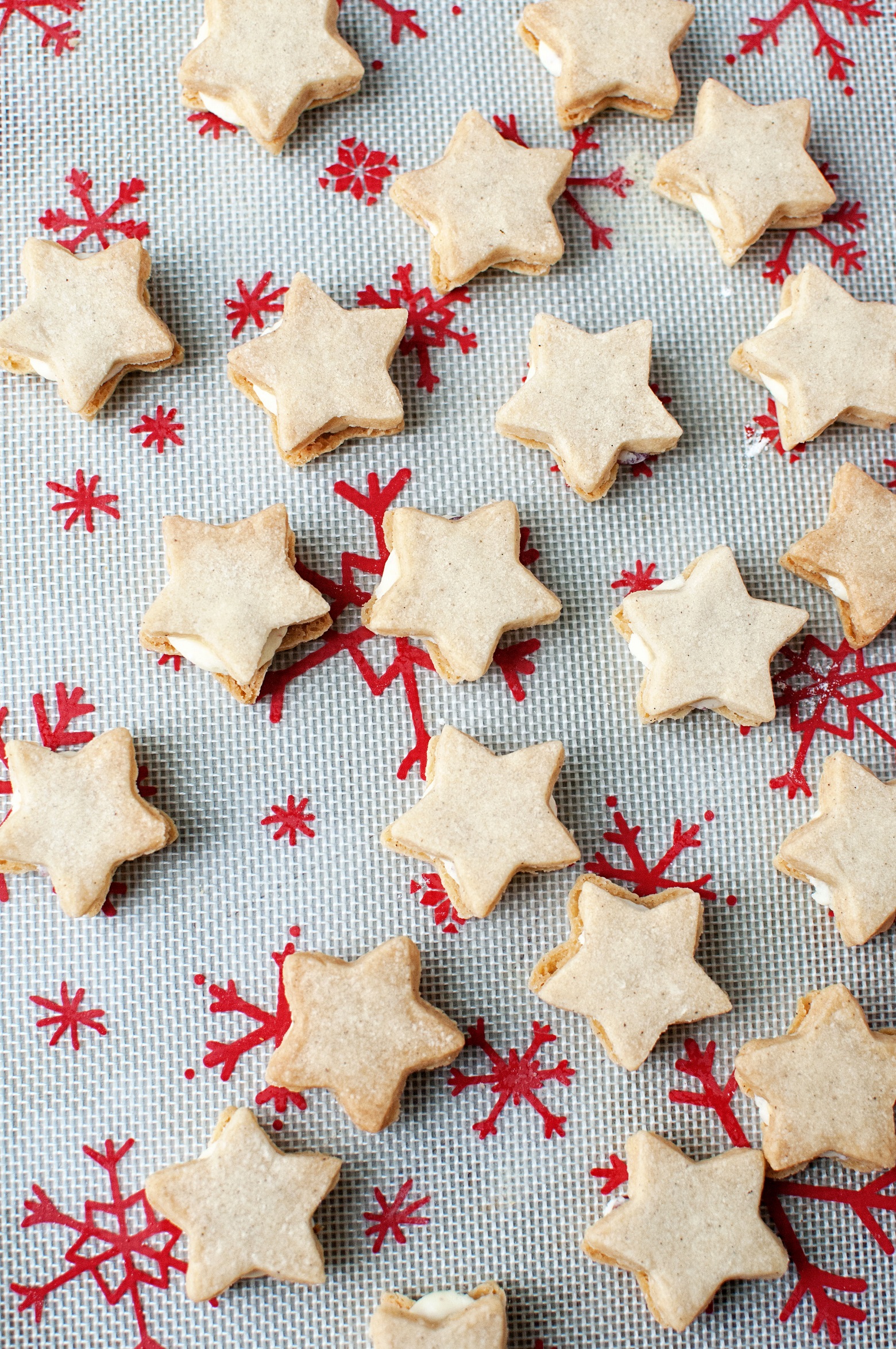 Want More Holiday Cookies?
Mini Chocolate Gingerbread Men Sandwich Cookies
Shortbread Roll Out Sugar Cookies
Cranberry Orange Pistachio Cookies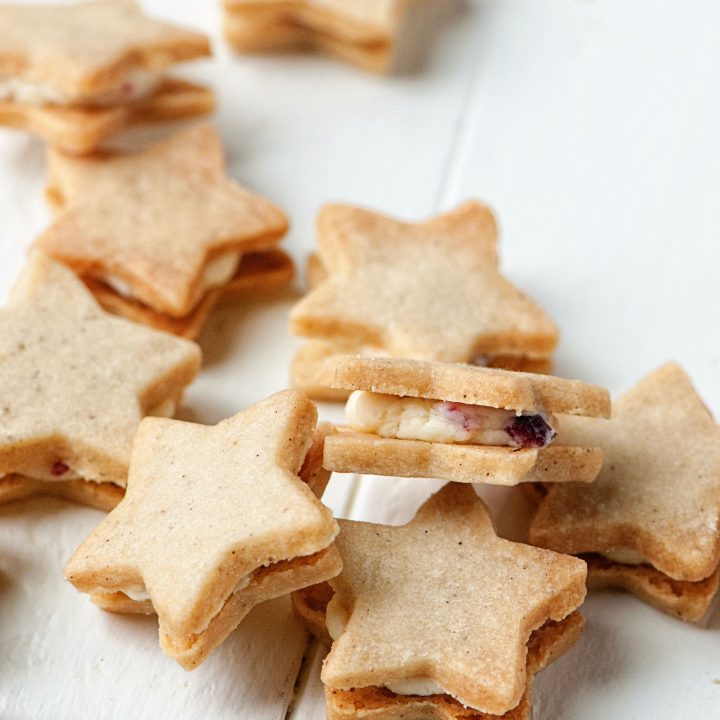 Vanilla Bean Shortbread Roll Out Cookies
Ingredients
For the Vanilla Bean Shortbread Roll-Out Cookies:
1 cup unsalted butter, at room temperature
½ cup granulated sugar
2 tsp. Rodelle Vanilla Bean Paste
2 cups all-purpose flour
1 TBSP cornstarch or rice flour
For the filling:
6 oz. unsalted butter, at room temperature
Zest from two oranges
¼ cup Craisins, finely chopped…and I mean finely
8 oz. powdered sugar
2 TBSP orange juice
Instructions
Preheat oven to 300° F.
Using a stand mixer with a paddle attachment cream together the butter and sugar until light and fluffy, about three minutes.
Add the vanilla bean paste and beat for another 30 seconds.
Add in flour, ½ cup at a time with mixer on low.
Repeat until all the flour is gone.
Add cornstarch and mix until combined.
Let mixer run on low until dough forms.
Divide dough in half.
Sprinkle flat surface lightly with flour.
Roll out the cookie to ¼-inch thickness.
Cut with floured cookie cutters.
Place 1 inch apart on ungreased baking sheets.
Bake for 20-22 minutes.
Let cool before filling.
For the filling:
Beat butter and zest at medium speed with an electric mixer until creamy.
Gradually add powdered sugar, beating until well blended.
Stir in 2 Tbsp. orange juice, adding additional juice, if necessary, to reach desired consistency.
Fold in the Craisin pieces.
Spread some of the buttercream onto half of the cooled shortbread star; sandwich each with another cookie.