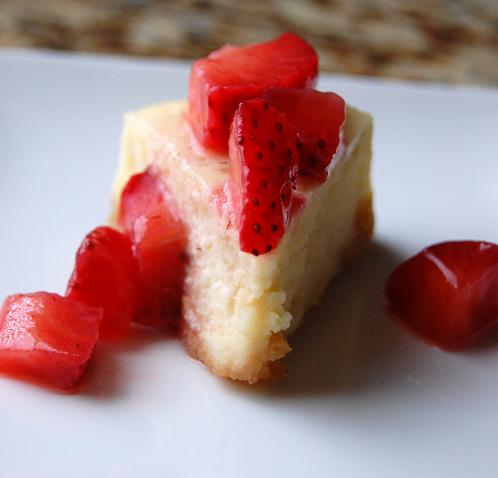 So back towards the end of January I held my housewarming party.
It was only females, most of who belonged to either a Newlywed group I hang out with or the Book Club Girls.
I chose to go this route because my husband and I's friends are most definitely eclectic and probably wouldn't mesh all that well.
Plus, I'm not paying for alcohol for hockey players(we throw back..a lot).
I, of course, made more food than what the girls could eat, but my mother raised me to cook for 50…even when only 5 were coming.
We had a couple vegetarians and so I kept that in mind when making the menu.
The menu looked like this (keep in mind this was a 1:00pm party):
Cheese Platter with Grapes and Apples: Cabernet Soaked Cheddar, Balrina Hard Goat Cheese, Double Cream Brie, and Mango-Ginger Stilton
Cheddar Ale Spread
Hummus and Veggies
Pear, Pecan and Gorgonzola Salad
Puff Pastry Bites filled with Chicken Salad
Puff Pastry Bites filled with Goat Cheese and Roasted Peppers
Bacon wrapped Water Chestnuts in Blackberry BBQ Sauce
Mini Vanilla Cupcakes with Buttercream Frosting
Brownie Cake Bites with Caramel Peanut Sauce
Ricotta Cheesecake with Strawberries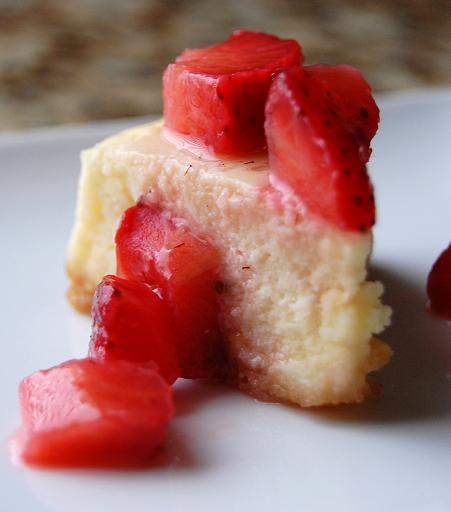 Beverages:
White wine (La Crema Chardonnay, A to Z Pinot Gris)
Izze Sodas in Blackberry, Apple and Clementine.
I really wanted the Pear but couldn't find it anywhere.
Strawberry Lemonade Smoothies.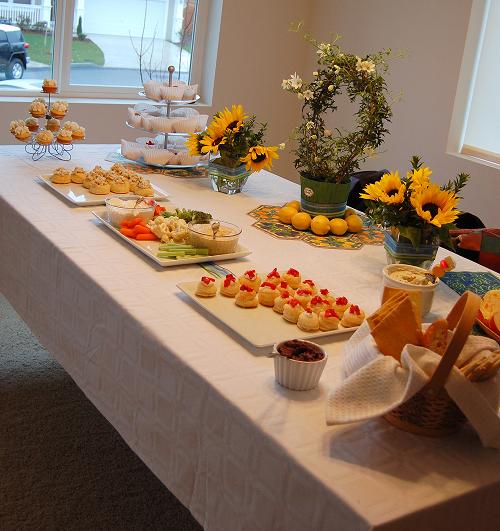 I forgot to take pictures before we started to eat and some of the food was in the kitchen, but you get the idea.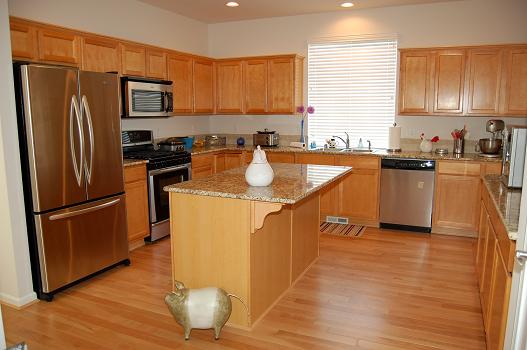 I realized when I started writing this post that you all have not seen a picture of my completed kitchen.
Now onto the food.
One of the desserts that was served was a Ricotta Cheesecake with Strawberries.
If you have never had one, they are different from that of a New York Style cheesecake…much lighter and of course the texture is different due to the ricotta.
I like to serve it at parties since it a little lighter.
You can use whatever berries or fruit you would like on top.
I chose strawberries for the sheer fact that they were the best looking produce(fruit) that day.
P.S. It'ss a great day to order my cookbook.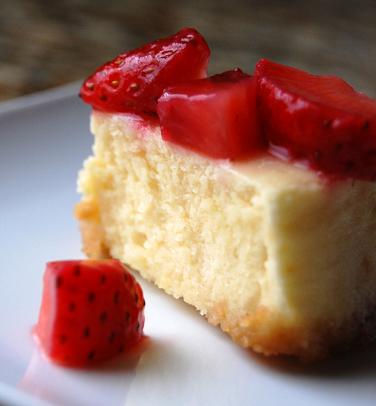 Want More Cheesecake Recipes?
Cinnamon Roll Caramel Apple Cheesecake
Pumpkin Salted Caramel Swirl Cheesecake
Caramel Apple Toffee Cheesecake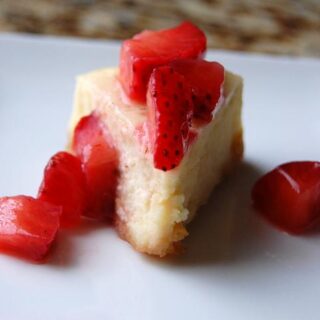 Ricotta Cheesecake with Strawberries
Ingredients
For the Crust:
2 cups crushed vanilla Oreos or vanilla wafers
¼ cup sugar
¼ cup melted butter
For the Cheesecake:
1 pound cream cheese
1 pound Ricotta cheese
2 cups sour cream
1 ½ cups granulated sugar
½ cup all-purpose flour
6 eggs
1 tsp lemon zest
1 TBSP vanilla extract
For the Strawberries:
3 cups diced strawberries
juice of one lime
1/3 cup granulated sugar
Instructions
For the Crust:

Preheat oven to 350F.

Combine ingredients in a food processor.

This makes for a thick crust. If you want less crust, half the recipe.

Press mixture down flat into a greased 10-inch springform pan. I made three 4-inch cheesecakes since I wanted bites size for the party.

Bake crust for 12 minutes.

Set aside.

For the Cheesecake:

Reduce oven heat to 325F.

Cream the cheeses on medium speed until soft and blended.

Add the sugar and mix well, about 3 minutes.

Add the sour cream and mix for another minute.

Reduce speed to low and add flour.

Add eggs one at a time, scraping down the bowl after each addition.

Add lemon zest and vanilla extract.

Pour batter into prepared pan.

Bake in a water bath for 1 hour and 15 minutes. If making the minis they take about an hour. Check at the 45 minute mark to see if there is no more wiggle.

Check cheesecake after one hour for the full size.

When cake is removed from oven, remove it from water bath.

Let cool on a wire rack for 20 minutes.

Then refrigerate for at least 4 hours, overnight works best.

For the Strawberries:

Mix together and let macerate overnight.

Place on to of cheesecake when ready to serve.