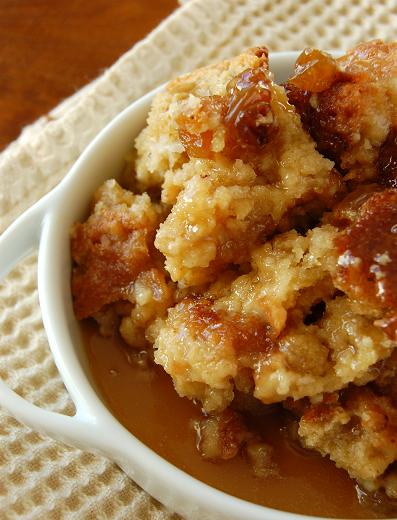 Well, here it is, my 300th post. I find it hard to believe that I have made 300 things for this blog(give or take a few for a restaurant review).
And when I say make something for this blog, I mean just that. Most people are surprised to learn that I make all my baked goods specifically for my blog. Even when I make dessert for friends coming over I think about what I already have on my blog and what I have put up recently. I try desperately to have variety. Sometimes it works out, and sometimes I have repeaters…but nonetheless, I try.
I recently read an article by Lisa(La Mia Cucina) over at Foodie View about comfort foods. Lisa a big fan of my croissant bread pudding and had asked to highlight it in her story, which she did. It got me thinking how bread pudding is my favorite dessert and yet, I only have 3 recipes for it on my blog. So I set out to make a bread pudding for my 300th post.
I have become obsessed with Ben and Jerry's Oatmeal Cookie Chunk Ice Cream as of late. If you are not familiar with it, here is the description(which doesn't do it justice): Sweet Cream Cinnamon Ice Cream with Chunks of Oatmeal Cookies & Fudge. I only allow myself one pint a month as I usually eat it in one sitting. I thought about making giant oatmeal cookie ice cream sandwiches with cinnamon ice cream(I still might do that…this Spring or Summer), but again the bread pudding was in the back of my mind.
So I made a loaf cake using the flavors of an oatmeal cookie. Even if you just bake the loaf you are good to go. I almost felt guilty letting that moist cake sit out over night all chopped up and spread out to get stale. But I had a mission. When I awoke the next day, the loaf was good and stale. I scattered the  pieced of loaf with raisins(I'm a golden girl) and soaked it in a cinnamon-nutmeg custard. Baked it in a bath and hoped that the outcome would be good. Because, you just never know. I come up with a lot of ideas…and often they flop. One good idea in theory that didn't turn out in reality was my rice crispy treat fried ice cream, live and learn.
Flop this did not, and I found myself at the bottom of the bowl in no time. Of course, I drowned it in toffee sauce as I do most of my bread puddings. A necessary evil in my opinion.
So thanks to all of you who read this little blog of mine. I certainly didn't think I would be lasting to 300 posts and now I can't imagine not having this blog.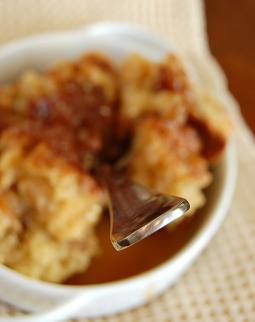 Oatmeal Raisin Bread Pudding
Oatmeal Bread
2 large eggs
12 TBSP unsalted butter, melted
1/3 cup buttermilk
1/3 cup canola oil
½ cup granulated sugar
¼ cup packed light brown sugar
1 ¼ cups all-purpose flour
1 cup old-fashion oats
1 ½ tsp baking powder
½ tsp baking soda
1 tsp ground cinnamon
¼  tsp ground fresh nutmeg
¼ tsp salt
Preheat oven to 350F.
Whisk together eggs, oil, butter, buttermilk and sugars.
In a separate bowl, whisk together flour, oats, baking powder, baking soda, salt and spices.
Pour the liquid ingredients into the bowl of the dry ingredients and stir until everything is incorporated. Scrape batter into a greased and floured 9-x-5-inch loaf pan and bake for 40-50 minutes. You can check  to see if done by inserting a knife into the center and it comes out clean. Let rest for 5 minutes. Run knife around the sides of the loaf pan and remove loaf. Continue to cool on a rack.
Take the oatmeal loaf and cut it into 2-inch pieces. Lay them out over night uncovered to become stale.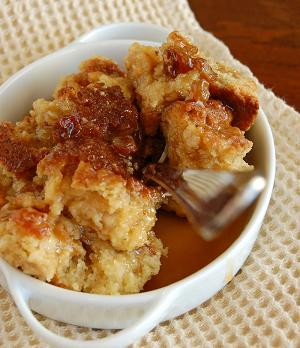 Cinnamon Custard
2 ½ cups heavy cream
3 egg yolks
4 eggs
¾ cup granulated sugar
1 tsp vanilla extract
1 tsp cinnamon
½ tsp fresh ground nutmeg
Whisk together all the ingredients until completely incorporated. Set aside until needed.
To make the bread pudding:
Preheat oven to 325F.
Butter a 8-x-8-inch pan. Place ½ of the bread pieces into the pan. Sprinkle ½ cup golden raisins over the bread. Pour ½ the custard mixture over the bread and press gently to allow the liquid to soak in. Scatter the remaining bread evenly. Followed by another ½ cup raisins and then the last of the custard. Again, press the bread down gently to allow the custard to absorb into the bread.
Place bread pudding into a pan that is large enough to hold both the pan and a water bath. Pour enough hat water into the pan to come halfway up the sides of the pudding pan. Bake for 1 hour and 20 minutes.
Remove pan from oven(carefully) and remove from water bath. Serve warm and with toffee sauce.
Toffee Sauce
3/4 cup packed brown sugar
1/3 cup unsalted butter
1/3 cup whipping cream
1 tsp vanilla extract
Stir brown sugar and butter in heavy medium saucepan over medium heat until melted and smooth, about 2 minutes. Add cream and vanilla and bring to a simmer. Simmer for about 5 minutes.