This Pina Colada Torte has a coconut cake base, pineapple bavarian, and is served with a Strawberry Guava Syrup.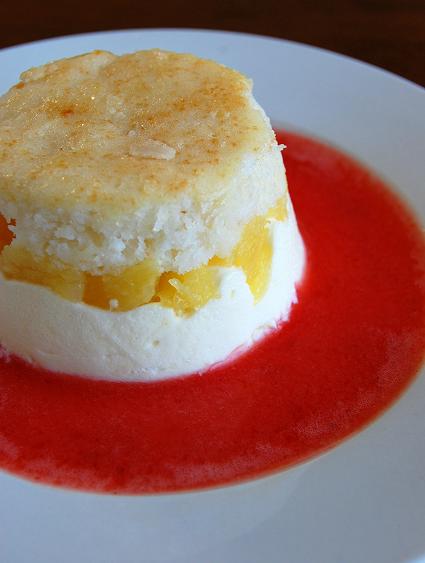 My mother likes to remind me from time to time that I tell embarrassing things about our family on this blog.
I reminded her that I did not tell embarrassing stories about our family…just me, my husband, her and my dad.
My brother's and their families have yet to be brought down in blog glory. 🙂
I also told her that she should stop providing me with so much embarrassing material then I would have nothing to write about. 😛
So keeping with embarrassing, I will embarrass myself today by saying that though I have access to some of the best seafood around, my husband and I usually go to Red Lobster once a year.
Are you happy mom?
I am embarrassing myself, not you(you are up next week).
Now in all fairness though, I don't actually go for the seafood.
You are feeling better about this now, aren't you?
I go for two things, the Cheddar Bay Biscuits and a Sunset Passion Colada.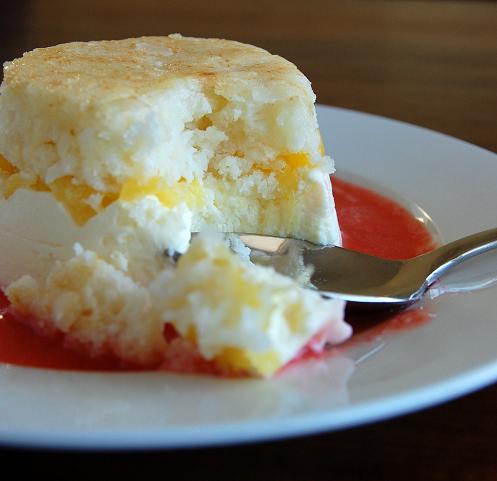 If you are unfamiliar with the Red Lobster, you will live I can assure you.
But if you have been surely you know of the addictive cheddar biscuits that they bring to your table.
My husband and I plow through tons of them.
The other thing I love there is the Sunset Passion Colada.
Yeah, it's a fancy name for a pina colada with some strawberry sauce on top.
But for some reason I really, really like them.
I loved pina coladas as a kid…the virgin kind and I don't think that love ever went away.
Now in my "older" years beer and wine are what you will usually find me drinking.
The shear calories in a pina colada(around 600) are frightening and I would much rather EAT my calories then drink them.
But when we make the trek to the giant lobster in the sky…well mall outskirts, I always have one.
And if I am throwing caution to the wind, two of them.
It's been well over a year now since we have gone and I have been craving a Red Lobster colada.
And so I thought I would create a dessert instead…that way I could eat the calories and not drink them.
This is a simple coconut cake, some pineapple(crushed from a can…I know, but no fresh was looking good), a pineapple Bavarian and a strawberry-guava syrup.
I have to say that this dessert will more than tide me over until we make our next trek to the Red Lobster.
If I could make the biscuits at home we would never have to go.
Now, before you say there are copycat recipes, I know this.
I don't want to know them.
Learning to make those biscuits would be a very, very bad thing.
Very bad.
So very bad indeed.
I have colada control…I don't have Cheddar Bay Biscuit control.
P.S. It's a great day to buy my cookbook Holy Sweet!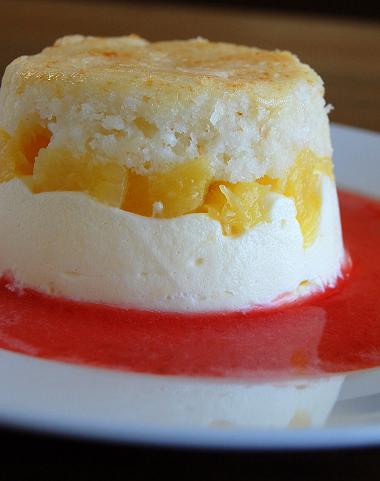 Want More Pineapple Recipes?
Candied Pineapple Coconut Bread
Pineapple Upside Down Jello Mold
Hawaiian Punch Pineapple Upside Down Cake
Pineapple Upside Down Sticky Buns
Yummy Pineapple Upside Down Cake Fudge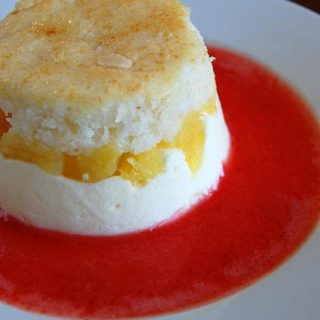 Pina Colada Torte with Strawberry Guava Syrup
Ingredients
For the Coconut Cake:
8 TBSP unsalted butter, at room temperature
½ cup vegetable shortening
1 TBSP baking powder
1 ¾ cup granulated sugar
¾ tsp salt
1 tsp vanilla extract
1 tsp coconut extract
5 large egg whites
2 ¾ cup cake flour
1 cup milk
1 cup sweetened shredded coconut
For the Pineapple Bavarian:
1 packet powdered gelatin(around 2 ¼ tsp)
1 cup fresh pineapple juice, divided
3 large eggs, separated
¼ cup granulated sugar, divided
1 cup heavy whipping cream
For the Strawberry Guava Syrup:
½ cup granulated sugar
2 ounce water
2 ounces guava juice
3 ounces of strawberries, pureed
Instructions
For the Coconut Cake:

Preheat oven to 350F.

In a large mixing bowl, cream together butter, shortening, baking powder, sugar, salt and extracts until light and fluffy, at least 3 minutes.

Add the egg whites to the butter mixture one at a time, beating well after each addition.

Stir in one-third of the flour into the creamed mixture, then half the milk, another third of the flour, the remaining milk, and the remaining flour.

Be sure to scrape the sides and bottom of the bowl occasionally throughout this process.

Fold the coconut into the batter.

Pour the batter into a greased and floured 9-x-13-inch pan.

Bake for 30-35 minutes.

Remove cake from oven, and cool them on rack.

For the Pineapple Bavarian:

Place ¼ cup of the pineapple juice into a small bowl.

Sprinkle gelatin over and let dissolve.

In a saucepan, whisk together egg yolks and 1/8 cup granulated sugar.

Do not place over heat, yet.

Bring remaining pineapple juice to a boil in a small saucepan.

Once boiled, remove from heat.

Temper egg mixture with juice, slowly adding the juice to the egg mixture and whisking the whole time.

Move to stove top and heat and simmer, stirring constantly, until sauce coats the back of a spoon.

Place saucepan into a large, heat proof bowl filled with ice. This will help the mixture cool quicker. Watch to make sure the gelatin doesn't start to set.

Once cool, remove from ice bath and set aside.

Whip 1 cup heavy cream into stiff peaks. Set aside.

Whip egg whites and the remaining 1/8 cup granulated sugar until stiff peaks form.

Carefully fold the egg whites with the whipped cream.

Then fold the mixture into the cooled pineapple mixture.

For the Strawberry Guava Syrup:

In a small saucepan, bring sugar and water to a boil. Remove from heat and stir in the guava juice and strawberry puree.

To assemble:

Find a round cookie cutter that is the size of the bottom of the dish you are using.

Cut out coconut cake using that cutter.

Spray your dish with baking spray or butter them lightly.

Place cake circle at bottom of dish.

Top with pineapple(optional).

Fill remainder of the dish with pineapple Bavarian.

Refrigerate for at least 4 hours.

Unmold and serve with Strawberry-Guava Syrup.