This Classic Red Velvet Cake is made how my southern ex-husband grew up eating his cake…with chopped pecans IN the frosting.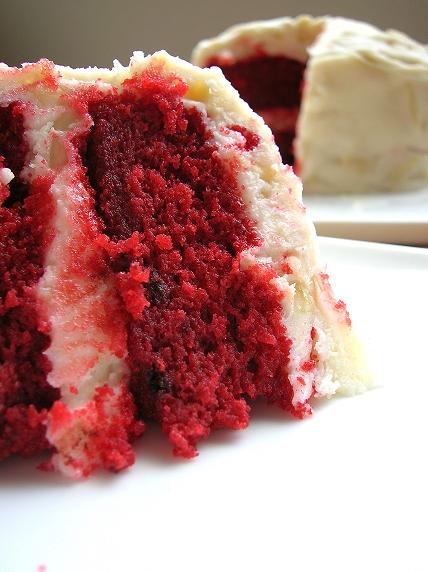 The Daring Bakers are at it again.
This month we chose Classic Red Velvet Cake, which very few people had made, but I make on a monthly basis for my Southern gentleman.
Like a lot of people I know, I became acquainted with red velvet cake from the movie Steel Magnolias.
There at the wedding was the awful grooms cake, an armadillo, that when cut into was a blood red, red velvet cake.
Not exactly appetizing to me, but no one in the movie thought it out of the ordinary.
That's one of the many things I love about the South.
Before meeting my husband I had red velvet cake a few times but had never made it before.
But when I met him one of the few things (we have already established he is a picky eater) he said he truly loved to eat was red velvet cake.
So off I went to make it.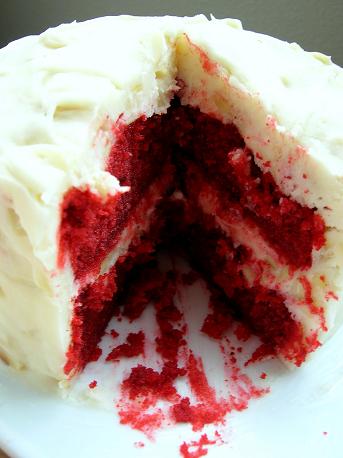 I was all proud the first time in making it.
There it stood, all three layer of cake, covered in cream cheese frosting with chopped pecans sprinkled on top.
Because he told me that red velvet cake where he is from HAS to have pecans.
Okay.
I was excited to see my husbands reaction (he did not know I was making it).
When I held out the cake there was a look of horror on his face.
"That's not red velvet cake," he said.
I assured him that according to the recipe, it was indeed red velvet cake.
And if he would cut into it he would see it was quite red.
"Pecans go IN the frosting, not on top!"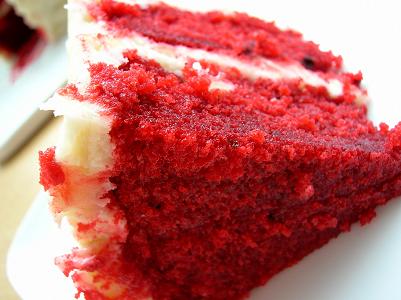 What is the difference I thought?
Apparently to him there is.
And so from that day on I put the chopped pecans in the frosting instead of on top.
Which leads me to my first warning about this cake.
It's a bitch to frost.
And that is putting it mildly.
You will swear while frosting this cake.
In fact, you may in fact invent new swear words when frosting this cake.
I did.
If you are going for a pretty cake, this is not it.
A crumb layer is a must on this cake.
You are going to get bits of red in your pretty white frosting…oh well.
I have made several recipes and he doesn't seem to prefer anyone of them.
Every time I get, "tastes good, tastes like red velvet cake."
He is so helpful.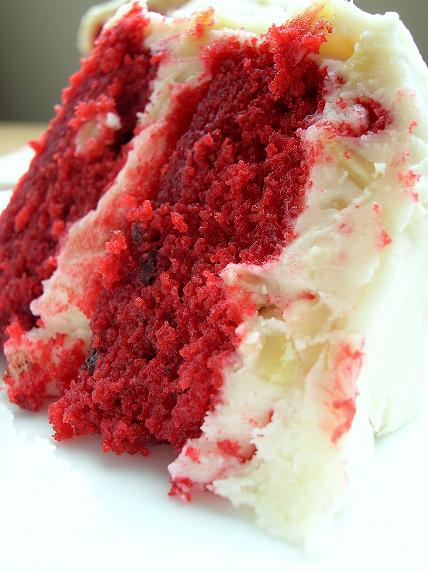 So when we (the Daring Bakers that is) picked red velvet cake I decided to pick a recipe I hadn't tried yet.
This one came from a Southern boarding house cookbook and looked pretty traditional so I gave it a whirl.
This originally was a three layer cake but my impatient husband could not wait until the next day after I took photos to eat it…so the top layer went to him.
I actually made three mini layers and one regular cake layer (that went to a friend).
Another impatient thing was that I did not have pecans.
When I told him this he said, "fine, just use some other nut."
All I had was slivered almonds, so that is what I used.
He seemed to be okay with it telling me, "tastes good, tastes like red velvet cake."
Grrrrr….men.
It's a great day to order my cookbook.
Want more Red Velvet recipes?
Red Velvet Marble Cake with Red Velvet Oreo Cream Cheese Bavarian Filling
White Russian Red Velvet Cupcakes
Kalimotxo Chocolate Red Velvet Cupcakes
Red Velvet Cream Cheese Swirl Brownies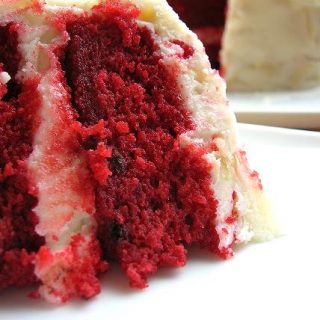 Classic Red Velvet Cake
Ingredients
For the cake:
2 eggs
1 1/2 cups sugar
1 1/2 cups vegetable oil
1 tsp white vinegar
2 1/2 cups cake flour
1 tsp baking soda
2 to 3 TBSP cocoa powder
1 cup buttermilk
1 tsp vanilla
5/8 ounce bottle red food coloring
Cream Cheese Frosting:
1(8 ounce) package cream cheese, softened
1/2 cup butter
1 (1 pound) box confectioners sugar
1 cup chopped pecans
1 tsp vanilla extract
Instructions
For the cake:
Preheat the oven to 350F.
Cream the eggs, sugar, oil and vinegar.
Sift the cake flour, baking soda, and cocoa together.
Add the flour mixture to the creamed ingredients while beating.
Slowly add the buttermilk.
While still beating, add the vanilla and the food coloring.
Pour into three 8-inch layer pans and bake for about 25 minutes.
Press lightly; if the layers are spongy, then the cake is done.
Frost the cooled layers, assemble and frost the top and sides.
Serves 12 to 14.
For the frosting:
Combine the cream cheese and butter and melt over very low heat.
Add the sugar, pecans and vanilla and mix well.
If the frosting becomes too thick, add a little milk.
Frost one 8-inch or 9-inch layer cake.


Notes