These Red Velvet Cupcakes with White Russian Cream Cheese Frosting are a boozy take on the classic red velvet cupcake.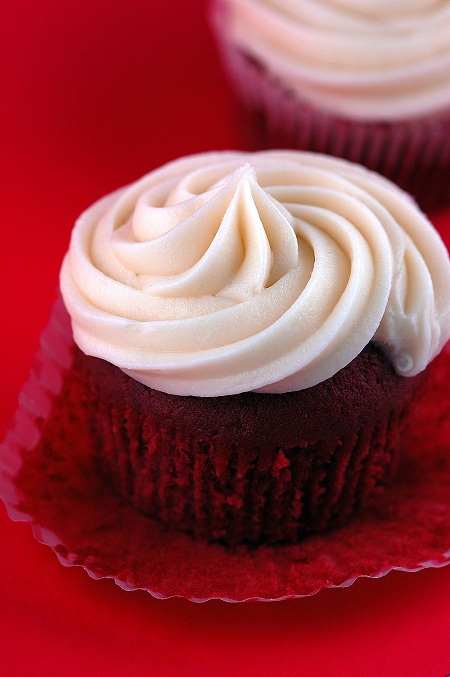 This post for Red Velvet Cupcakes with White Russian Cream Cheese Frosting was originally published in 2012 and several things have changed.
What has changed will be in bold.
So while I do get a terrifying amount of email asking about my sex life, the number one question that come via email is do you have an easier way to print your recipes?
And before the answer was always no.
The other question is do you have a newsletter I can subscribe to?
That answer remains no.
I seriously have enough trouble figuring out what to put on this blog let alone come up with a newsletter, which would be called Baking from a Crappy Apartment Kitchen. 🙂
I now have a newsletter.
You can sign up HERE.
Which is what I would like the title of my Food Network show to be. 😉
But in all seriousness you will all be excited to learn that thanks to Mediavine you can now print my recipes.
Well right now 22 of them (way more than 22 now).
But eventually all of them once the arm is feeling better to sit at a computer and put them all in.
And you can Pin them…there's a button.
You can Tweet them…there's a button.
And you can Facebook them…there's a button. Lots of options (email, text!).
But the most important being the ability to print them.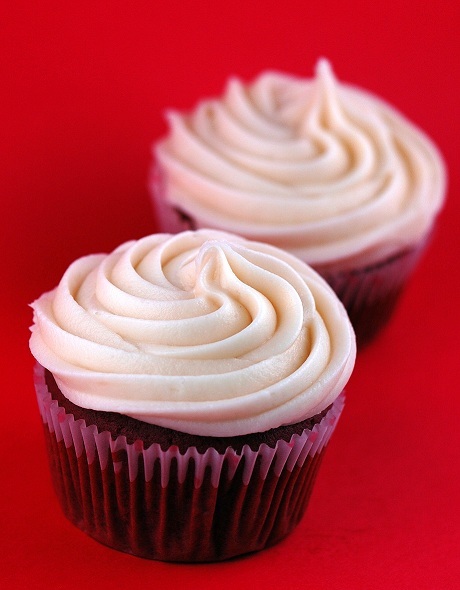 So I hope this makes you the reader a little more happy…I aim to please.
Well not really. 😛
Well okay, kind of. 🙂
Speaking of pleasing, almost everyone I know loves a red velvet cupcake.
Which are popular around Valentine's Day which (FYI men) is coming up soon (less than a month).
These have a little twist with a White Russian Cream Cheese Frosting added to it…so not kid friendly, but can be made kid friendly.
P.S. It's a great day to buy my cookbook Holy Sweet!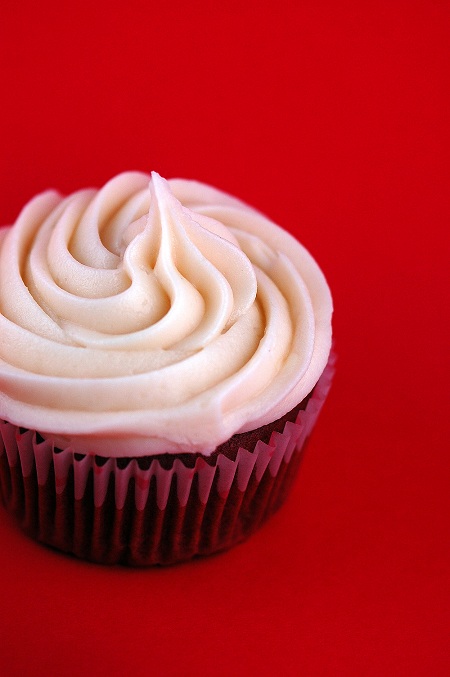 Want More Cupcake Recipes?
Dark Chocolate Butterfinger Cupcakes
Strawberry Buttercream Neapolitan Cupcakes
Key Lime Toasted Coconut Cupcakes
Strawberry Malted Milk Cupcakes
Chocolate Glazed Rocky Road Cupcakes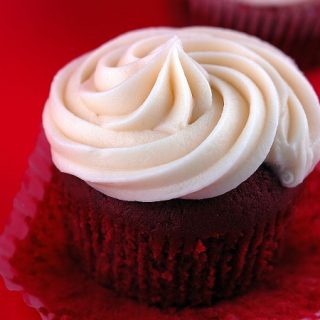 Red Velvet Cupcakes with White Russian Cream Cheese Frosting
Ingredients
For the Red Velvet Cupcakes:
2 1/4 cups unbleached all-purpose flour
1 cups granulated sugar
1 teaspoon baking soda
1 teaspoon salt
1/4 cup unsweetened cocoa powder
2 eggs
1 cup buttermilk
1 teaspoon distilled white vinegar
1 cup vegetable oil
2 tablespoons (1 ounce) red food coloring
1 teaspoon pure vanilla extract
For the White Russian Cream Cheese Frosting:
1 (8-ounce) package cream cheese, softened to room temperature
1/2 cup (1 stick) unsalted butter, softened to room temperature
4 cups (about a 1-pound package) powdered sugar
2 TBSP Kahlua
2 TBSP vanilla vodka
Cream to thin
Instructions
For the cupcakes:
Position a rack in the center of the oven and preheat the oven to 350 degrees F. Line a 12-cup muffin pan with paper liners and set aside.
In a bowl of an electric mixer set on medium speed, lightly beat the eggs.
Add the buttermilk, vinegar, oil, food coloring and vanilla, beating until well-combined.
Slowly add the dry ingredients, mixing until combined. Pour the batter into the prepared muffin cups, filling each cup about 2/3 full.
Bake for 25 to 35 minutes, or until a wooden skewer inserted near the center of a cupcake comes out clean.
Remove the muffin pan from the oven and cool on a wire rack for 10 minutes. Turn the cupcakes out of the tin, and place them on the wire rack to cool completely.
For the Frosting:
In a stand mixer with a paddle attachment on medium-high speed, cream the cream cheese and butter.
Reduce the speed to low, and gradually beat in the powdered sugar, until the mixture is fluffy.
Beat in the Kahlua and vodka.
Thin with cream if need be.
Spread or pipe frosting on to the cupcakes and enjoy.