Kalimotxo Chocolate Red Velvet Cupcakes: Red wine and cola are added to red velvet cake, frosted with chocolate red wine and cola buttercream, and drizzled with red wine and cola reduction.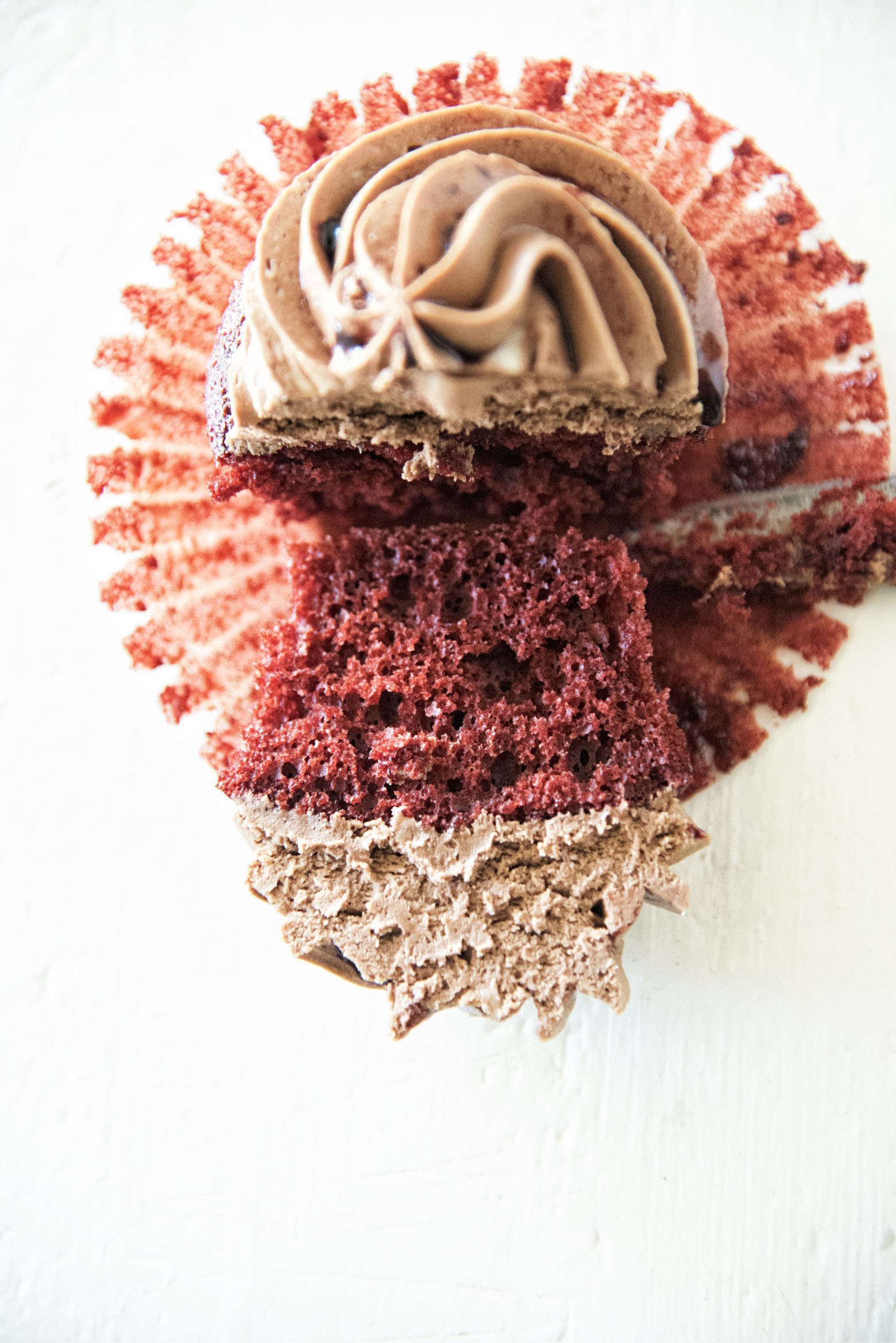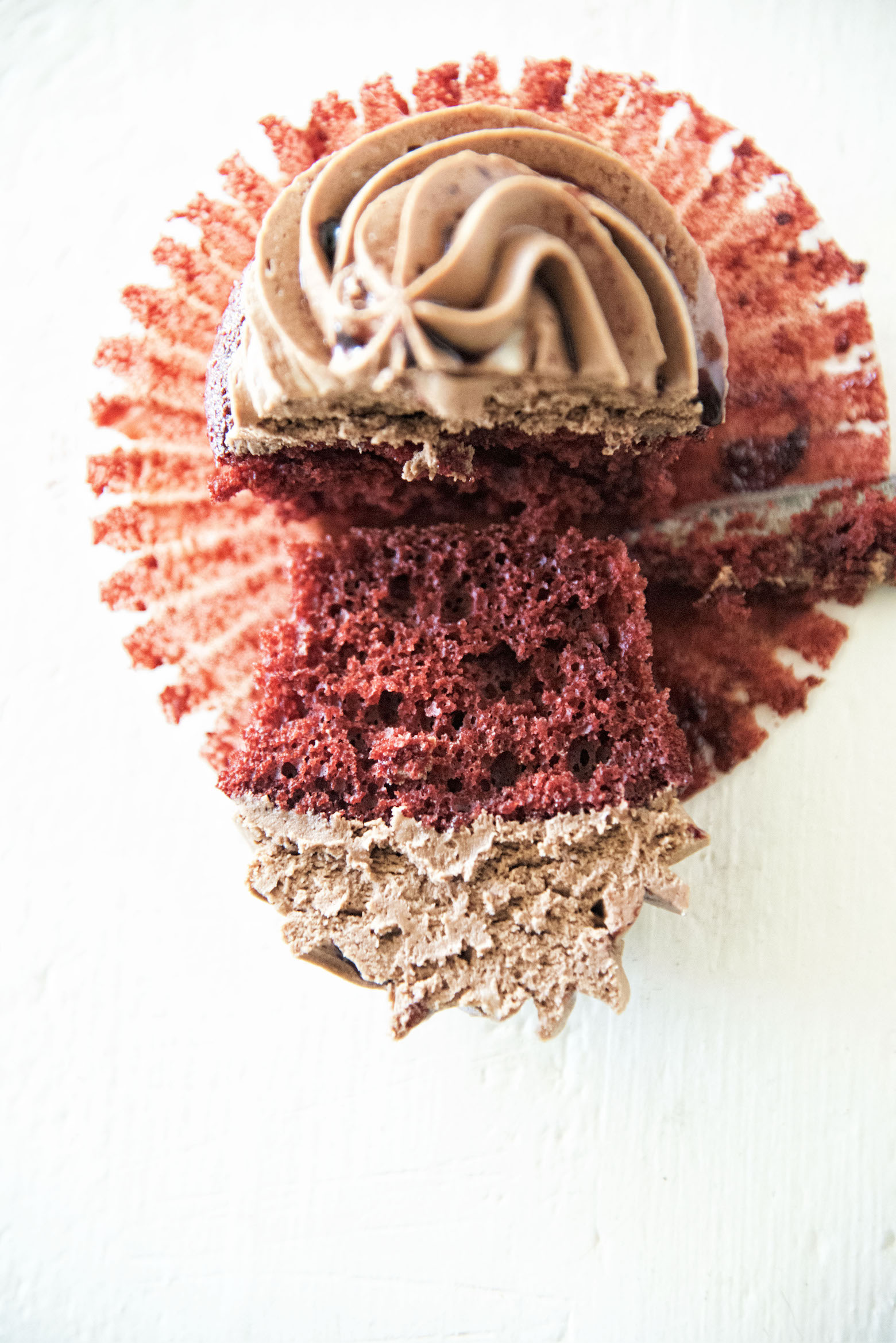 I'm willing to try almost anything once food and drink wise.
The exception of course is to things I'm allergic to. 🙂
I have eaten bugs. Grasshoppers. Ants. Beetles. Mealworms.
Haggis (quite a bit actually).
Corn Smut (fungus).
Sheeps head.
Durian.
You get the picture.
So when in the Basque Country many, many years ago as a poor 20 something I was offered Kalimotxo.
It's gaining popularity over here in the states as of late.
What is Kalimotxo?
Red wine (cheap) and Coke.
It does not sound like something you would want to throw back.
Yet, it totally works.
Lots of ice is key.
When I saw it on the drink menu at a bar the other day it got me thinking about the flavor combos.
I like chocolate and red wine together.
And I like chocolate and Coke together.
Let's find out if I like red wine, Coke, and chocolate together.
Turns out, I do.
So if you are the adventurous type who likes red wine, chocolate, and Coke…I think you should give these a try!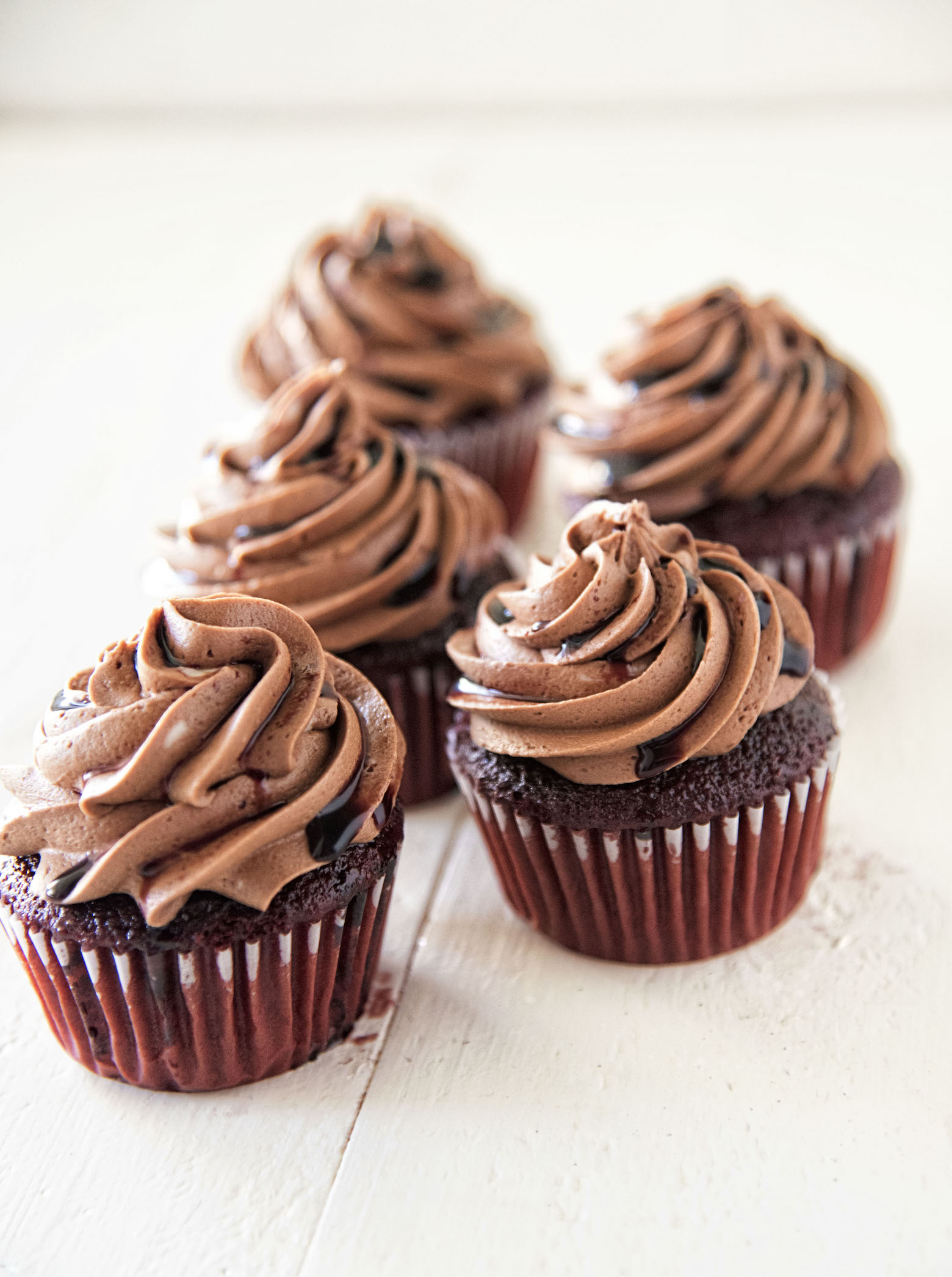 Kalimotxo Chocolate Red Velvet Cupcakes
For the cupcakes:
1 box red velvet cake mix
3/4 cup Coke
1/2 cup red wine
½ cup vegetable oil
3 eggs
For the Frosting:
1 cup unsalted butter, at room temperature
6 cups powdered sugar
2 TBSP red wine
2 TBSP Coke
8 oz semisweet chocolate melted, slightly cooled
For the Reduction:
1 cup red wine
1 cup Coke
Instructions:
For the reduction:
Place Coke and wine in a medium sauce pan and bring to a boil.
Reduce to a simmer and watch carefully.
Reduce to 1/2 of a cup.
For the cupcakes:
Heat oven to 325 degrees F
Spray cupcake pans with baking spray (regular size or mini)
Mix cake mix, Coke, wine, oil and eggs in large bowl with mixer on medium speed or beat vigorously by hand 2 minutes.
Pour into cupcake pans.
Bake as directed in chart or until toothpick inserted in center comes out clean.
Cool 5 minutes before removing from pan.
Cool completely before frosting.
Cupcakes (Makes 24): 16- 20 bake time (in minutes).
Cupcakes (make 48) 13-15 (in minutes).
For the frosting:

In a bowl of an electric mixer add butter.
Mix on medium high speed till creamy.
While the mixer is running slowly add the powdered sugar, one cup at a time.
Once all the powdered sugar is incorporate add in chocolate, red wine, and cola.
Beat together until fluffy.
Add frosting to the piping bag and pipe on the frosting.
Drizzle with red wine and cola reduction.