It's here! Cheesecake day…and you certainly have your pick…54 to pick from to be exact. I just want to thank all of you who entered…you exceeded my expectations! 
Voting is now open and you do not have to be a HHDD particpant to vote. So please check them all out and vote by next Saturday, March 31st. Send your vote( you can only vote for ONE) to luvbriere (at) gmail (dot) com. Good luck, I don't evny your decision. A winner will be annouced a few days after that.
 Entry #1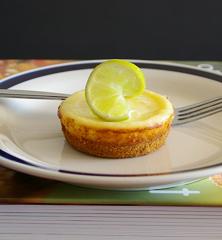 Our first entry comes from the place that my husband and I are dying to visit…Sydney, Australia. Lydia over at My Kitchen offers up two versions of  mini cheesecakes(you know how I love the mini)…one lime and one with blueberries. Yum.
Entry#2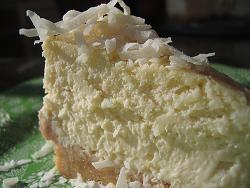 Our second entry hails from the nation capital(of the United States that is). Inspired by leftover Girl Scout cookies(who has leftovers? 🙂 ). Kendle from My Husband Cooks offers up this scrumptious looking coconut cheesecake…complete with Girl Scout cookie crust.
Entry #3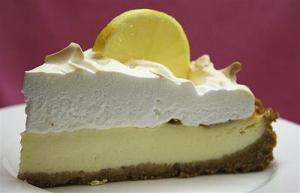 Our third entry comes all the way from Hong Kong. Heather, a Canadian living in Hong Kong bakes for us a luscious Lemon Meringue Cheesecake. To see it head over to her blog at The Culinary Chase.
Entry #4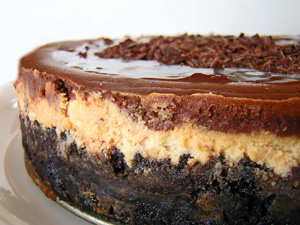 Entry #4 hails from one of my fellow Daring Bakers, crazy Canadian Brilynn from Jumbo Empanadas. She had originally thought of a pina colada cheesecake but went in a different direction…though still keeping the rum(a girl after my own heart). Bri brings you her Chocolate Cherry & Rum Cheesecake…with the main problem being that she didn't get to eat any of it…oh the horror!
Entry #5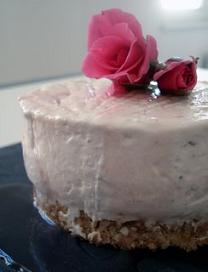 Entry #5 was sent to us from Rachel(of R KHooks), who is currently residing in Paris(oh, how I wish that were me). She brings us a beautiful Rose and Ricotta Cheesecake. She uses a rose jam, which I have never heard of but definitely interested in.
Entry#6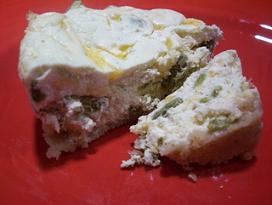 Our first savory entry comes from Chelsea of Bon Vivant. This Colorado resident made a scrumptious Goat Cheese Green Chile Cheesecake, which no doubt would make for a wonderful appetizer!
Entry# 7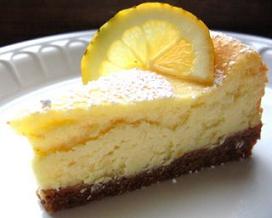 Entry #7 comes from another International blogger(so excited that we have so many), all the way from New Zealand.  Arfi from Homemades makes the Indonesian version of the Donna Hay Classic Baked Cheesecake.
Entry #8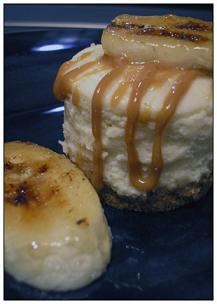 Laurie from Massillon, Ohio made a great looking Banoffee Cheesecake with Homemade Dulce de Leche. I love the word Banoffee(as I do all made up words) and the use of homemade Dulce de Leche. To see the recipe head on over to her blog at Laurie's Kitchen.
Entry #9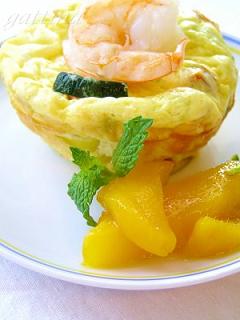 I'm excited that there is another savory entry, and a very creative one at that. Gattina of Kitchen Unplugged created this Ricotta Tortelet with Poached Mango…made with fresh ricotta…fantastic!
Entry #10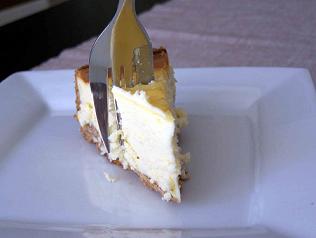 Another Aussie has entered HHDD, and even better is the fact that she has never made a cheesecake before! Deena from Scoop offers up Jamie's Easy Vanilla Cheesecake…Jamie being Mr. Oliver of course! Welcome to the world of cheesecake Deena.
Entry # 11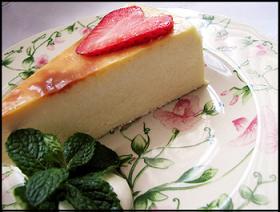 This cheesecake was actually made back in February but I got pleads to allow it since Kitarra from Cooking Debauchery says it is THE cheesecake. So how could I not allow THE cheesecake to be entered!!!
Entry#12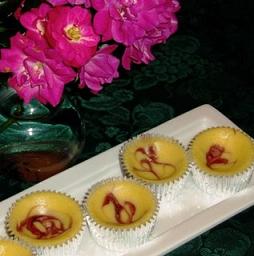 Another one from our group of Daring Bakers(our baking group) was kind enough to enter these lovely Mini Rasberry Swirl Cheesecakes(again, you know how I love the mini). Morven of Food Art and Random Thoughts was super good and did not eat ANY of the cheesecake…she is a far better woman than me.
Entry# 13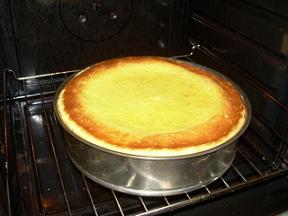 Entry # 13 es de Espana. Pilar from La Cocina de Lechuza shows us her take of a tarta de queso. Que bueno!
Entry # 14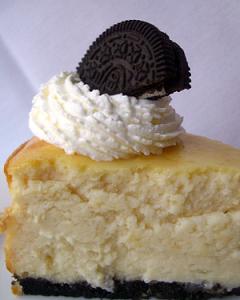 Barb of WinosandFoodies,the originator of Hay Hay It's Donna Day sent us this entry(actually her son made it for her since she is recovering). Oreos were what gave this Donna Hay recipe the twist of the Classic Baked Cheesecake with Oreo Crust. Both her son and I agree that next time he will use double the Oreos.
Entry #15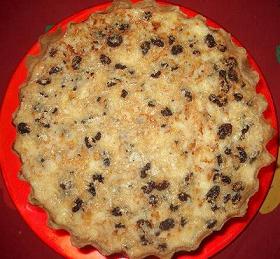 Freya over at Writing at the Kitchen Table offers up a Yorkshire Curd Tart. In case you haven't guessed it…yes, she is from England. Definitely not your everyday cheesecake so head over and check it out.
Entry#16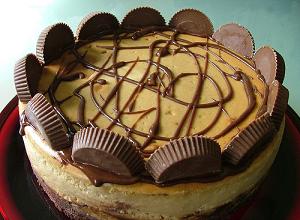 Our next entry had my husband drooling at the screen, as he is a huge peanut butter cup fan. Erika made a wonderful Peanut Butter Cup Brownie Bottom Cheesecake on her blog Mmmm Brains.
Entry #17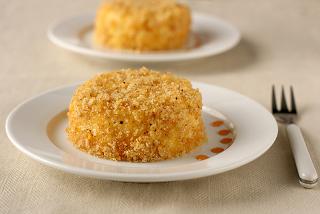 Getting exotic was Anita over at Dessert First with her Goat Cheesecake Enrobed in Hazelnut Brittle with Blood Orange Caramel Sauce…she asures us that it is goat cheese and not actual goat in the cheesecake.
Entry #18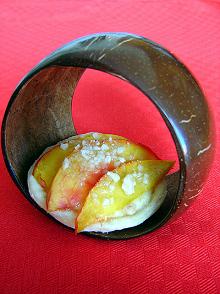 Another International entry, this time from Kja of Il pranzo di Babette. Kja offers up a lighter version of cheesecake for those watching their wasteline do something other than grow. Here's hoping her mini nectarines cheesecake
wont add to your waistline.
Entry# 19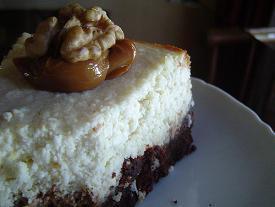 Marcela all the way from Argentina makes this tasty looking Dulce de leche and coconut cheesecake. You can read about the woes of her cheesecake at Pip in the city.
Entry#20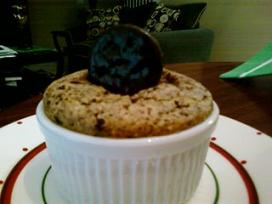 Here is an entry that used Girl Scout cookies also(really if everyone has too many, feel free to send them to me). Chris over at Mele Cotte has been a little stressed lately and made this Stressed Out Cheesecake to prove it.
Entry #21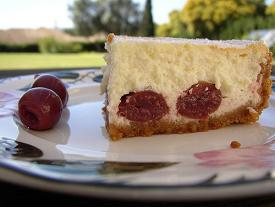 Zorra, who you might know as the brave blogger to take on the very successful World Bread Day, decided to stray from bread and make us a cheesecake. 1x umruehren bitte aka kochtopf is a mouthful to say but these cheesecake is a mouthful of yum to eat….got to love anything with Amaretto. Head on over and check out entry #21…Cherry-Amaretto-Cheesecake.
Entry#22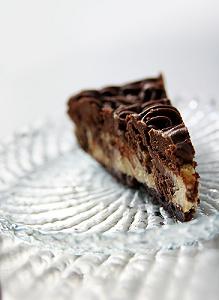 Mia from Finland was nice enough to bake her mom a birthday treat and it just happened to be a cheesecake. A lovely one at that. Marbled Mocha-Orange Cheesecake is what is offered up…to see the recipe head on over to her blog at Cloudberry Quark.

Entry #23
As a huge Key Lime fan, I was happy to see Elle make this vibrant Key Lime Cheesecake. Elle is another member of the Daring Bakers, her blog is Feeding My Enthusiasms.
Entry #24

Y over at Lemonpi made a Goat Cheesecake enrobed in Macadamia nut Brittle. Amazingly enough, not a fan of cheesecake, but feels this one is a winner…it must be to make a non-cheesecake lover like it.
Entry# 25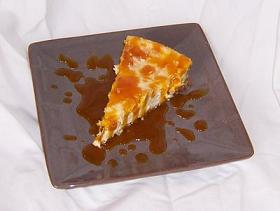 When you blog has a name like Passion Fruit & Mangos, you can't help but expect the cheesecake to be tropical…and it is.  Maria in Rochester, NY, made a lovely Passion & Coconut Tropical Cheesecake…maybe she is hoping for an early summer?
Entry #26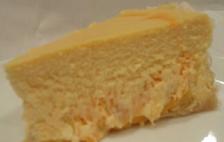 Dolores over at Chronicles in Culinary Curiosity(one of the fist food blogs I ever read) offers up a burst of springtime with her Mango Tango Cheesecake…I'm sure one bite of it will have you dancing.
Entry #27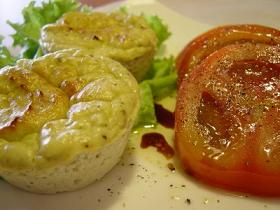 Joey of 80 Breakfasts(yes, she is a breakfast lover!) chose to put a twist on a Donna Hay recipe she found in a DH magazine. Baked Ricotta Cakes got turned into Baked Ricotta Pesto Cakes, with the cleaver use of some leftover pesto…way to recycle!
Entry# 28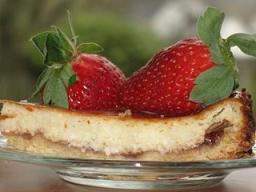 Claire from Cooking is Medicine is some one who truly amazes me. She is studying to be a doctor and yet finds time to cook and bake…I couldn't do it. She made a Dorie Greenspan recipe, Very Berry Cheese Torte, so you know it has to be good.
Entry# 29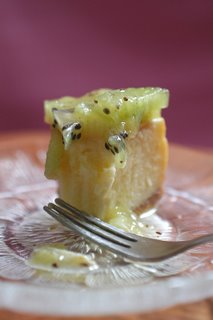 Evinrude made Baked White Chocolate Cheesecake, Two Ways …I am showing the kiwi version. To see both versions head on over to her blog My Life, The Rainbow.
Entry#30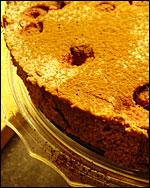 Caroline of Bibliocook: All About Food, was happy to have an excuse to make a cheesecake(and really, who isn't?). She sent this tasty looking Chocolate and Raspberry Cheesecake my way all the way from Dublin, Ireland.
Entry#31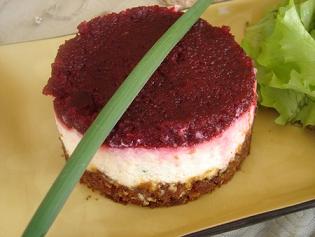 Anne, who's blog name, Foodie Froggy in Paris, makes me smile made an fabulous looking Smoked Salmon and Gingerbread Cheesecake that would be great on any appetizer plate!
Entry# 32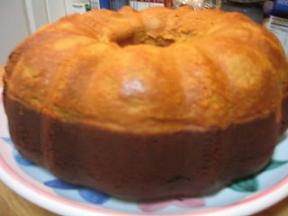 Josie from Flavor Junkie made a cheesecake that I had my eye on too. It is pretty non-traditional but sounds oh so yummy, Pumpkin Cheesecake Topped Chocolate Bundt Cake.
Entry#33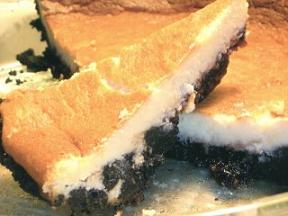 Another entry from the USA's national capital. Puu from Puu's Cookbook offers up a raspberry white chocolate truffle cheesecake that sounds delicious!
Entry #34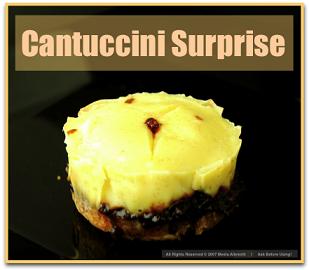 Meeta from What's For Lunch Honey? make a dessert that is plum perfect! Needing to do a little celebrating, Meeta made Cantuccini Plum Cheese Cakelettes…just enough dessert to make you happy but not so much that you need to go up a size in pants!
Entry# 35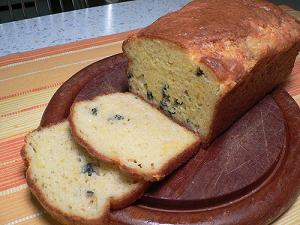 No, I didn't post the wrong picture, Ulrike all the way from Northern Germany, took a different interpretation of cheesecake… a cake with cheese in it. Kƒ¼chenlatein is the blog and Three cheese cake
is the entry, and I must say the cheeses used are to die for!
Entry#36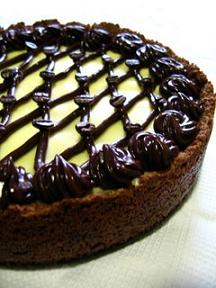 Now here is a cheesecake that me, a Seattle area gal has been waiting for….Cappuccino Fudge cheesecake. I've been waiting for a coffee cheesecake and Karen from Cherry Leader made one…and a great looking one at that!
Entry#37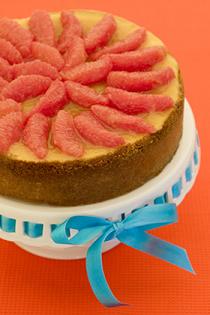 No HHDD would be complete without our two time champion Tami from Running with Tweezers joining in. She did not disappoint with this vibrant Ginger and Grapefruit Cheesecake.
Entry# 38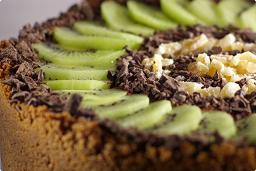 Bron, a master food stylist if I do say so myself, made this beautiful Baked Gingernut Cheesecake with Kiwifruit. If you have never been to Bron's blog, run don't walk on over to Bron Marshall, Classic and Creative Cuisine…you wont be disappointed.
Entry# 39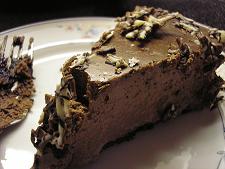 Sarah, from the Garlic Press makes for us a cheesecake that sounds decadent, but is better for us…is there such a thing? If there is I bet this Chocolate Truffle Cheesecake is it.
Entry# 40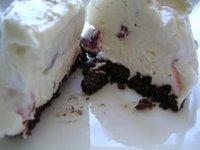 Another entry from the land down under, Minh from eCupcake strays from her cupcake making to make us a Chocolate Cherry Cheesecake…and we are so glad.
Entry#41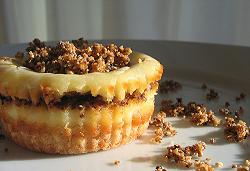 Mary of Alpineberry, a fellow darring baker, makes a cheesecake made to go straight to my hips… Mini Mocha Roca Cheesecakes. Mocha Rocas are wonderful so I can only imagine what they are like in a cheesecake!
Entry# 42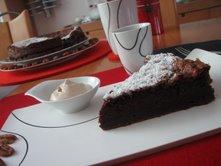 Brigitte of Kƒ¼chendunst aus Singapur offers up a yummy looking Chocolate cheesecake with coffee cream…she has a ton of photos so head on over to her blog and take a look.
Entry# 43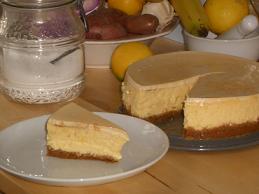 Hester, another daring baker group memeber, of Hester of Geneva thought long and hard about what type of cheesecake she would make. She came up with a London Cheesecake that looks super creamy.
Entry# 44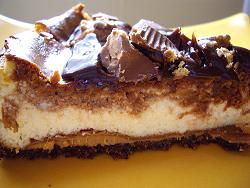 Becke of Columbus Foodie(she is from Ohio in case you didn't guess that) makes a cheesecake to bring my husband to his knees…Peanut Butter Cup Cheesecake. It looks absolutely decadent.
Entry# 45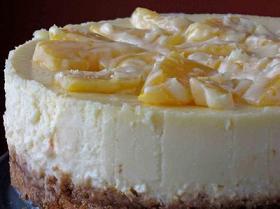 Fellow Daring Baker, Veronica of Veronica's Test Kitchen was not happy with her cheesecake…calling it a cheesecake disaster. It is one heck of a nice looking disaster…her Mango cheesecake that is.
Entry # 46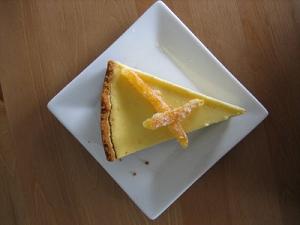 Mascarpone Orange Cheesecake was the luscious entry from Tran over at Sugarcane Kumquats. I absoluetly love the attention to detail by adding the candied orange peel!
Entry# 47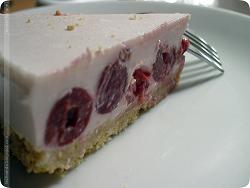 Gerda of Dinner for One makes a cheesecake that I could eat for dinner…just one of me. Her cherry cheesecake is pink and beautiful.
Entry# 48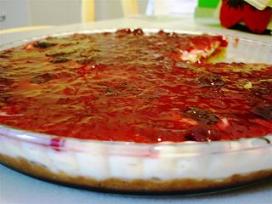 Juanita from Greece contributes to Hungry for Life(a blog with many differnt bloggers contributing). She offers up a Sour cherry cheesecake.
Entry# 49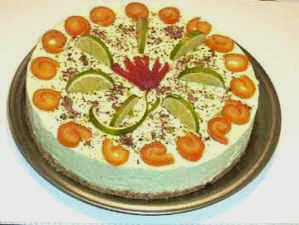 Another contributer to Hungry for Life, is Nick from Canada. Nick made a no bake Lime cheese cake for HHDD.
Entry# 50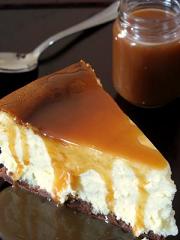 Yet another Daring Baker has an entry for HHDD. Helen from the beautiful blog Tartlette made this drool worthy Pillow Cheesecake With Salter Butter Caramel Sauce.
Entry# 51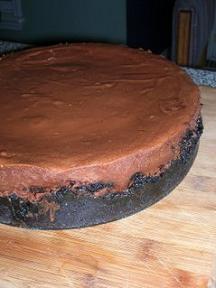 Quellia(yes another Daring Baker) almost forgot to enter until I gently reminder her…she had the post up and everything(good thing I visit her site daily). All Things Edible is her blog and Triple chocolate surprise cheesecake is her entry…go check it out.
Entry# 52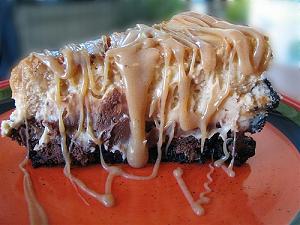 First time HHDD participant Lisa of my daily read, La Mia Cucina made a wonderful cheesecake with the world's longest name: Lisa's Decadent and Ohhh So Evil Peanut Butter Dark Chocolate Caramel Ripple Cheesecake – or LDOSEPBDCCRC. Now say that three times fast.
Entry # 53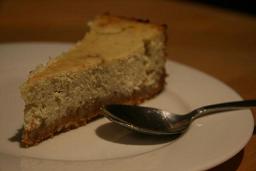 Kazari was a little tardy(but we let that slide) but I had to let her in with this Lemony Green Tea Cheesecake…after all it was so original and I love green tea. See the recipe over at  I think I have a recipe for that.
Entry # 54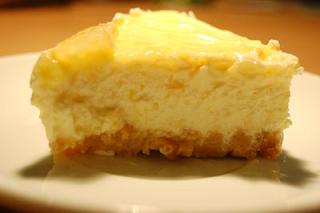 I call this one my runaway cheesecake…it has nothing to do with the cheesecake and everything to do with the fact that I misplaced the entry for a day(ACK!) But all is good and I found Veronica's entry….Lemon cheesecake(and I'm so glad I did). Her blog, La Recette du Jour, is obviously French but is actually written in English.