This Pumpkin and Shrimp Bisque may sound like an odd combination but makes for a great soup that comes from a local Seattle chef.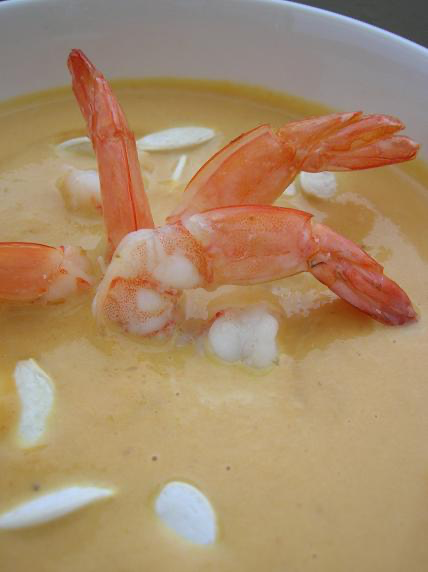 So when we moved to the Seattle area two years ago the first thing my husband asked before moving up here was "what is one thing you want to do in Seattle?"
I'm sure he was expecting me to say go to the Space Needle or something like that, but no, I said "I want to go to the Herb Farm."
He said, "sure."
That was until we saw the price and nearly fell over.
Phoenix is not the culinary mecca of the world and try as it might it never will be.
It isn't around fresh anything and to make a good restaurant, in my opinion, you need to be around the bounty of the land.
Phoenix has no bounty…just dirt.
Back when we lived there I had read about the Herb Farm in one of my food magazines, I want to say Food and Wine.
I saw the restaurant on the Food Network and read a many articles after that about the amazing experience at the Herb Farm.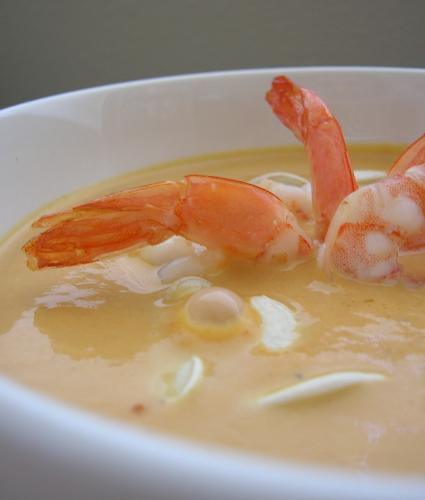 My husband is never one to go back on his word so we saved up so that we could go.
We had nothing to do for Thanksgiving last year and so we decided that is when we would go.
Oh what a wonderful experience it was….and well worth the price.
Keep in mind you are getting a 9 course meal with wine (or beer…that is what my husband had if you special request it) pairing as well as a goodie bag to go home(on Thanksgiving that is).
Plus we ate our weight in these delicious herb popovers.
The whole experience takes about 5 hours, so we chose to sit European style(where you sit with a bunch of strangers).
While I love my husband sitting alone with him for 5 hours talking about food would be painful for him. 
My hubby and I will be going back to the Herb Farm in a couple of weeks and will give you a full report.
My sister-in-law was kind enough to buy me The Herbal Kictchen, chef Jerry Traunfeld's second book.
I immediately fell in love that I ran out and bought the first book, The Herb Farm Cookbook.
Now there is one big thing I don't like about the cookbook is that the ingredients are somewhat hard to find.
Lucky for me I live in Washington about 15 minutes from the Herb Farm so I do have access to farmer's markets that carry a lot of the herbs.
When we get a house someday I do plan on a small herb garden just so I can make these dishes more frequently.
This is my first attempt at something from the cookbook.
It was time consuming because you make your own shrimp stock, but well worth it.
It's a wonderful soup and you might find the combination odd but they merry well together.
Last but not least…it's a great time to order my cookbook.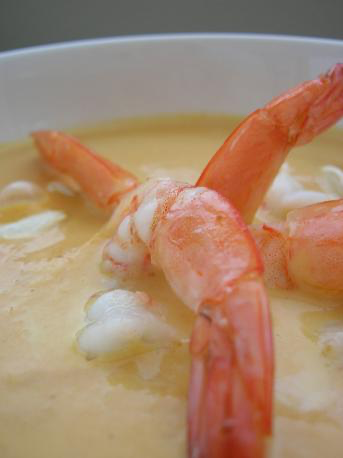 Want More Soup Recipes?
Vegetarian Vegetable No-Beef Soup
Chickenless-Chicken Noodle Soup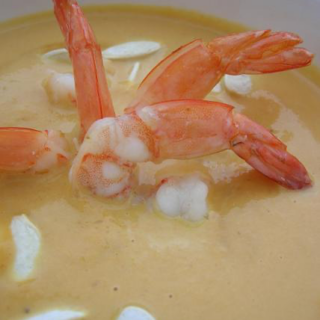 Pumpkin and Shrimp Bisque
Ingredients
For the Shrimp Stock:
1 pound large shrimp (16 to 20)
2 tablespoons extra-virgin olive oil
3/4 cup dry white wine
3 cups homemade or canned low-sodium chicken stock
Pinch saffron threads (about 24)
2 ribs celery, coarsely chopped
1 medium onion (about 8 ounces), coarsely chopped
4 fresh bay laurel leaves, torn, or 2 dried
3 3-inch springs fresh sage
For the Soup:
2 cups pumpkin puree, fresh (see Note) or canned
1/2 cup heavy cream
About 3/4 teaspoon salt, less if using canned stock
Scant 1/8 teaspoon cayenne pepper
1 tablespoon freshly squeezed lemon juice
Freshly ground black pepper
1 tablespoon extra-virgin olive oil
2 teaspoons finely chopped fresh sage
Instructions
For the Shrimp Stock:

Shrimp stock:

Peel and devein shrimp, reserving the shells.

Cover the shrimp and refrigerate.

Heat the olive oil in a medium (3-quart) heavy-bottomed saucepan over high heat until it begins to smoke.

Add the shrimp shells to the pan and cook, stirring constantly, until they turn deep orange and are just beginning to brown, 3 to 4 minutes.

This step of roasting the shells gives the stock much of its flavor, so take the time to do it carefully.

The roasted shells should release a concentrated, toasty, shrimp aroma that will fill your kitchen.

Add the wine to the pan, first turning off gas flames to prevent the alcohol from igniting, then boil it over medium heat until all the liquid is evaporated.

Add the chicken stock, saffron, celery, onion, bay leaves, and sage.

Bring to a boil, then reduce the heat to the lowest setting. Partially cover the pan and simmer gently for 30 minutes.

Strain the stock through a fine sieve, pushing down on the solids with the back of a spoon to extract all the liquid.

Rinse out the saucepan and pour the stock back into it.

For the Soup:

Whisk the pumpkin, cream, salt (omit if using canned stock), and cayenne into the shrimp stock.

Bring the soup to a simmer, then cook very gently uncovered over low heat for 10 minutes.

Stir in the lemon juice, taste, and season with black pepper and more salt if needed. (The soup can be made up to this point up to 1 day ahead store covered in the refrigerator.

Keep the peeled shrimp in a resealable bag buried in a bowl of ice in the refrigerator.)

Finishing the soup:

Pour the olive oil into a large sauté pan placed over medium heat.

When hot, add the reserved shrimp and sage and cook, tossing often, until the shrimp is just cooked through, pink, and no longer translucent, but not curled into a circle, 2 to 3 minutes.

They should still have a tender snap when you bite into them.

Arrange the shrimp in warmed serving bowls or a tureen.

Bring the soup back to a simmer and then ladle it over the shrimp.

Serve right away.
Notes
From THE HERBFARM COOKBOOK by Jerry Traunfeld. Copyright ©2000 by Jerry Traunfeld.
To make fresh pumpkin purƒ©e, cut a sugar pumpkin in half and scrape out the seeds. Place it cut side down in a baking dish and pour in about 1/4 inch of hot water. Bake it in a 400°F oven until the flesh is tender, 40 to 50 minutes. Turn the pumpkin halves cut side up to cool. Scoop the pumpkin flesh from the skin and purƒ©e it in a food processor until smooth. Transfer the puree to a large sieve lined with a double layer of cheesecloth and let it drain for 2-3 hours until it is firm enough to hold its shape on a spoon.
Substitute winter squash puree, such as butternut or acorn, for the pumpkin.