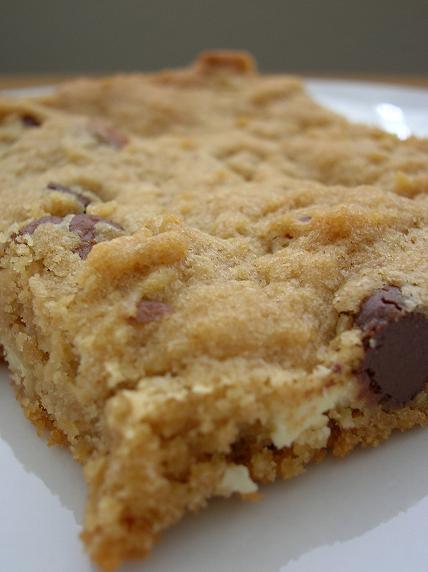 I'm not one for hype usually. And the Magnolia Bakery in NY sure gets a lot of hype. All over some cupcakes, that you wait in line for and can only buy 12 at a time. Out of curiosity I bought the More from Magnolia Bakery cookbook a few years back to try out their vanilla cupcake recipe. It is my favorite by far. So to me it was worth the hype. I bought the first Magnolia Cookbook and last week At Home with Magnolia came out and I made sure to buy that. Now I hadn't seen it because I ordered off Amazon, like the majority of my cookbooks, and I didn't know what it would be about. I must admit that I am a little sad because there is only a small section on desserts, which of course I am all about. But overall it looks like a good cookbook and my first treat from it was well received by my husband. The recipe calls for peanut butter chips, which I was out of but will most definitely buy for the next time I make these. I used chocolate chips instead.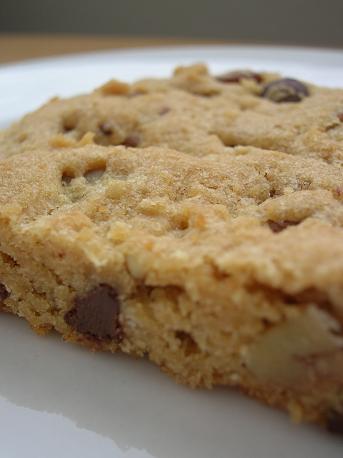 Peanut Butter Blondies with White Chocolate and Pecans
1 cup all-purpose flour
1/2 tsp baking powder
1/4 tsp baking soda
1/4 tsp salt
1/2 cup unsalted butter, softened
1/2 cup smooth peanut butter
3/4 cup firmly packed brown sugar
1/4 cup granulated sugar
1 large egg, at room temperature
2 tsp vanilla extract
3/4 cup coarsely chopped toasted pecans
1/2 cup chocolate chips*
1/2 cup coarsely chopped white chocolate
Preheat oven to 325F.
Grease and lightly flour and 8 inch square baking pan.
In a small bowl, combine the flour, baking soda, baking powder and salt. Set aside.
In a large bowl, cream the butter with the peanut butter and the sugars until smoothm about 2-3 minutes. Add the egg and vanilla and beat well. Add the dry ingredients and mix thoroughly. Stir in the pecans, chocolate chips and the white chocolate, reserving 2 TBSP of each.
Spread the batter evenly in the prepared pan. Sprinkle the reserved pecans, chips and white chocolate evenly over the top and, using a spatula, gently press into the batter. Bake for 30-35 minutes, or until a cake tester inserted comes out clean with moist crumbs attached.
Do not overbake. Allow to cool to room temperature before cutting and serving.
*the original recipe calls for peanut butter chips and I didn't have any so I used chocolate chips instead.
Source: At Home with Magnolia: Classic American Recipes from the Owner of Magnoila Bakery by Allysa Torey 2006