This Bittersweet Chocolate Citrus Tart has a orange and grapefruit infused chocolate filling all inside a short pastry crust.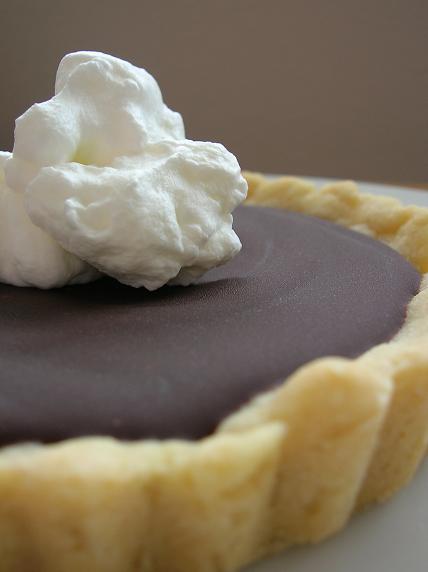 So I have a local chat board that I like to hang out on.
The other day someone had a dinner party and we were passing around the recipe for the dessert, a bittersweet tart found on Epicurious.com.
One of the girls wanted me to make the tart and put it up on the blog so she could see photos of it.
I totally understood this.
I like to see pictures of food too.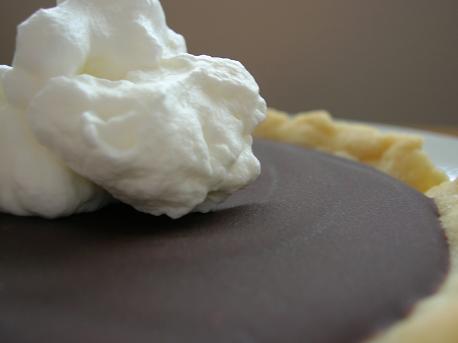 Don't get me wrong I have several cookbooks that have no photos whatsoever and I love them, but I really think I would love them more with pictures.
So off I went to make this simple tart.
The original recipe called for jasmine whipped cream.
But I don't like Jasmine( and neither does my husband….the one who will be eating the tart) so I omitted that.
I also didn't make the candied orange peel because it is one of my least favorite garnishes.
It is a nice elegant tart that I could definitely see serving at a dinner party.
My one gripe is that it gets "sweaty" when it is defrosting which of course makes for a less appetizing presentation.
P.S. It's a great day to buy my cookbook Holy Sweet!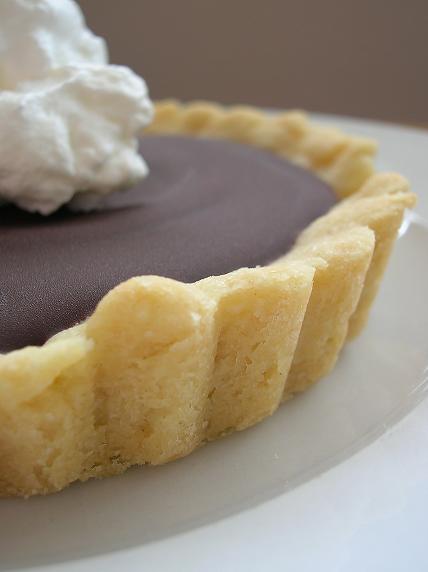 Want More Tart Recipes?
Pistachio Dried Cranberry Caramel Tart
Mini Bailey's Irish Cream Mocha Cheesecake Tarts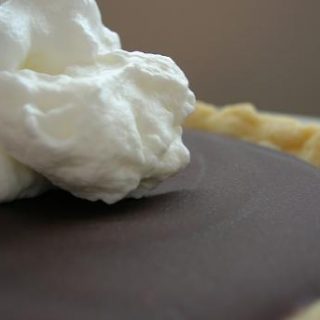 Bittersweet Chocolate Citrus Tart
Yield:
Makes 10 to 12 servings
Ingredients
For the Crust:
1/2 cup (1 stick) unsalted butter, melted
1/4 cup sugar
3/4 teaspoon vanilla extract
1/8 teaspoon salt
1 cup all purpose flour
For the Filling:
8 ounces bittersweet or semisweet chocolate, finely chopped
5 tablespoons unsalted butter, cut into 5 pieces
1/2 teaspoon (lightly packed) finely grated blood orange peel or orange peel
1/2 teaspoon (lightly packed) finely grated pink grapefruit peel
1 large egg yolk, room temperature
1/4 cup boiling water
Whipped Cream
Instructions
For crust:
Combine first 4 ingredients in bowl.
Add flour and stir just until blended; let stand 5 minutes.
Press dough onto bottom and up sides of 9- to 91/2-inch-diameter tart pan with removable bottom.
Chill 30 minutes.
Position rack in bottom third of oven and preheat to 350°F.
Bake crust until deep golden, pressing down with back of spoon if bubbles form, about 25 minutes.
Cool crust in pan on rack.
For the filling:
Combine chocolate, butter, and both peels in medium metal bowl.
Place bowl in skillet of barely simmering water set over low heat.
Stir just until chocolate and butter are melted and smooth.
Remove bowl from water.
Place fine strainer over bowl with melted chocolate.
Keep skillet with water set over low heat.
Whisk egg yolk in small metal bowl to blend.
Gradually whisk in 1/4 cup boiling water.
Place bowl in skillet of hot water; stir constantly with heatproof rubber spatula, scraping bottom of bowl to prevent egg from cooking, until instant-read thermometer inserted into egg mixture registers 160°F, about 3 minutes.
Immediately pour egg mixture into strainer set over bowl of chocolate.
Stir just until egg is incorporated into chocolate and mixture is smooth.
Pour chocolate filling into crust; tilt slightly to spread evenly (crust will not be completely filled).
Cover and chill overnight or up to 2 days.
Before serving, let tart soften slightly at room temperature.
Remove pan sides.
Place tart on platter.
Garnish with whipped cream.