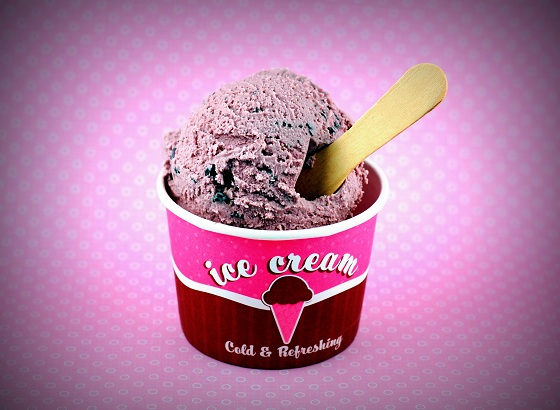 I have a habit, not a good one, not a bad one…just a habit of seeing something or tasting something and knowing that I can make it better…or at least for cheaper. Case in point: the other day I walked by ice cream isle in search of these non-dairy bon bon type things that I like and I saw a tiny, tiny jar of Black Raspberry and Chocolate ice cream and saw the price tag of almost $7 and nearly fell over.
The flavor sounded awesome the price tag on the other hand was ridiculous. I'm sure it's yummy ice cream but wow. I knew I could make about 5 times that amount for the same price and so I set out to do it. I had to use a combo of black raspberries and tayberries as I ate too many of the black raspberries without thinking. 🙂 They work just as good. Needless to say I made the batch which makes 1 quart for around $2.20. So clearly I made more for less. And let me tell you that if this taste ANYTHING like the original. OMG. My jeans are thanking me so much for being allergic to dairy. I seriously swallowed four allergy pills just to have a couple spoonfuls…it was that good.
Hopefully this little treat will help you keep cool. I know it seems better than fighting with your kids over a spot in the kiddie pool. 😛 Though running through the sprinklers is always fun! Regardless of how you do it stay cool and for goodness sake go out and buy and ice cream maker ( I own the older version of Cuisinart ICE-21 Frozen Yogurt-Ice Cream & Sorbet Maker, White
. You are probably going to see a TON of recipes for it in this heat.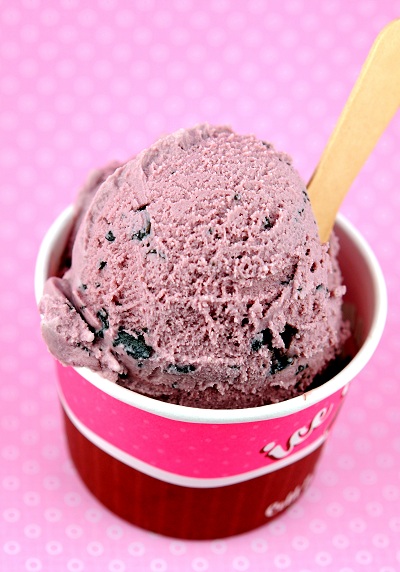 Black Raspberry (and Tayberry) Chocolate Chunk Ice Cream
2 cups milk
4 tsp. cornstarch
1 1/4 cups heavy cream
2/3 cup sugar
2 tbsp. light corn syrup
1/2 tsp. kosher salt
3 tbsp. mascarpone cheese, softened
1/2 cup pureed black raspberries (and tayberries if you can find them)
1 cup bittersweet chocolate, shaved with some chunks
In a bowl, stir together 1/4 cup milk and the cornstarch; set slurry aside. In a 4-qt. saucepan, whisk together remaining milk and the cream, sugar, syrup, and salt; bring to a boil over medium-high heat.
Cook for 4 minutes; stir in slurry. Return to a boil and cook, stirring, until thickened, about 2 minutes.
Place mascarpone cheese in a bowl and pour in 1/4 cup hot milk mixture; whisk until smooth. Then whisk in remaining milk mixture; stir in berry puree. Pour mixture into a plastic bag; seal, and submerge in a bowl of ice water until chilled.
Pour mixture into an ice cream maker; process according to manufacturer's instructions, adding chocolate chunks during the last minute of churning. Transfer ice cream to a storage container and freeze until set.

Adapted from
Jeni's Splendid Ice Creams at Home
which if you don't own this book and you own an ice cream maker RUN and buy it!