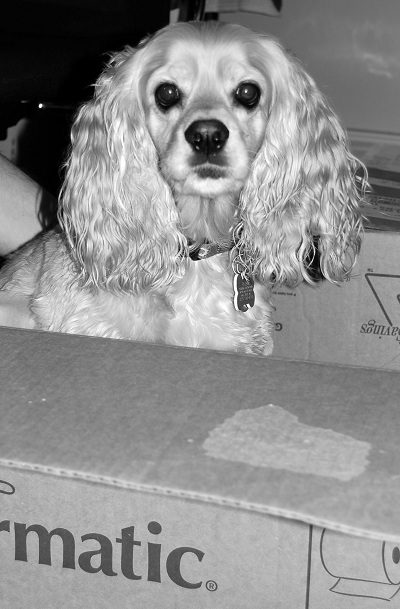 So the next couple weeks will probably be sparse around here on the blog. As the cocker spaniel in the box is indicating we are on the move. I decided it would be real fun to move in two weeks time. Ha!
MDP and I had not planned on moving anytime soon but some circumstances changed and we needed to upgrade and so I am moving back into a home. With a gas stove! Which I am excited about that and the fact that it has a pantry I am not excited to be losing my kitchen island. Oh well. You can't win them all. I also gain more square footage and a third bedroom which is much needed when teenagers live with you every other weekend.
In other news I completely forgot to ever mention who won the copy of Savory Sweet Life Cookbook. Here's the winner:
Delicious! I can't get enough of peanut butter and chocolate!
I'd love to have the ability to just *snap* my fingers and have a job done–especially chores like dishes and laundry!
Please email me (you can find it in the contact section under information) and give me your address so I can get a copy off to you.
If you get Peabody withdrawals you can always head over to Tablespoon to see what I am doing.