These Sweet Potato Apple Dog Treats combines sweet potato, apple, and peanut butter for these treats my pups love to eat.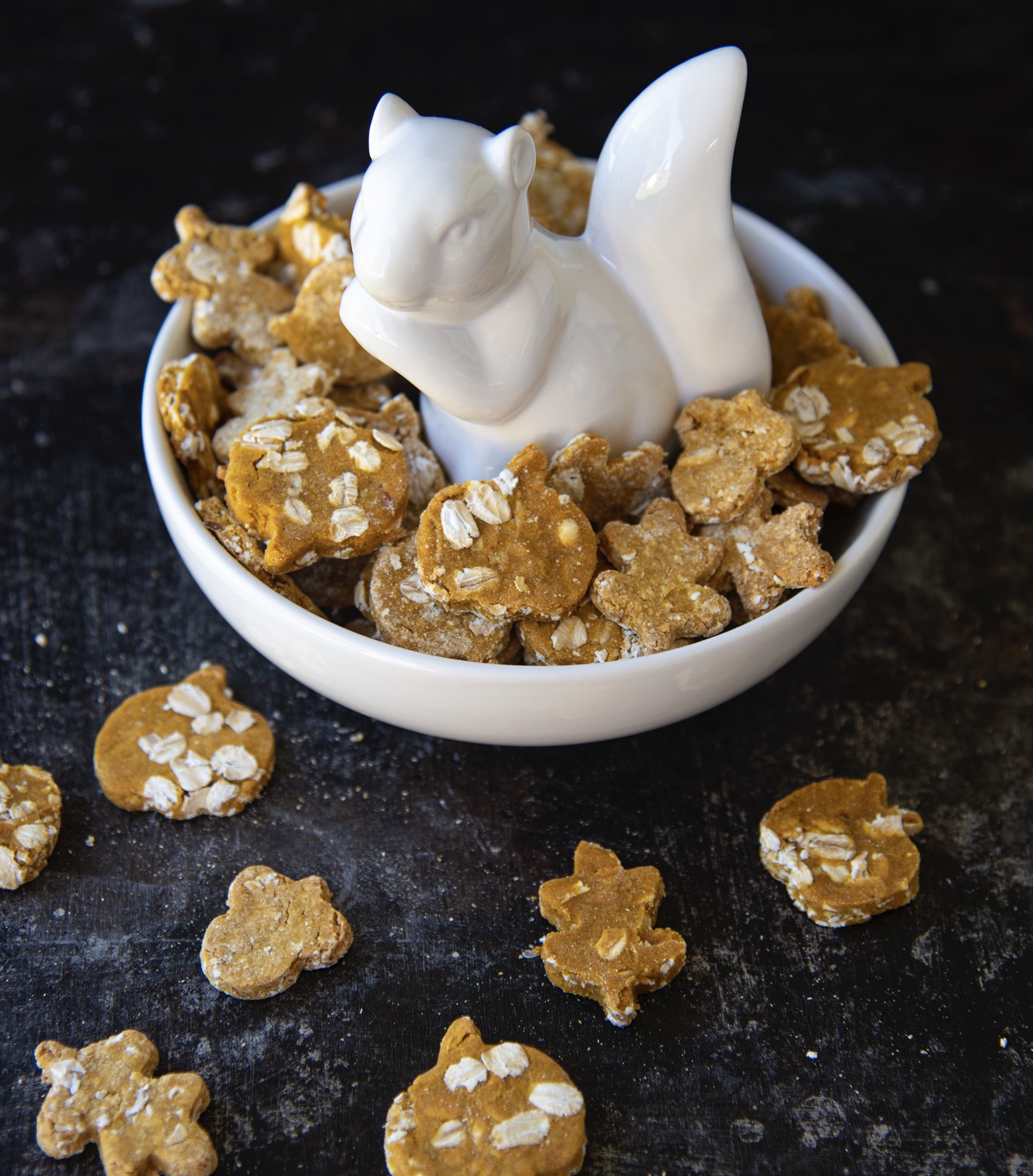 I originally made these Sweet Potato Apple Dog Treats as a bonus to those who preordered my cookbook.
But I have so many people ask for the recipe that I'm posting it here.
Plus, it's been three years since my book came out. 😀
The photos from this are bittersweet to me.
All three of the dogs in the pictures have since crossed over the rainbow bridge.
Georgia Peach, the one on the far left in the last photo just passed a few weeks ago.
For those that don't know we adopt dogs, specifically Cavalier King Charles Spaniels and English Toy Spaniels, with special needs.
We specialize in dogs with Mitral Valve Disease/Congestive Heart Failure and a spinal condition called Syringomyelia.
We also tend to adopt senior dogs.
So goodbye is something we have to say far more often than the normal dog owner.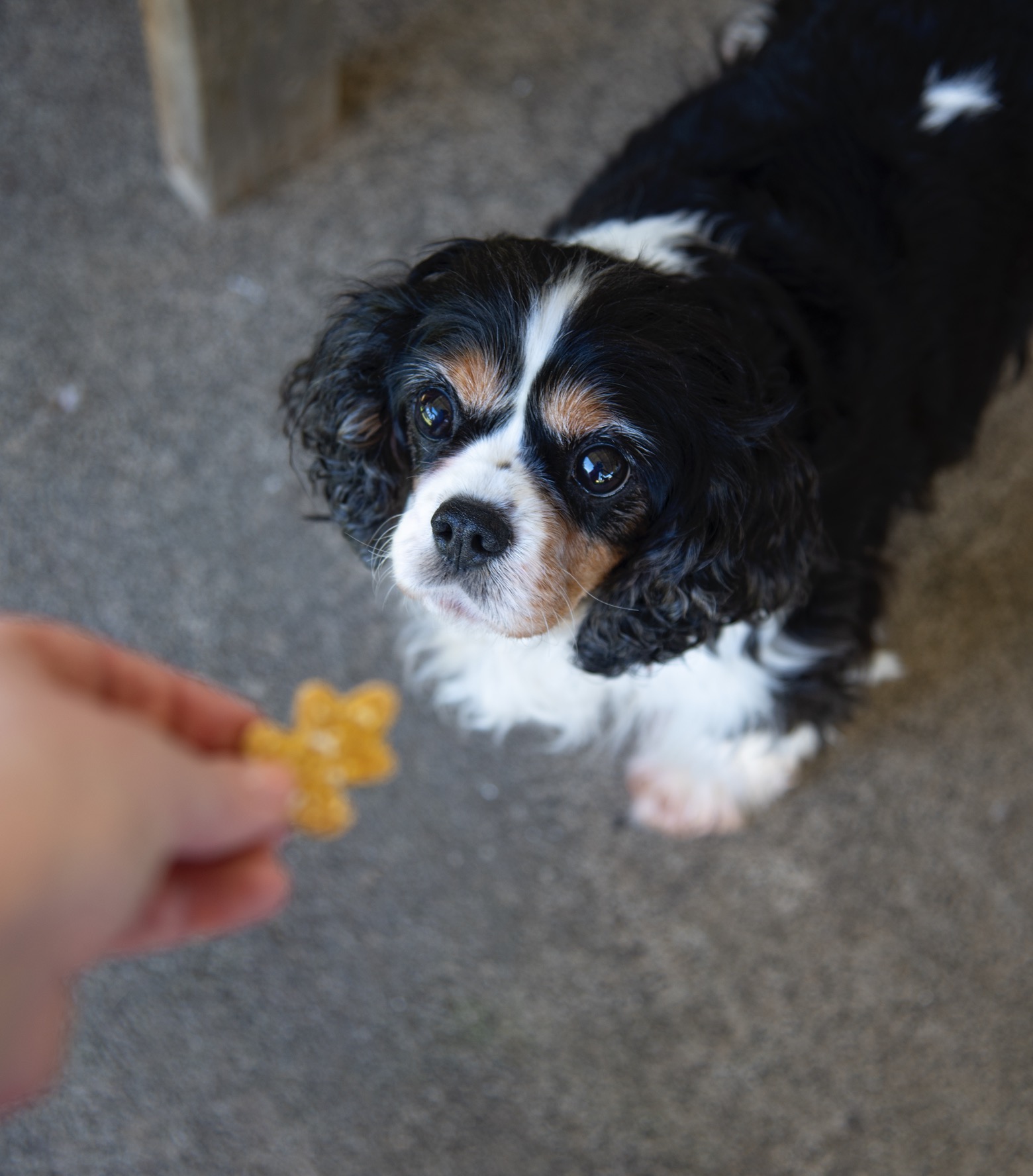 We got Georgia when she was just 5 years old.
She would have been 12 later this month.
We had her for just shy of 7 years.
She was the dog we had the longest (besides Crazy Cocker Spaniel who passed in 2015).
So lately, everything seems off.
It's such an odd feeling when you had this goofy, loving being in your life day in and day out.
And then, poof, that being is gone.
Georgia Peach was a character and a half.
So when you lose a big personality you tend to notice the silence even more.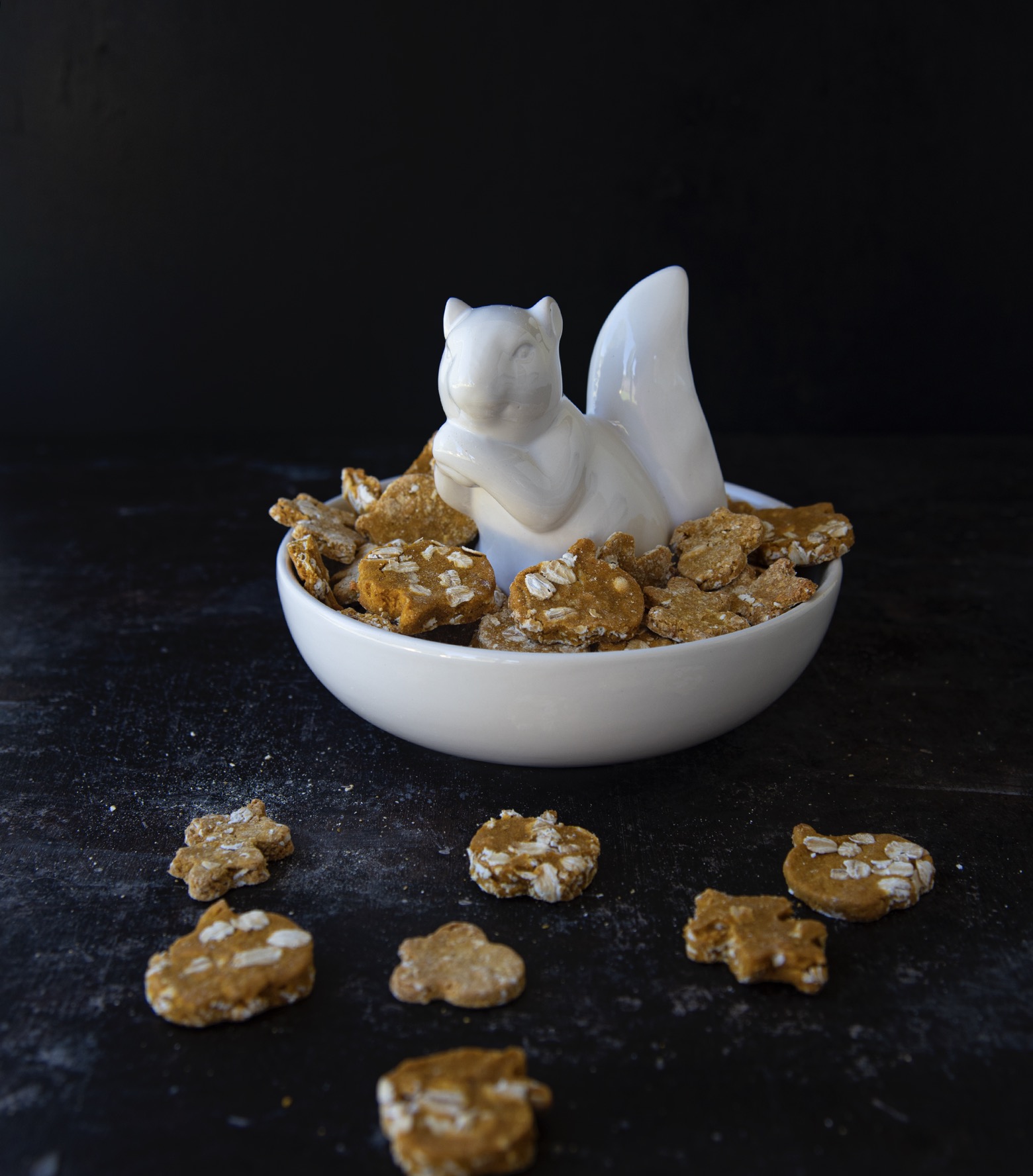 She was such a foodie and we sent her off in style.
Making sure she got all the treats she wanted.
While these were not given to her on her last day…that was filled with junk food, I did make a batch the weeks leading up to her goodbye.
So show your pup you love them with a batch of these treats.
INGREDIENT HIGHLIGHTS:
Links to where to buy the speciality flours if you can't get them at your store is linked in the recipe.
Rice Flour: We use rice flour because some of our dogs can't have wheat. But the main reason we use it is the texture. It makes the biscuits more shortbread like. We want a biscuit that crumbles easy because senior dogs tend to not have too many teeth. 🙂
Oat Flour: Oat Flour is again for the wheat sensitive. It also adds fiber to your pups diet which almost all of them need.
Powdered Peanut Butter: I prefer this to regular peanut butter because it takes the oil out of the equation. Cavaliers and English Toy Spaniels are prone to pancreatitis and can't have fatty foods.
You need to be SUPER careful when looking for a powdered peanut butter. Many of the "fit" powdered peanut butters have Xylitol in them which can kill dogs). So check the label!!!! I buy PB2 because it only has peanuts, salt, and sugar (not much).
If your human loves treats too they should buy my cookbook Holy Sweet!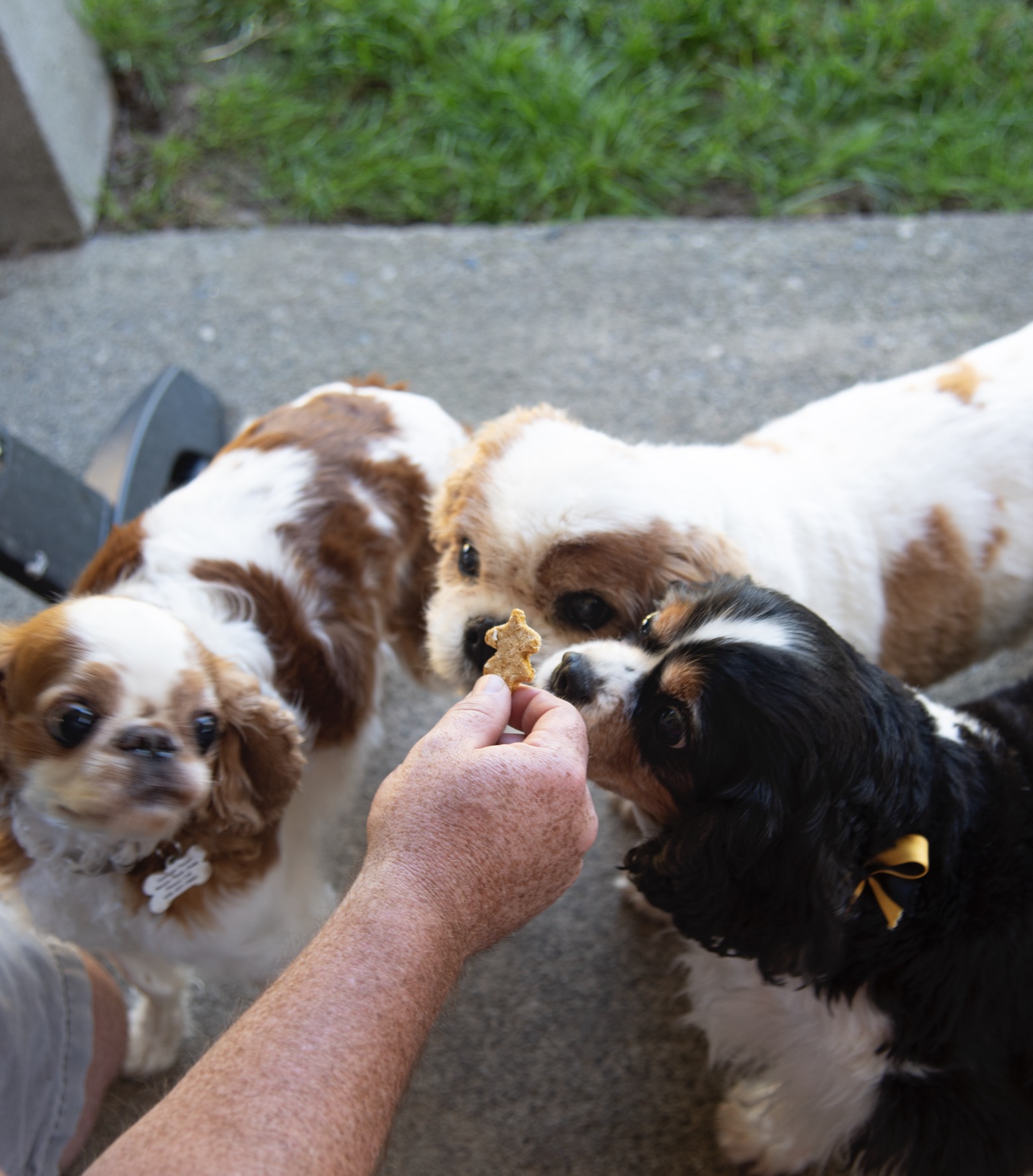 (Left to Right: Georgia Peach, Mickey, and Daisy)
Want more dog treats?
Pumpkin Peanut Butter Pretzel Twist Dog Treats
Buckwheat Coconut Oil Dog Treats
Peanut Butter and Oatmeal Dog Treats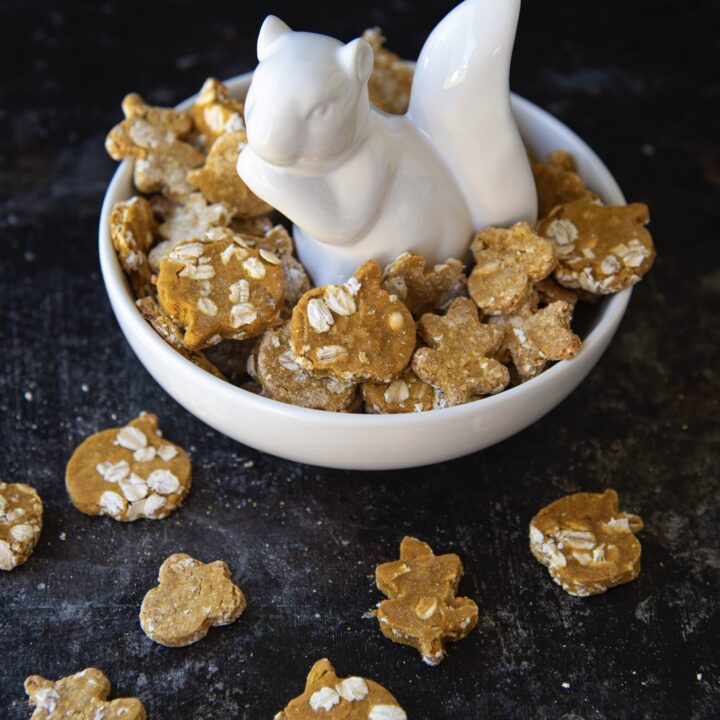 Sweet Potato Apple Dog Treats
Instructions
Preheat the oven to 325F.
Take the shredded apple and place into a paper towel. Squeeze the juice out of the apples and set aside.
Using a stand mixer with the paddle attachment mix all the ingredients together until a dough forms.
If you dough seems too soft you can add more rice flour to the mix, one TBSP at a time.
Divide the dough in half and form into two discs. Wrap with plastic wrap and set in fridge to chill for one hour.
Remove from fridge and roll out dough with a rice flour/oat flour mix. Don't forget to add flour to the rolling pin as well.
Using the floured rolling pin roll each dough disc half to a 1/2-inch thickness on a rice-floured surface. Now we take in senior dogs, some of who do not have teeth, so we actually make them in a variety of thickness. The thinner you roll the dough the crisper the treat will be which is better for dogs with teeth. Those dogs with fewer or no teeth I make them thicker so they are softer.
If the dough seems too soft after rolling out to use the cutters, I like to put it on a sheet pan and just pop it in the freezer for about 10 minutes.
Cut into desired shape with a cookie cutter (for these I usually use fall themed mini cookie cutters), and then place the cutouts about 1/2-inch apart on a parchment-lined cookie sheet. They don't spread out so they can be close.