This Pumpkin Roll Fudge is made with cream cheese chips, marshmallow cream, pumpkin cake, sugar, and cream to make this yummy fudge.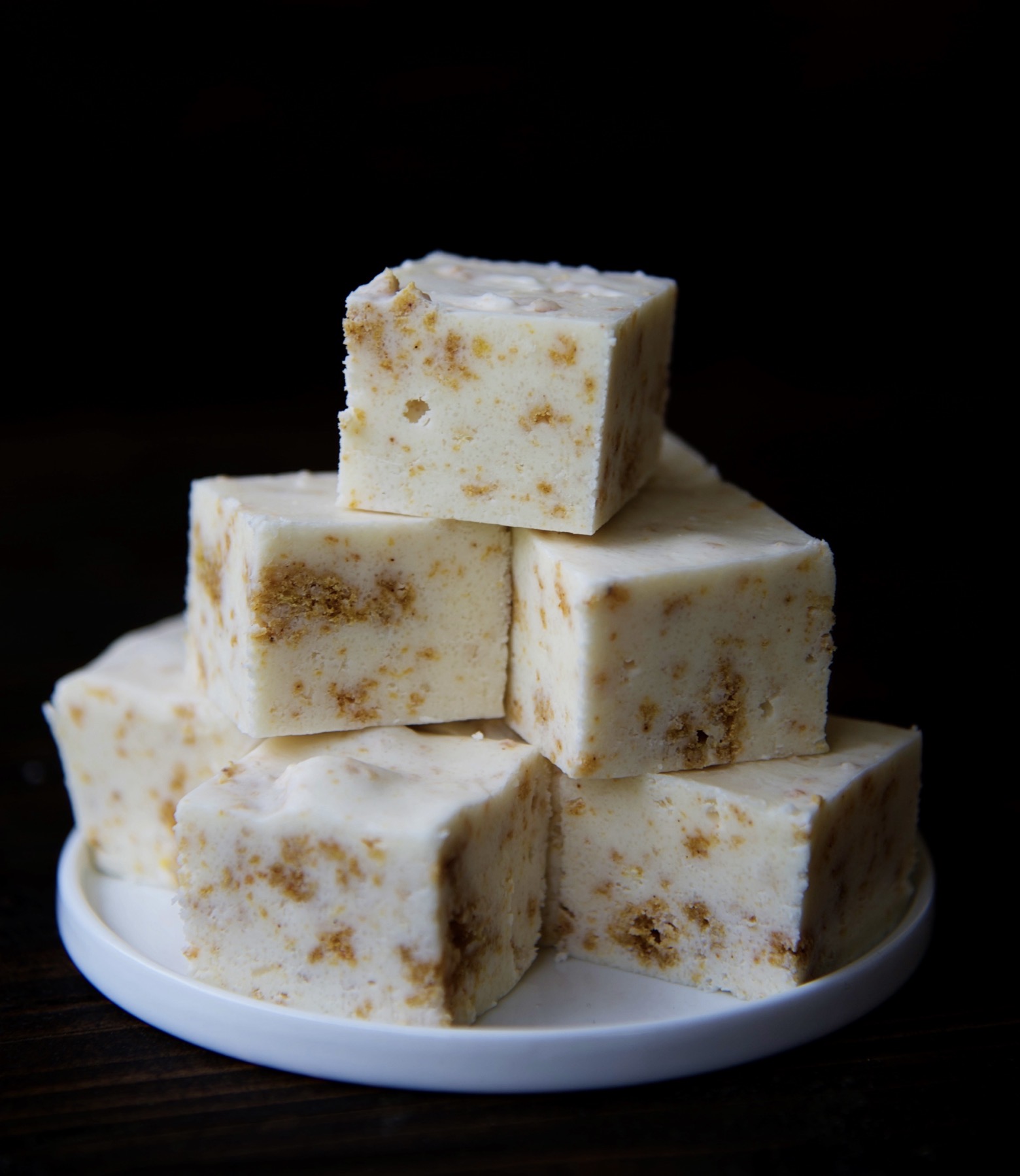 My Pumpkin Roll Fudge is inspired by the popular Pumpkin Roll Cake.
The Pumpkin Roll is a version of a Swiss Roll.
If you are a fan of British Bake Off you have seen them have to make a Swiss Roll quite often.
Little Debbie also makes mini Swiss Rolls.
Swiss Roll is a type of rolled sponge cake filled with whipped cream, jam, or icing.
In the case of the Pumpkin Roll it's a pumpkin sponge cake filled with a cream cheese based frosting.
Some of them have walnuts, some do not.
I chose to skip the walnuts in my fudge but you could definitely add them.
If you want to add them I would throw in about 1/2 cup of toasted chopped walnuts to the fudge when you add the pumpkin cake.
Libby's, the maker of canned pumpkin, made the cake popular by featuring it as a recipe on the can.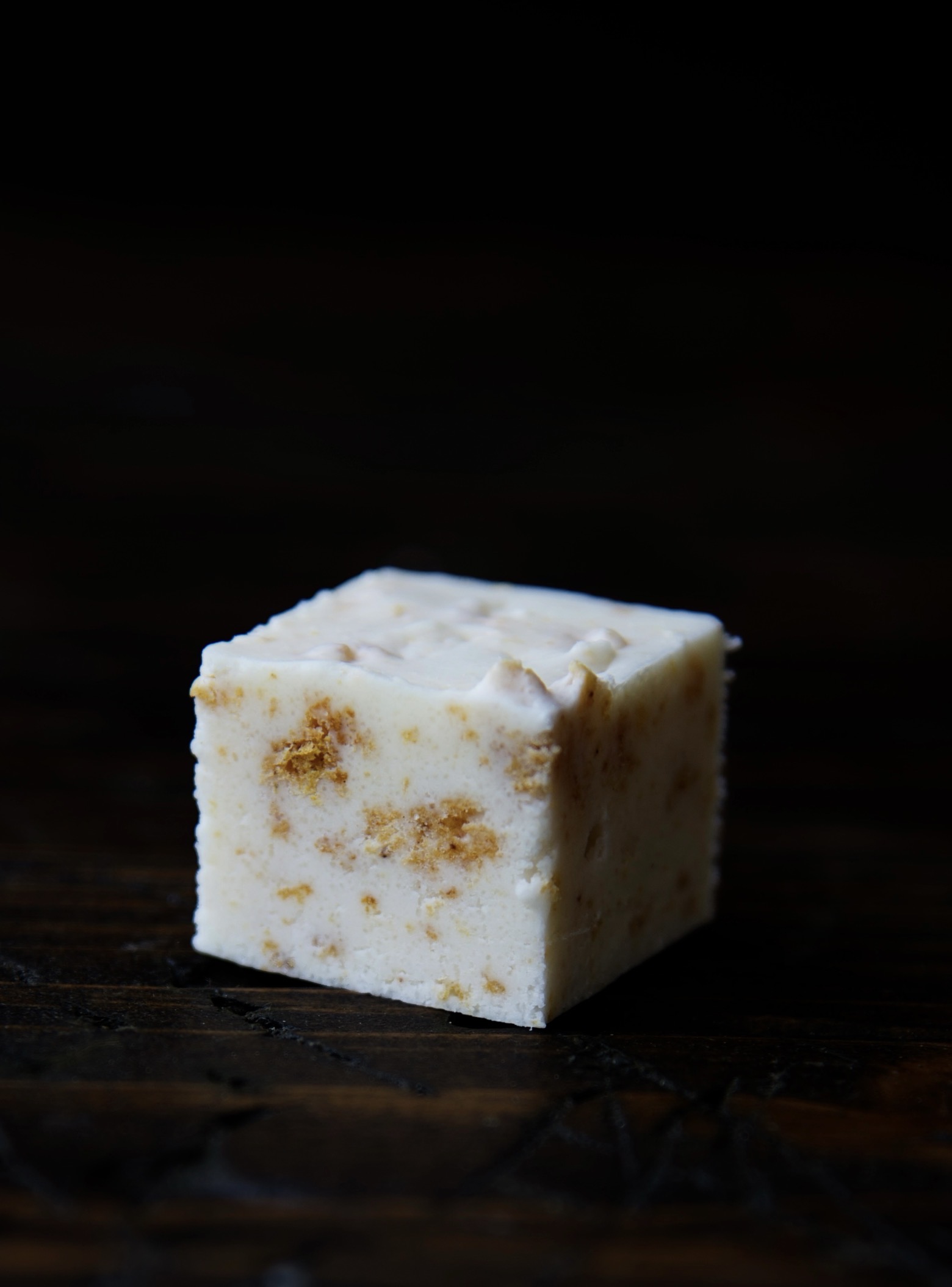 But making a pumpkin roll can be tricky.
Which is why making a fudge version is so much easier.
No rolling (and cracking) involved.
It's perfect for your holiday goodie tray or to give away as food gifts.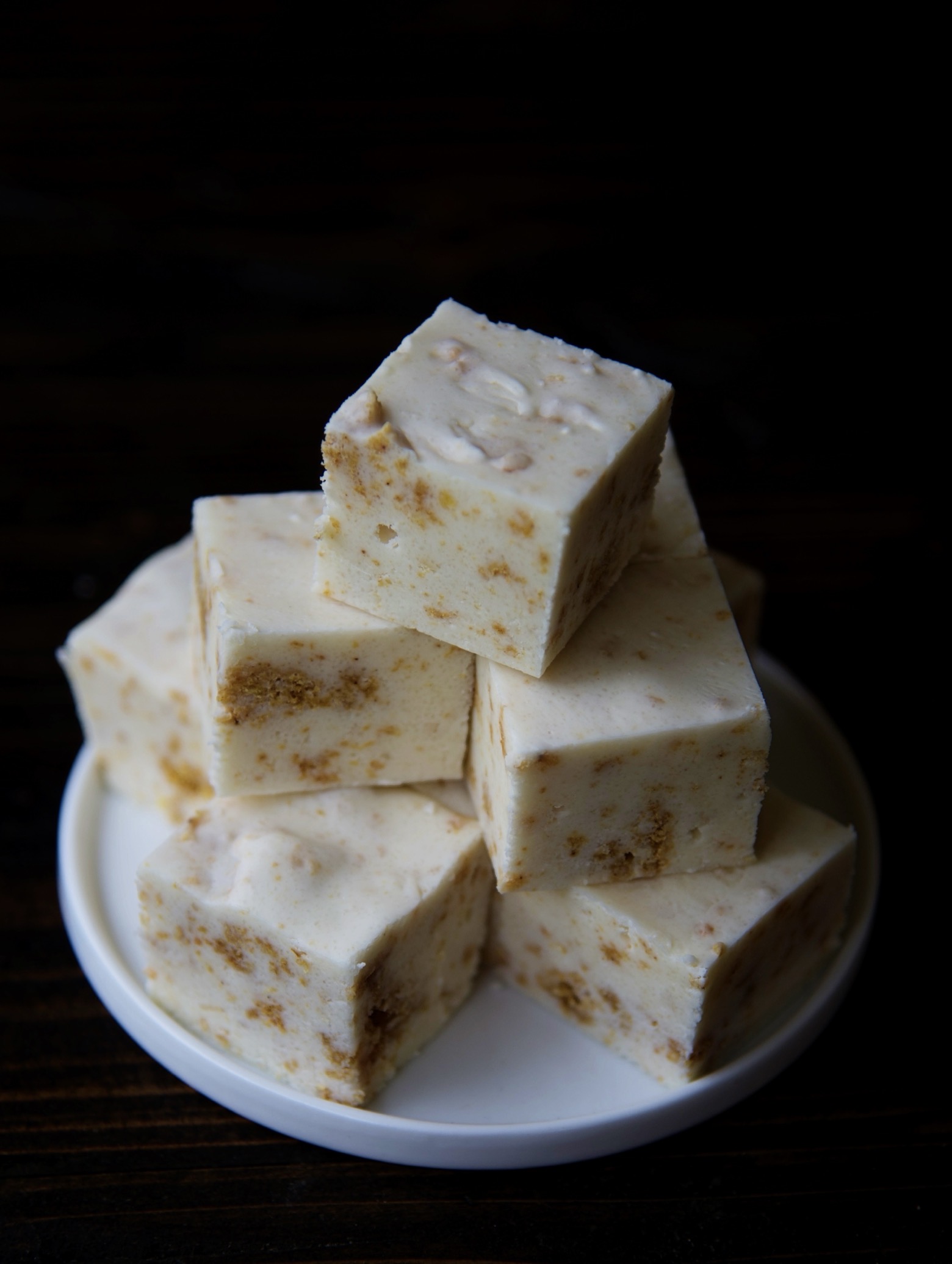 Ingredient Highlights:
Vegetable Shortening: While most people use butter in their fudge recipes (and I still do for certain recipes) I have become a big fan of using shortening. Because it's flavorless you can really highlight what you want the fudge to taste like. In this fudge, that is the cream cheese flavor.
Can I use butter? Yes, but you need to make sure you use a butter with the highest butterfat you can find. I make most of my fudge with a 85% butterfat butter.
Baker's Sugar: Also known as Superfine Sugar. It is granulated sugar that has been finely ground so the crystals are smaller. As a result, it dissolves easier than regular granulated sugar. Your fudge will be less grainy if you use this type of sugar.
HERSHEY'S Cream Cheese Baking Chips: These came out about a year ago and I LOVE them. So versatile. And I was so happy when I tried them in fudge last year and they worked beautifully.
What do I do if I can't find the cream cheese chips? If you can't find the cream cheese chips (I found mine at Walmart) you can use white chocolate chips. But in addition to the vanilla extract you will need four drops of cream cheese flavoring. You can buy some HERE.
Pumpkin Cake: I have you make your own pumpkin roll cake. I wanted the authentic cake used in making a traditional pumpkin roll. You will have extra of the cake. Chop it up and throw it on top of some vanilla ice cream and it will be fabulous.
Can you use a box cake? If you prefer to use a pumpkin cake from a box you can do that. Though you might not get the full pumpkin roll flavor out of your fudge.
Heavy Cream: Heavy cream is to be use. No half and half. There is no substitute for this.
Clear Vanilla: While I'm a big fan of Rodelle vanilla, I use clear vanilla here because I don't want to add a brown color to the white fudge. You can buy it HERE.
Marshmallow Creme: Marshmallow creme is different than marshmallow fluff. It contains cream of tartar and that makes it more suitable for making fudge. Cream of tartar helps prevent crystallizing.
Can I just melt down marshmallows? No. Marshmallow creme does not have gelatin in it and that makes a big difference when making fudge.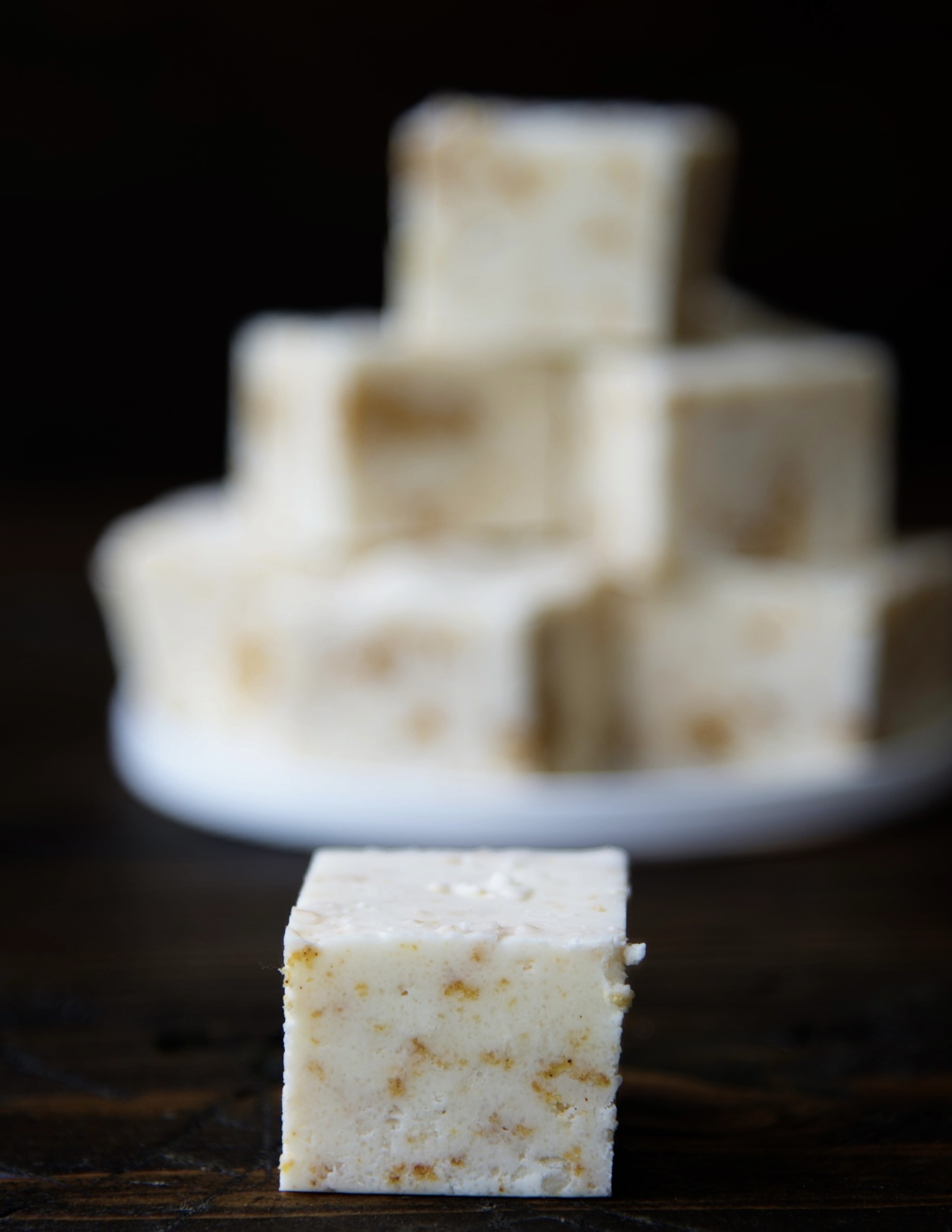 General Keys to Successful Fudge:
Have a thermometer.
I don't like the old fashioned ones that you clip to the side. Those never work for me. I like digital and use this one.
Patience!!! This is hard for people. But you need to make sure your sugar fully dissolve in a slow manner. If you do it too quick the fudge will be grainy.
You also need patience when mixing. When you first start mixing the marshmallow creme into the fudge mixture it will want to separate and not come together. You have to keep stirring and stirring until it does come together…which it will.
Use Baker's sugar. Also known as caster or superfine sugar. I don't always follow my own rule because I don't always have it on hand but it makes for a less gritty fudge.
Use good butter. Preferably European. The higher the butterfat content the better. Cheaper butter often has too much water in it and will cause your fudge to separate.
Same goes for your chocolate. The cheaper the chocolate the more likely it is to separate. If using chips I tend to use Guittard. And when making extra special fudge I use Callebaut chocolate.
P.S. It's a great day to buy my cookbook Holy Sweet!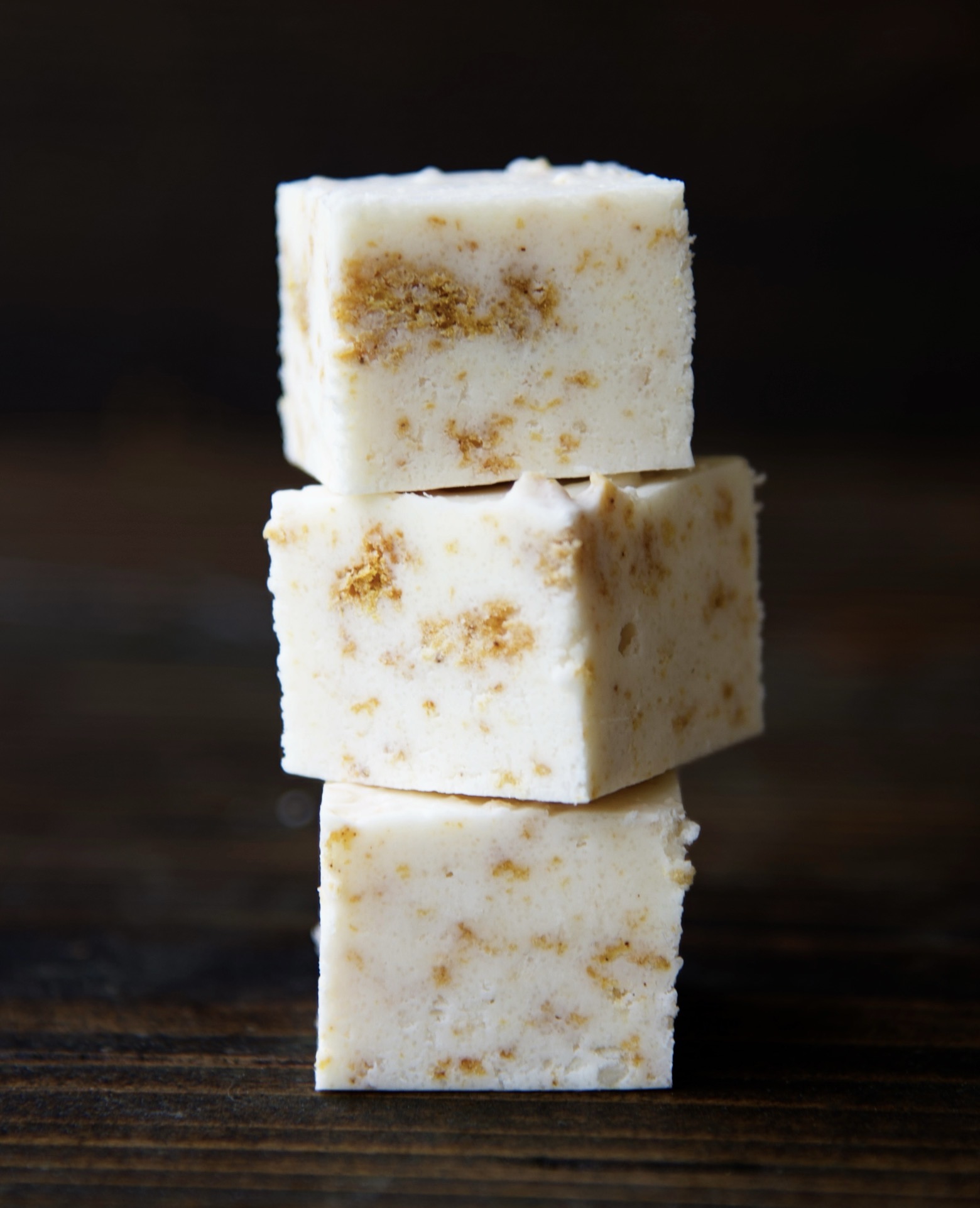 Want More Fudge Recipes?
Strawberry Frosted Pop Tart Fudge
Pineapple Upside Down Cake Fudge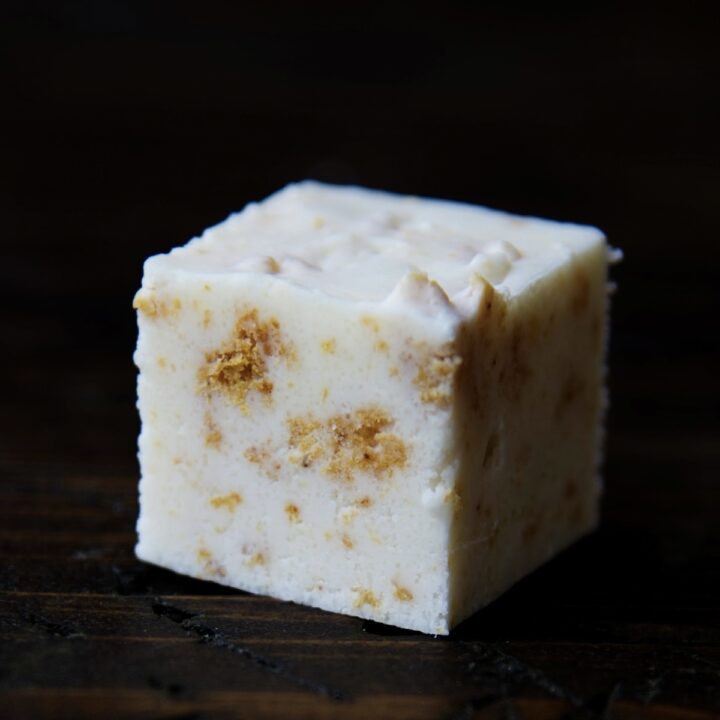 Pumpkin Roll Fudge
Ingredients
For the Pumpkin Cake:
3/4 cup all-purpose flour
1/2 tsp baking powder
1/2 tsp baking soda
1 tsp pumpkin pie spice
1/4 tsp salt
3 large eggs
1 cup granulated sugar
2/3 cup pumpkin puree (not pumpkin pie mix)
For the Fudge:
2 cups granulated sugar
4 oz. Crisco Vegetable Shortening
½ cup heavy cream
2 cups cream cheese chips
1/2 tsp clear vanilla extract
7-ounce jar marshmallow crème
1 1/2 cups chopped up pumpkin cake
Instructions
For the Pumpkin Cake:
Preheat oven to 375° F. Grease 15 x 10-inch jelly-roll pan; line with parchment paper. Grease and flour paper.
Combine flour, baking powder, baking soda, pumpkin pie spice, and salt in small bowl.
Beat eggs and granulated sugar in large mixer bowl until thick.
Beat in pumpkin.
Stir in flour mixture.
Spread evenly into prepared pan.
Bake for 13 to 15 minutes or until top of cake springs back when touched. (If using a dark-colored pan, begin checking for doneness at 11 minutes.)
For the Fudge:
Line an 9-x-9 inch pan with parchment with an overhang so you can lift the fudge out later and coat with baking spray.
Combine sugar, vegetable shortening, and heavy cream into a large heavy bottomed saucepan and bring to a boil over medium heat.
Once boiling, use a candy thermometer (I prefer digital) and reduce the heat to a hair above medium low and cook for 7-10 minutes until your thermometer reads 234°F (soft ball stage) , stirring constantly.
Once you reach 234F remove from heat and add the cream cheese chips, stirring vigorously with a wooden spoon until the chocolate has melted and the mixture is smooth.
Add the vanilla extract, and marshmallow crème and mix until well blended.
Fold in the pumpkin cake pieces and mix and mix until you can see pieces of cake throughout all the fudge.
Pour into prepared pan.
Let cool to room temperature.
Then lift out of the pan and onto a cutting board.
Cut into squares and serve.