This Chocolate Peppermint Crunch Cobbler is like a giant lava cake with gooey chocolate and peppermint chips in every scoop.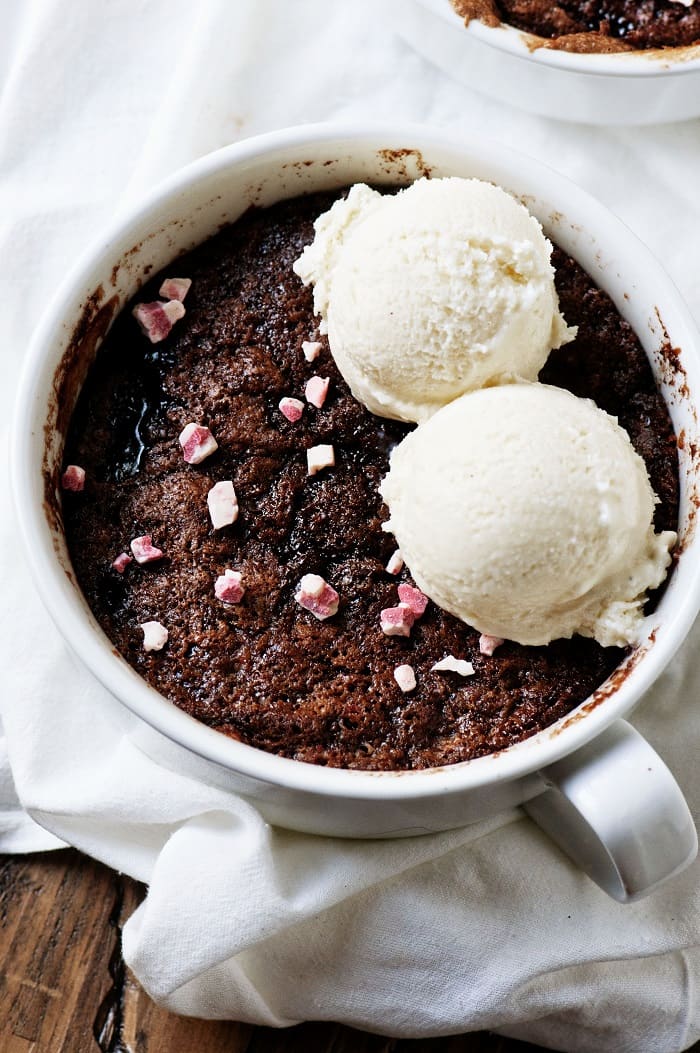 This Chocolate Peppermint Crunch Cobbler is the easy holiday dessert you've been looking for.
I will admit I start off with grandiose ideas at the start of each holiday season.
Of all the different desserts I will make.
Rather complicated ones.
But then, before I know it, the holidays are here.
And I have little time…and sometimes little patience to do all that.
Which is why recipes like this are perfect for this time of year.
I call it a cobbler.
But I have seen it be called pudding cake (though mine doesn't have pudding).
I have seen it be called self-saucing cake (think British Bake Off).
Don't worry about what you call it…just eat it. 😀
If you aren't a peppermint fan you can easily leave that out.
Or add any flavoring you like: orange, almond, Kahlua, you name it.
If you just want a straight chocolate cobbler I would just use all vanilla and replace the peppermint chips with chocolate chips.
If you want total chocolate overload you could top it with chocolate ice cream.
What about you?
Is there a go to easy dessert that you like to make around the holidays that saves time but people would never know it was easy to make?
If so, please share in the comments.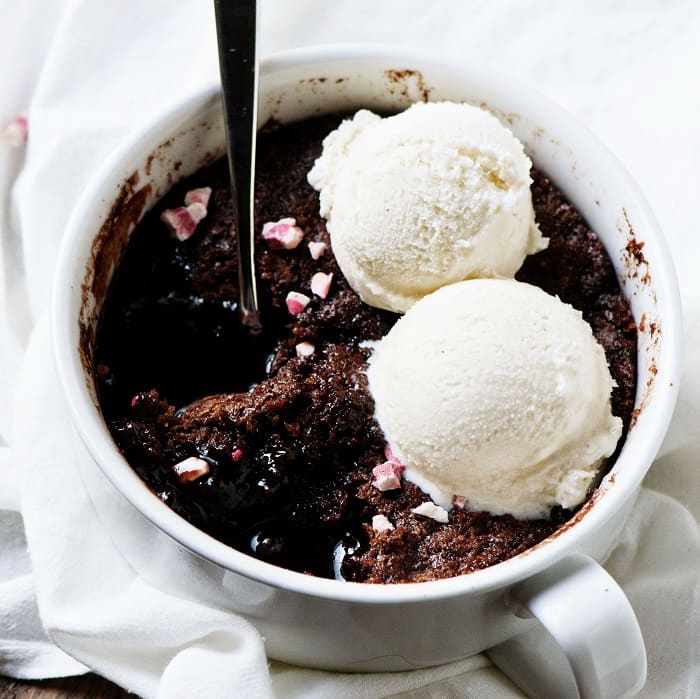 Ingredient Highlights:
Andes Peppermint Crunch Baking Chips: These can sometimes be a challenge to find. I know my Safeway carries them but I actually buy directly from the Tootsie Roll website (that is who owns Andes now).
While you can't always find the chips you can usually find the Peppermint Crunch Mints. Which are the same shape as the original Andes mints. I just chop those up into small pieces and use that.
If you can't find either of those you can do a mix of half chocolate chips and half crushed candy cane pieces.
Self Rising Flour: Self rising flour is all I've ever used when making these type of cobblers. Every recipe I have for them uses it. If you don't have self rising flour you can mix 1 cup of all-purpose flour with 1 1/2 teaspoons baking powder and 1/4 teaspoon salt.
Unsweetened Cocoa Powder: I was a Rodelle Ambassador (they don't have the program anymore) for years and LOVE all their products. While they are known for their vanilla I absolutely love their Gourmet Baking Cocoa. If you go and look at the price…keep in mind the bag is 25 ounces (around 1.5 pounds) of cocoa. So not a tiny box.
It's better to go with the higher quality cocoa when making recipes that feature cocoa powder.
Peppermint Extract: This is the one I have been using lately. It's by the same company that makes lollipop flavors as well as baking emulsions. If you read my site you know I'm OBSESSED with their Buttery Sweet Dough Emulsion and use it a lot.
Chocolate Milk: I used chocolate milk in this recipe because I love adding in as much chocolate flavor as possible. Plus…you get left over chocolate milk to drink. Full fat chocolate milk is going to work best for this recipe. If you don't want to use chocolate milk you can simply substitute whole milk for it.

Helpful Tips:
In the recipe I have you use an 8-x-8 inch baking pan. I used these smaller dishes for photographic reasons only.
I suggest making them in the pan.
When you make the cobbler it's going to look like it won't turn out.
It will.
All self saucing desserts look like that.
P.S. It's a great day to buy my cookbook Holy Sweet!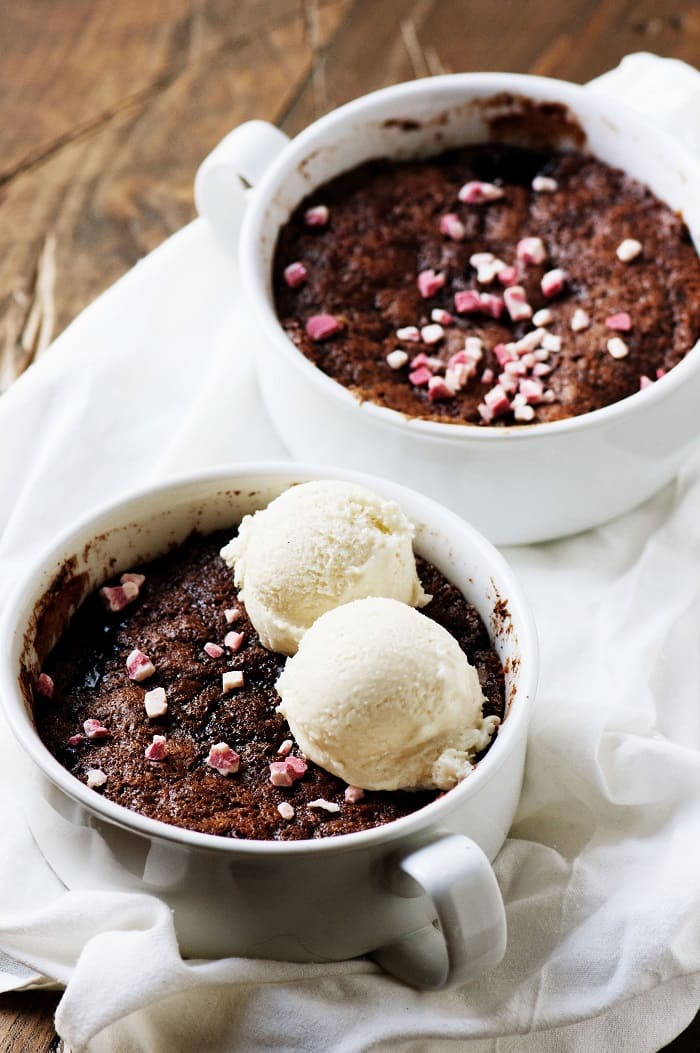 Want more Cobbler recipes?
Cherry Limeade Biscuit Cobbler
Mixed Berry Oatmeal Cookie Cobbler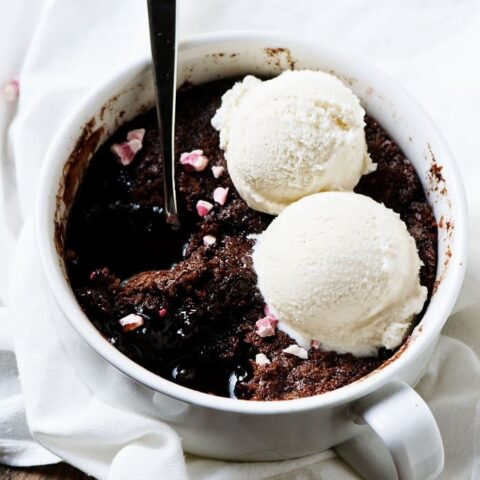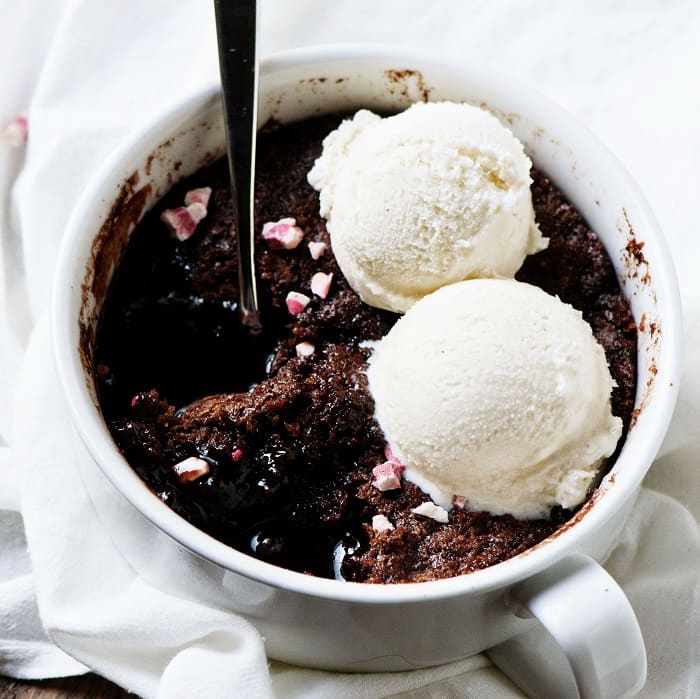 Chocolate Peppermint Crunch Cobbler
Ingredients
For the batter:
6 TBSP unsalted butter, cut into 6 pieces
1 cup self rising flour
3/4 cup granulated sugar
2 TBSP unsweetened cocoa powder
1/2 cup chocolate milk
1/2 tsp. peppermint extract
1/2 tsp. vanilla extract
1/2 cup Andes Peppermint Crunch Baking Chips
The sauce:
1 1/2 cups water
1/4 cup unsweetened cocoa powder
1 cup granulated sugar
Instructions
Preheat the oven to 350 degrees F.
Melt butter pieces in an 8x8 inch baking dish while the oven preheats. I made mine in large mugs for presentation reasons only...I recommend the 8-x8-inch pan.
In a medium bowl, stir together the flour, 3/4 cup granulated sugar, and 1 1/2 TBSP cocoa.
Stir in chocolate milk, peppermint extract, and vanilla extract until smooth.
Fold in the Andes Peppermint Crunch Pieces.
Spoon this batter over the melted butter in the baking dish.
For the sauce:
Bring water, unsweetened cocoa powder, and sugar to a boil.
Slowly pour over the top of the mixture.
Bake for 30 minutes in the preheated oven, until set. Serve slightly warm with ice cream.