Your dog will love this Dog Char-Treat-Erie Board aka puppy party platter. Filled with all sorts of treats and a Probiotic Pumpkin Dip.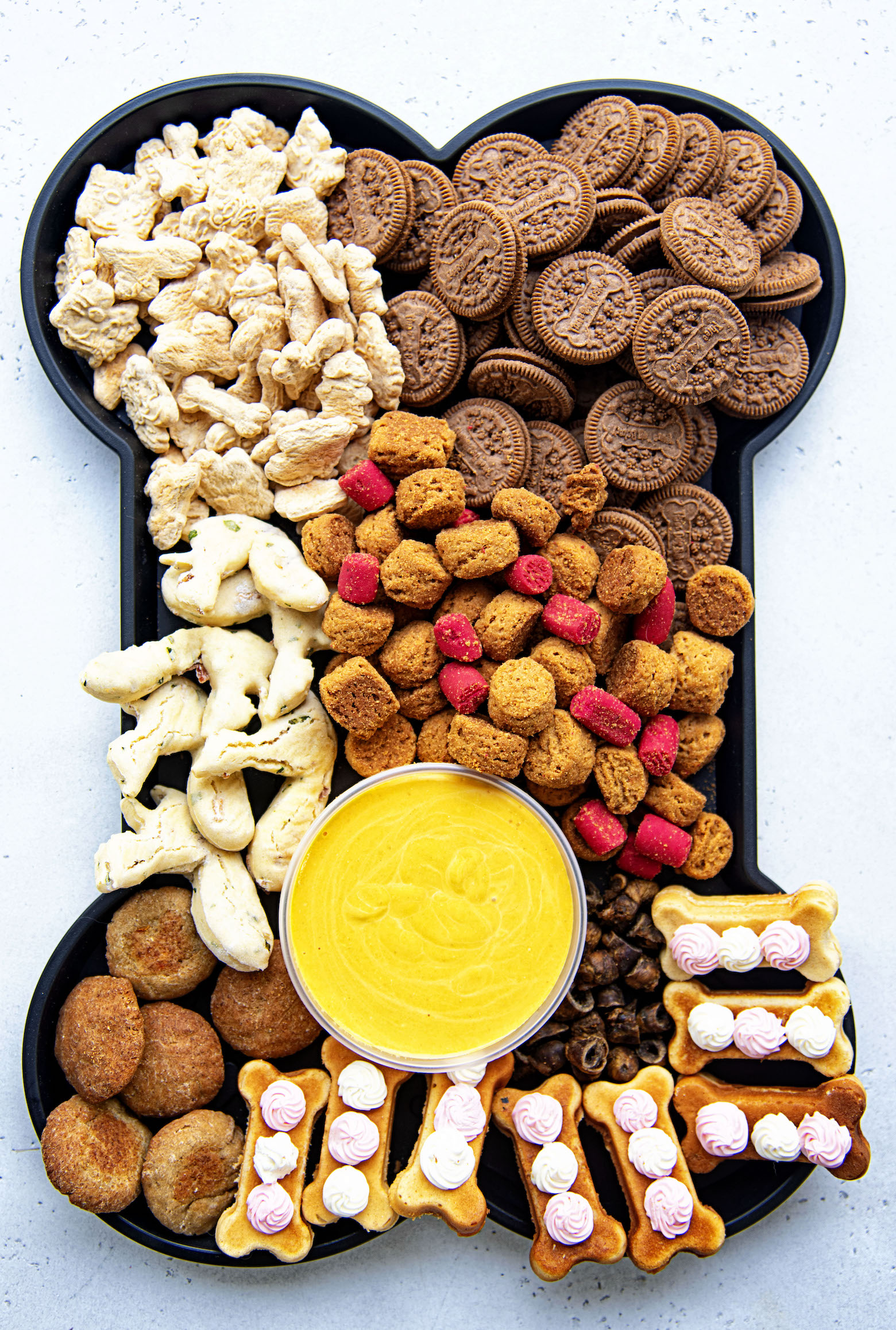 Our dog Banjo turns 15 this week.
That's a big deal because his breed lifespan is 10-12 years old.
It's also a big deal because he is in congestive heart failure.
Has pancreatitis.
He has bouts of IBS.
No teeth.
Deaf.
Has arthritis.
Chronic respiratory issues.
Hypothyroid.
Allergies.
Chronic eye and ear infections.
And yet, he is a happy, happy boy.
Yes, I know he is in pink but he is a boy.
He is in pink because it is his favorite.
For real.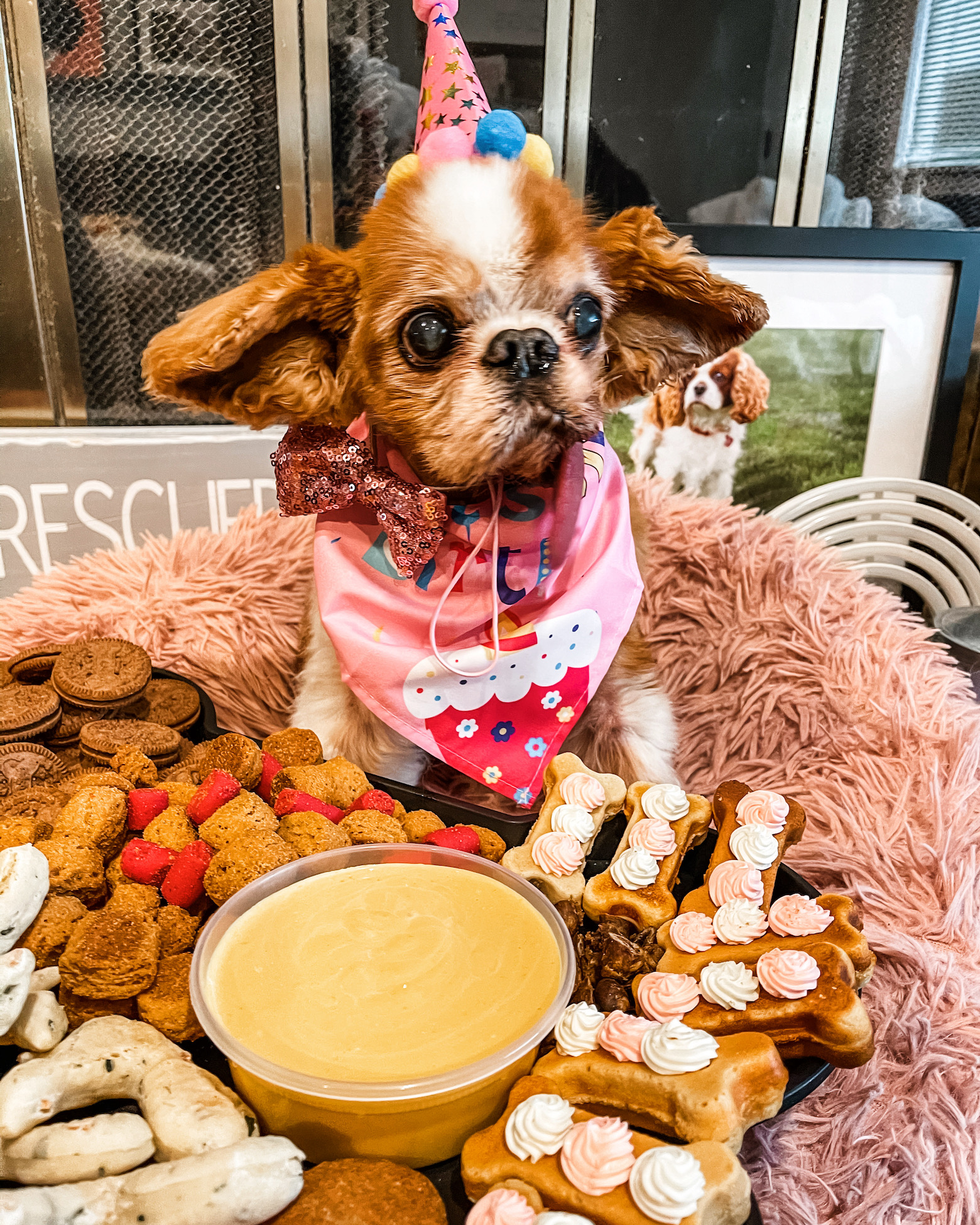 Whenever you lay out a bunch of blankets to lay on he will always go to the pink one.
Same goes for dogs beds.
He always chooses the pink one.
So we embrace it.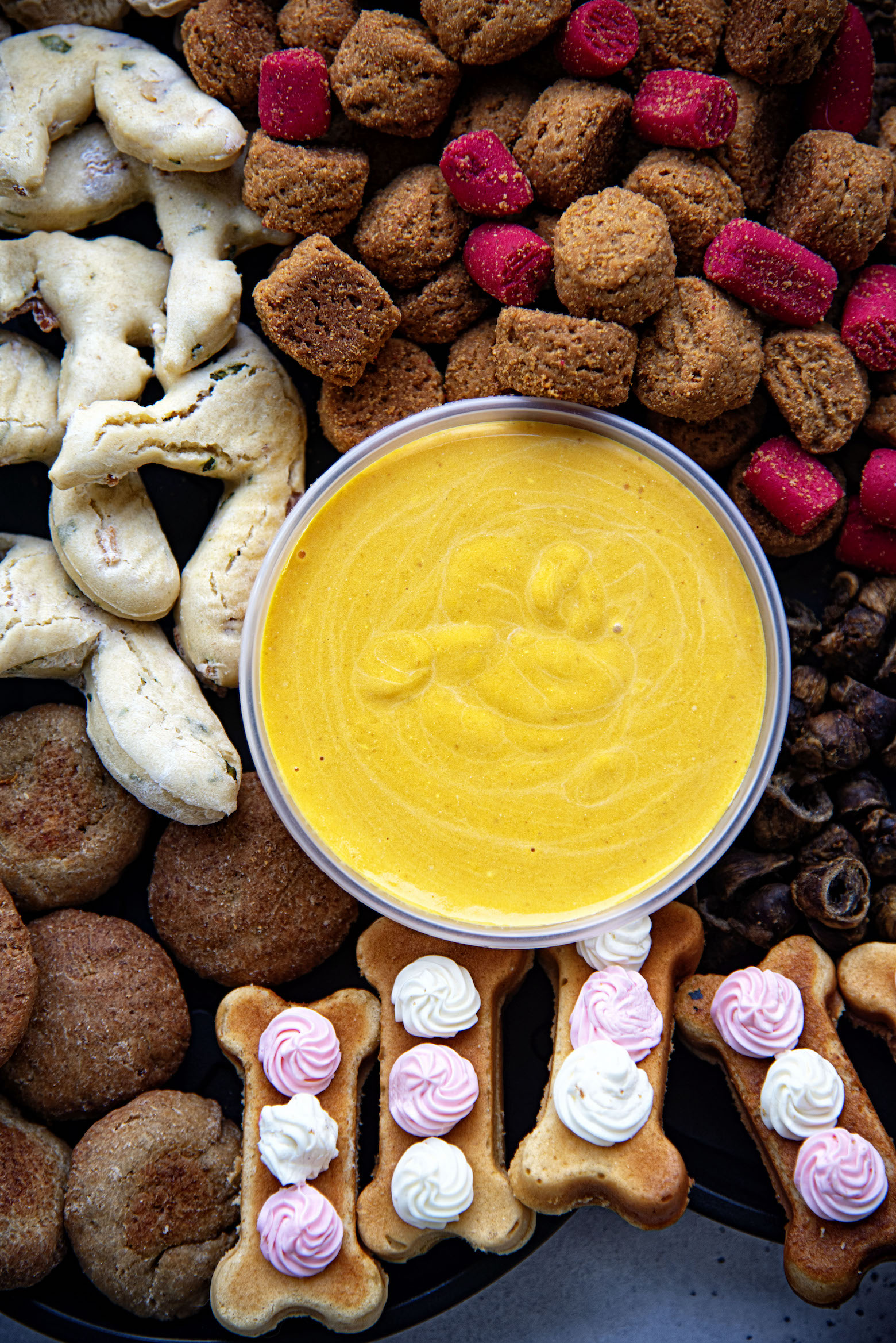 The idea for this Dog Char-Treat-Erie Board came about when I kept seeing the giant board of people food.
And thought well, we aren't having a party anytime soon.
But, we do have 6 dogs.
They could totally go for a puppy party platter.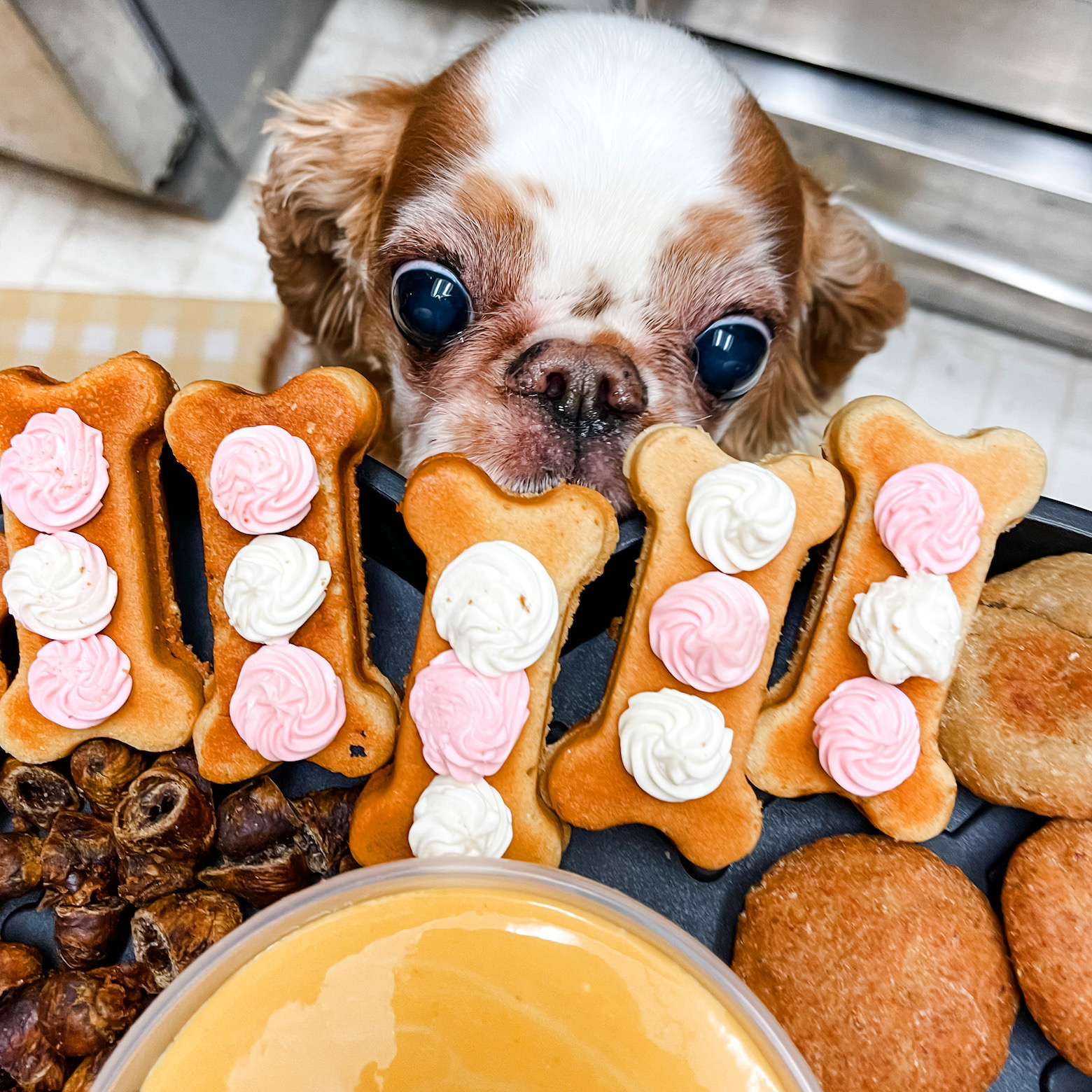 So Banjo's birthday seemed like a perfect excuse to give it a try.
While I would normally bake a treat or two we have been going out of our way during this time to support local businesses.
And so we got a lot of our dogs favorite treats from The Seattle Barkery.
As well as some of their favorite store bought treats.
But you can use whatever your dogs favorite treats are.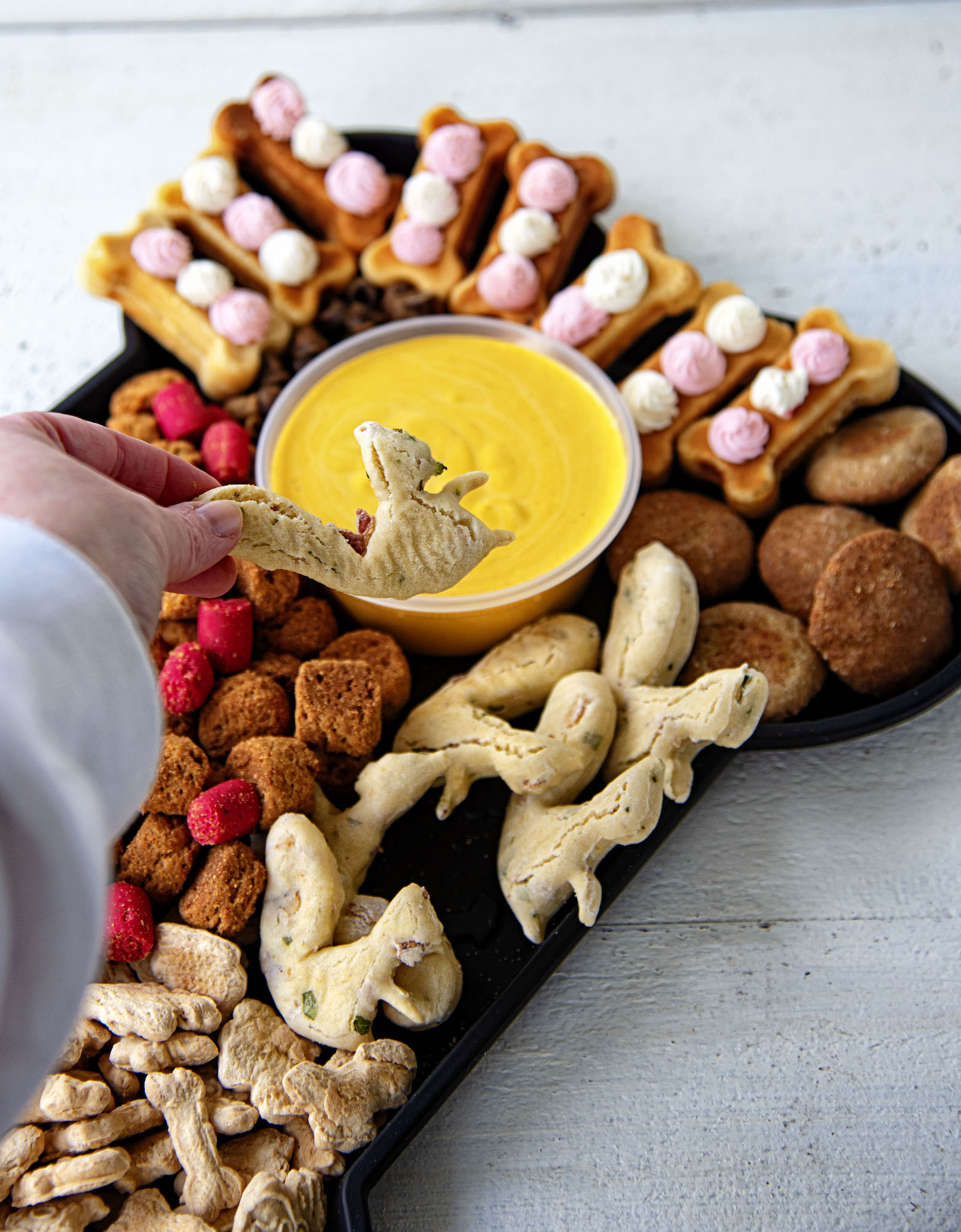 You can use any platter you want.
But I felt that a dog bone shaped one would be best.
Except they don't make dog bone shaped platters.
So I had to look for dog mats.
This one (link is in the recipe) is a hard plastic and as you can see has a bit of a lip. It worked perfectly.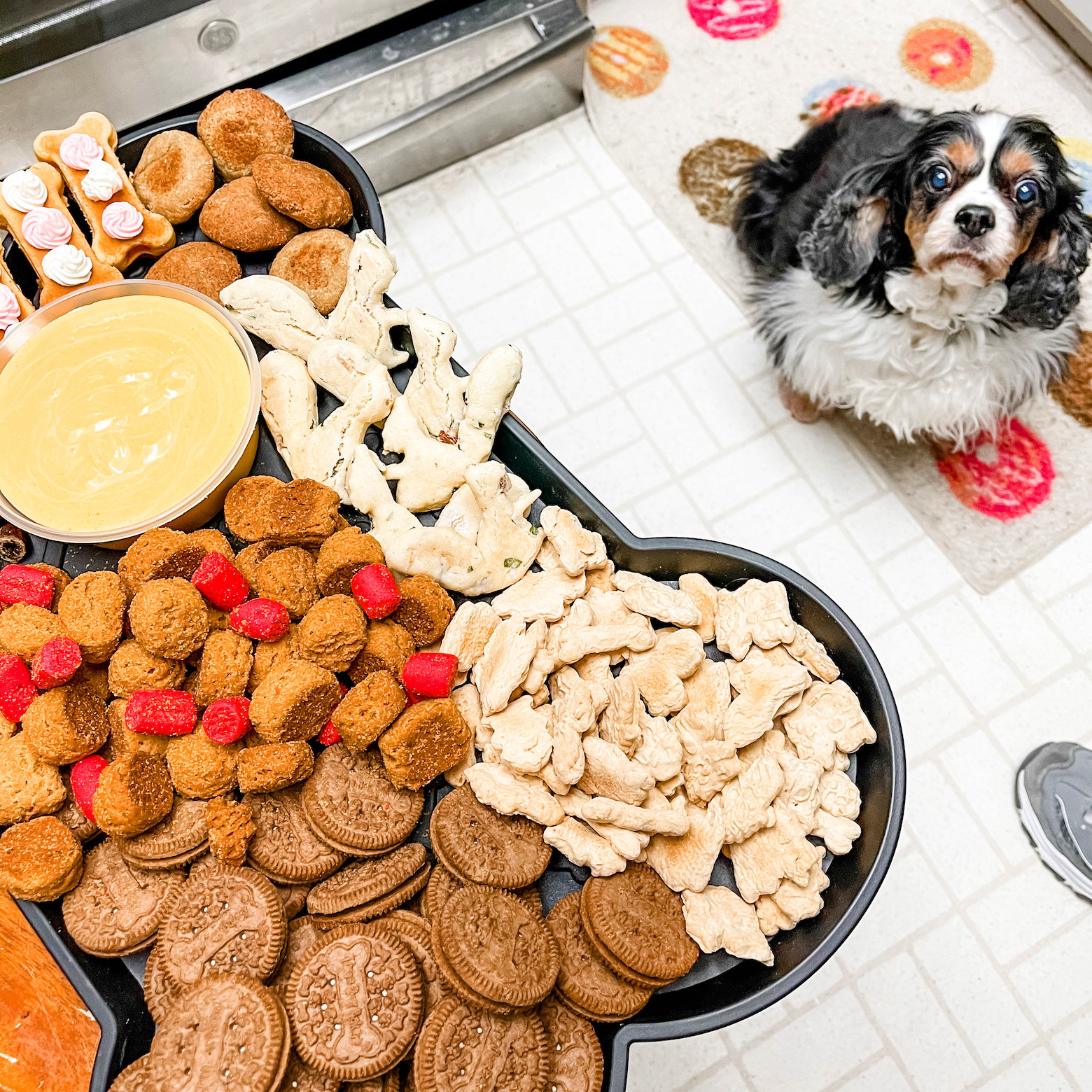 The platter also includes a Probiotic Pumpkin Dip.
Because sometimes when my dogs over do it on treats…they get tummy aches.
So in order to try and combat that I made this dip.
It's unsweetened Greek yogurt, pumpkin puree, probiotic powder, and a little ginger.
Want more dog treats?
Pumpkin Peanut Butter Pretzel Twist Dog Treats
Peanut Butter and Oatmeal Dog Treats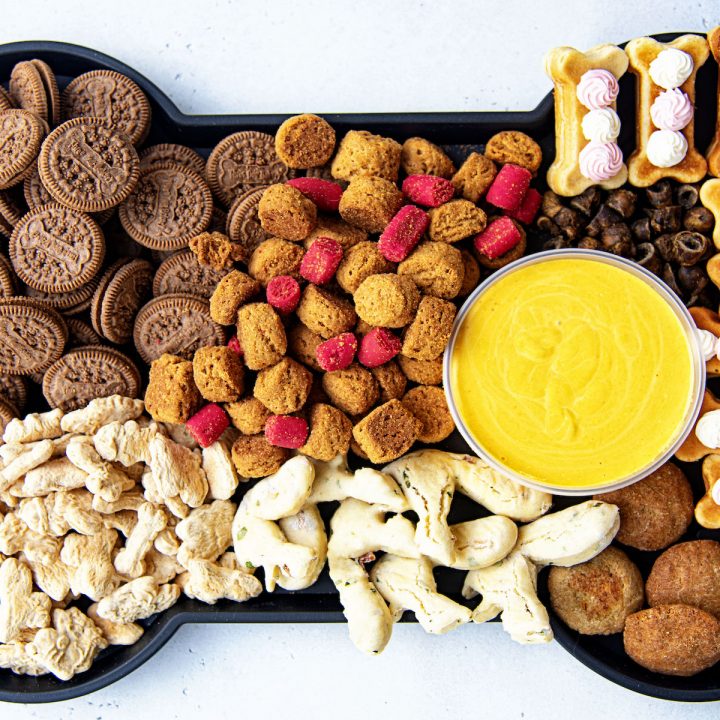 Dog Char-Treat-Erie Board
Ingredients
For the Platter:
Varies treats from your local dog bakery (hopefully you have one)
Probiotic Pumpkin Dip:
1 cup pumpkin puree (not pie mix)
1 cup UNSWEETENED Greek yogurt
1/4 tsp ginger
Instructions
For the platter I used a Dog Bone Shaped dog mat. It's a hard plastic mat and has a lip so it works really well.
For the Probiotic Pumpkin Dip:
In a medium sized bowl whisk together all the ingredients until they are smooth.
Scoop into a small bowl and place it on the platter.
Arrange the treats on the platter and around the dip.
Spoil your dog.