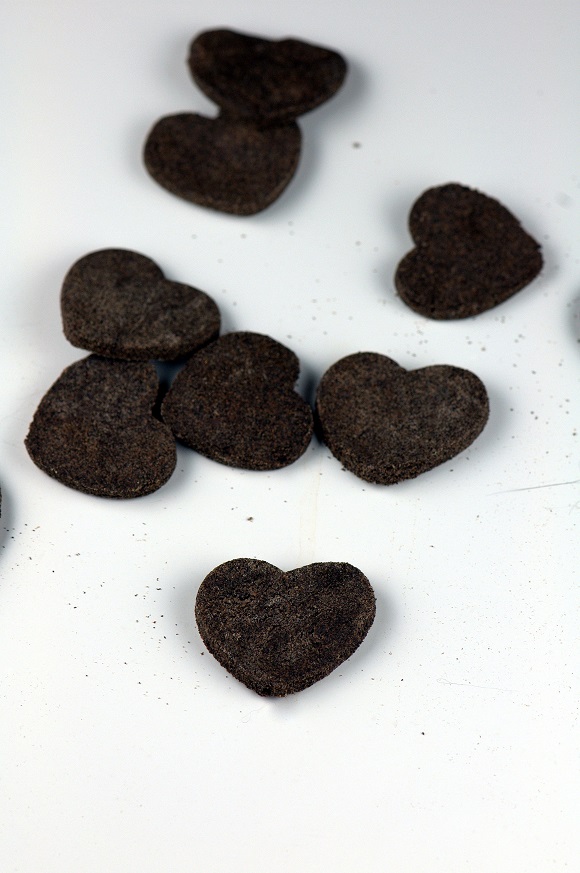 So part of why I was so busy lately has been Crazy Cocker Spaniel. At the beginning of the month I took her in to get her teeth cleaned and mentioned to the vet tech that her coat had not been looking so good could they take a look at it please while she was here.
When I called to check to see how the dog did the vet got on the phone and ripped me a new one to the point of me in tears. I had what could only be called a CPS interview basically accusing me of my dog being in pain (though she showed no signs at home) and me possibly putting her in scalding water? Umm WTF? She was getting redness on her belly that would last about 10 minutes and sometimes around her eyes (not bloodshot) but it always cleared up quickly. I figured the cold weather and her age were at play. Needless to say I was made to feel like crap and felt like a complete dog mom failure. Luckily the vet techs were nice when I picked her up and were quick to comment that my dog has been in great health the 9 years that she had been going there and I always kept good care of her they knew that. To bring her back in 10 days if necessary. Though he couldn't tell me what was wrong. Just that they gave her Cortisone shot and she was to go on antibiotics and Prednisone.
So we bought special sprays and you name it to try and figure out what it might be. I guessed a flea allergy as one time there was one on her after being out side and her tummy was bright red and so were her eyes. Over the course of the following weeks the redness came and went with not being able to figure out why. Then she went to the groomer. They said oh we will give her an oatmeal bath to soothe her skin. Okay great. Wrong. What I got back was a dog that truly was in pain this time. She was beet red from head to toe and just looked miserable. So I took her to a different vet I had been thinking about. They were nice and saw me right away. The vet walked in and said "how long has your dog had a yeast infection". And I said is that what it is? I explained all that had been happening over the three week time period. The Prednisone and antibiotics actually made it worse. In even worse for the dog news she has developed an allergy to the yeast that was on her. That of course there was no way of knowing it but that why she was so bad is that she just had an oatmeal bath and I basically just fed the yeast and made it happy and the dog unhappy.
So I said what do I need to do? He said I can give her meds that will clear it up for a little bit but it will come back….and what I need to do is completely change her diet. He was not kidding about completely. Of course it was two days before Christmas and I had bought her a ton of new dog treats (all which she could no longer have) and dog food. She does not get cheap dog food so that was a big blow (all was donated away no worries). She could no longer have wheat, corn, rice, oats, spelt, basically grain of any kind, no potatoes, sweet potatoes, carrots, apples (she loves them), no fruit of any kind for that matter (she loves banana as well), beans, no dairy, no peanut butter, no fish except wild caught salmon, no pork of any kind (she like her mom loves bacon), only human grade meats…basically all the food she loves.
In case you haven't guessed finding new food and treats was quite a research project. I found her a food that met all the requirements…it also cost an arm and a leg. I got wild salmon oil to squirt on her food. She finally gets a little wet food that also meets the requirements. The only dog treats I could find that met them are $11 a bag for freeze dried chicken and duck treats. I can't afford that. Luckily MDP got a food dehydrator for Christmas (he wanted to make his own jerky) so we will be making some for the dog. But I could not find any crunchy every day treats. Already sinking in way more money than I actually had in the month of December I needed to figure out what to make her. The Internet would surely find a recipe for me…right? Well not in the three hours I looked for recipes. Oh they have allergen recipes but not one that met the requirements. So I had to figure out something.
She can have buckwheat (don't be confused by the name…there is no wheat and it is not a grain it is actually a seed). Luckily Bob's Red Mill makes Organic Buckwheat Flour that I just happened to have. So I took that, some homemade chicken stock, and coconut oil and hoped for the best.
Low and behold she loves them! As you can see below.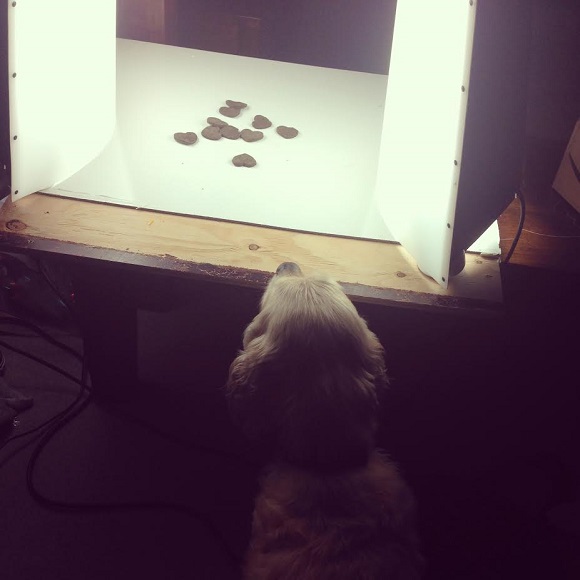 And thank goodness. These make about a month supply (for my dog) and at about a cost of $4 with the bulk of that cost coming from the buckwheat that I buy in bulk from Amazon. Way better than the $11 freeze dried treats that she was eating a bag a week!
While she loves her new food and treats you can still tell that she thinks she is being punished and I feel so bad about that. When the kids eat pizza she keeps waiting for her little piece of crust. I guess I am going to have to figure out if I can fool her with cauliflower pizza crust (I doubt that). And no sugar cookie with Santa this year. Chicken with Santa this year. 🙂 BUT she has not been bright red anywhere once. She has gotten a little brighter pink on the belly always after going outside (now I am thinking maybe allergic to something out there too) but overall her health is much better so that makes me happy. I know how crappy I feel when I eat something I am allergic to (they feel the yeast was developed from food allergies) so I hate to think that she was going around feeling that way all the time. 🙁
So if you are looking for a dog treat that at least meets all of my dogs requirements this is the one for you. I will of course be fooling around with more recipes as time goes by and put them on here to save anyone the hours I had to search to find them.

Buckwheat Coconut Oil Dog Treats
Ingredients
2 cups buckwheat flour
1/4 cup coconut oil
1/4 cup chicken stock
Instructions
Melt the coconut oil to liquid form.
Add the ingredients together until it forms a dough.
Roll out the dough (you will need more buckwheat flour to prevent from sticking).
Cut out shapes of your choice.
Bake at 375F for 15-18 minutes depending on the size.
Store in a air tight baggy.
https://www.sweetrecipeas.com/2014/01/03/buckwheat-coconut-oil-dog-treats/