Cheesy and delicious this Asiago Soup with Tomato Jam is a creamy cheese soup topped with a sweet and tangy tomato jam.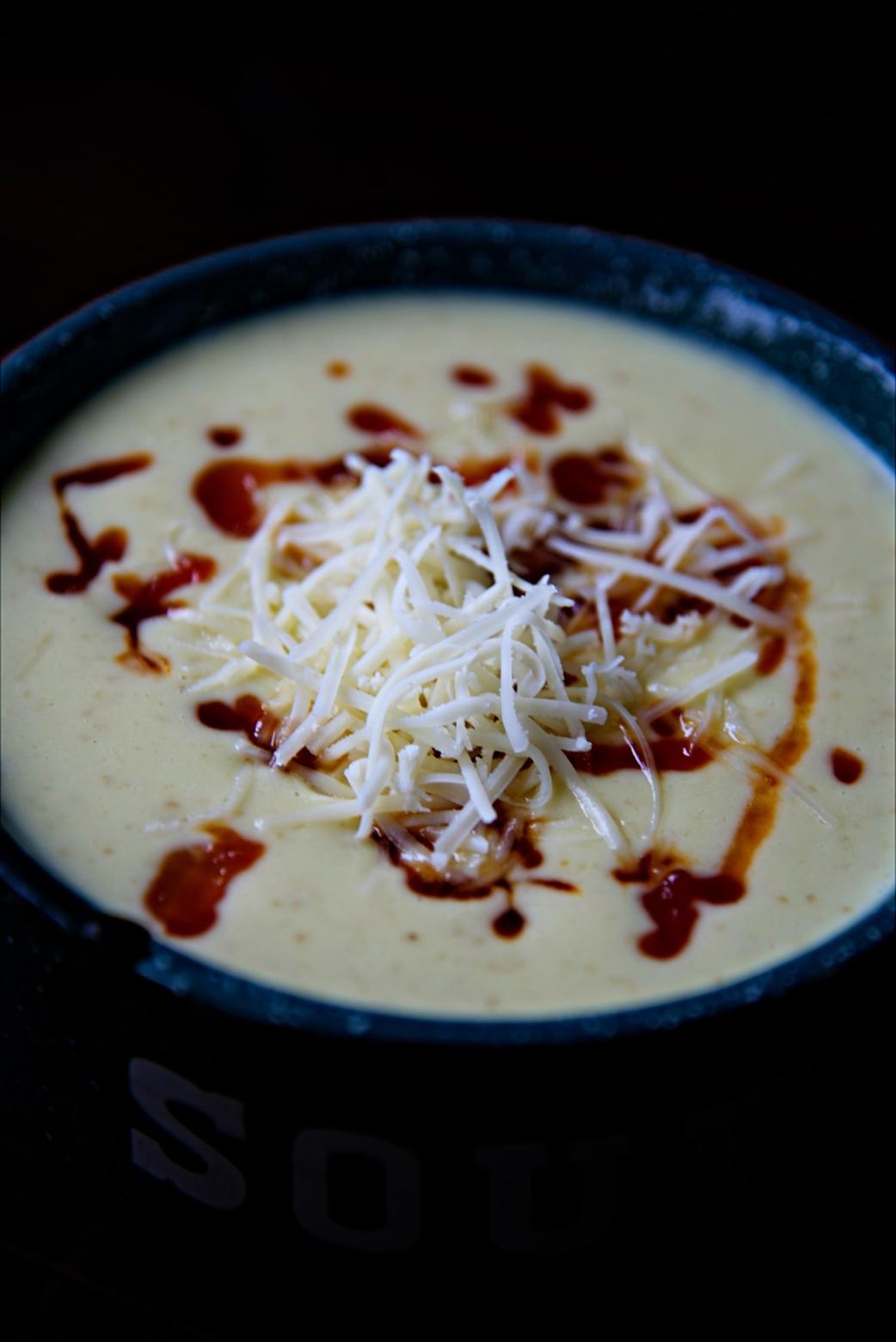 This Asiago Soup with Tomato Jam is a lot like banana bread.
Now I'm sure you are saying, how is that possible?
Because I only make banana bread when I bought too many bananas.
And I made this soup because I accidently about six pounds of Asiago cheese.
Yes, 6 pounds.
Not paying attention, and ordering on my phone, when I saw the Asiago cheese was $5.49 I put it in the cart.
Except that it was $5.49 a pound.
And the smallest option was 6 pounds.
So needless to say I have been doing my best to use it up.
And thus, I ended up with soup.
Like most of my cream based soups, I like to add something to cut the richness of the soup.
Which is why I add the tomato jam.
I highly suggest you don't skip making the jam.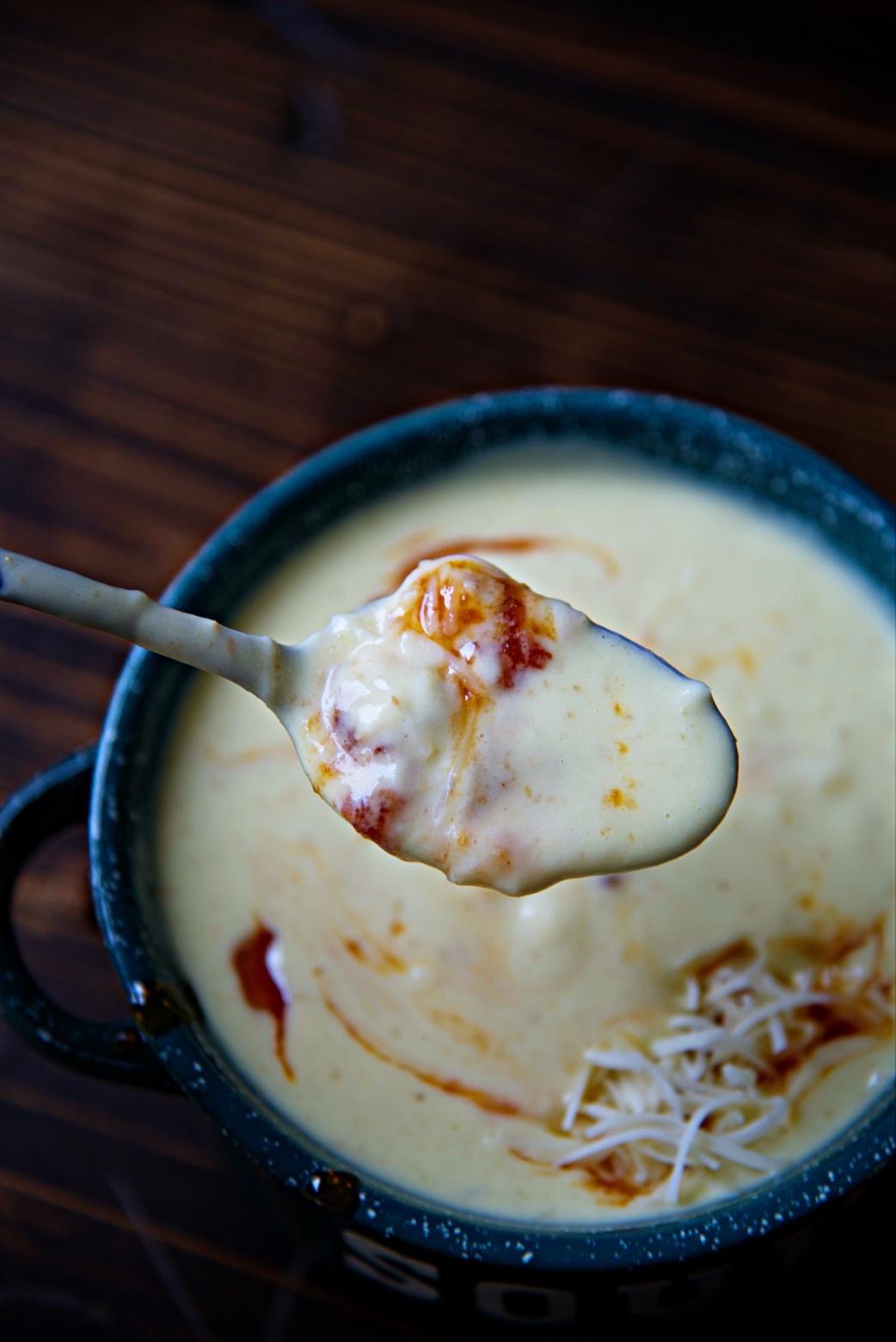 Soup Ingredient Highlights:
Asiago Cheese: You don't need 6 pounds like I have…just two cups. Though I add more cheese to the top of my soup. Shredded cheese works best for this recipe because it will melt quickly and evenly.
If you can not get ahold of asiago cheese you can use Parmesan or Manchego cheese.
White Wine: For this soup I used a Sauvignon Blanc. Pinot Gris would also work.
Butter: This calls for butter too saute the onions and potatoes in, if you prefer olive oil you can use that.
Heavy Cream: Also known as heavy whipping cream…it's just not whipped. You can use half and half but I really suggest the full heavy cream. I mean…this is cheese soup after all.
Sweet Onion: I almost always use sweet onions in my soup. Mostly because it's what I have on hand (we grow a lot of sweet onions in WA state). Yellow onion would work as well. I wouldn't do red as it would be too harsh with this soup.
Vegetable Stock: You can substitute chicken stock if you prefer. I actually use a chicken-less chicken stock made by Better than Bouillon. It's my favorite. When making a soup that does not have meat I tend to always go with a vegetarian stock.
Tomato Jam Ingredient Highlights:
Canned Diced Tomatoes: I'm fully aware that this is a controversial ingredient. Most people, myself included, make tomato jam using fresh tomatoes. However, this is more of a fall/winter soup and fresh (at least decent fresh) tomatoes are not an option. So I tried it with canned tomatoes and it turned out great. I may be a convert even when fresh tomatoes are an option.
Sweet Onions: Again I use the sweet onion but you can use yellow.
Brown Sugar: A lot of tomato jams use granulated sugar but I like the extra depth that the brown sugar adds.
Tomato Juice: I would use straight tomato juice and not something like V8. If you want a slightly sweeter jam you can substitute apple juice for the tomato juice.
Apple Cider Vinegar: While there are many vinegars out there, apple cider vinegar is my favorite for this recipe. You could also use balsamic as well.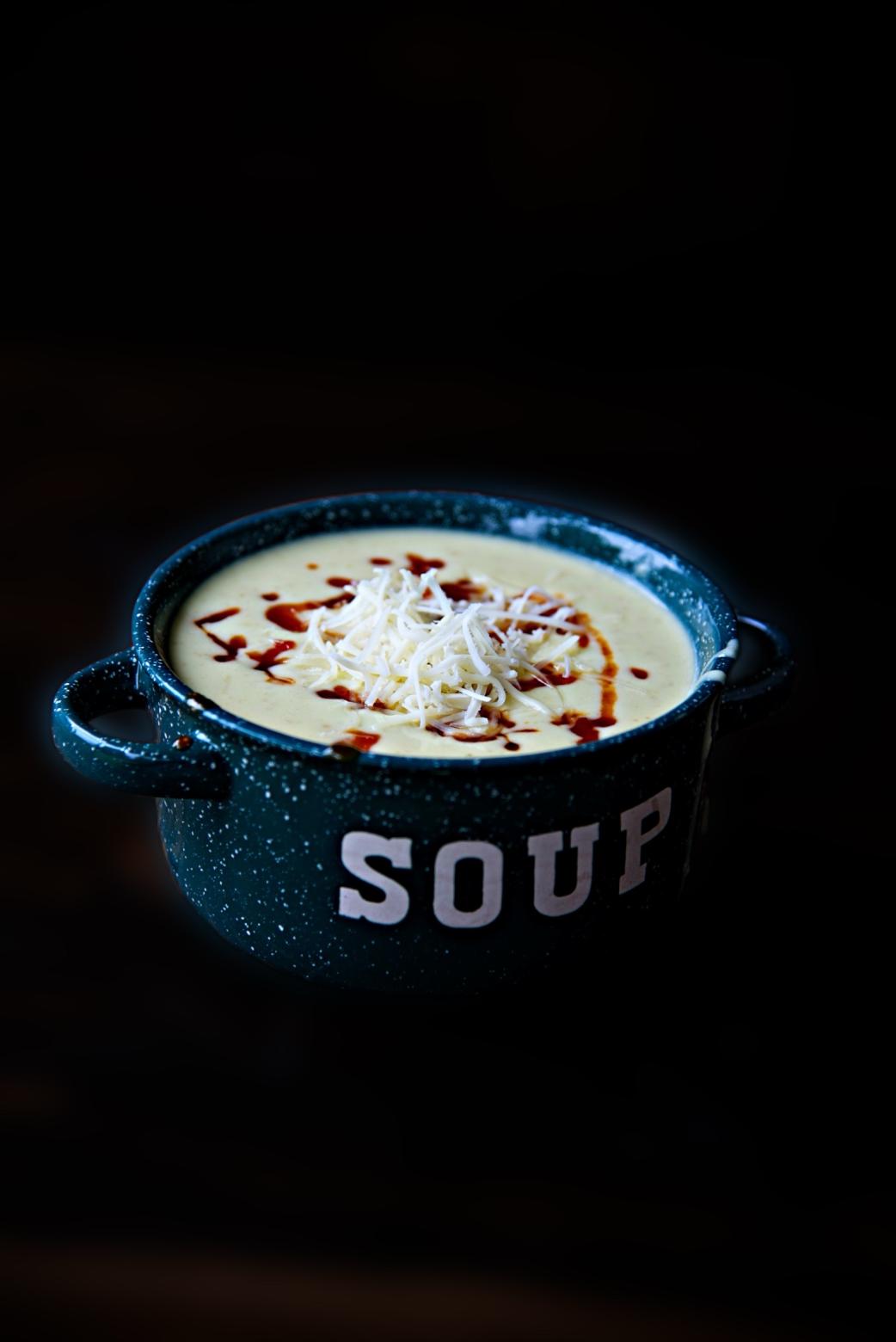 How to Freeze Asiago Soup:
To freeze this soup make sure to cool it completely. Then pour it into freeze-safe bags (I freeze mine flat as I find it easier to store that way) or freezer safe containers.
Freeze up to 3 months.
Thaw in the fridge then reheat on the stove.
Because this soup contains potatoes, cheese, and heavy cream, the texture might change when it's frozen and reheated, so keep that in mind.
How to Freeze the Tomato Jam:
Make sure to cool jam to room temperature.
Then place in fridge for at least an hour.
Put jam into a freezer safe container You can keep in freezer for 6 months.
P.S. It's a great day to buy my cookbook Holy Sweet!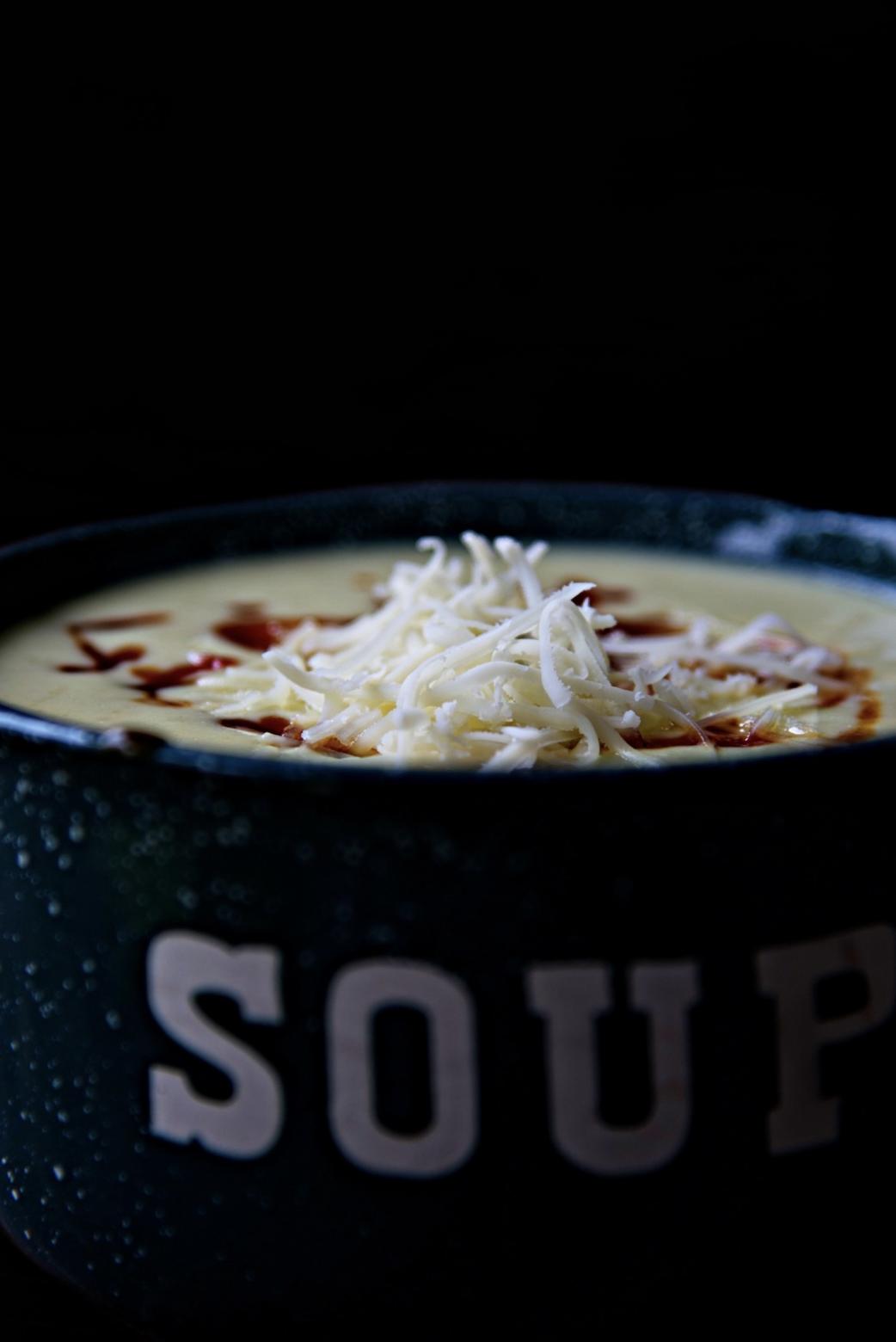 The Latest Recipes:
Want More Soup Recipes?
Dill Pickle Cheddar Cheese Soup
Caramelized Onion Potato Ale Soup
Vegetarian Vegetable No-Beef Soup
Roasted Garlic Chili White Bean Soup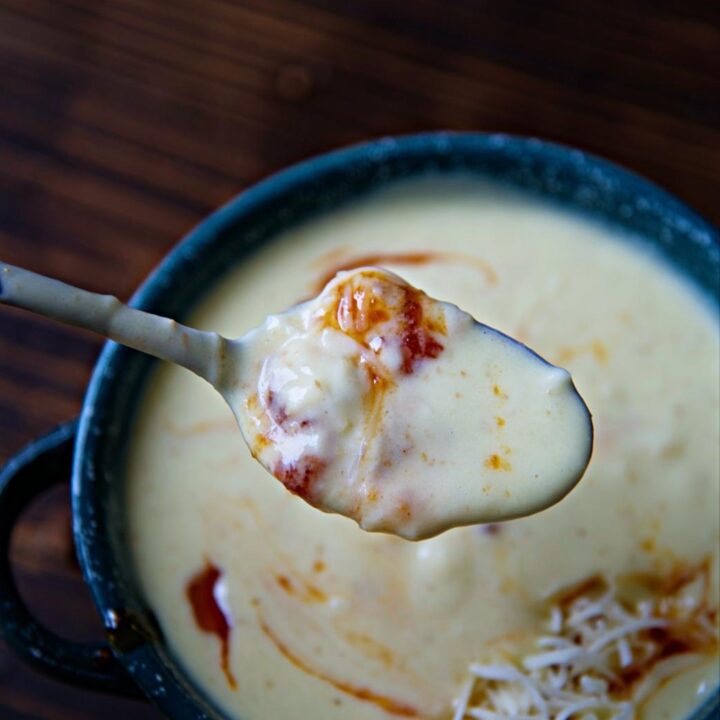 Asiago Soup with Tomato Jam
Ingredients
For the Tomato Jam:
1 TBSP olive oil
1 large sweet onion (such as Walla Walla or Maui)
1 1/2 cups canned diced tomatoes (or fresh if the time of year permits)
1/4 cup apple cider vinegar
3/4 cup brown sugar
1/4 cup tomato juice
For the Asiago Soup:
3 TBSP butter
2 large onions, large diced
2 small baking potatoes, peeled and diced
1 tsp garlic, minced
2 cups chicken or vegetable stock
1 cup white wine
1 cup heavy cream
2 cups Asiago cheese
salt and pepper to taste
Instructions
For the Tomato Jam:
In a large sauté pan over medium heat add 1 TBSP oil and onions and cook until tender and become translucent in color.
Add the remaining ingredients and reduce to a low simmer.
Let the ingredients cook down, stirring about every 10 minutes, until they for a syrup or jam like consistency, this will take about an hour or so.
The jam will last for 2 weeks in fridge. Or 6 months in freezer.
For the Soup:
In a large pot melt 3 TBSP of butter over medium heat.
Add onions and garlic, cook until onions are slightly wilted.
Add potatoes, stir to coat with butter.
Cook 5 minutes.
Add stock and bring to a boil.
Reduce heat and simmer until potatoes are soft (about 30 minutes).
Allow to cool slightly.
Puree soup in food processor or blender.
Pour soup back into the pot.
Add cream and gently reheat soup.
Stir in cheese and adjust seasoning.
If too thick, thin with stock.
Top with tomato jam when ready to eat.