These Coffee and Donuts Cheesecake Bites have a mini chocolate covered donut bottom filled with a coffee flavored chocolate chip cheesecake.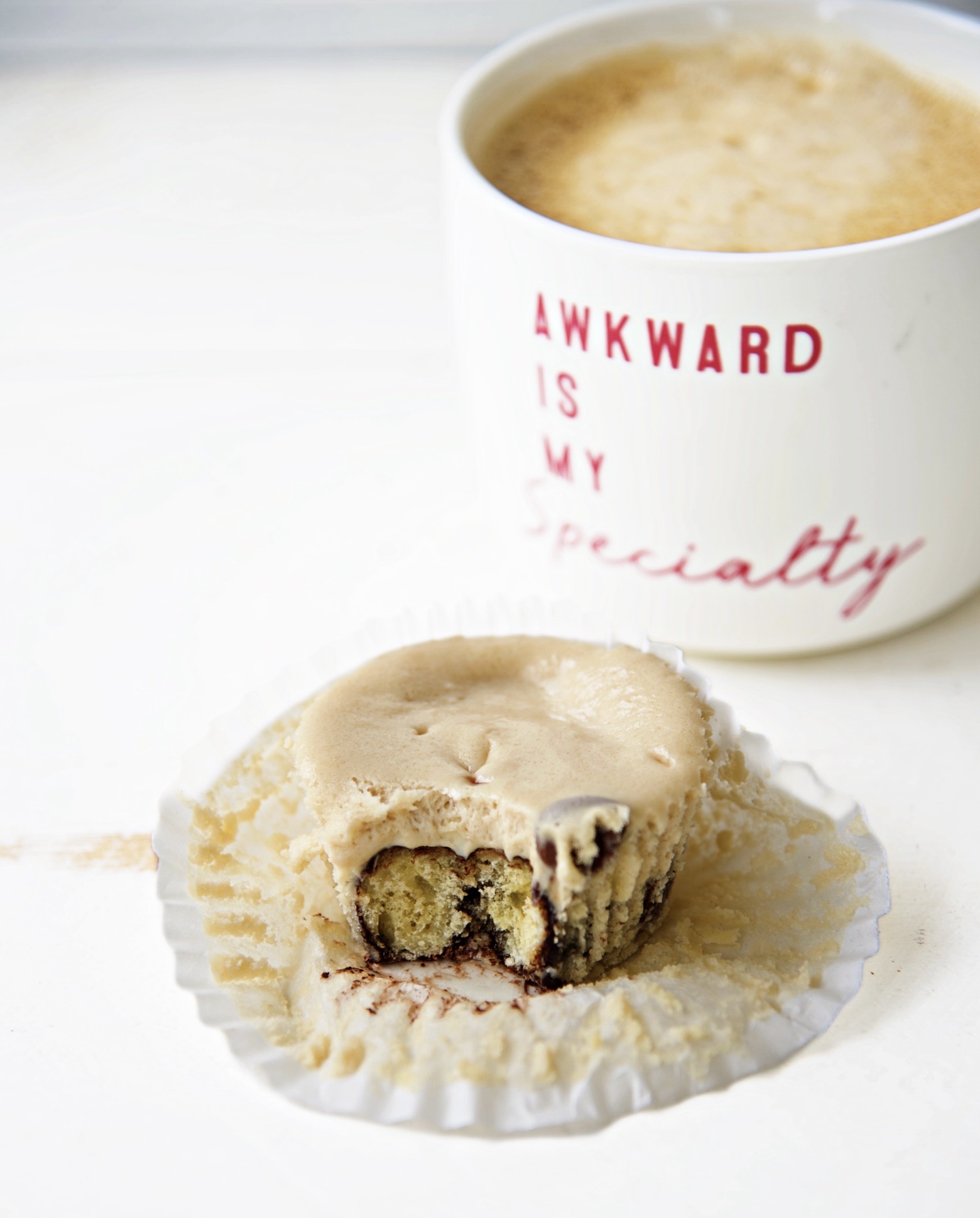 These Coffee and Donuts Cheesecake Bites are easy to make and are a super fun flavor combo.
I must admit that as the daughter of two police officers, I think of cops when I think of coffee and donuts.
And yes, you read that right…both my parents were police officers…it's how they met.
I did however luck out that they were not police officers when I was a teenager and we didn't live in the same state they were cops.
That spared me having local police keep tabs on my for my parents. 😀
While my parents were not cops my high school years, it seemed like every kid in school knew they were.
And so, I got to hear all the donut cop jokes.
But reality is, when you work graveyard, they only thing open back in their day were donut shops.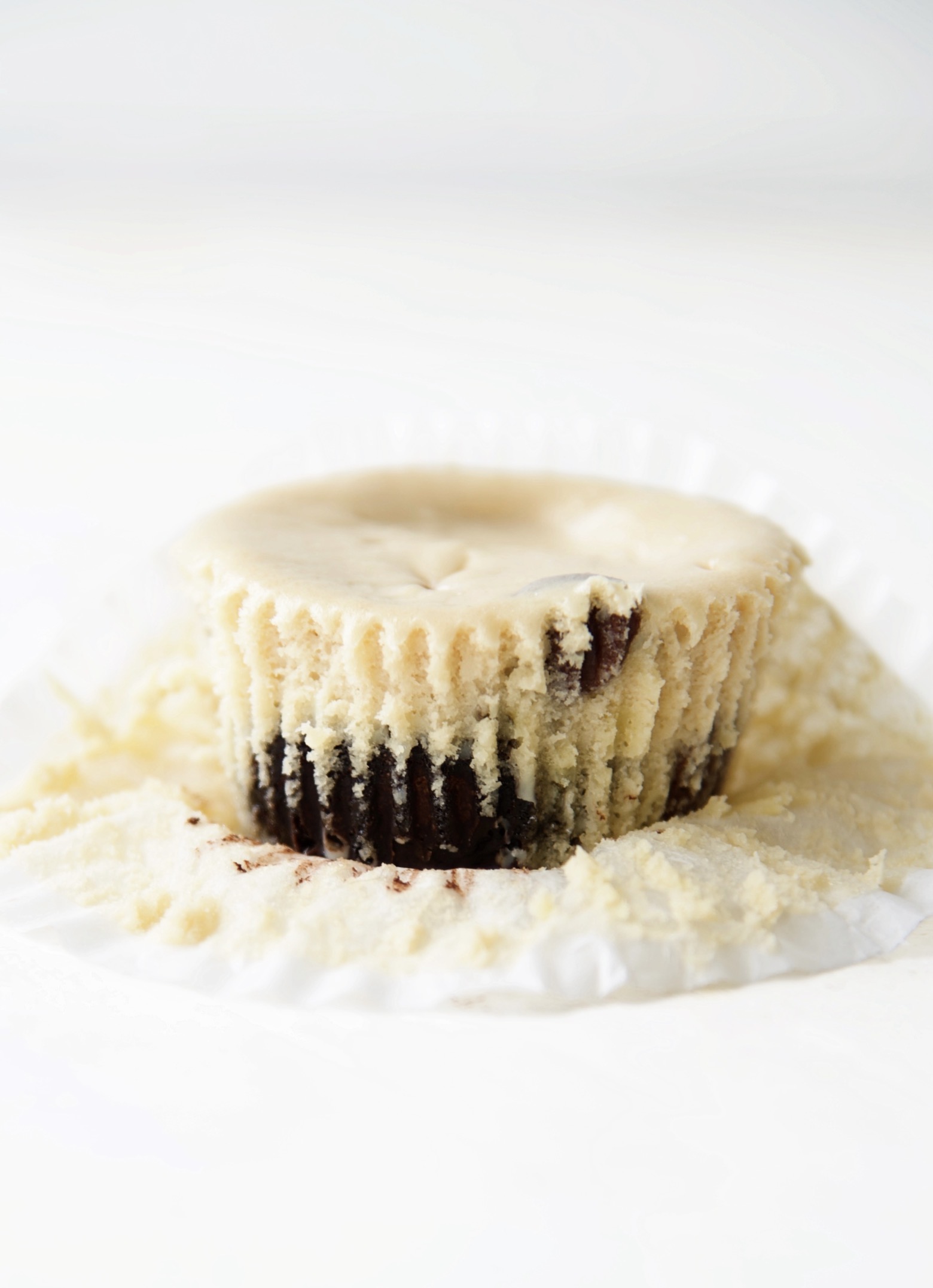 Why You'll Love These Coffee and Donuts Cheesecake Bites:
Two Desserts in One– Chocolate covered donuts and cheesecake. Two desserts is always better than one.
Unique Crust –This cheesecake has an unusual crust made using mini chocolate covered donuts.
Perfect for Parties – Mini cheesecakes are perfect for parties. They can be made they night before a party to save time.
Easy to Make Recipe – The mini cheesecakes are so easy to make. No springforms or water baths are needed and they bake up in 22 minutes!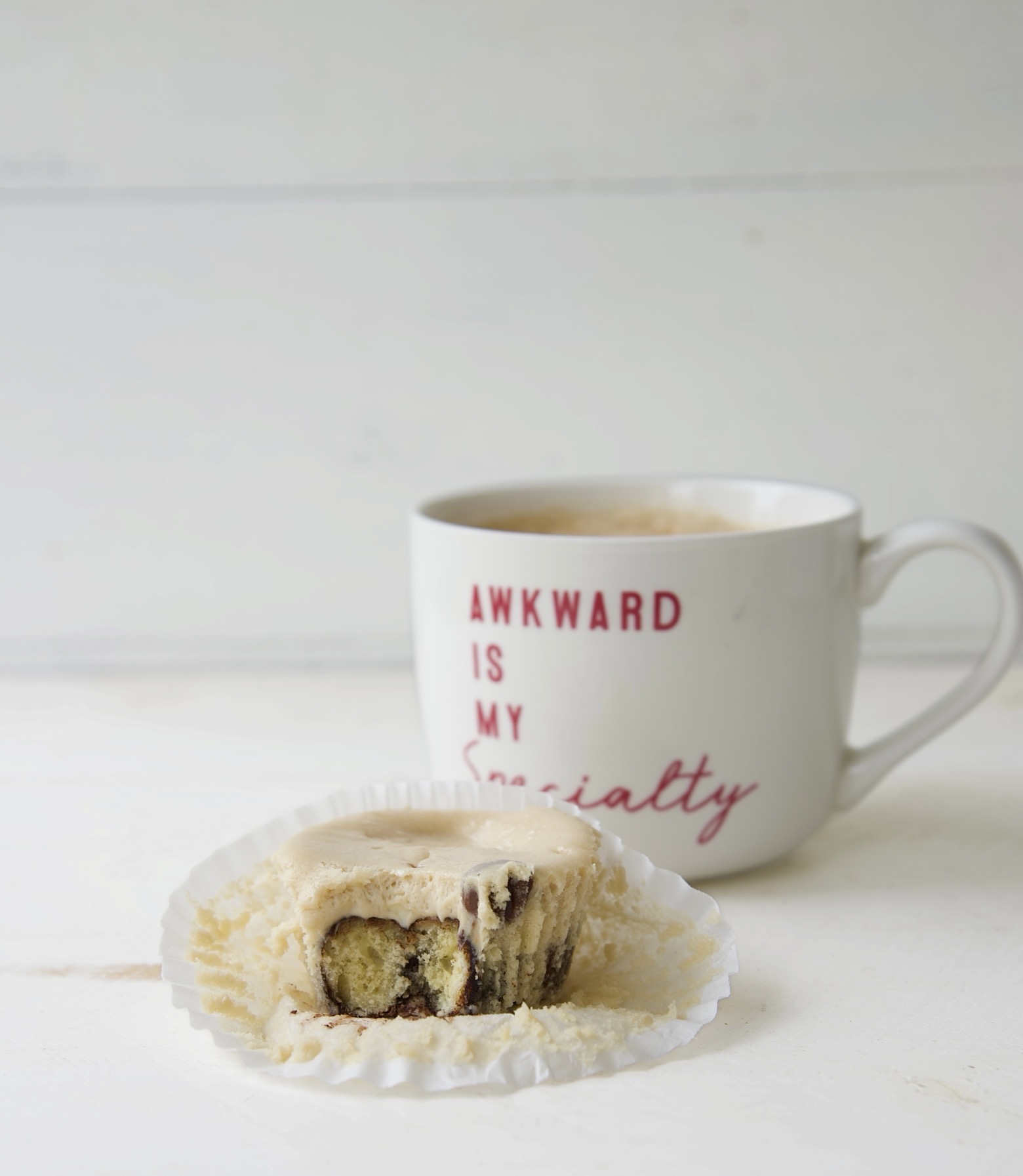 Ingredient Highlights:
As always, the full recipe with measurements & directions can be found at the bottom of this post.
Cream Cheese: Use full-fat brick cream cheese. Make sure you're buying the bricks of cream cheese and not the tubs of cream cheese spread as it would affect the texture and outcome greatly.
Sour Cream: Make sure to use full fat sour cream.
Pure Vanilla Extract: I always use Rodelle vanilla. They are by far my favorite vanilla.
Eggs: All recipes on the blog use large eggs unless indicated. When making cheesecake it is best to use room temperature eggs.
All Purpose Flour: Yes, you do need that little bit of flour in the batter. Helps firm them up a little more.
Hostess® Frosted Mini Chocolate Donettes®: This is not a sponsored post for them. 🙂 If you have another brand you prefer for your mini donuts use those. I grew up eating the Hostess ones and so those are my favorite.
Espresso Powder: Ground coffee and espresso powder are not the same thing. I use King Arthur Flour Espresso Powder. You can also use Starbucks Via as well. If you use just a powdered coffee instead of espresso you will not get as much coffee flavor.
If you can not find the powder or instant coffee you can use a teaspoon of coffee extract (or more depending on your preference).
Milk Chocolate Chips: This is truly a preference. If you are more a semisweet chocolate lover than go semisweet.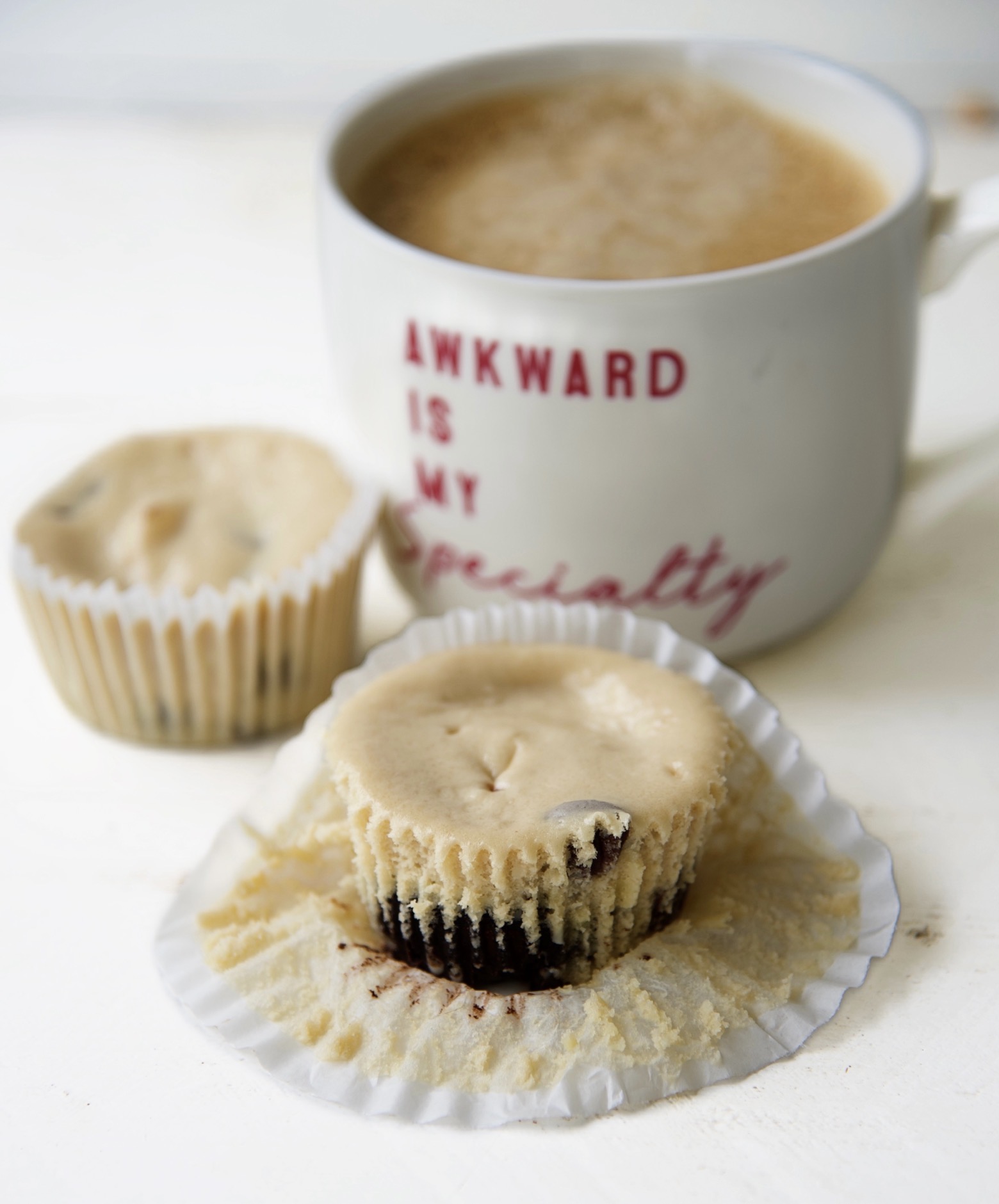 Tips for Successful Cheesecake Bites:
Oven Thermometer – An oven thermometer will tell you if your oven is actually running at the temperature you set it to. Your oven may not be accurate. I have to calibrate my oven about 5 times a year. Now, granted, I use my oven more than most people but if you have not done it in awhile you should check it.
Room Temperature Ingredients – It is imperative that you let your cold ingredients come to room temperature. Cold ingredients will create a lumpy batter.
Don't Over Bake – While it may seem like you can't over bake a cheesecake when it's at such a low temperature and a short amount of time…you can. Make sure you only bake them for the time indicated.
Rotate: Don't forget to rotate halfway through. Since there is not a water bath you have to rotate to ensure an even texture on both sides.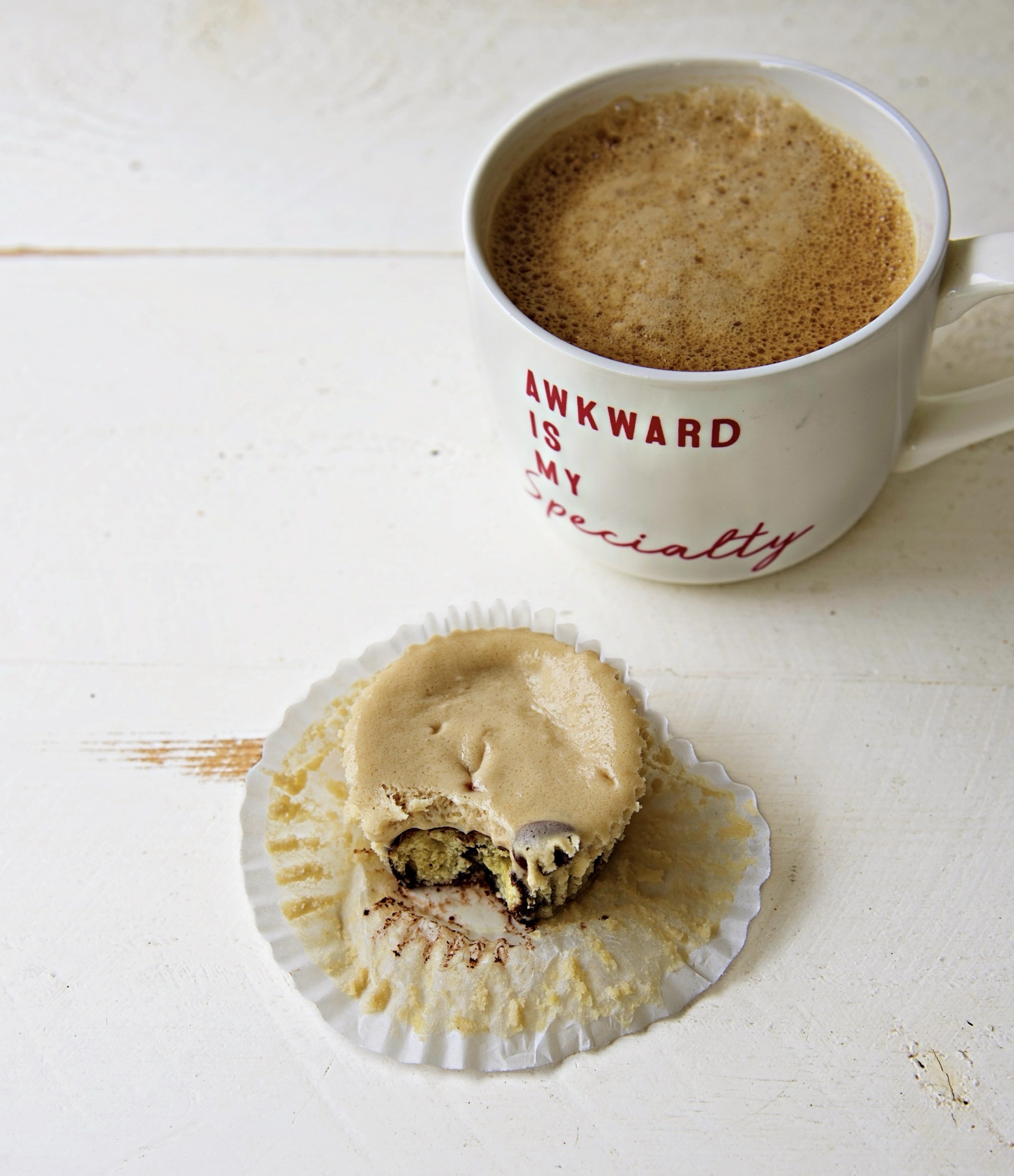 Frequently Asked Questions:
Can I halve this recipe?
Yes, you can. You would get roughly 7 cheesecakes.
Do I really have to chill the cheesecake bites for so long?
Yes! That's the nature of cheesecake. Allow the cheesecake to come to room temp after it's baked, and then transfer to the fridge to chill at least 4 hours or up to 1 day before serving.
Do you have to use a bain marie (water bath)?
No. That's the great thing about cheesecake bites.
P.S. It's a great day to buy my cookbook Holy Sweet!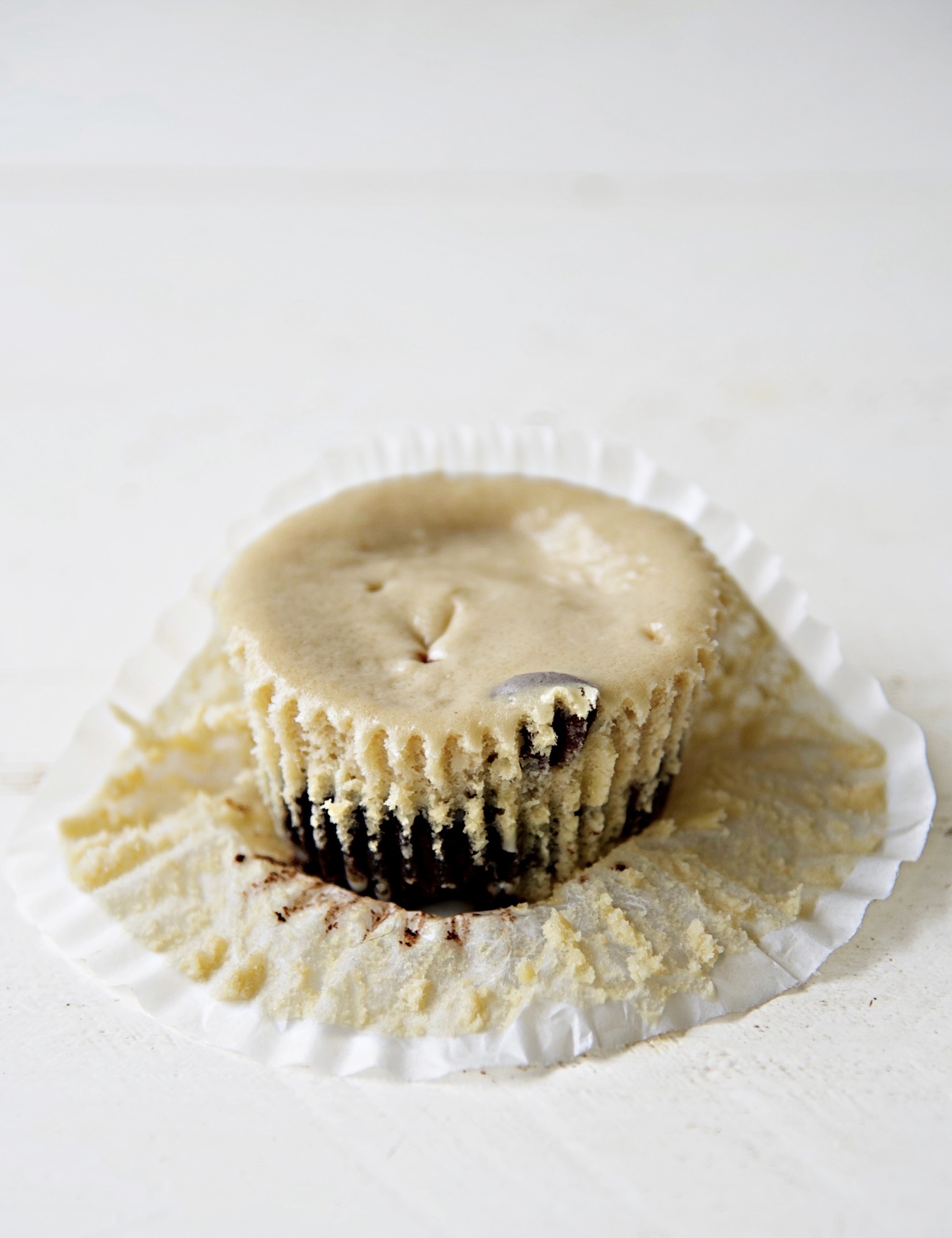 Want More Cheesecake Bites?
Powdered Jelly Donut Cheesecake Bites
Sugar Cookie Dough Cheesecake Cups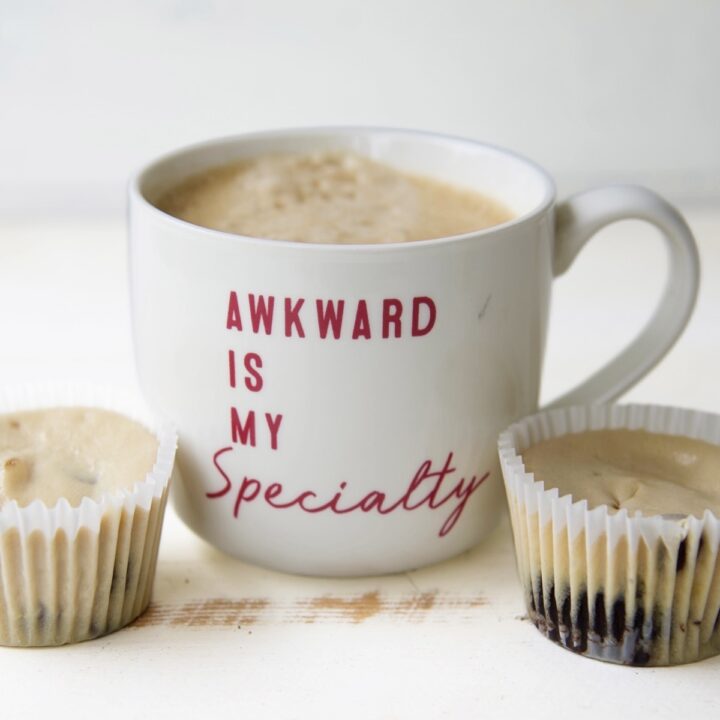 Coffee and Donuts Cheesecake Bites
Ingredients
14 Chocolate covered Mini Donuts (I used Hostess Donettes)
16 ounces cream cheese, at room temperature
1 cup granulated sugar
1 tsp vanilla extract
1 ½ TBSP flour
2 tsp espresso powder
2 eggs
1/2 cup sour cream
pinch of salt
1 cup milk chocolate chips (or semisweet)
Instructions
For the Cheesecakes:
Preheat oven to 275 degrees.
Line standard muffin tins with paper liners.
Place 1 whole mini donut in the bottom of each lined cup.
With an electric mixer or using a stand mixer beat the cream cheese until smooth, scraping down sides of bowl as needed.
Gradually add in the granulated sugar, one TBSP at a time, and beat until combined.
Beat in vanilla.
Beat in the flour and powdered espresso until combined.
Add eggs, a bit at a time, beating to combine and scraping down the sides of the bowl as needed.
Beat in sour cream and salt.
Fold in the chocolate chips.
Divide batter evenly among cookie-lined cups, filling each to the top.
Bake, rotating pan halfway through, until filling is set, about 24 minutes.
Transfer to wire racks to cool completely.
Refrigerate at least 4 hours (or up to overnight).
Remove from tins just before serving.