This Oatmeal Creme Apple Pie has an oatmeal crust, sour cream creme cookie apple filling, and an oatmeal cream pie crumb.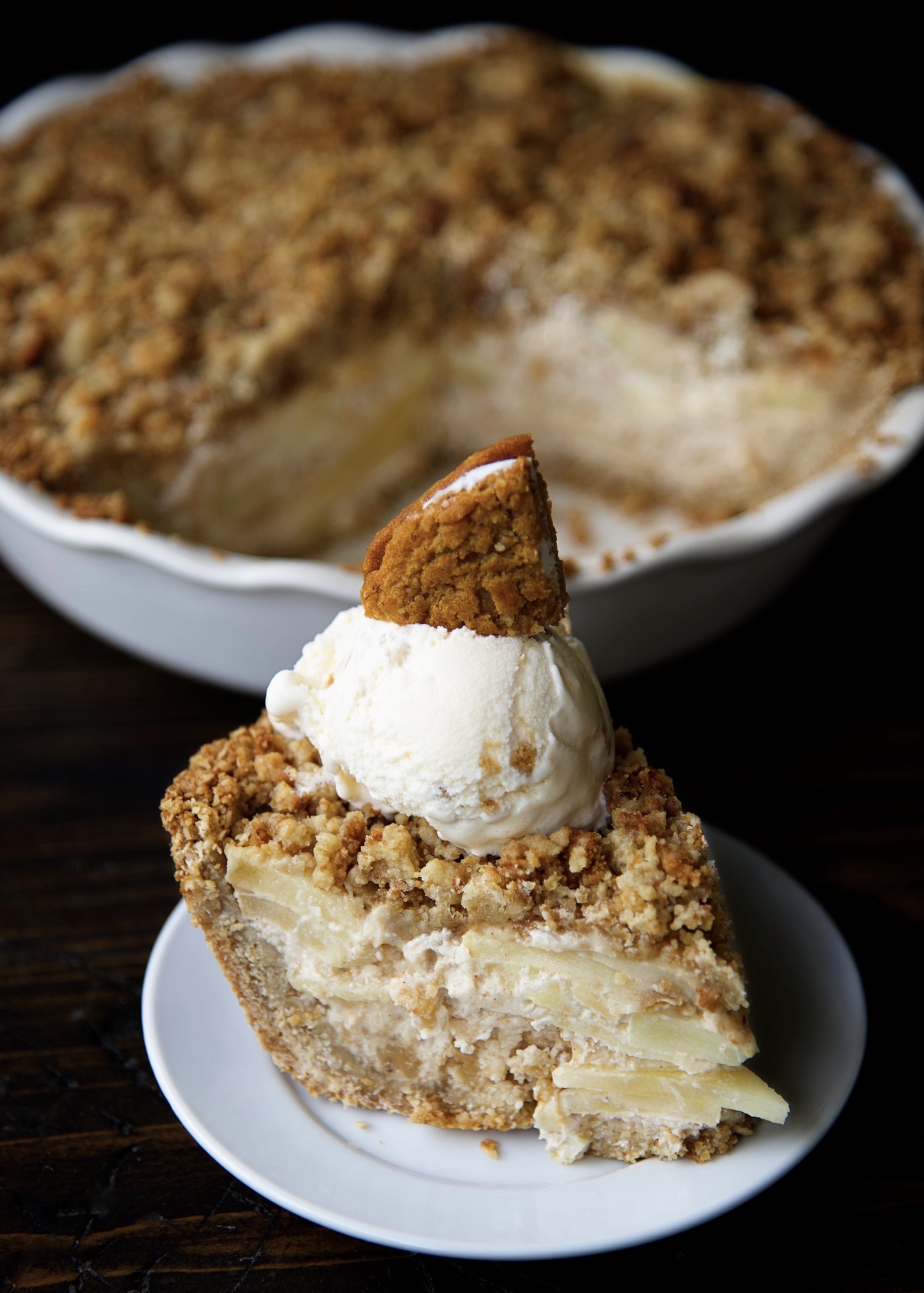 This Oatmeal Creme Apple Pie came about thanks to the Little Debbie Ice Cream that is out now.
Apparently it's been out for awhile, I just didn't notice.
Especially since I do a lot of my shopping online.
I tried the Honey Bun flavor first and really wanted to like it.
But it was just so-so.
Then I tried the Oatmeal Creme Pie one and was hooked.
And I felt the need to make a dessert to go with it.
Since I love oatmeal and apples together, making an apple pie made sense.
It turned out fantastic.
This is definitely not a quick throw together pie, but it's worth the steps.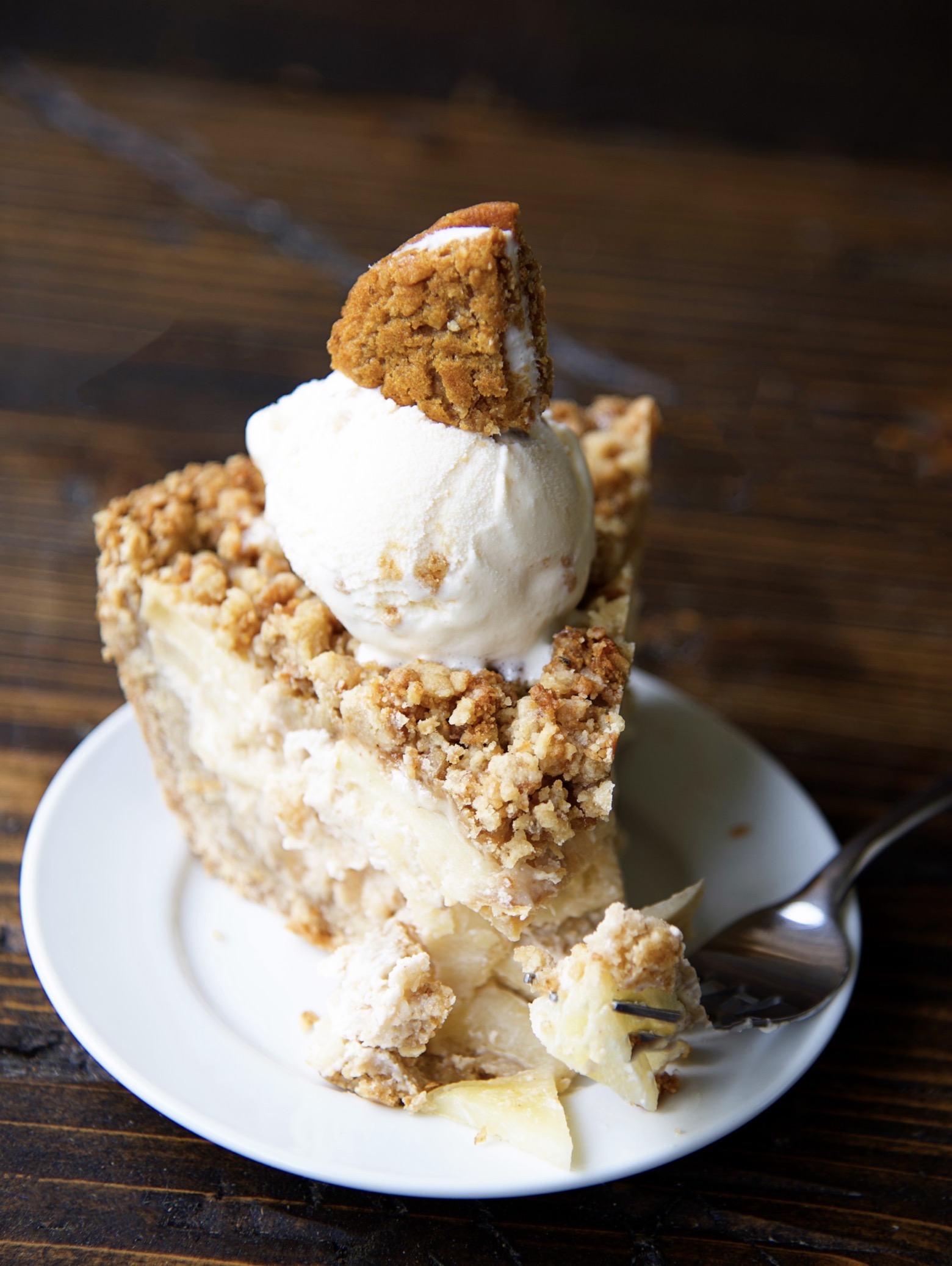 This pie does have several parts to it.
Crust: The crust is basically a oatmeal cookie (don't worry…no raisins). You are going to partially bake it before adding the apples. And then it will continue to bake with the rest of the pie.
Oatmeal Creme Pie Filling: Trying to get the middle filling of the oatmeal creme pies is the hardest part of this recipe. It works better if you freeze them. Don't worry if the cookie sticks to part of it. Just throw it in with the filling.
Apples: I used Bramley apples (which are a UK variety that my apple farmer down the street grows). If that's not an option then good ol' Granny Smith will work just fine. Since you are throwing cookie pies in there you want a tart apple.
Cutting the Apples: The apples need to be thinly sliced, not in the chunks you may find in other apple pies. You are going to be layering the apple slices.
Sour Cream: I use full fat sour cream in this recipe. I love the creamy richness it adds. Please don't use lower fat or else it curdles.
Crumb Topping: You will use the outside of the cookies you used in the filling. You only need 3/4 of a cup. If you have more leftover, I suggest just eating it. 🙂
Foil or Pie Shield: While not an ingredient, the foil or pie shield does serve to protect the crust and top. The crumb topping and pie crust can over brown without it.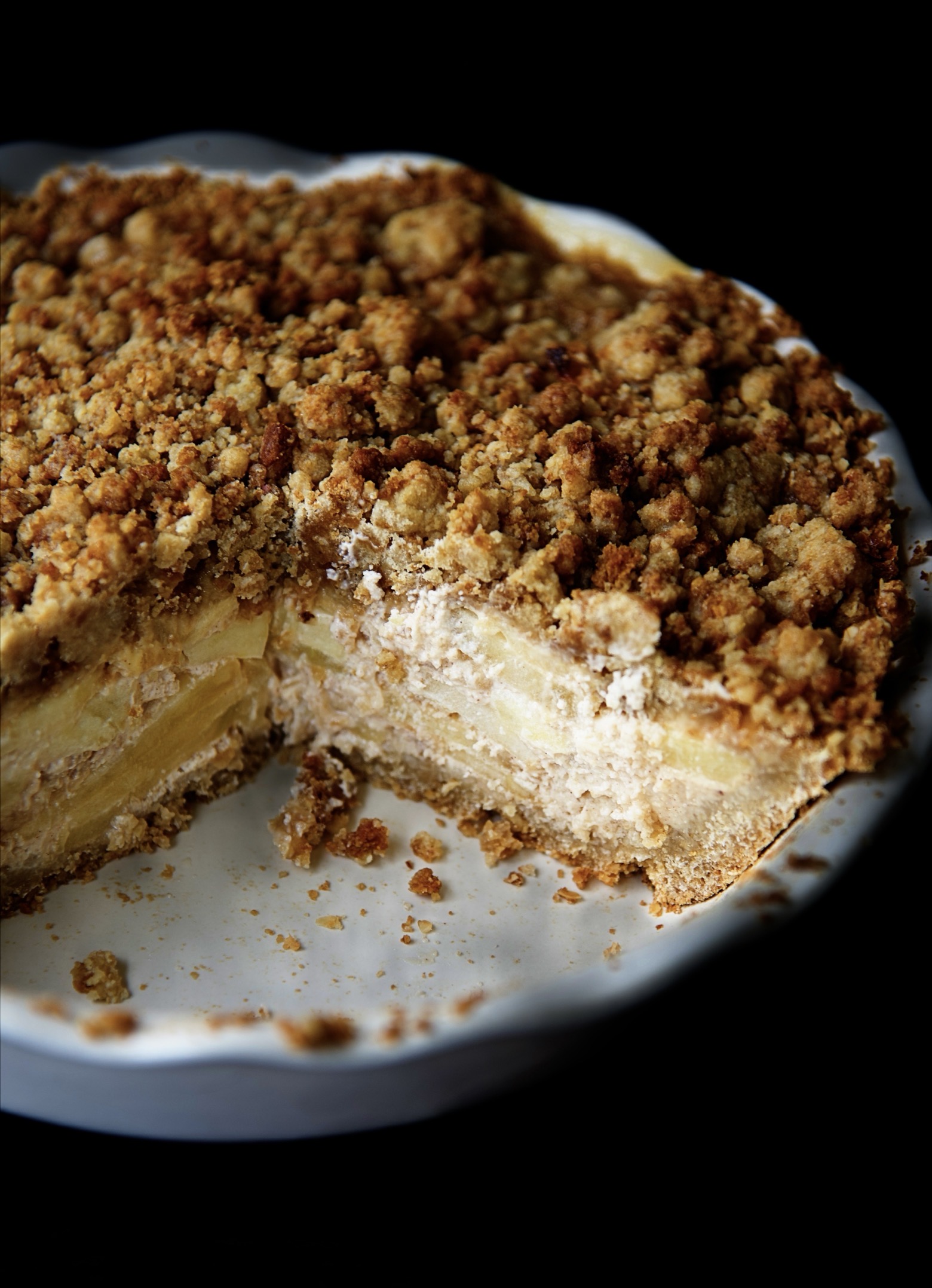 RECIPE INFO:
Fridge: I would keep this pie for no more than 5 days in the fridge. The longer it's in the fridge the greater chance of a soggy bottom.
Freezer: Can you freeze the pie? Technically, yes. However, I feel freezing it really takes away from the texture of it. Especially with the sour cream in there.
P.S. It's a great day to buy my cookbook.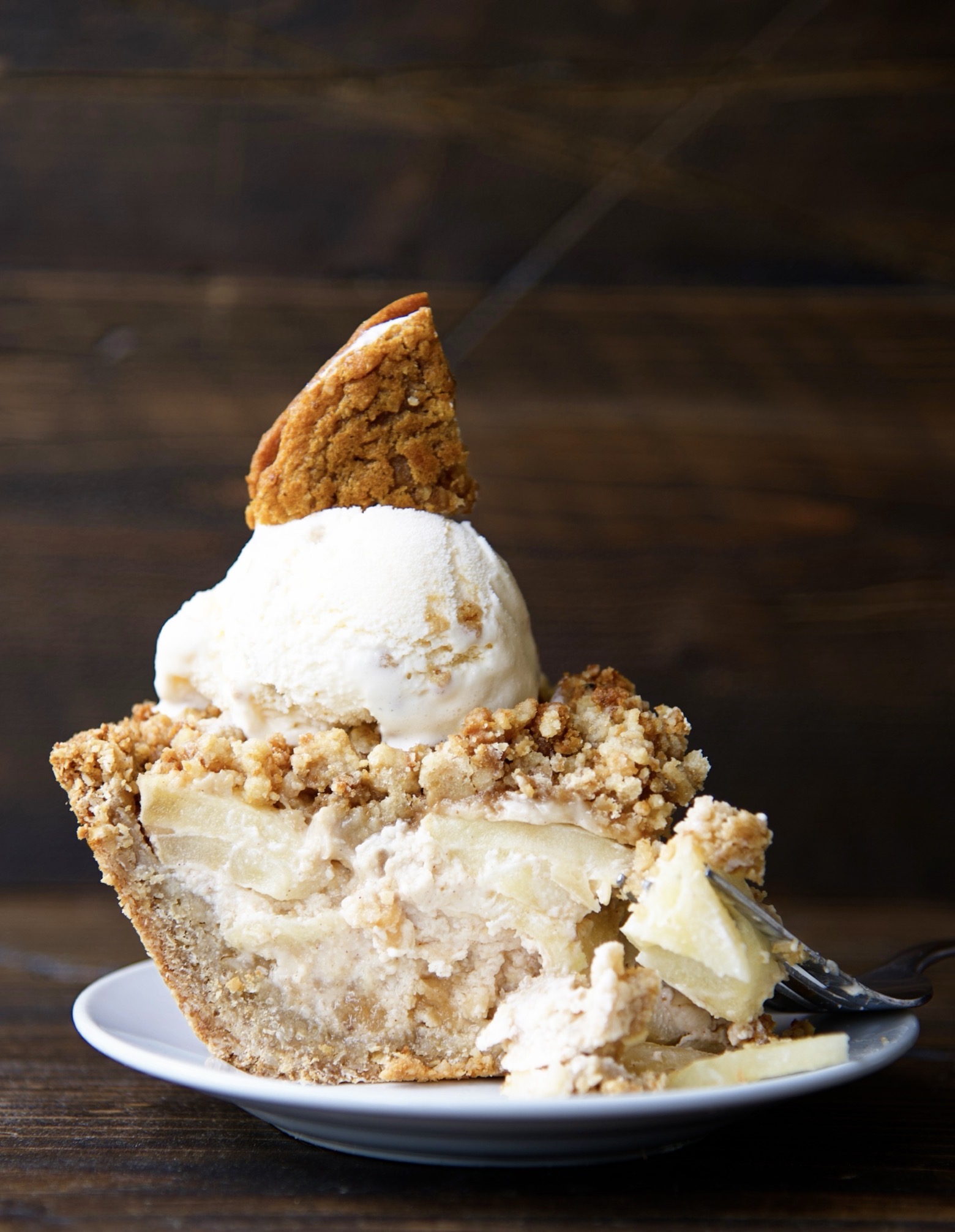 Want More Pie Recipes?
Cinnamon Toast Crunch Apple Slice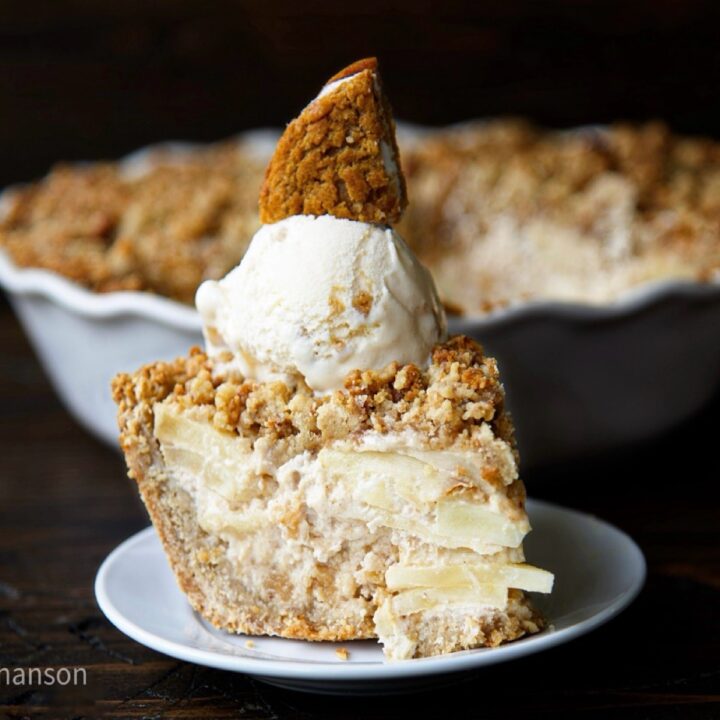 Oatmeal Creme Apple Pie
Ingredients
For the Crust:
3 cups old-fashioned rolled oats
1/4 cup plus 2 TBSP all-purpose flour
1/4 cup plus 2 TBSP packed light brown sugar
3/4 tsp kosher salt
9 TBSP unsalted butter (¾ stick), melted
For the Filling:
10 oatmeal creme pies (Little Debbie)
1 1/4 cups full fat sour cream
7½ cups apples peeled, cored, and 1/4" thin sliced
3/4 cup sugar
1 large egg
1/4 cup flour
1/4 tsp salt
2 tsp vanilla extract
For the Crumb Topping:
1 cup flour
1/2 cup light brown sugar, packed
1 teaspoon ground cinnamon
1/4 teaspoon salt
3/4 cup crumbled cream pies (leftover from the filling)
6 TBSP or 3/4 stick unsalted butter just melted and cooled slightly
Instructions
For the Crust:
Preheat oven to 350F.
In bowl of a food processor, combine oats, flour, brown sugar and salt, and pulse until oats are coarsely chopped.
Add butter and pulse until evenly moistened.
Transfer mixture into a 9-inch pie pan.
Press crumbs evenly into bottom and up sides of the pan.
Set pan on a rimmed baking sheet and bake for 12 minutes it's going to bake more when you bake the full pie.
Set aside to cool while you work on filling.
For the Filling:
Freeze your oatmeal pies for about 2 hours. Then scrape out the filling of the pies. Freezing helps, but you will still get pieces of oatmeal cookie pie in there. It's fine. Save 3/4 of a cup oc the oatmeal cookie pie pieces for the topping.
In a large bowl, whisk sour cream, oatmeal pie filling, sugar, egg, flour, salt, and until even mixed.
Add the apples; mix until combined, then let stand on the counter for 30-45 minutes.
Preheat the oven to 400 degrees F.
Layer the apples and juices into the pie pan, rather than pouring and mounding in the center. For overall look and an even bake, we want to avoid vacant and areas of void as the apples further soften under heat.
Spatula remaining sour cream filling into the pie and give the apples one final gentle but firm press.
Bake on center rack for 15 minutes.
After 15 minutes, reduce the temperature from 400° to 350°F and bake for another 30 minutes.
Meanwhile, make the crumb topping.
For the Crumb Topping:
Combine the flour, sugar, oatmeal pie crumb pieces, and salt. in a medium bowl.
Drizzle the melted butter and stir with a fork, then spatula or your hands until the mixture is a mix of small to medium crumbs. Refrigerate until ready for use.
After the 30 minutes at 350F is up, remove the pie from the oven and crumb topping from the refrigerator.
Remember which side of the pie was facing front, as we are going to place that towards the back when returning to the oven. While adding the streusel, use your hands to break then squeeze the crumbs into varying sizes while adding to the pie.
Once finished adding, give another gentle press.
Place a pie shield or foil around edges to prevent over browning, slide a pan one rack below, and rotate the pie 180°.
Continue baking for another 20 minutes, or until the top is toasty golden and a butter knife slides with ease through the inside apples.
Once pie finishes baking, transfer to a wire rack. Let cool for at least three hours or overnight.
Slice and be one with the beauty you created.
Serve with LIttle Debbie Oatmeal Creme Pie Ice Cream or vanillla ice cream.