These Cinnamon Toast Cereal Marshmallow Bars has a cinnamon toast butter blondie with marshmallow and Mini Cinnamon Toast Crunch Cereal.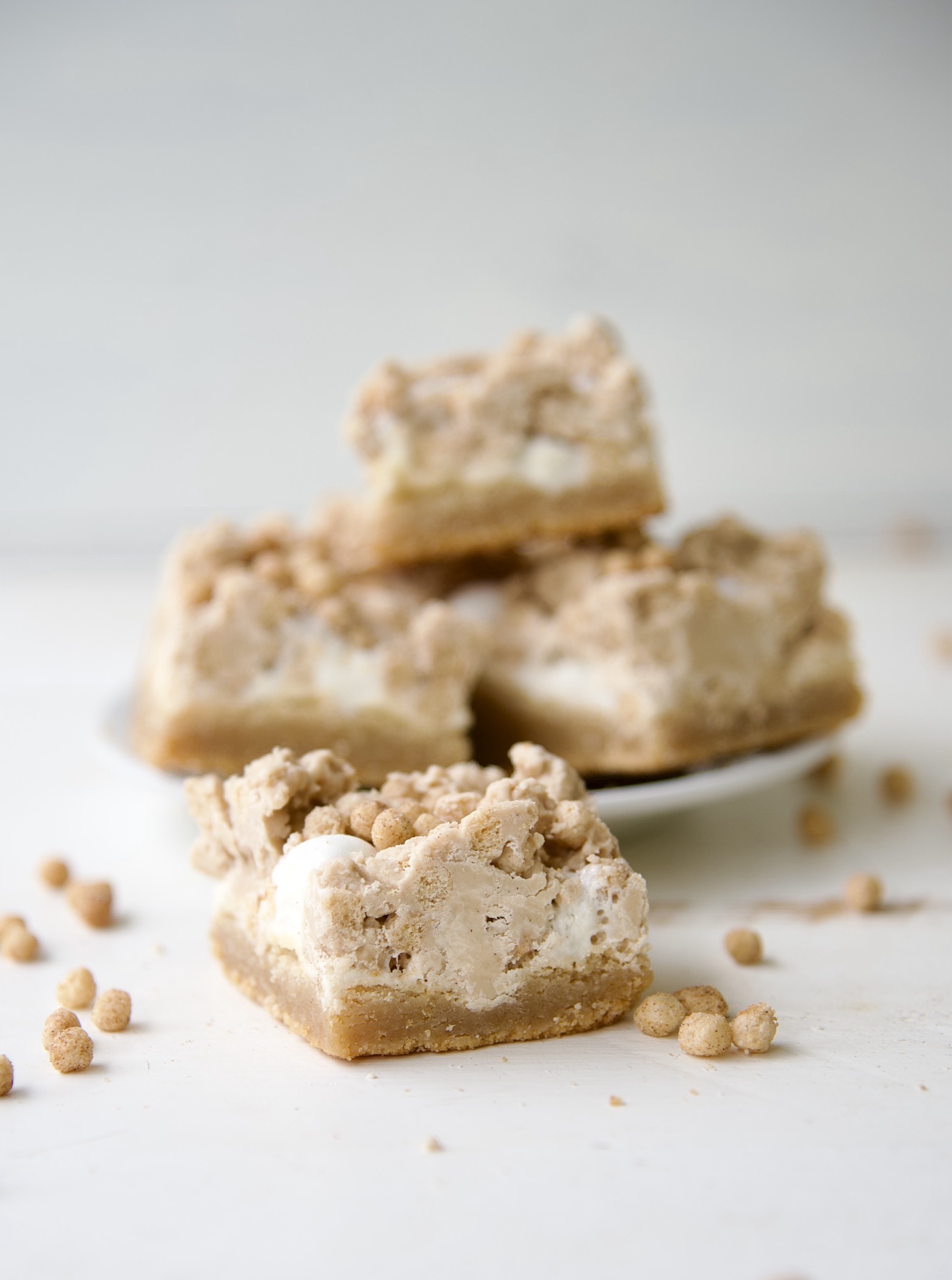 I found some Cinnamon Toast Crunch Creamy Cinnamon Spread at the store and made thse Toast Cereal Marshmallow Bars.
Now, when I say I found the spread, my grocery shopper did.
I've been doing the online grocery ordering way before the pandemic and even more so then.
During that time I have had some great shoppers and some not great shoppers.
One of those lovely people asked for my phone number.
She text me when she sees something new she thinks I would want for my blog.
One of the things she text me about was the spread.
And I'm so glad she did.
I wasn't sure what to do with it.
But I had the mini cereal and thought of making a cinnamony take on my Marshmallow Crunch Brownie Bars.
These were a big hit.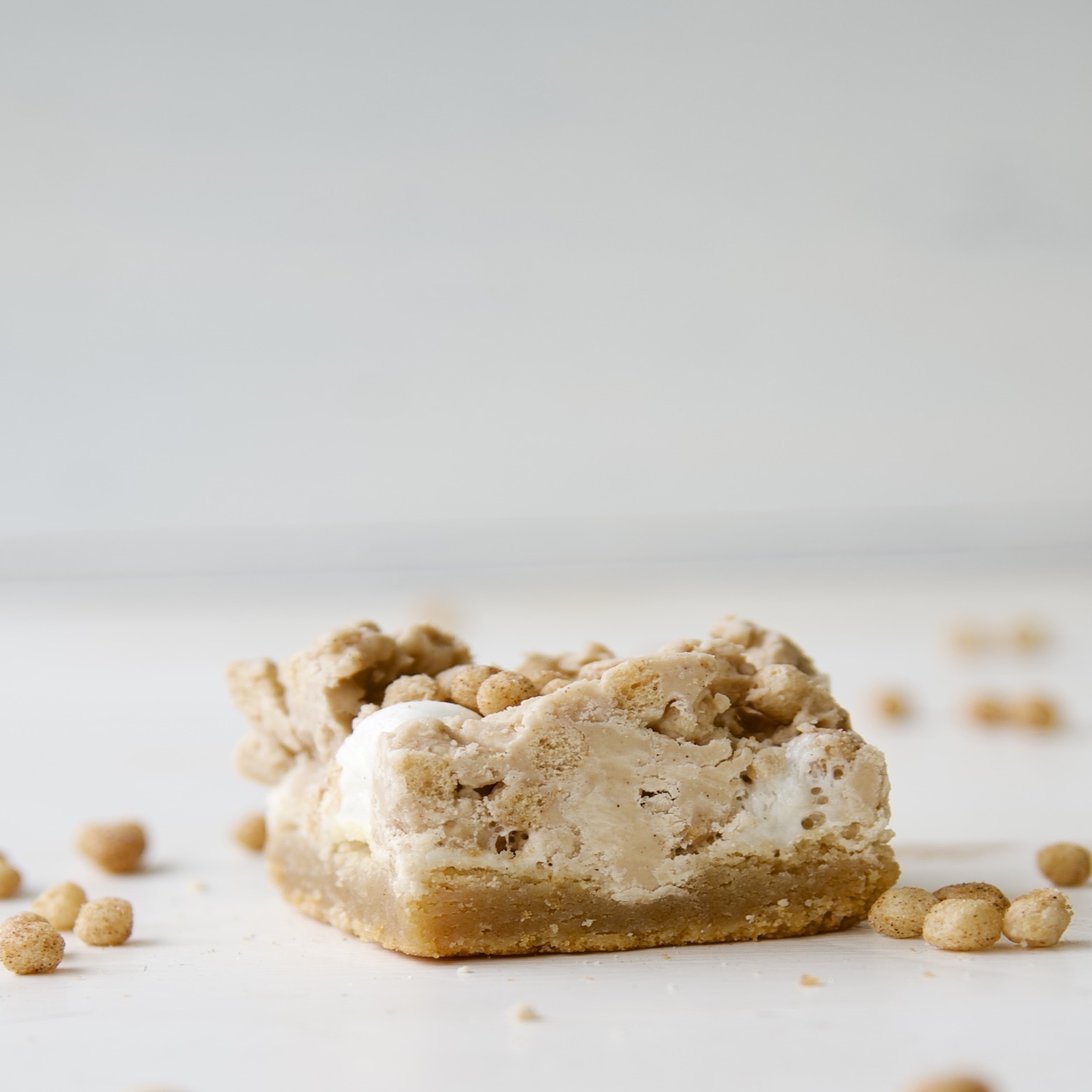 Ingredient Highlights:
As always, the full recipe with measurements & directions can be found at the bottom of this post.
Cinnamon Toast Crunch Creamy Cinnamon Spread – While this is a speciality item, I have found it in every store I've been to. So you should be able to find it.
Cinnamon Toast Crunch Minis– The minis are a perfect size (similar to the size of Rice Krispies) and therefore work great in cereal bars.
Self Rising Flour – I use self raising flour, if you use all purpose flour you will need to add 1/4 teaspoon of baking soda and 1/4 teaspoon of salt). Spoon your flour into the measuring cup, then level it with a flat utensil for best results.
White Chocolate Chips – While I prefer the taste of white chocolate, most of the white chips these days are actually vanilla chip. Both will work.
Mini Marshmallows – Mini marshmallows work best for these kinds of recipes. If you only can find the larger marshmallows you will need to cut them into fourths.
Eggs – Use large eggs and make sure they are at room temperature.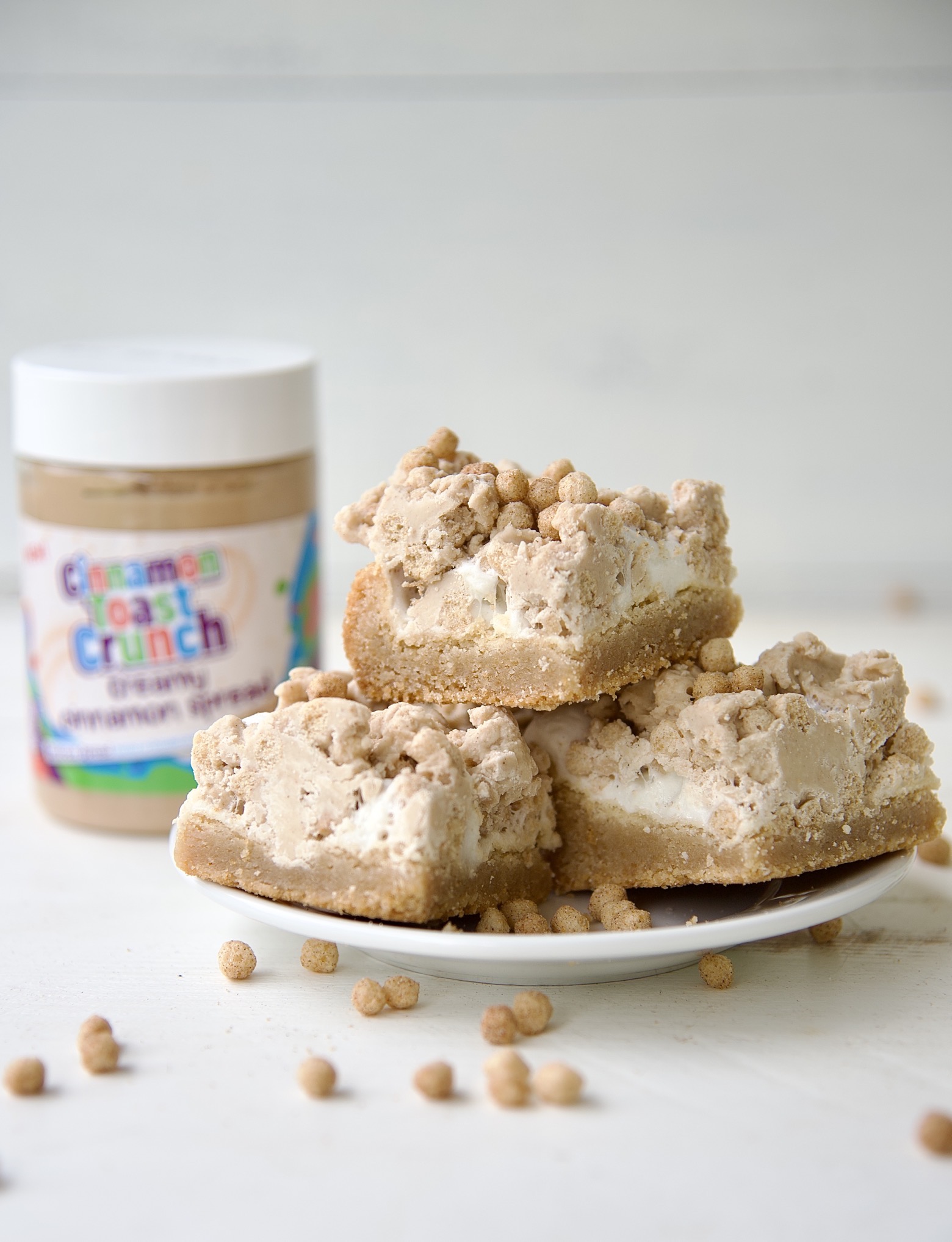 Recipe Variations:
Nut butters and cookie spreads all have about the same consistency and so you can make variations of these.
Peanut Butter – Peanut butter with Reese's Puff Minis Cereal would be good. Or Cocoa Krispies for a peanut butter chocolate combo.
Almond Butter –Almond Butter with some Cheerios Oat Crunch Almond Cereal.
Cookie Butter – Cookie butters such as Speculoos spread would be good with the Cinnamon Toast Crunch Minis or even just plain Rice Krispies.
P.S. It's a great day to buy my cookbook Holy Sweet!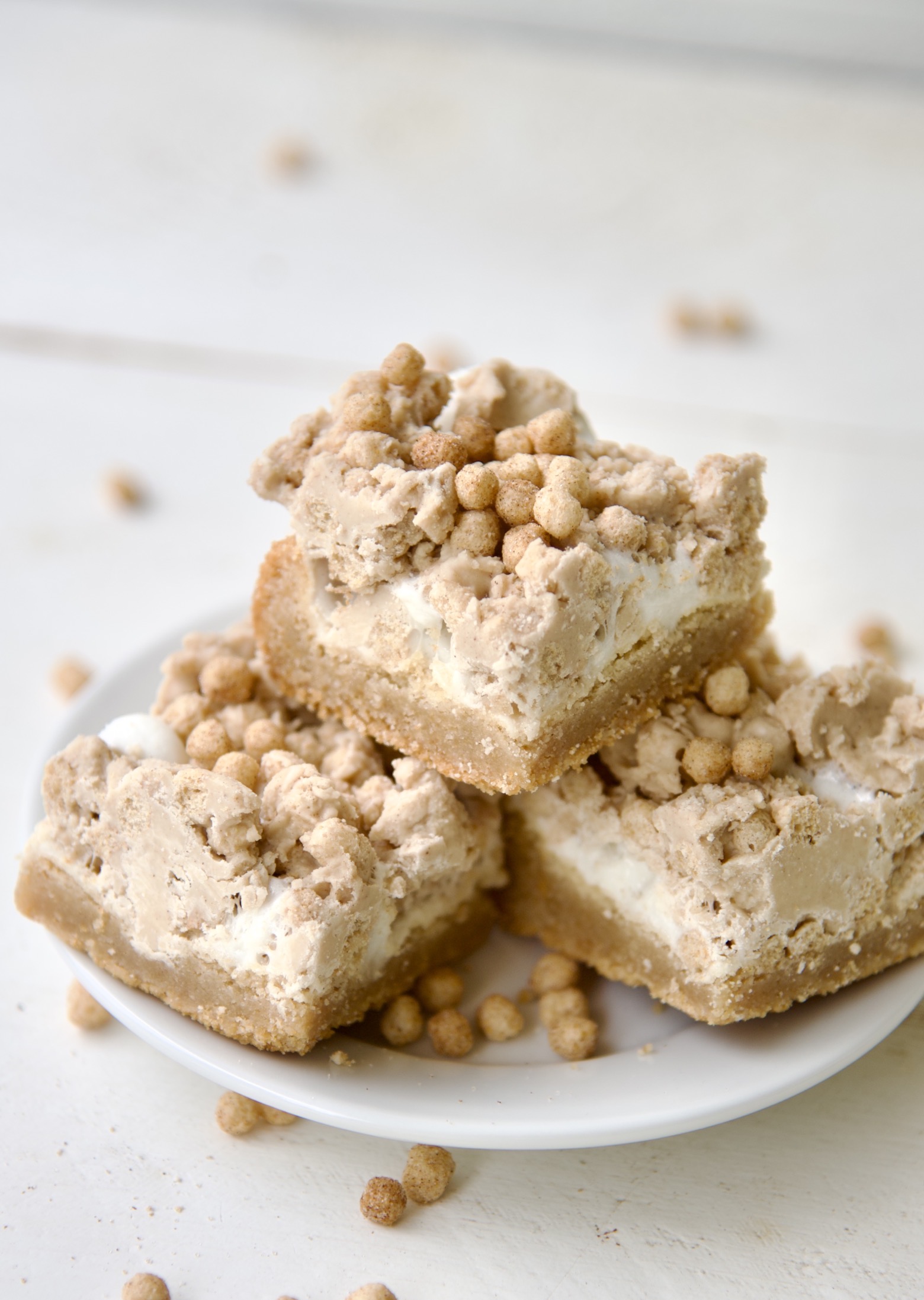 Want More Bar Recipes?
Butterscotch Honey Roasted Cashew Bars
Salted Chocolate Chip Butterscotch Toffee Cookie Bars
Strawberry Lemonade Lemon Bars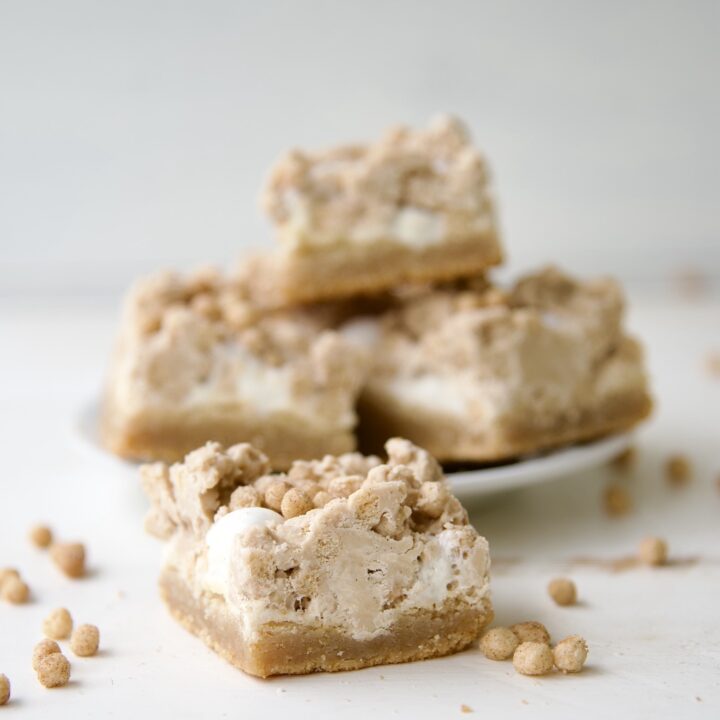 Cinnamon Toast Cereal Marshmallow Bars
Ingredients
For the base:
¾ cup unsalted butter, at room temperature
¾ cup Cinnamon Toast Crunch Spread
1 ¼ cups granulated sugar
1 large egg, at room temperature
1 large egg yolk at room temperature
1½ tsp. vanilla extract
1 ½ cups self-rising flour
For the top:
7 ounces Mini Marshmallows
1 ½ cups white chocolate chips
1 cup Cinnamon Toast Crunch Spread
1 TBSP unsalted butter
1 ½ cups Cinnamon Toast Crunch Mini Cereal
Instructions
Preheat oven to 325F.
Spray a 9-x-13-inch baking pan with baking spray.
Using a stand mixer with the paddle attachment cream together the butter and cinnamon spread until fluffy, about 3 minutes.
Add the sugar and beat until smooth.
Add the eggs and vanilla and mix well.
Add the flour and beat until well incorporated.
Spread the batter evenly into pan.
Bake 25-28 minutes or until cake tester comes out moist with crumbs attached.
Remove the bars from the oven, and immediately sprinkle the marshmallows over them.
Return the pan to the oven for 3 more minutes.
While the bars are baking, place the white chocolate chips, cinnamon spread, and butter in a medium saucepan.
Cook over low heat, stirring constantly until melted.
Remove from heat, add the cereal, and mix well.
Allow this to cool for 3 minutes or so.
Spread the mixture evenly over the marshmallow layer.
Refrigerate until chilled before cutting.
Did you make this recipe? Snap a photo and leave a comment!
Be sure to follow bakerpeabody on instagram and tag #bakerpeabody with your photo! You can also post a photo of your recipe to the Sweet ReciPEAs Facebook page. I'd love to see what you make!