This Candy Corn Crumb Cake has a candy corn infused cake topped with buttery crumb topping and a candy corn glaze.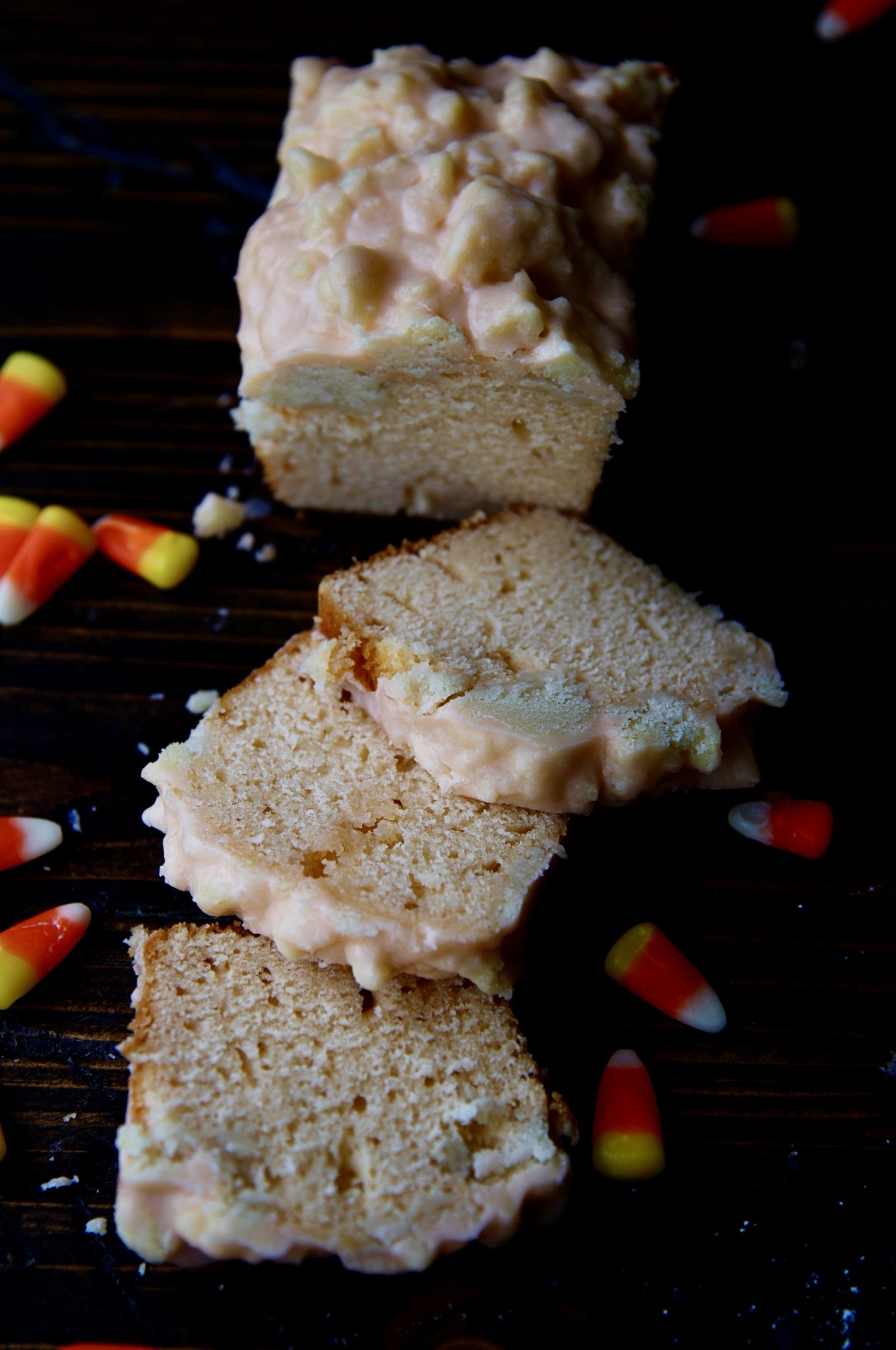 This Candy Corn Crumb Cake combines two of my favorite things.
Crumb cake.
And candy corn. I'm actually surprised I haven't made this before.
I love to infuse candy corn in to recipes.
Well, I have made it now and that's what matters.
Just like most of my candy corn flavored baked goods or dessert, people are skeptical.
I get it.
Candy corn is sweet.
Sickly sweet.
I still love it though.
But when you infuse it into things like milk, it takes away quite a bit of that sweetness.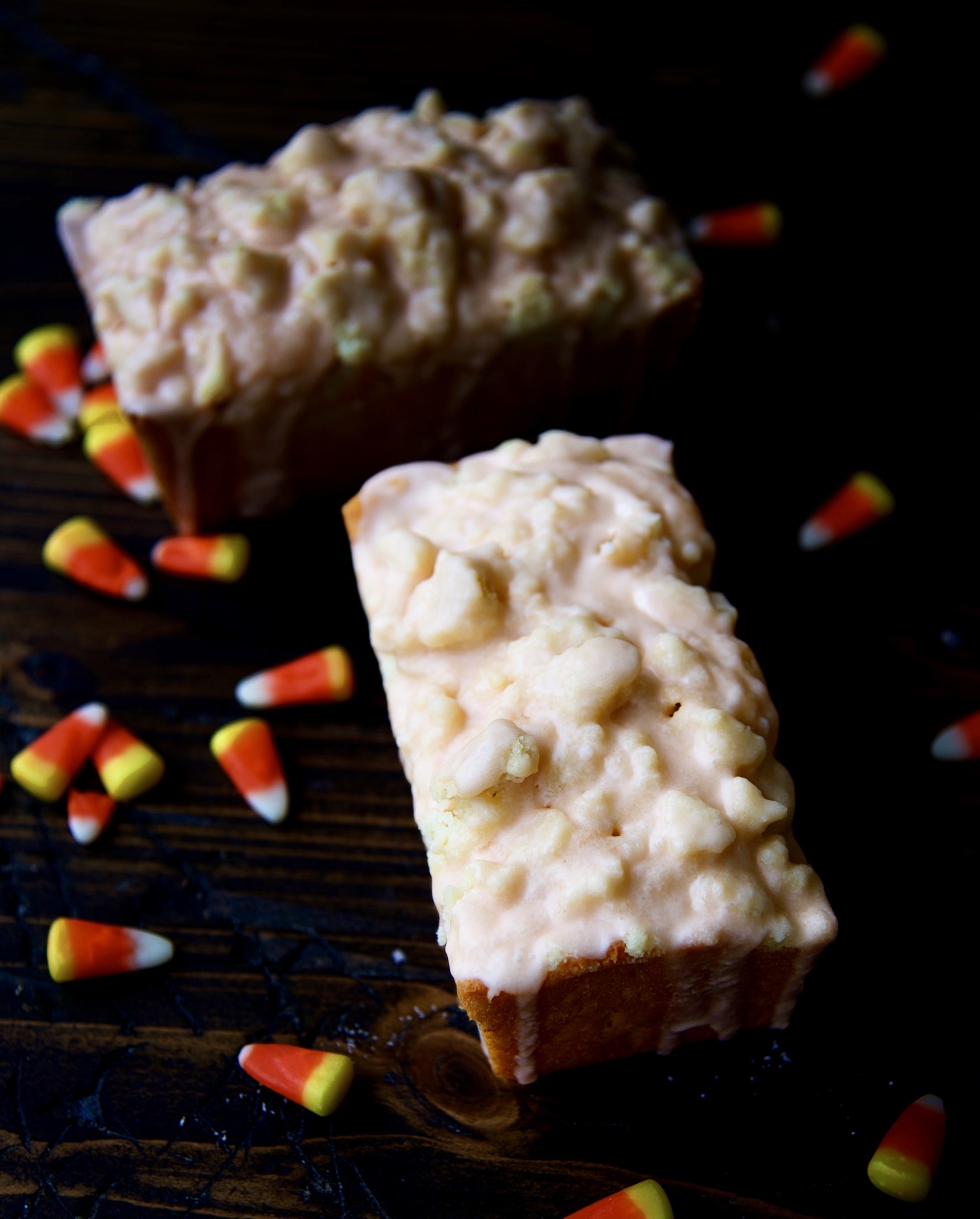 I considered dividing the batter up and using food coloring to have an orange and yellow pattern inside.
But honestly, I like the look of the pale orange color that the infused candy corn gives both the cake and the glaze.
If you would like to do the extra step I would divide the batter into two parts.
Put orange food gel in one half of the batter and yellow in the other.
I would alternate scooping the batter into the pans. And, if I were doing it, I would swirl the batter as well.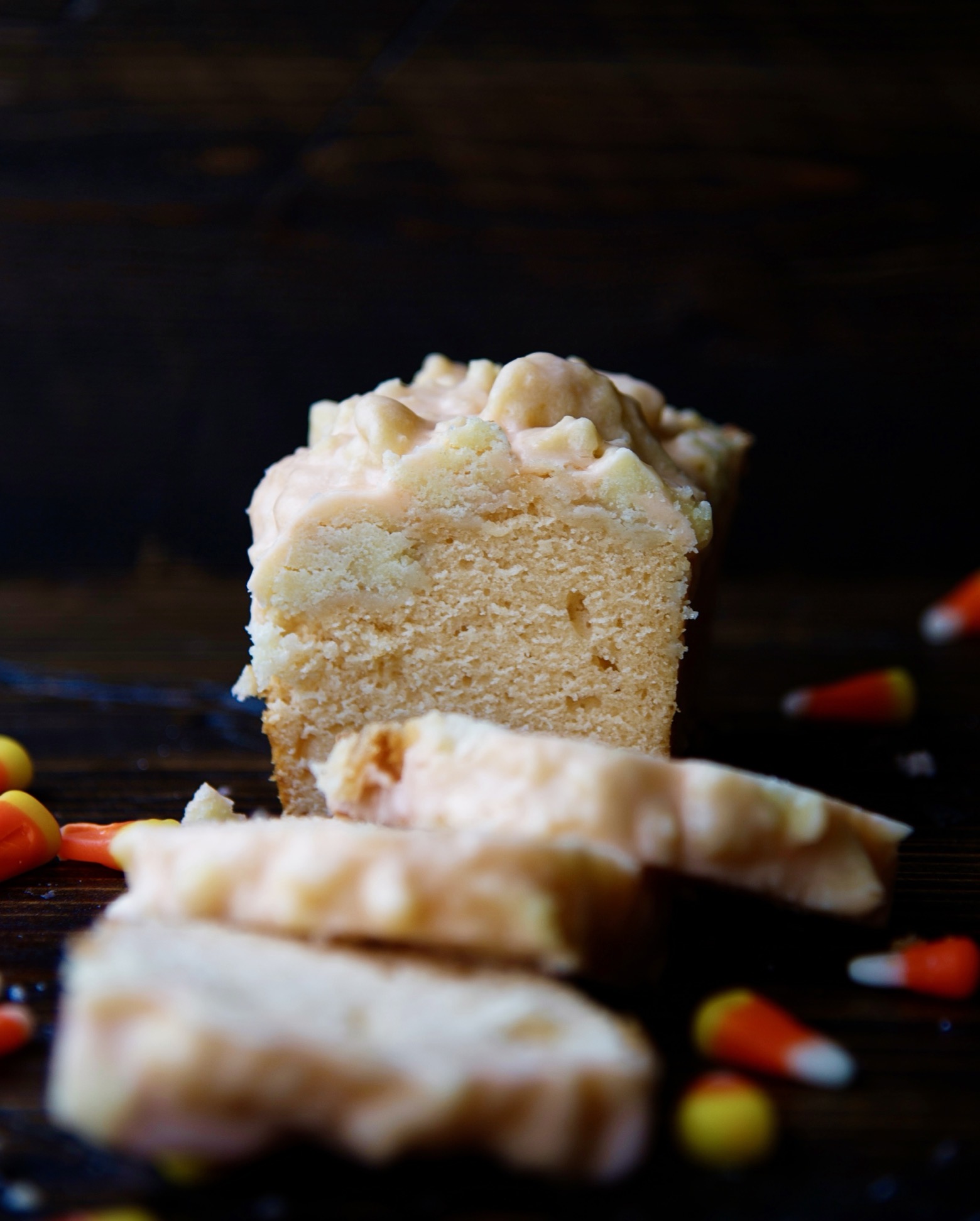 I'm using mini loaf pans again as I often do.
I love using mini pans because I find that it encourages sharing baked goods that way.
Theoretically you can make this using a full size loaf pan.
I say theoretically because I have only made it using the mini pans.
You would definitely need to increase the baking time by at least 20 minutes if you do go with the traditional loaf pan size.
I would just check it every 5 minutes with a knife or wooden skewer to be sure.
I love to use crumb topping, not only is it delicious, but it adds a nice texture contrast to your baked goods.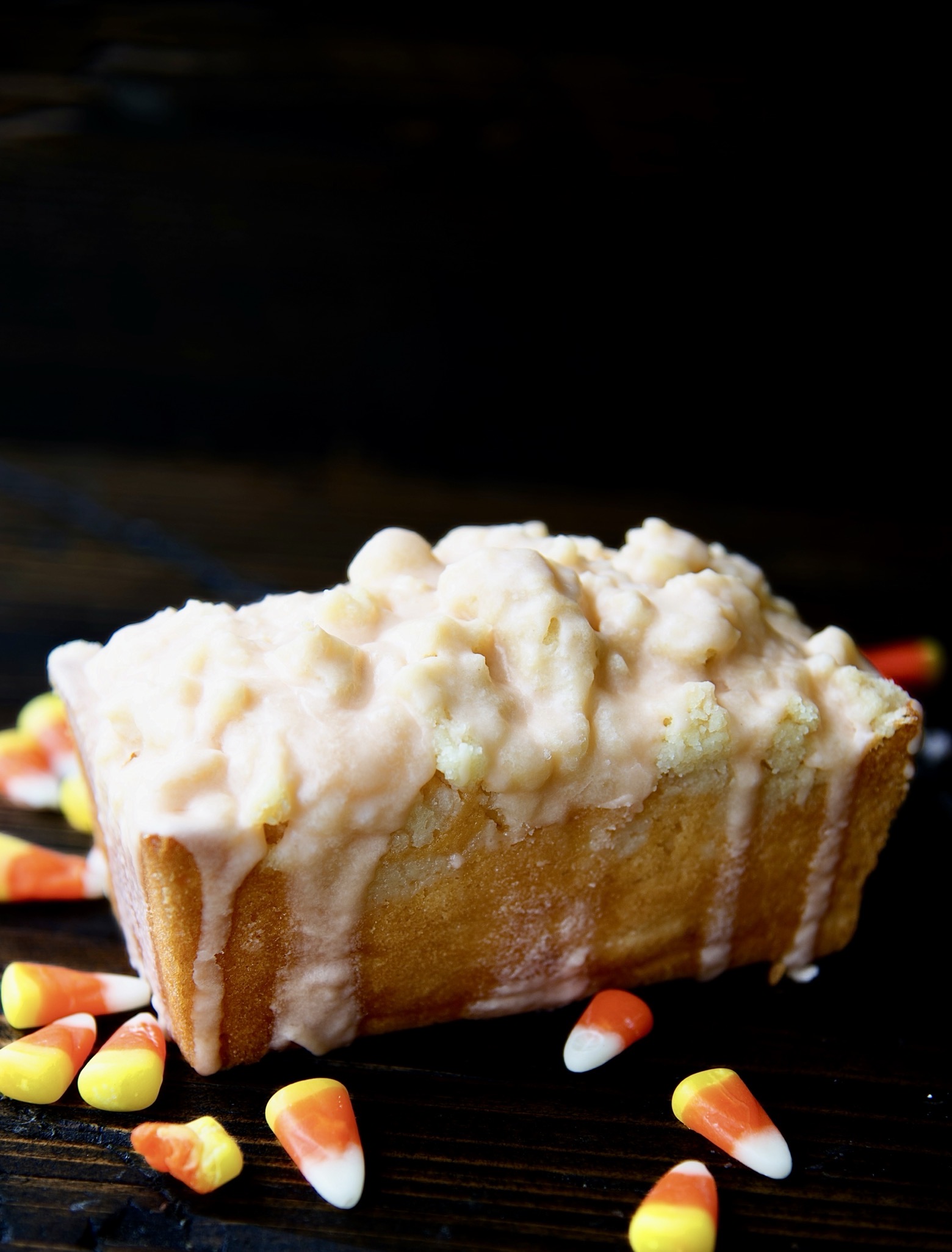 Ingredient Highlights:
Cake flour – I use cake flour in my crumb cake recipes. You can use all-purpose flour for the cake batter but I HIGHLY suggest you use cake flour for the crumb topping.
Candy Corn – Loved and hated the world round, candy corn doesn't really have a substitute. Though if for some odd reason you could not find it, you could use the candy pumpkins that are made from the same stuff as the candy corn.
Butter – I use unsalted butter in my baking unless otherwise noted.
Eggs – Use a large egg, at room temperature.
Candy Corn Infused Milk – This is the key to making this recipe taste like candy corn. Don't skip this step.
Sour Cream – Use full fat sour cream, at room temperature. If you don't have that you can use full fat Greek yogurt or full fat buttermilk.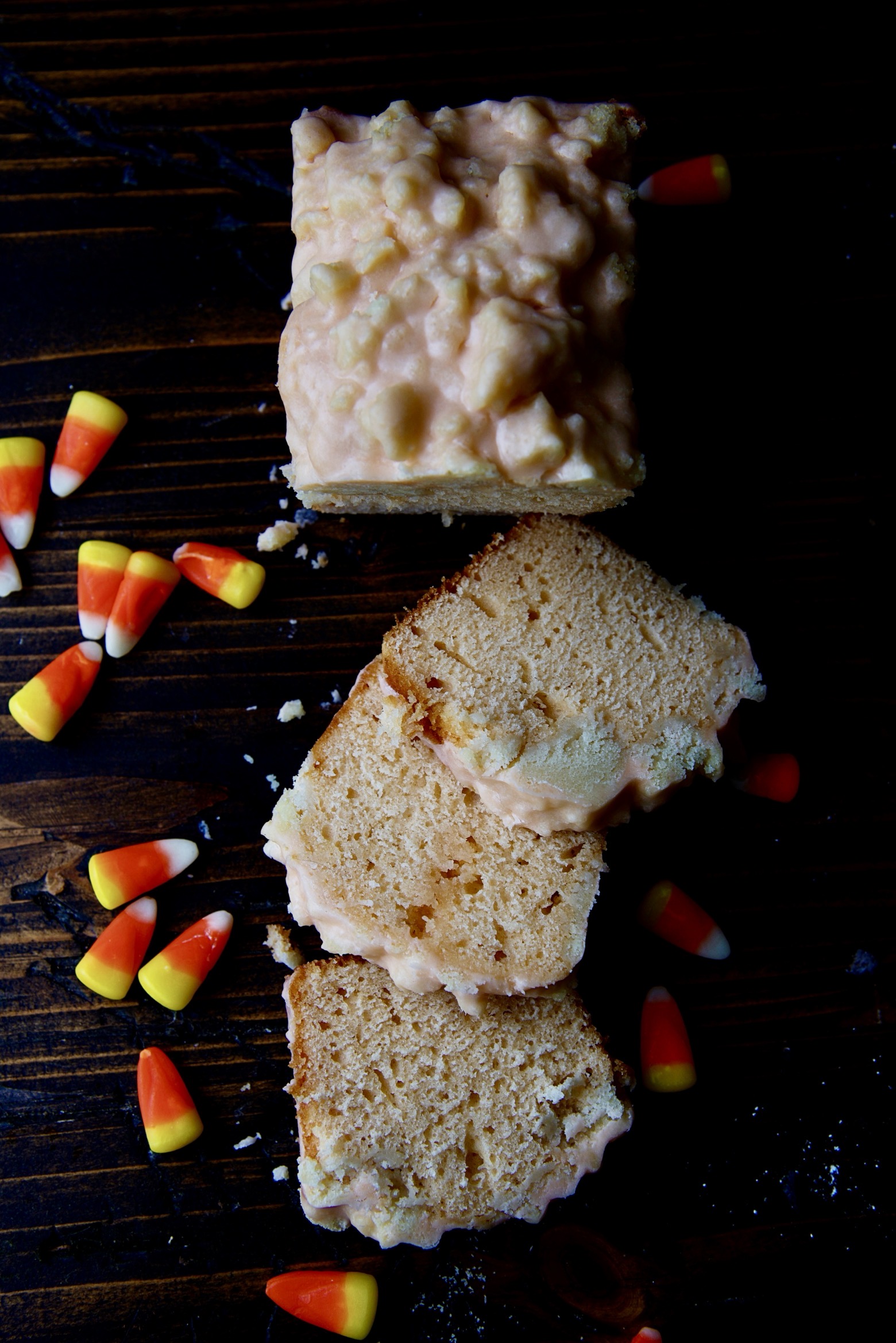 Tips for a Successful Crumb Cake:
Make sure to measure your flour correctly and level off using a knife. Crumb cake has a tendency to get dry so you want to make sure you are using the exact amount of flour.
Do not over mix the crumb topping, or it may become paste-like in texture. You want there to be some crumbly texture to the topping.
Ensure that the baking soda and baking powder are fresh and haven't expired. One of the main reasons that cakes don't rise and become dense is because the baking soda and powder have expired.
Bring all the ingredients to room temperature so they mix quickly and easily.
P.S. It's a great day to buy my cookbook Holy Sweet!
HAPPY HALLOWEEN!!!
Welcome to 2023's #HalloweenTreatsWeek event!
If you're new here, Welcome! If you're a returning haunt, welcome back!
#HalloweenTreatsWeek is a yearly Halloween blogging event that is hosted by Angie from Big Bear's Wife . You'll find that this fun and spooky event is an online, week-long event that is filled with some frightfully fun Halloween treats and recipes from some fantastic Halloween loving bloggers!
For this years 6th annual #HalloweenTreatsWeek event we have 18 hauntingly talented bloggers that are sharing their favorite Halloween recipes throughout the week! You can following the hashtag #HalloweenTreatsWeek on social media to collect all of these frightful recipes to use at your own Halloween parties and events!
Make Sure to check out all of the fun Halloween recipes that we're sharing this week!
Today's Halloween Offerings: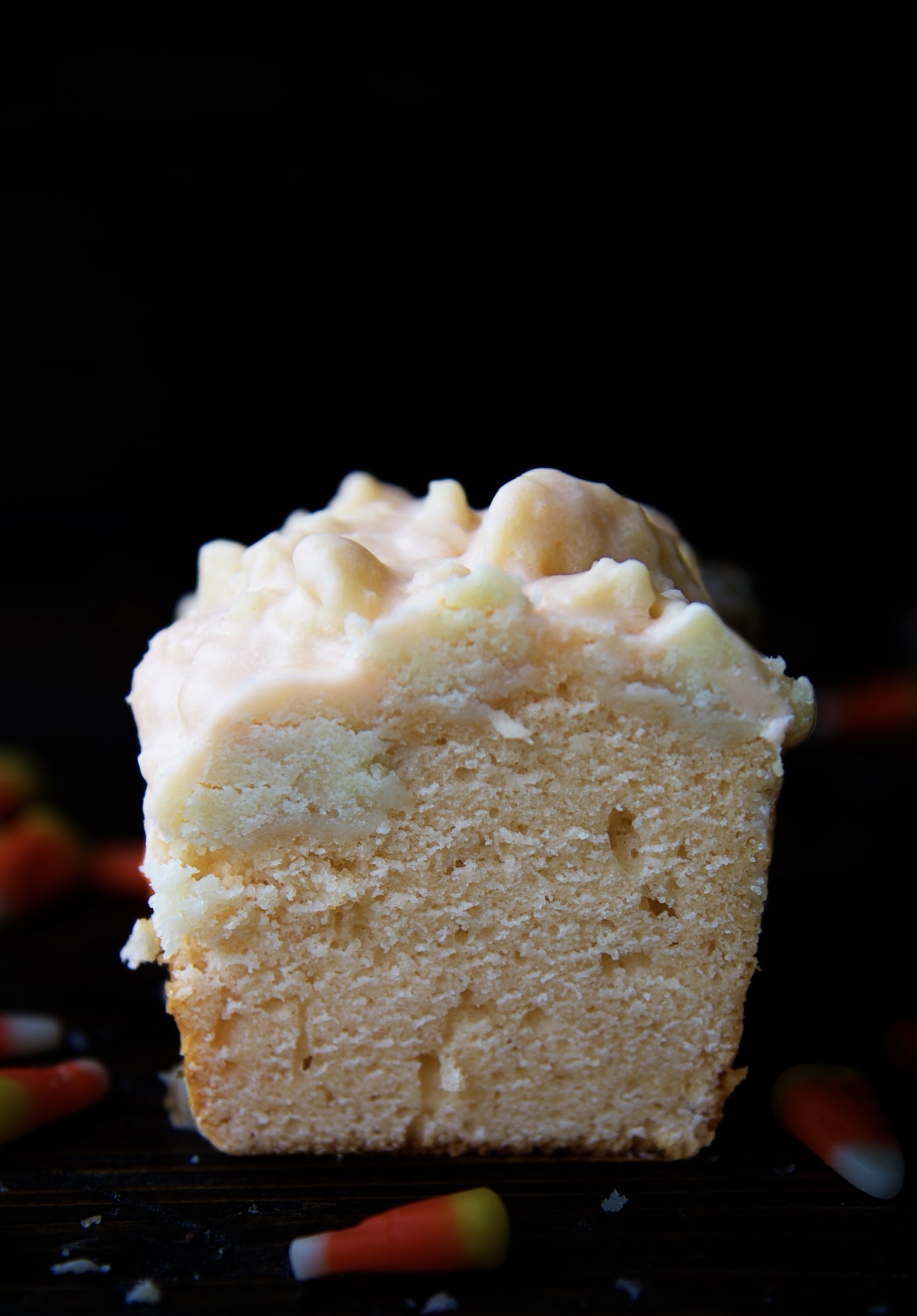 Want More Crumb Cake Recipes?
Chocolate Milkshake Crumb Cake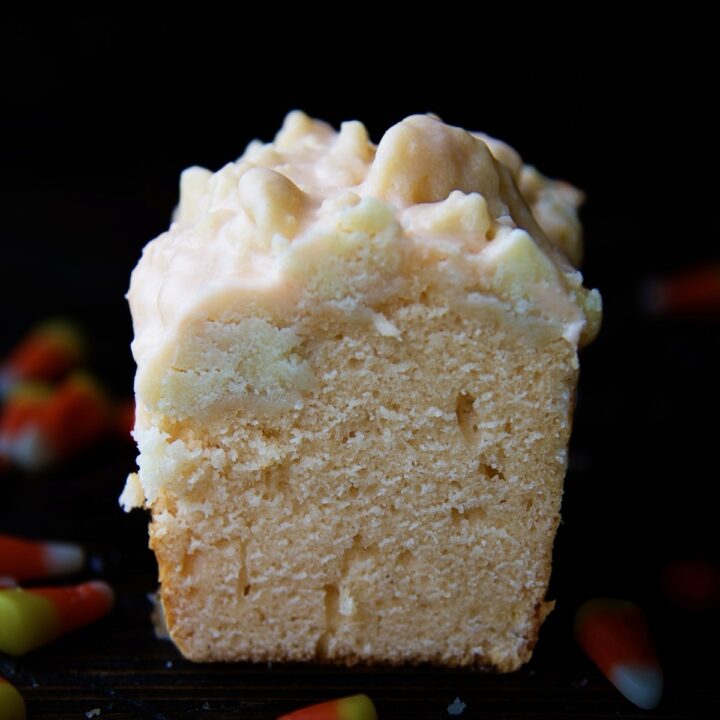 Candy Corn Crumb Cake
Ingredients
For the Candy Corn Infused MIlk:
2 cups whole milk
2 cups candy corn
For the Crumb Topping:
2/3 cup granulated sugar
¼ tsp. salt
8 TBSP unsalted butter, melted and then slightly cooled
1 ¾ cup cake flour
For the Cake:
½ cup unsalted butter, at room temperature
1 cup granulated sugar
2 large eggs
1 cup candy corn infused milk
1 cup sour cream
1 tsp. vanilla extract
2 ½ cups cake flour
2 tsp. baking powder
½ tsp. baking soda
Pinch of salt
For the Glaze:
3/4 cup candy corn infused milk
4 TBSP melted butter
3 cups powdered sugar
Instructions
For the Infused Candy Corn Milk:
Using a medium saucepan heat the milk and the candy corn together.
Bring to a boil and then take off of heat.
The candy corn should dissolve.
If the candy corn does not dissolve place over heat and stir until it does. Set aside.
Place in fridge to chill for at least 3 hours.
For the Crumb Topping:
In a medium sized bowl,put sugar and salt in the bowl and stir until combined.
Add the melted butter and then cake flour and mix (hands work best for this). Set aside in fridge to firm up while you make the cake batter.
For the Cake:
Preheat oven to 325F.
Spray baking spray 4 mini loaf pans and set them aside.
In a stand mixer with a paddle attachment cream together the butter and sugar until light and fluffy, about 3 minutes.
In a separate bowl add the candy corn infused milk, sour cream, vanilla extract, and eggs and whisk until fully combined.
In another bowl add flour, baking powder, baking soda, and salt.
Alternate adding dry ingredients, then wet, then dry, then wet, and finish with dry.
Mix on low until fully combined. Be careful to not over-mix.
Using a regular size ice cream scoop, scoop three scoops per pan. Even out with a spatula.
Evenly divide crumb topping (as evenly as you can) into pieces over top of the batter. I like to have the bigger crumb chunks on the side so they don't sink in the middle.
Bake for 30-35 minutes depending on your oven.
Check by using a wooden skewer or knife to see if it comes out clean.
Let cool on wire rack.
While cooling make glaze.
Simply whisk together the candy corn infused milk, butter, and powdered sugar in a medium bowl.
When cakes are cool pour glaze over the top of them.
Let glaze firm up.