This Strawberry Peach Crumb Pie is made with strawberries and peaches are tossed in sugar and topped with a delicious brown sugar buttery crumb topping.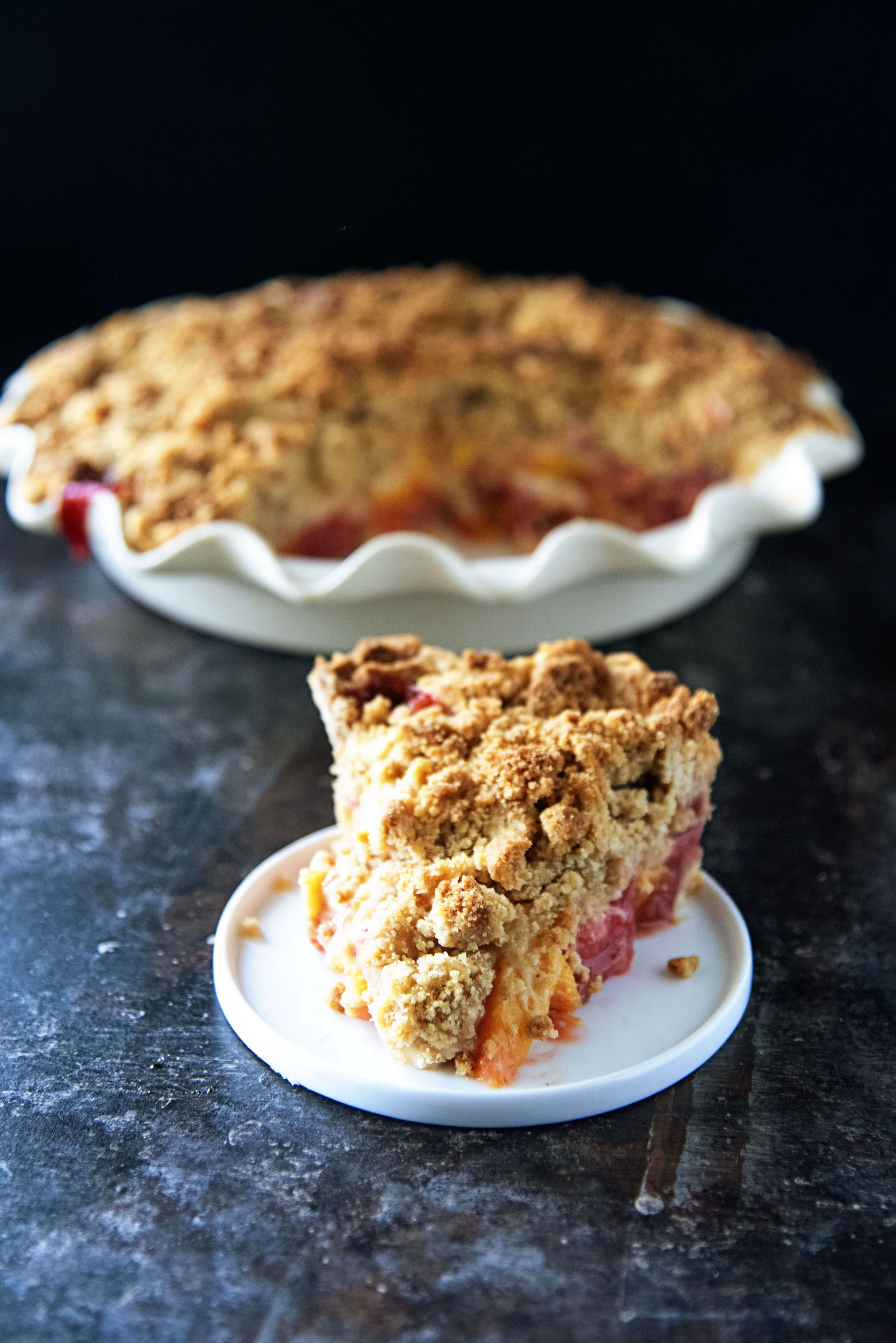 I have a love/hate relationship with pie.
Love to eat it.
Like to make it.
Hate to photograph it.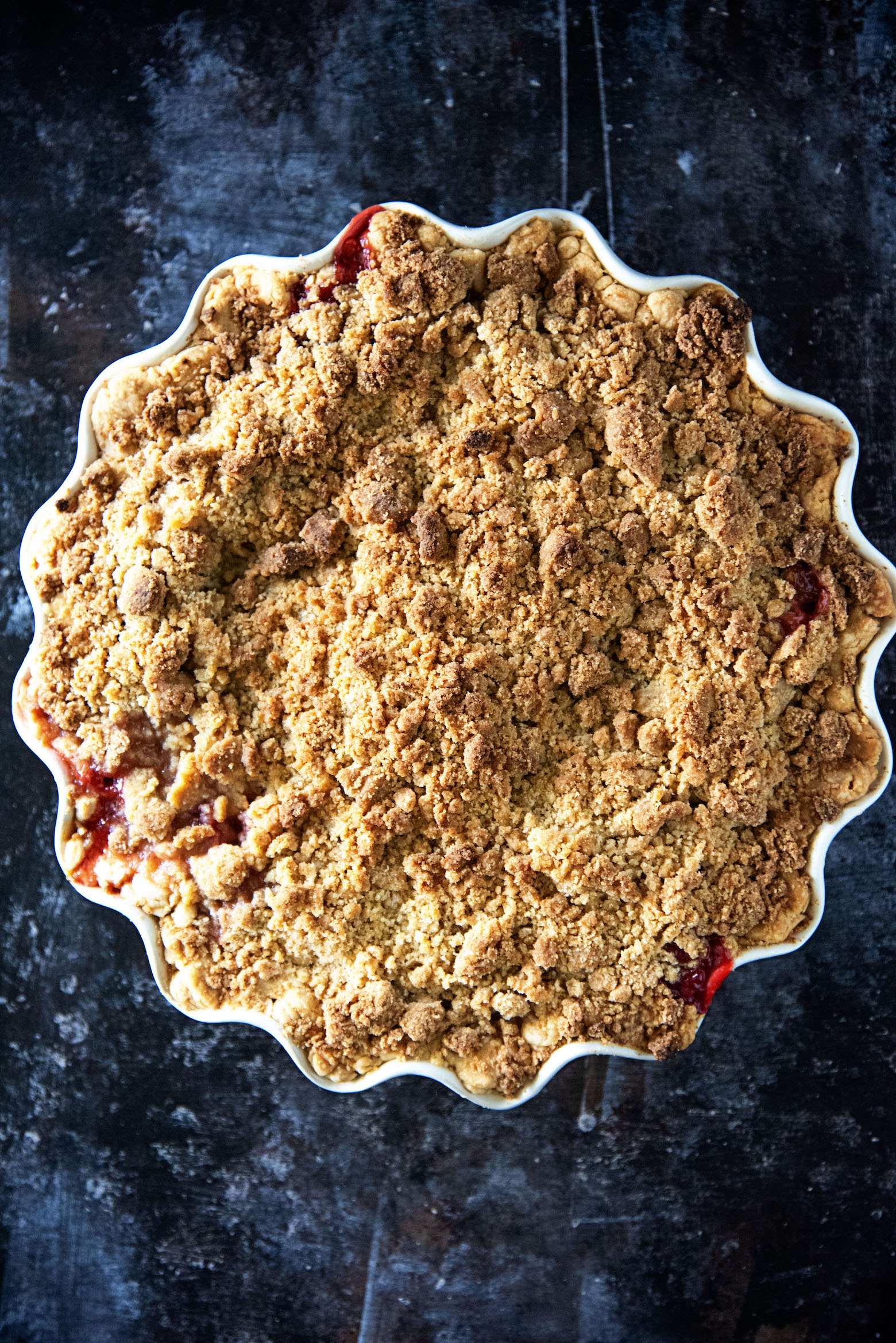 While I do love me some pie, as a food blogger, pie drives me crazy.
RARELY do you ever get the pie to cooperate with you.
Trying to get a perfect slice out for a picture is almost impossible.
At least for me.
And throw crumb topping on it?
Even harder.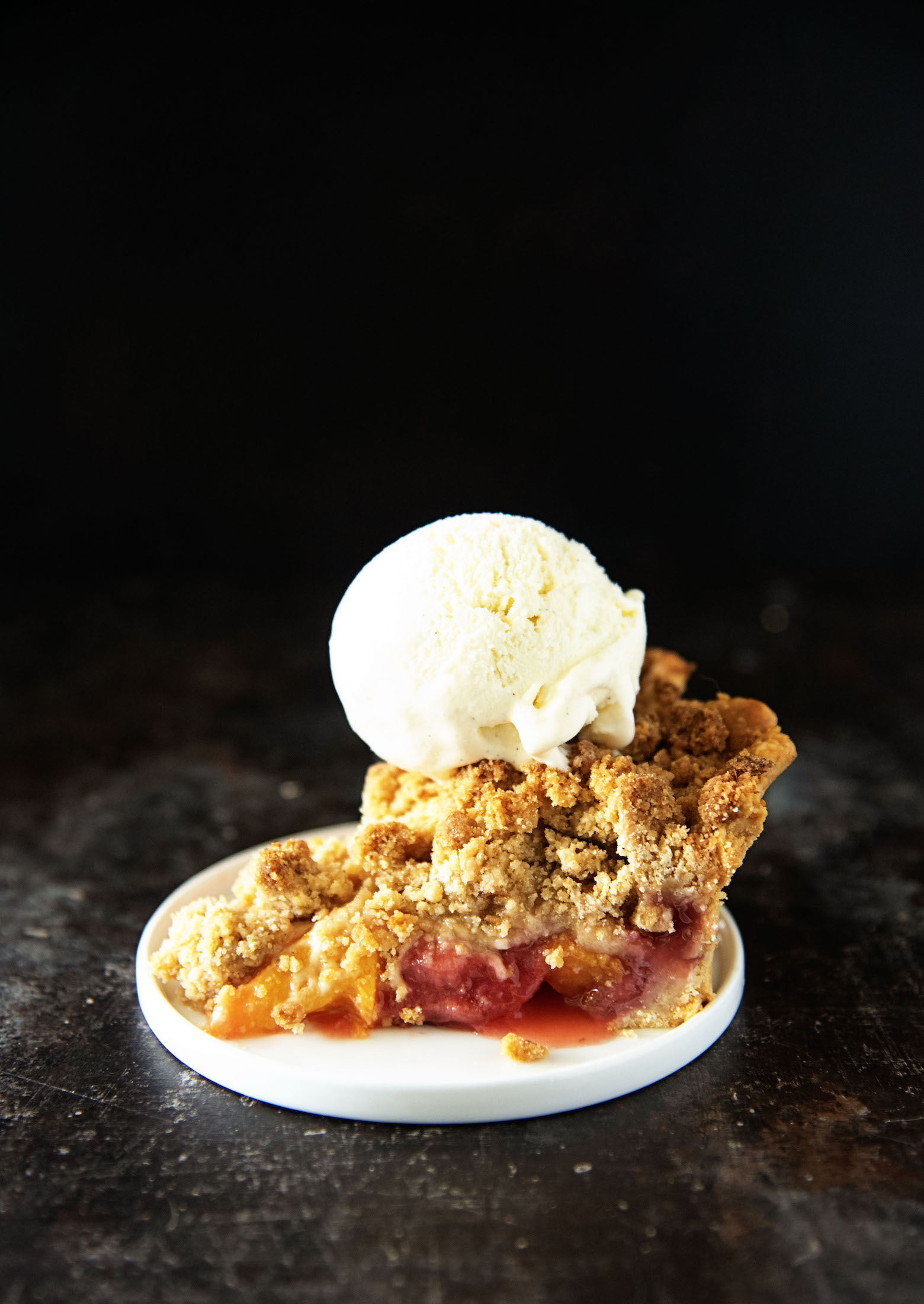 Fruit pies are especially hard because they just kind of do what they want.
When you cut into them the fruit tries to escape…perhaps it knows it's going to be eaten?
Sometimes the bottom crust doesn't come with you.
Or you get only part of it up and not the other.
Whatever the case…pie is a non-cooperative dessert.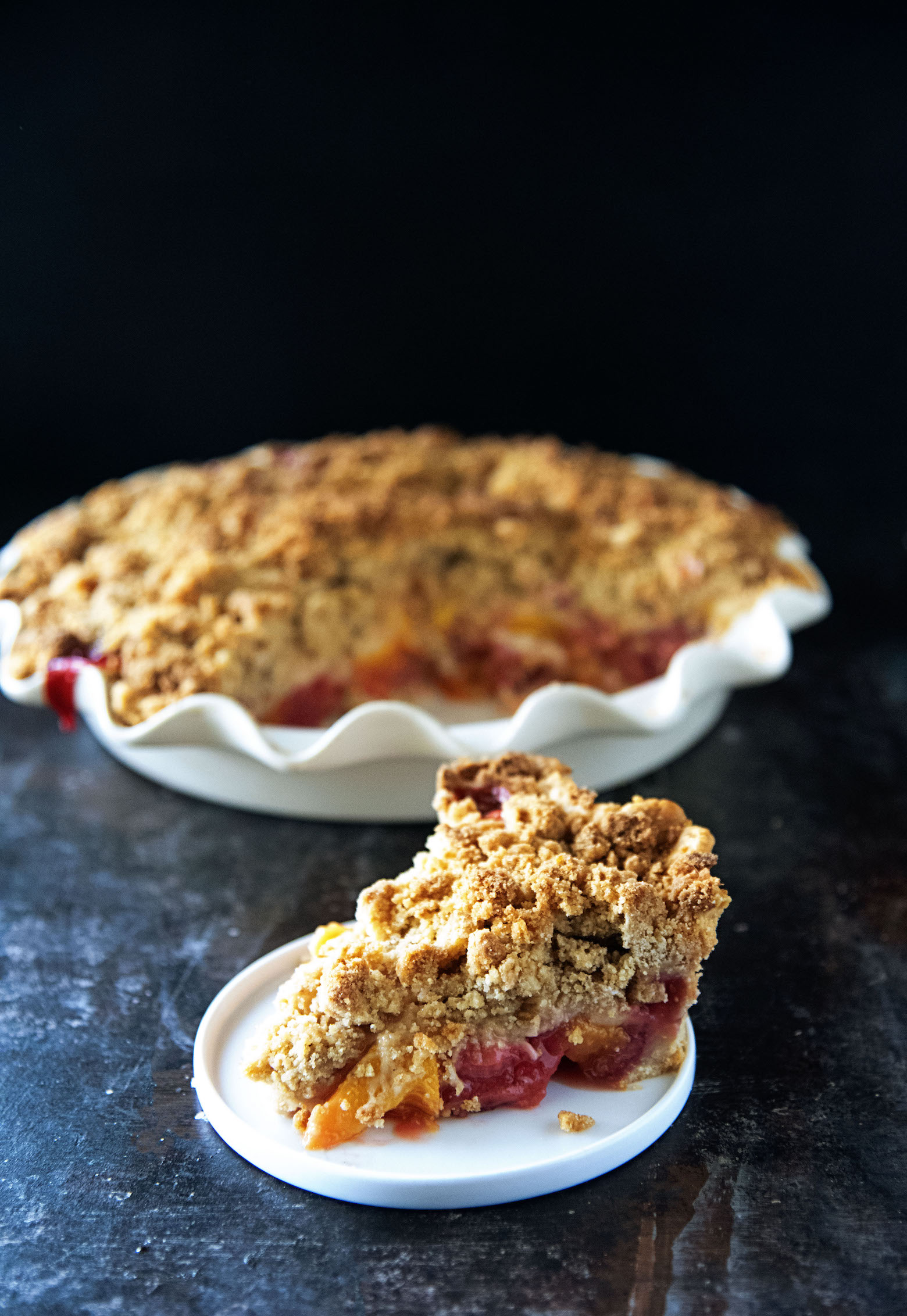 Yet I still make them because I love pie.
And pie is still the best way to use up fruit unless you can it.
The original pie recipe had a lattice and crumb top but that was just too much pie crust for me.
So their pie was WAY prettier than mine.
I doubled the crumb topping because that is what I love .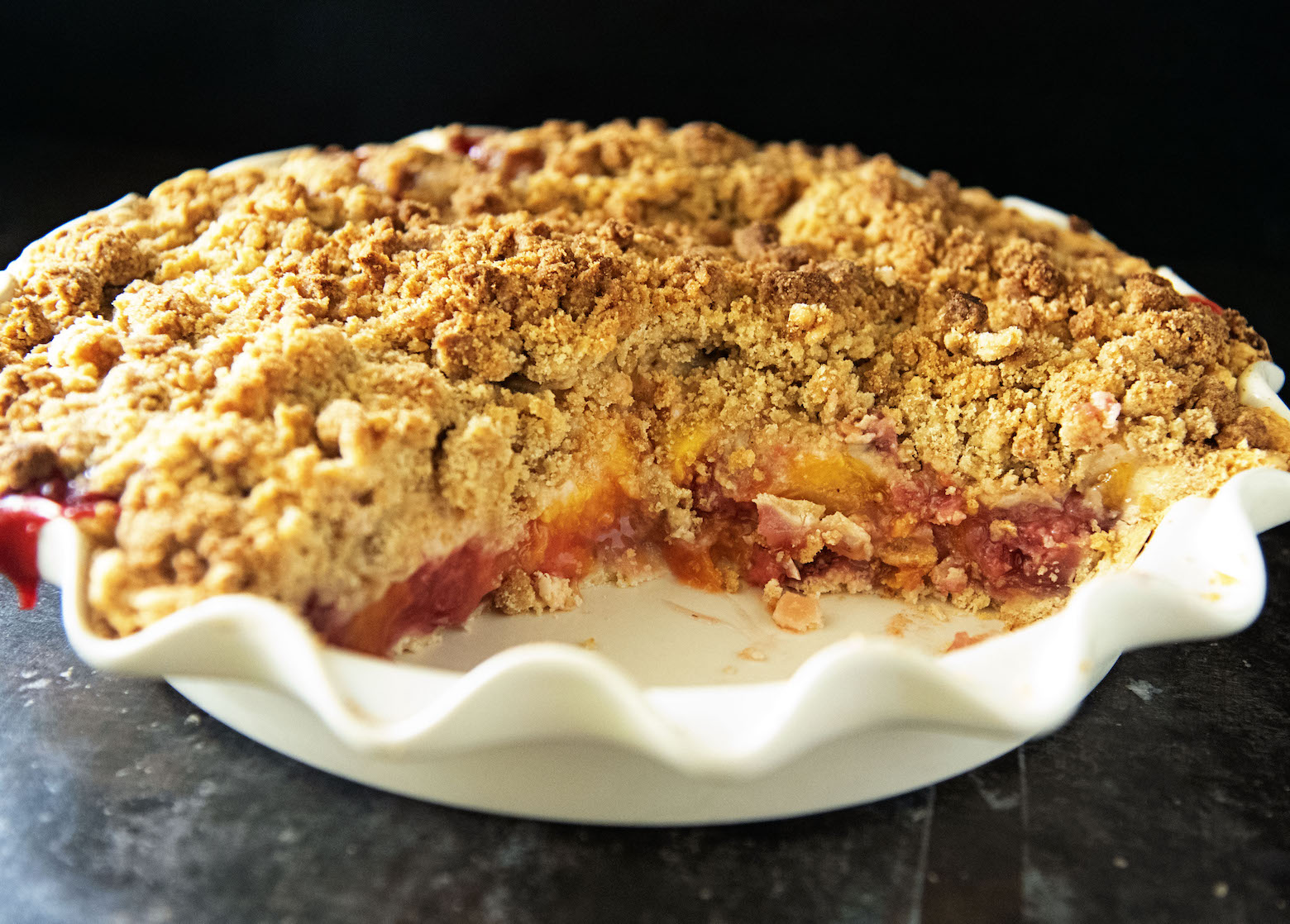 This pie does use fresh fruit but you can use frozen as well.
The original used nectarines instead of peaches but our peaches were still good so I used those.
I'm quite sure this pie is just as tasty with nectarines as it is peaches.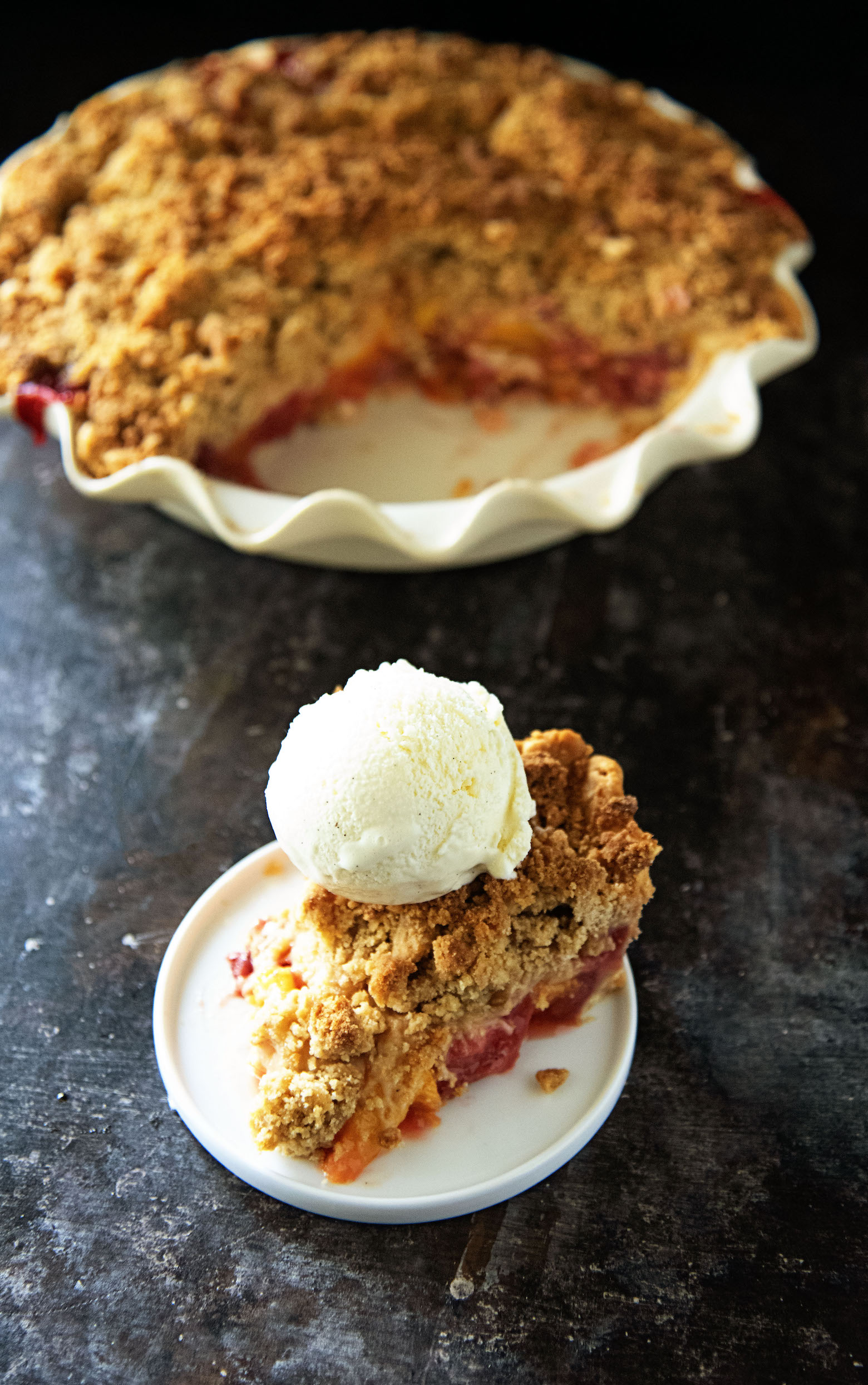 This recipe doesn't use a much sugar as I normally use.
Which some people like.
I have a sweet tooth big time.
So for me this pie definitely needs a scoop of ice cream with it.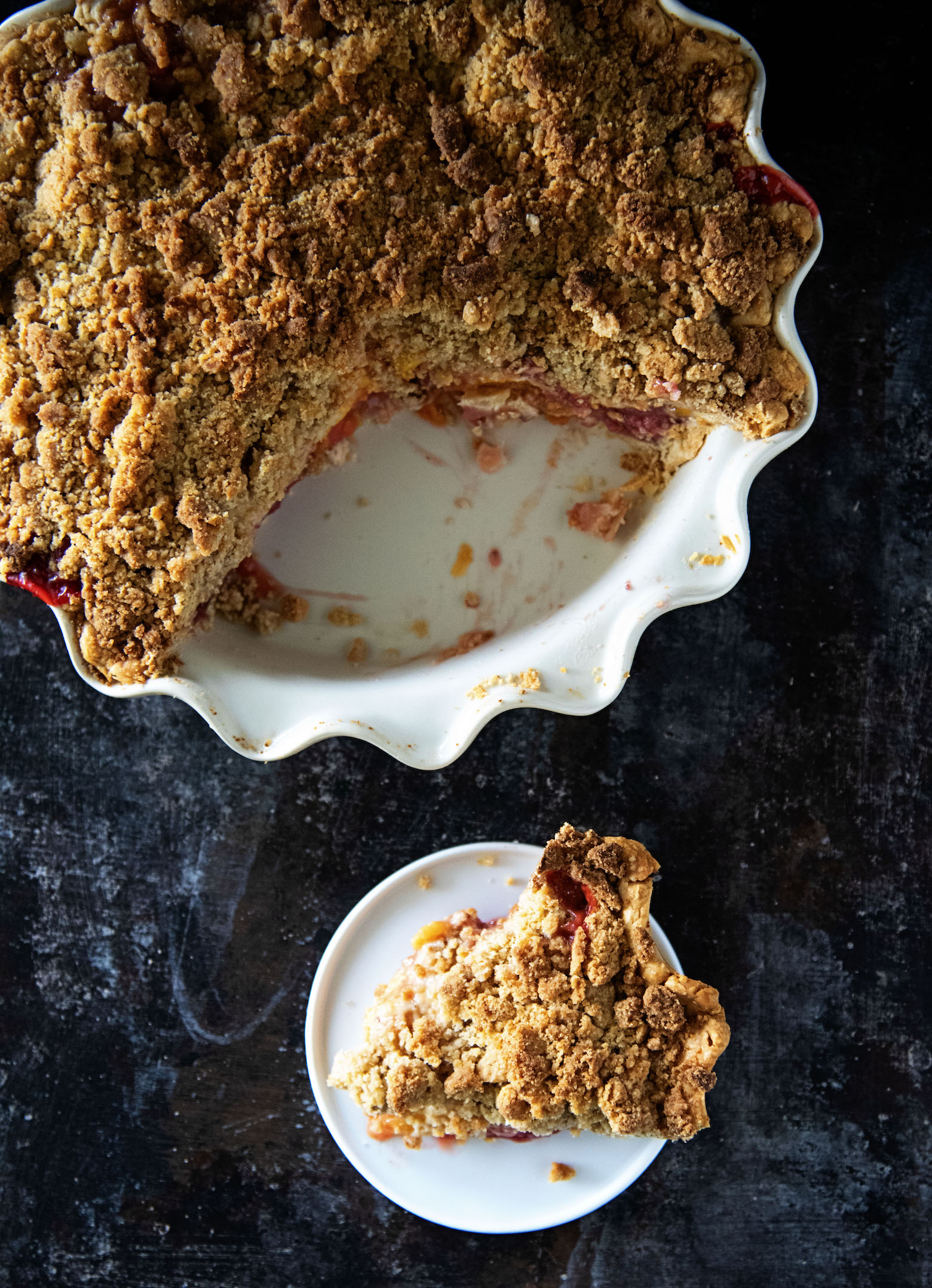 Want More Recipes? Try These:
Strawberry Cream Cheese Pretzel Pie
Oatmeal Crumble Caramel Apple Pie
Peach Blackberry Oatmeal Cookie Cobbler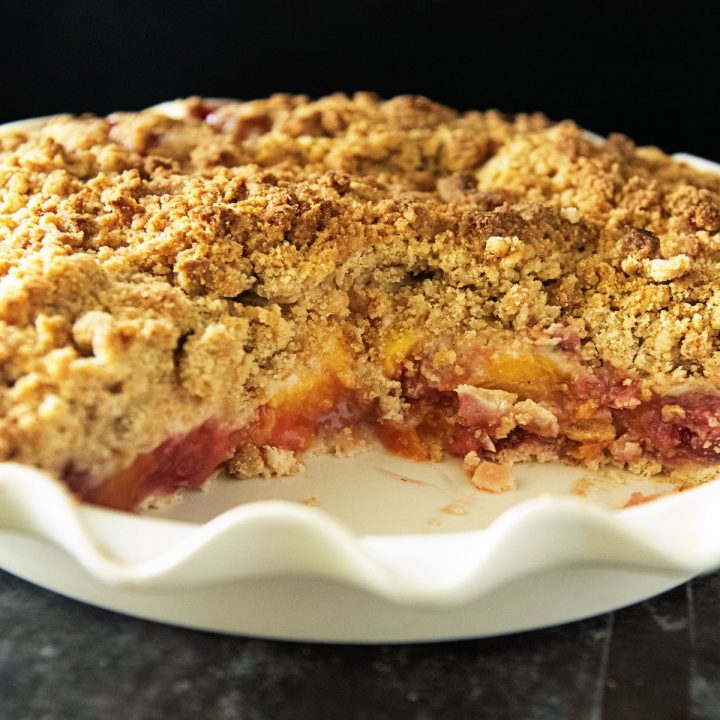 Strawberry Peach Crumb Pie
Ingredients
1 9-inch pie crust (bought or homemade)
For the Streusel:
10 TBSP unsalted butter, diced
1 cup brown sugar, packed
1 tsp salt
1 tsp vanilla bean paste (I used Rodelle)
1 1/2 cups plus 2 Tbsp all-purpose flour
For the Filling
1 lb Strawberries, hulled and quartered
1 lb ripe peaches, pitted and cut into quarters
1/2 cup granulated sugar, plus more to sprinkle
1/4 c all-purpose flour
Instructions
On a lightly floured surface, roll one disc into a circle slightly larger than your pie dish.
Set aside until needed.
For the Streusel:
Add the butter to a small saucepan or skillet set over medium heat and cook until melted.
Remove the pan from heat and pour the butter into a medium sized mixing bowl.
Add the brown sugar, salt, and vanilla bean paste to the bowl and stir to combine.
Add the flour and fold until large crumble clumps form and the flour is well incorporated.
Set aside in the fridge while you prepare the pie.
For the Filling:
In a large bowl, toss the strawberries and peaches together with the sugar and flour, until everything is well coated.
Pour into the prepared pie dish.
Rest the pie in the fridge for at least 30 minutes.
While the pie is resting in the fridge, preheat the oven to 425F.
Place a baking tray on the bottom rack of the oven.
Sprinkle the streusel generously on the pie.
Place the pie on the baking tray in the oven. Bake for 20 minutes, and then move the pie and baking tray to the middle of the oven, and decrease the temperature to 375F.
Bake the pie for a further 35 to 40 minutes.
Cool completely on a wire rack before serving.
Serve with ice cream.