This Pumpkin Oreo Cream Cheese Pie is made with pumpkin and cream cheese and topped with an Oreo cream cheese swirl.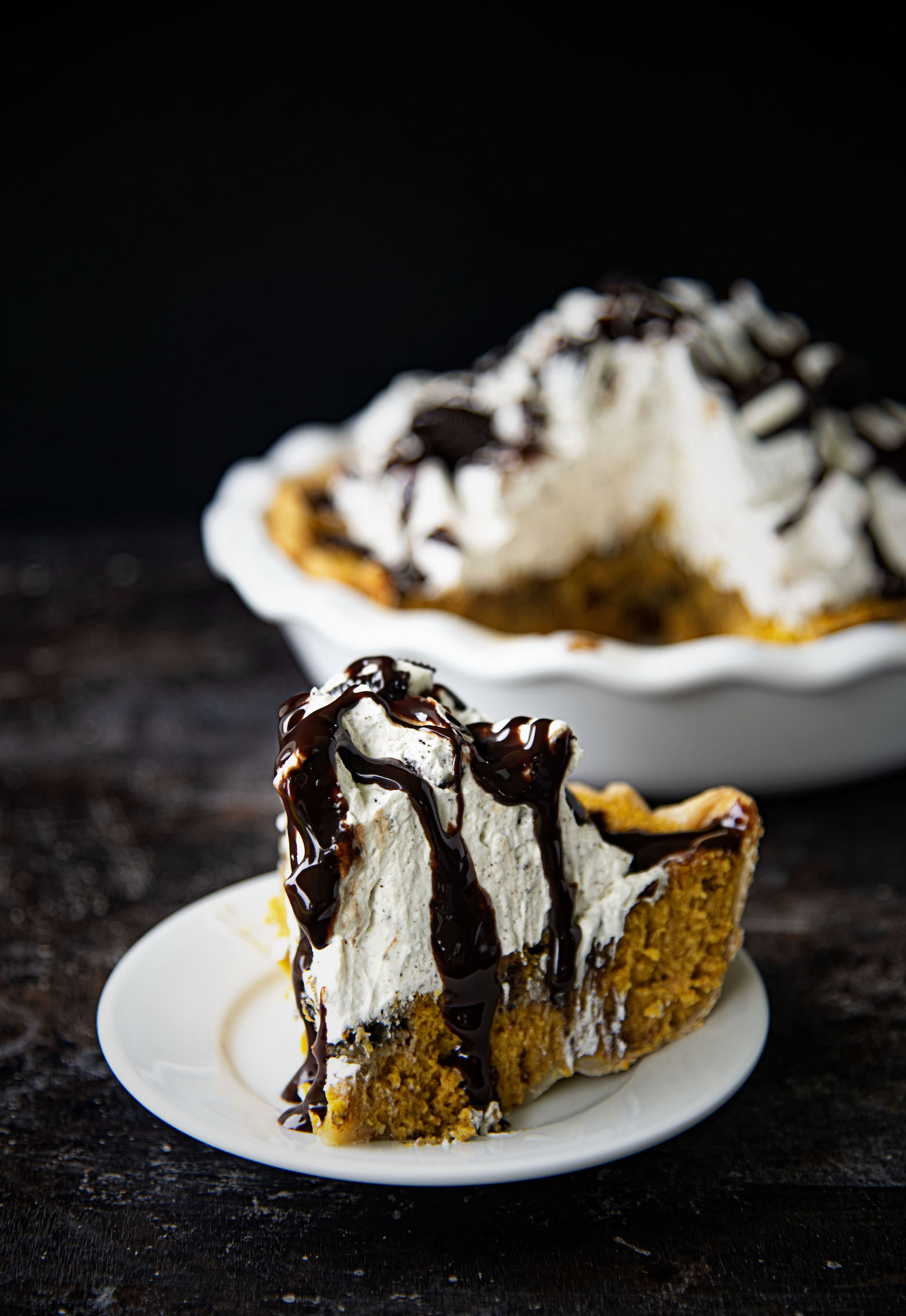 So today is my dad's birthday.
He's the big 82.
Which I always tell him thanks for living.
Not only because it's nice to have him around.
But because the longer he lives the better it is for me. 😛
You know…genetically speaking. 😀
Don't worry my dad has a good sense of humor, he knows I'm only half kidding.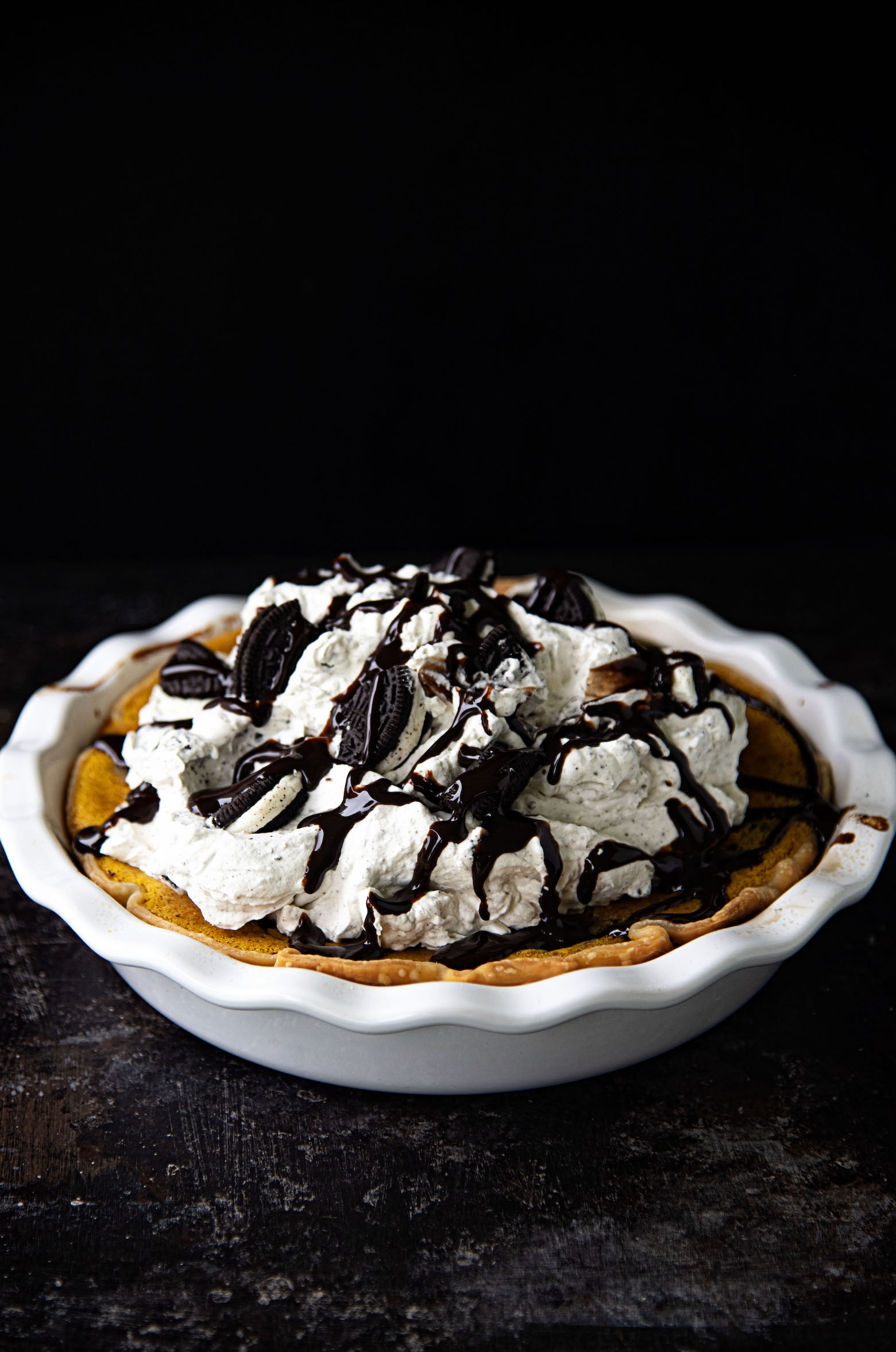 Normally he gets a card from me.
Which I ordered on Etsy.
Unfortunately the shop uses the USPS.
It used to not be an unfortunate thing but as you know that process has currently been slowed down.
And according to the tracker my dad's card has been sitting in Little Rock for 8 days.
Which it's a card.
Not a package.
Just a card.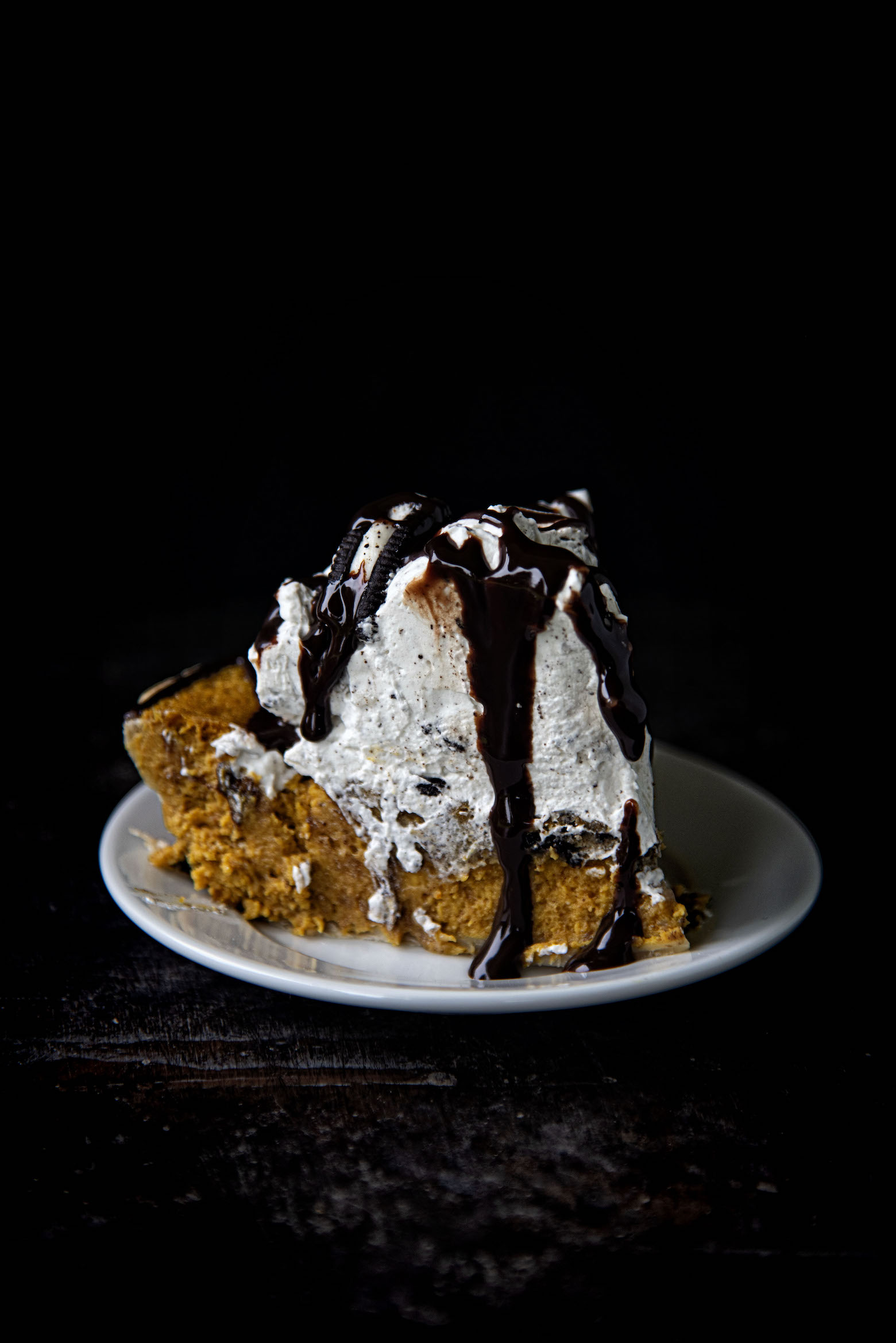 Once I do get it then it has to go from my rural post office to my parents rural post office.
Rural post offices if you did not know don't have to deliver the mail daily to you.
They have three days.
Most of the time this isn't an issue.
But if they have people get sick, since it's a small office, and we are a large area…you don't see mail.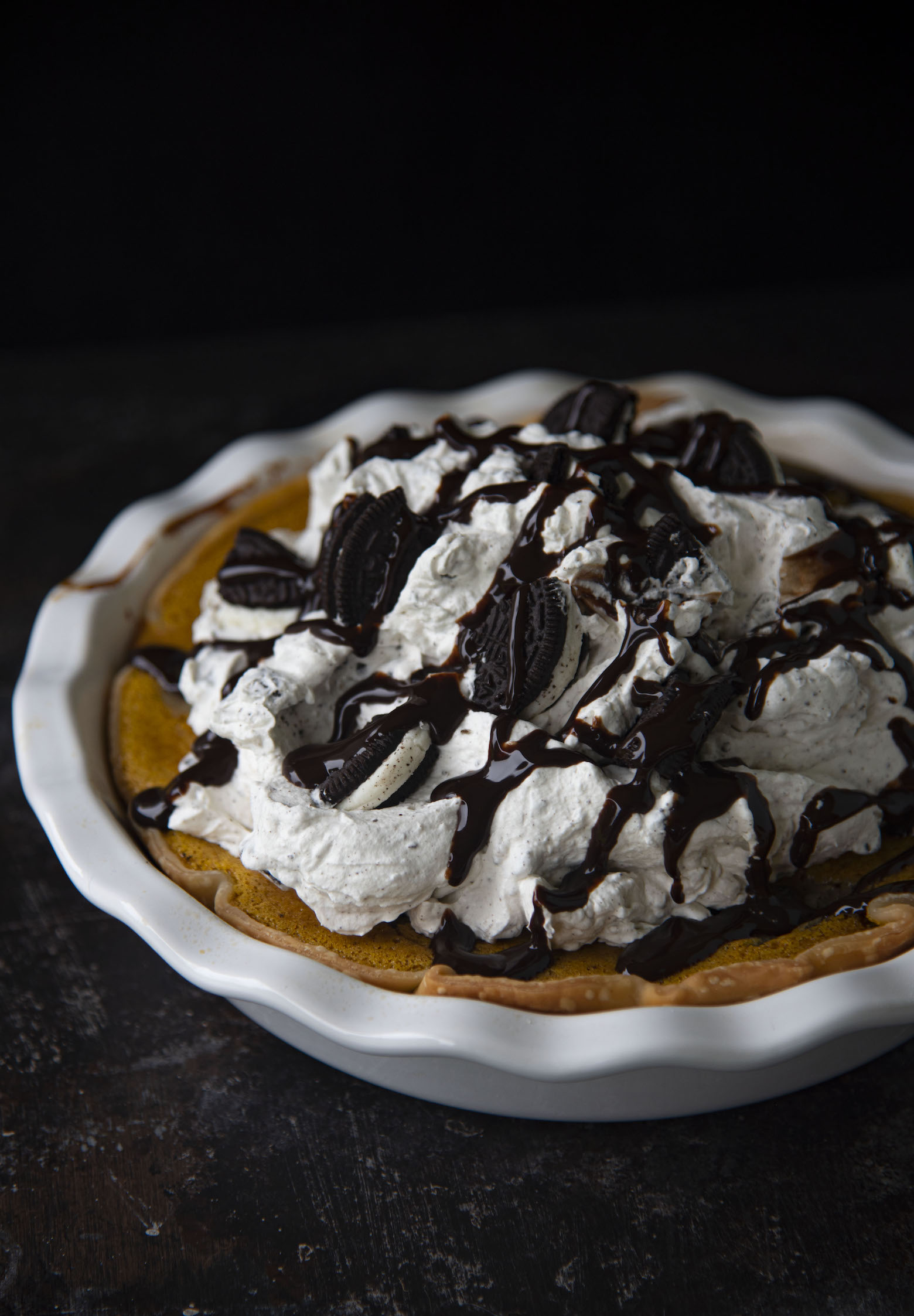 And so if you time it right and get stuck with three days on my end and then three days on their end he won't see a card for 6-7 days after I send it.
That was before the slow down of the mail.
I live 6 hours by car from them.
So it seems rather ridiculous. 🙂
Therefore this year it's a birthday blog post!
Happiest of birthdays dad!
As we say every year after we sing happy birthday….and many more!
Also, I'm pretty sure my dad would want you to go buy my cookbook in honor of his birthday. 😀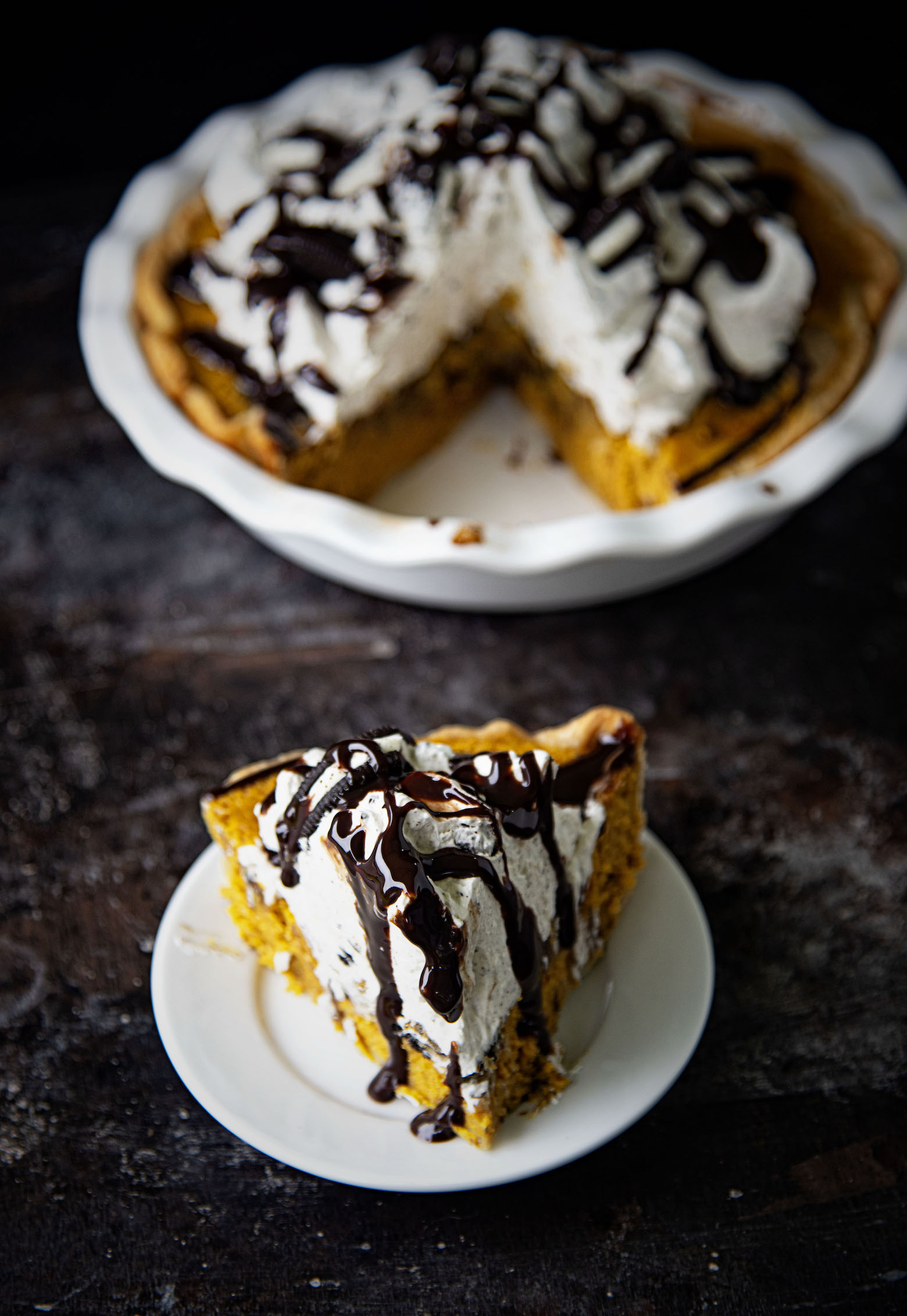 It's also Canadian Thanksgiving.
While I celebrate both, I only cook for one.
We have Chinese food for Canadian Thanksgiving.
But I always make a pumpkin pie.
But with a different twist each year.
This year it's a Pumpkin Oreo Cream Cheese Pie.
A pie with a cream cheese base pumpkin pie instead of evaporated milk.
Then it's topped with an Oreo cream cheese swirl layer.
And covered with a ridiculous amount of Oreo Whipped Cream.
Yes, you need that much whipped cream.
Whipped cream with Oreos in it is awesome.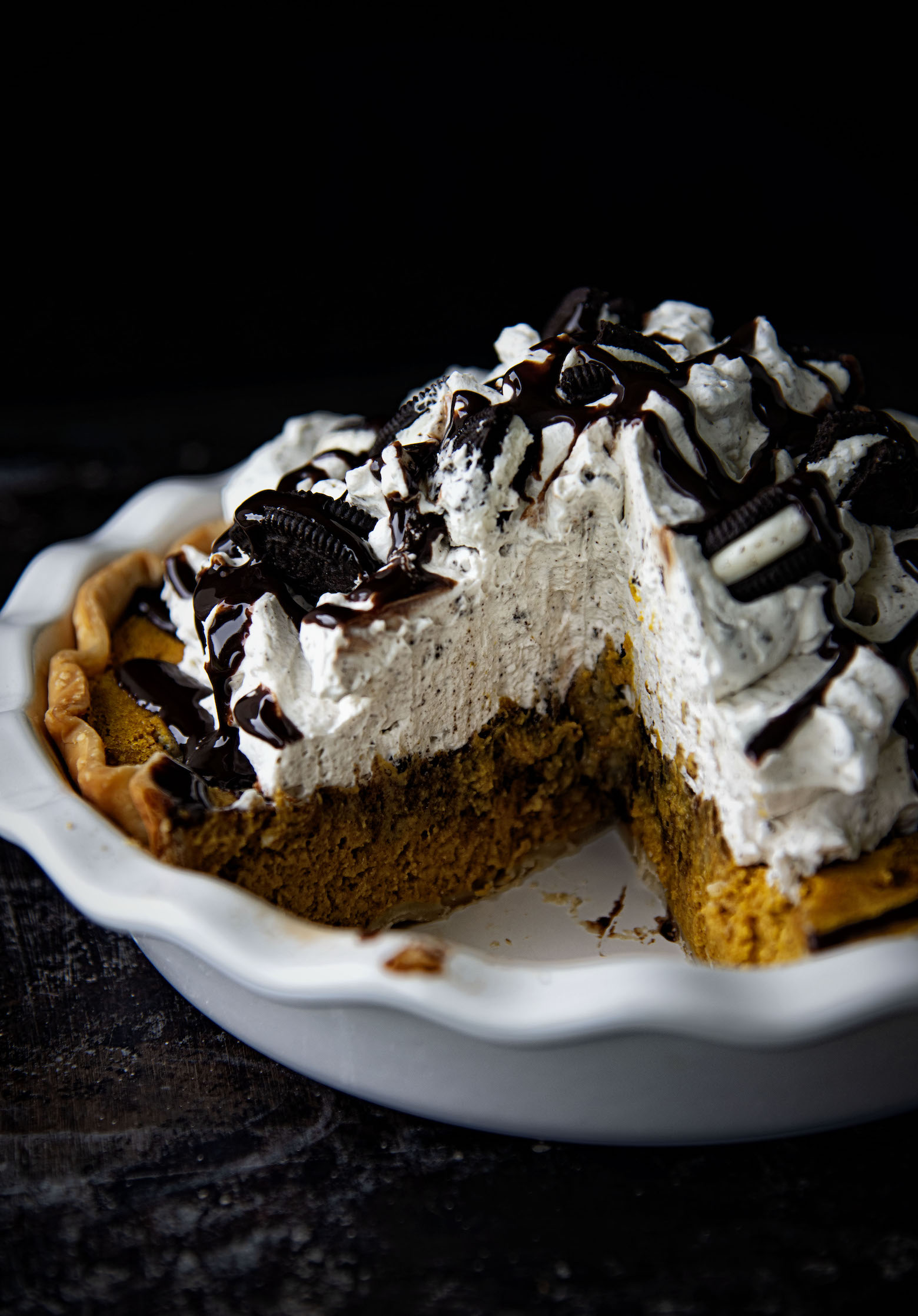 This pie is also as ugly as you can get.
Orange and brown don't make for an attractive color when mixed.
Hence, the extra Oreos and me throwing chocolate sauce on it.
Which that chocolate sauce really adds something so I highly suggest adding it.
I just used Hershey's syrup but you can use whatever chocolate sauce you want.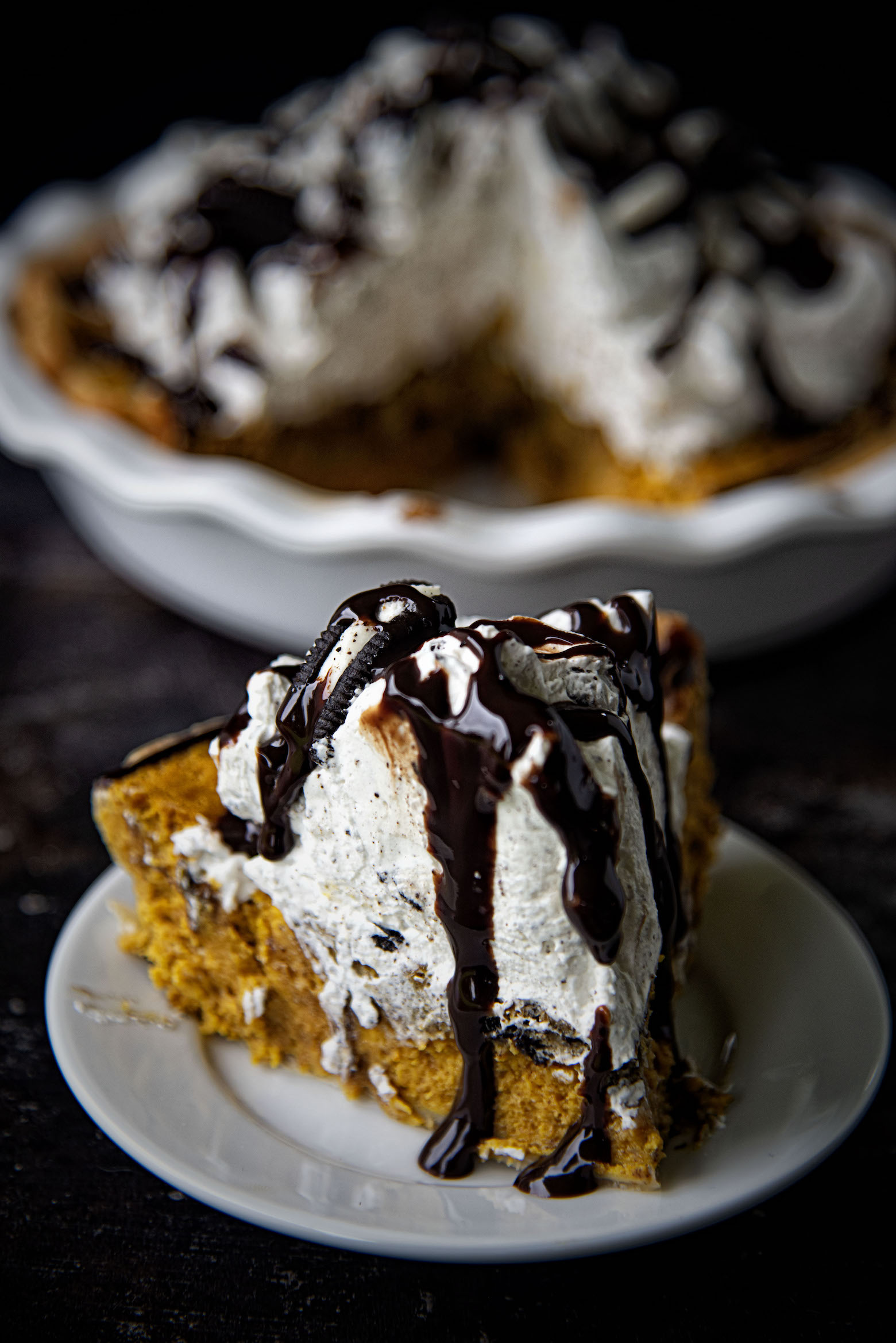 Want More Pumpkin Recipes?
Pumpkin Creme Brûlée Tartlets with Chocolate Ginger Crust
White Chocolate-Pumpkin Topped Blondies
Pumpkin Pecan Pie Gingerbread Bars
Brown Butter Pumpkin Pie Layer Cake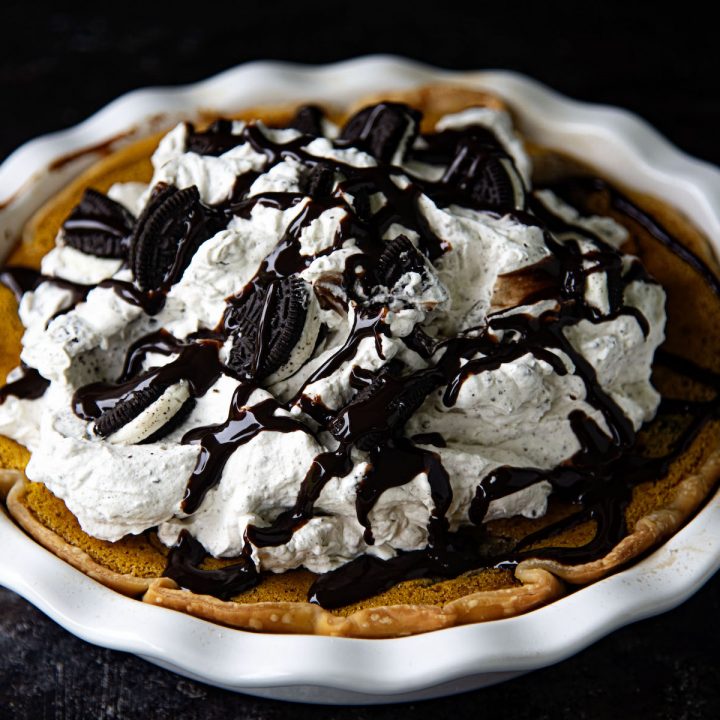 Pumpkin Oreo Cream Cheese Pie
Ingredients
For the Pie:
1 refrigerated pie crust (I used Pillsbury...it was on sale)
1 cup granulated sugar
3 TBSP all-purpose flour
11 oz cream cheese, at room temperature
1 TBSP pumpkin pie spice
3 eggs
1 can (15 oz) pumpkin puree (not pumpkin pie mix)
1 TBSP whole milk
5 Double Stuff or Mega Stuff Oreos, crushed
For the Whipped Cream:
2 cups heavy cream
1/3 cup granulated sugar
1 cup crushed Double Stuff or Mega Stuff Oreos
For garnish:
Oreos
Hershey's Chocolate Syrup
Instructions
For the Pie:
Heat oven to 375°F.
Place pie crust in 9-inch pie plate as directed on package for one-crust filled pie. Bake about 8 minutes or until light golden brown.
Using a stand mixer with a paddle attachment beat together the sugar, flour and cream cheese on low speed until smooth.
Remove 1/2 cup of the cream cheese mixture and place it in a small bowl.
Add the pumpkin pie spice, egg, and pumpkin puree to cream cheese mixture.
Beat on medium speed, scraping bowl constantly, until smooth. Pour into crust.
Stir milk into reserved cream cheese mixture to thin.
Add the 5 crushed Oreos to the 1/2 cup cream cheese mixture and mix until fully combined.
Spoon the Oreo cream cheese mixture over pumpkin mixture.
Cut through cream cheese and pumpkin mixtures with knife make a marbled design...best you can. There are cookies in there after all.
Cover edge of crust with 2- to 3-inch strip of foil to prevent excessive browning; remove foil for last 15 minutes of baking.
Bake 40-50 minutes or until knife inserted in center comes out clean.
Cool 30 minutes.
Cover loosely and refrigerate at least 4 hours before serving.
For the Oreo Whipped Cream:
Place the sugar into a mixing bowl and add the whipping cream.
Whisk just until the cream reaches stiff peaks.
Add the crushed oreos and whip until fully combined.
Place whipped cream on top of cream pie and add extra Oreos and some Hershey's syrup for garnish if desired.
Store covered in refrigerator.