This Chocolate Milkshake Crumb Cake has a chocolate crumb top, chocolate chip milkshake batter, and topped with a chocolate milkshake glaze.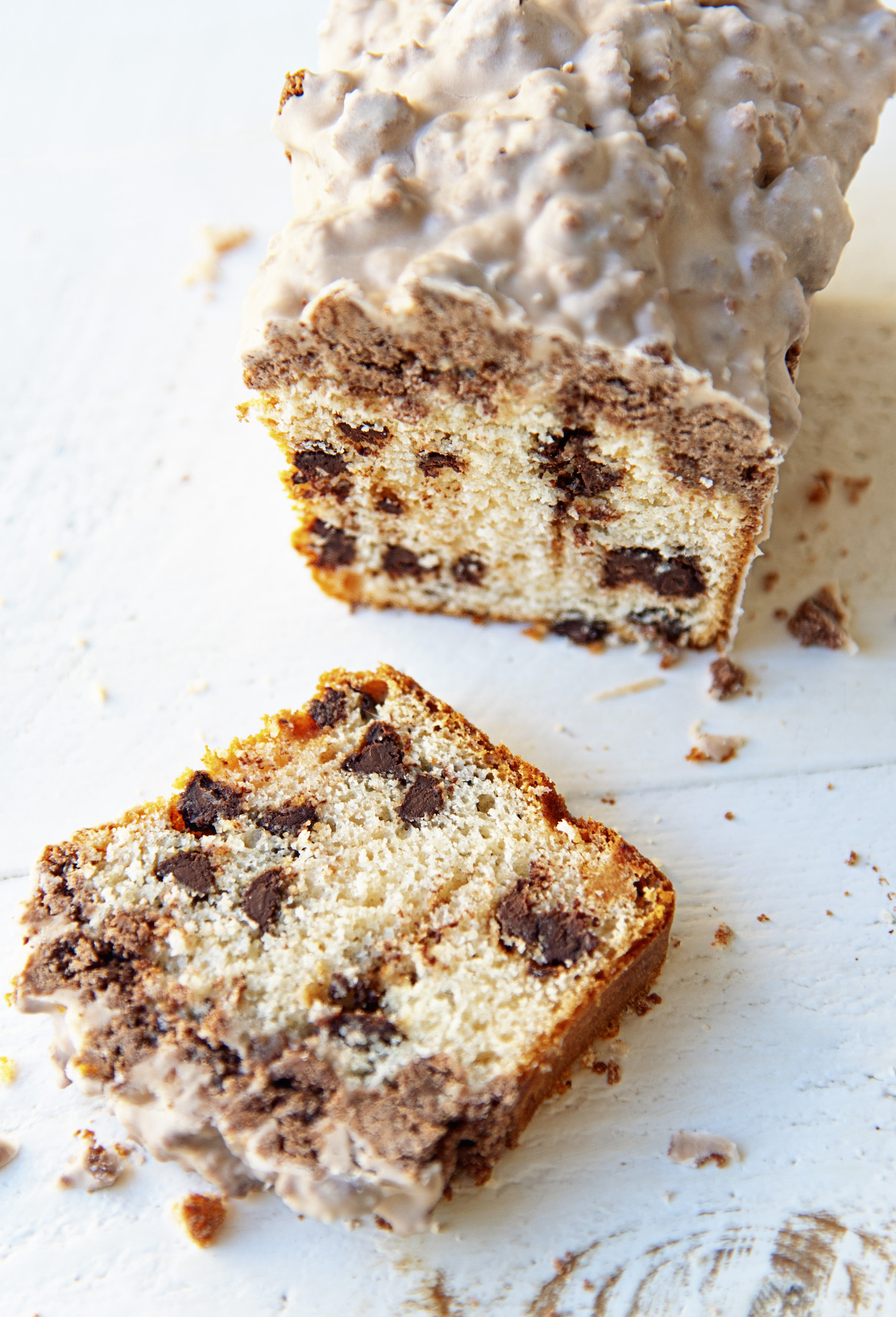 So this Chocolate Milkshake Crumb Cake was inspired by my trip to Wendy's.
The fast food place.
Because I ordered a Strawberry Frosty.
Which they have this time of year.
And they handed me the frosty and then said, we accidently poured a chocolate one first, do you want it for free?
My husband first said no (we were in the car) and I looked at him like who are you.
I, of course, said yes.
Except the reason why my husband said no was because he knows I don't usually finish one Frosty.
Let alone two.
He asked what I would do with it and I commented I would put it in a baked good.
I had just recently made a chocolate malted (and french fry) cheesecake so I knew cheesecake was out.
When it hit me that I hadn't make a crumb cake in a really long time.
Which is odd.
Because I used to make them all the time.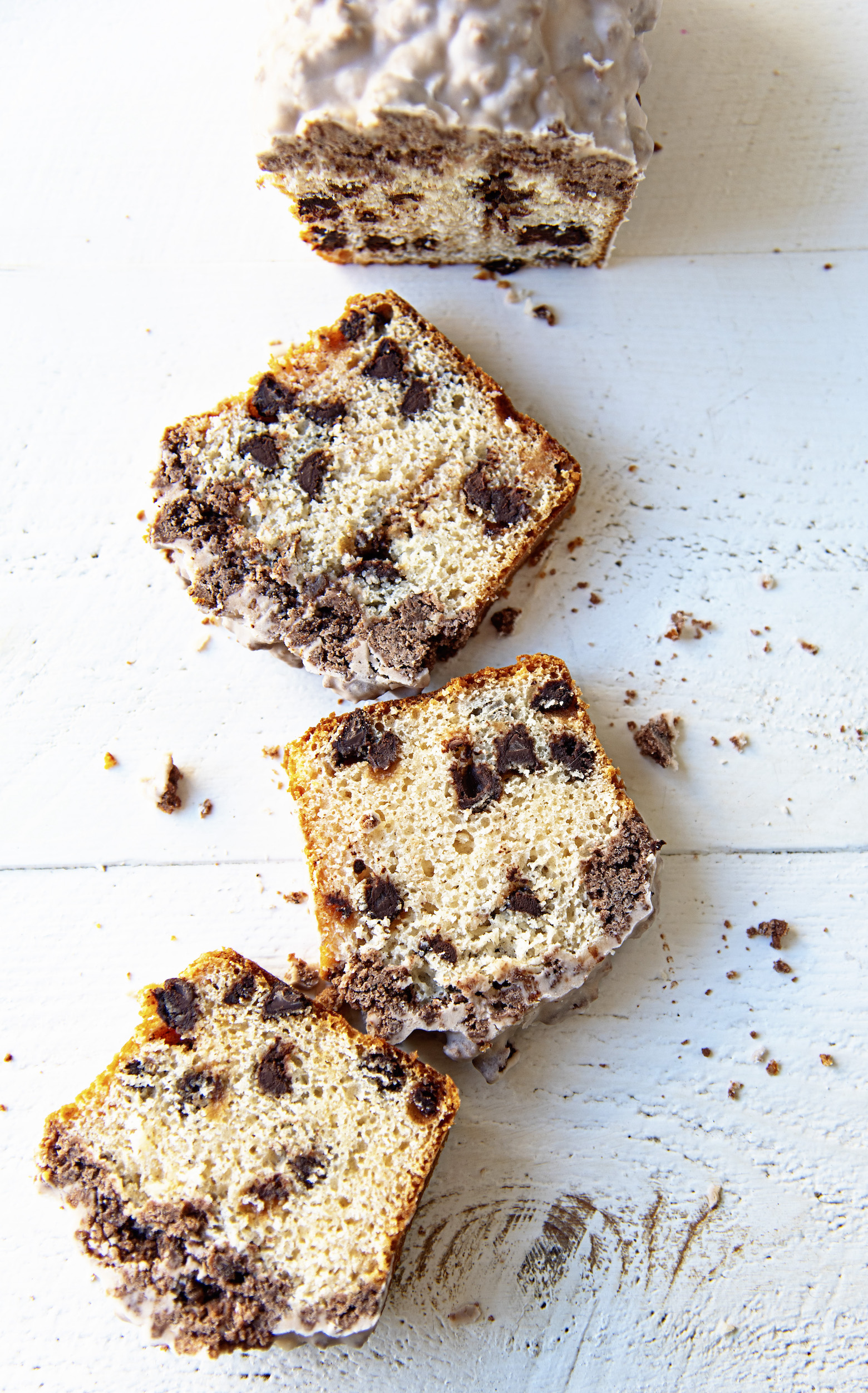 But I am really bad about getting on kicks.
Or obsessions.
I fully know this.
And so I fixate for awhile on a particular dessert or flavor.
I had a whole cereal milk thing.
Snickerdoodle.
Creamsicle.
I have a recent cheesecake obsession (still do).
And, of course, I had a crumb cake obsession.
Who knows, maybe this will spark a whole crumb topped everything obsession again. 🙂
Literally writing that sentence made me think of a crumb cake cheesecake…so pretty sure that's going to happen. 🙂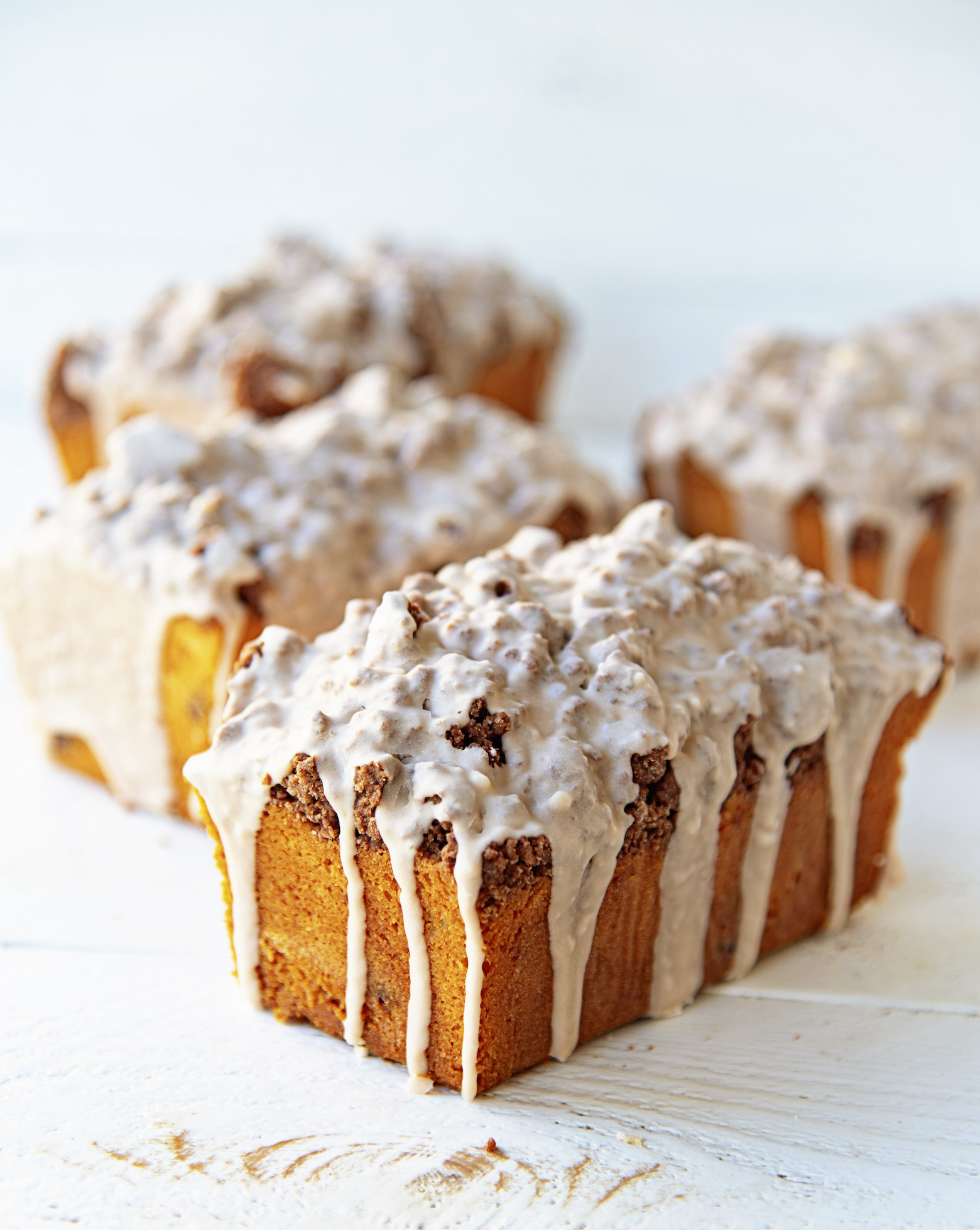 I'm using mini loaf pans again as I often do.
I love using mini pans because I find that it encourages sharing baked goods that way.
Theoretically you can make this using a full size loaf pan.
I say theoretically because I have only made it using the mini pans.
You would definitely need to increase the baking time by at least 20 minutes if you do go with the traditional loaf pan size.
I would just check it every 5 minutes with a knife or wooden skewer to be sure.
I love to use crumb topping, not only is it delicious, but it adds a nice texture contrast to your baked goods.
While this cake does have chocolate milkshake and unsweetened cocoa in it the cake is not a knock you over with chocolate kind of cake.
Which is why I added the chocolate chips to it as well.
But even with the addition of the chocolate chips it's not a super chocolatey treat.
At least in my opinion.
Then again, I think of a chocolate dessert as things like Death by Chocolate. 🙂
So the next time you randomly get handed an extra chocolate shake make this crumb cake.
If you don't have a spare milkshake you can always just use chocolate milk.
A full fat chocolate milk though.
P.S. It's a great day to buy my cookbook Holy Sweet!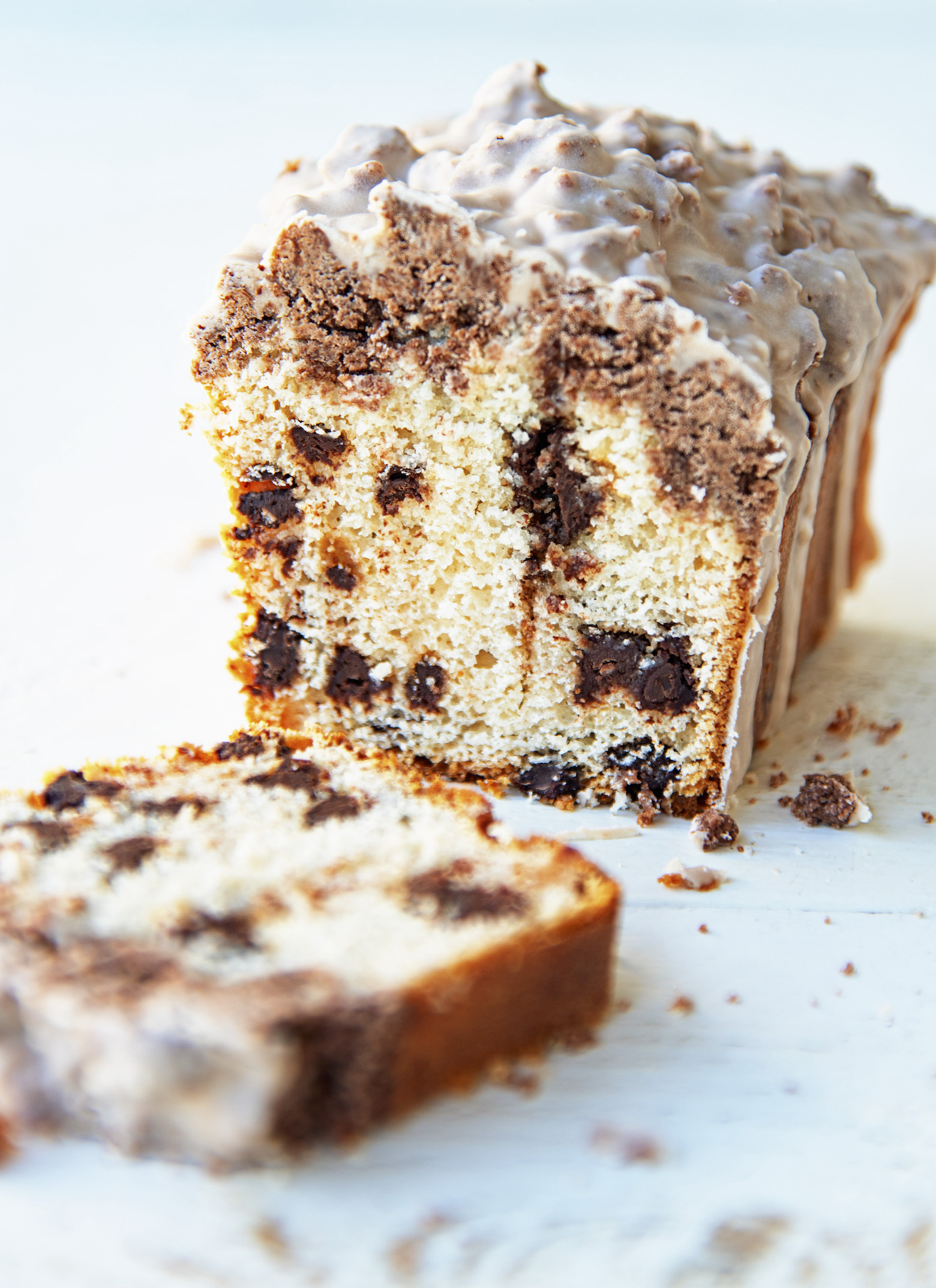 Want More Crumb Cake Recipes?
Strawberry Lemonade Crumb Cake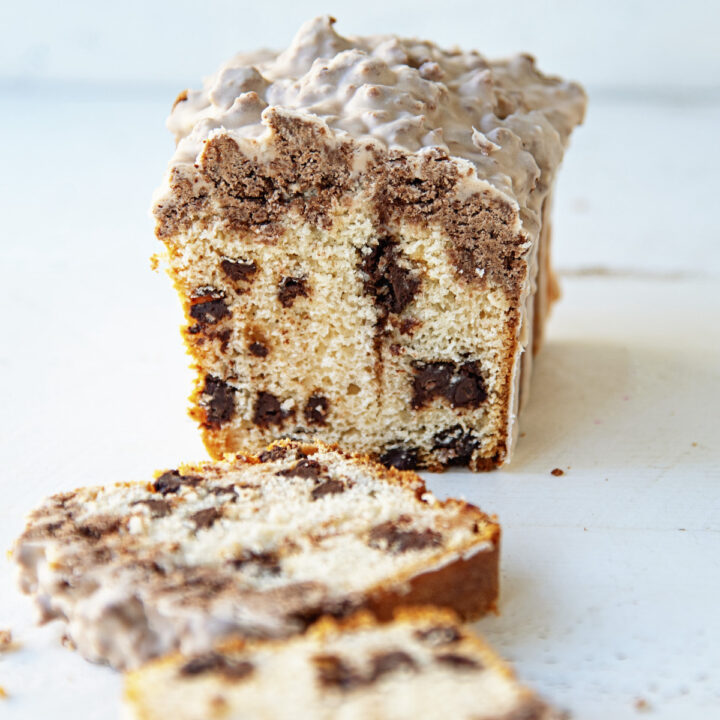 Chocolate Milkshake Crumb Cake
Ingredients
For the Crumb Topping:
1/3 cup granulated sugar
1/3 cup brown sugar, packed
¼ tsp. salt
2 TBSP unsweetened cocoa powder
8 TBSP unsalted butter, melted and then slightly cooled
1 ¾ cup cake flour
For the Cake Batter:
½ cup unsalted butter, at room temperature
1 cup granulated sugar
2 large eggs
1 cup melted chocolate shake (or chocolate milk)
1 cup full fat sour cream
½ tsp vanilla bean paste
2 ½ cups cake flour
2 tsp. baking powder
½ tsp. baking soda
Pinch of salt
1 1/2 cups chocolate chips (dusted with 1 TBSP flour to avoid sinking in the batter)
Icing:
6 TBSP melted chocolate shake or chocolate milk
2 TBSP melted butter
1 ½ cups powdered sugar
Notes
For the Crumb Topping:
In a medium sized bowl, put sugars, salt, and unsweetened cocoa powder and stir until combined.
Add the melted butter and then cake flour and mix (hands work best for this). Set aside.
For the Cake Batter:
Preheat oven to 325F.
Spray baking spray 4 mini loaf pans and set them aside.
In a stand mixer with a paddle attachment cream together the butter and sugar until light and fluffy, about 3 minutes.
In a separate bowl add the chocolate milkshake, sour cream, vanilla bean paste, and eggs and whisk until fully combined.
In another bowl add flour, baking powder, baking soda, and salt.
Alternate adding dry ingredients, then wet, then dry, then wet, and finish with dry.
Mix on low until fully combined. Be careful to not over-mix.
Fold in the flour coated chocolate chips. Do your best to evenly distribute them.
Using a regular size ice cream scoop, scoop three scoops per pan. Even out with a spatula.
Evenly divide crumb topping (as evenly as you can) into pieces over top of the batter.
Bake for 30-35 minutes depending on your oven.
Check by using a wooden skewer or knife to see if it comes out clean.
Let cool on wire rack.
While cooling make glaze.
For the Glaze:
Simply whisk together the chocolate milkshake, butter, and powdered sugar in a medium bowl.
When cakes are cool pour glaze over the top of them. Let glaze firm up, about 20 minutes.