Get the flavors of a Kringle in this Kringle Crumb Cake. Filled with marzipan, spices, and nuts all topped with a crumb topping and a Kringle liqueur glaze.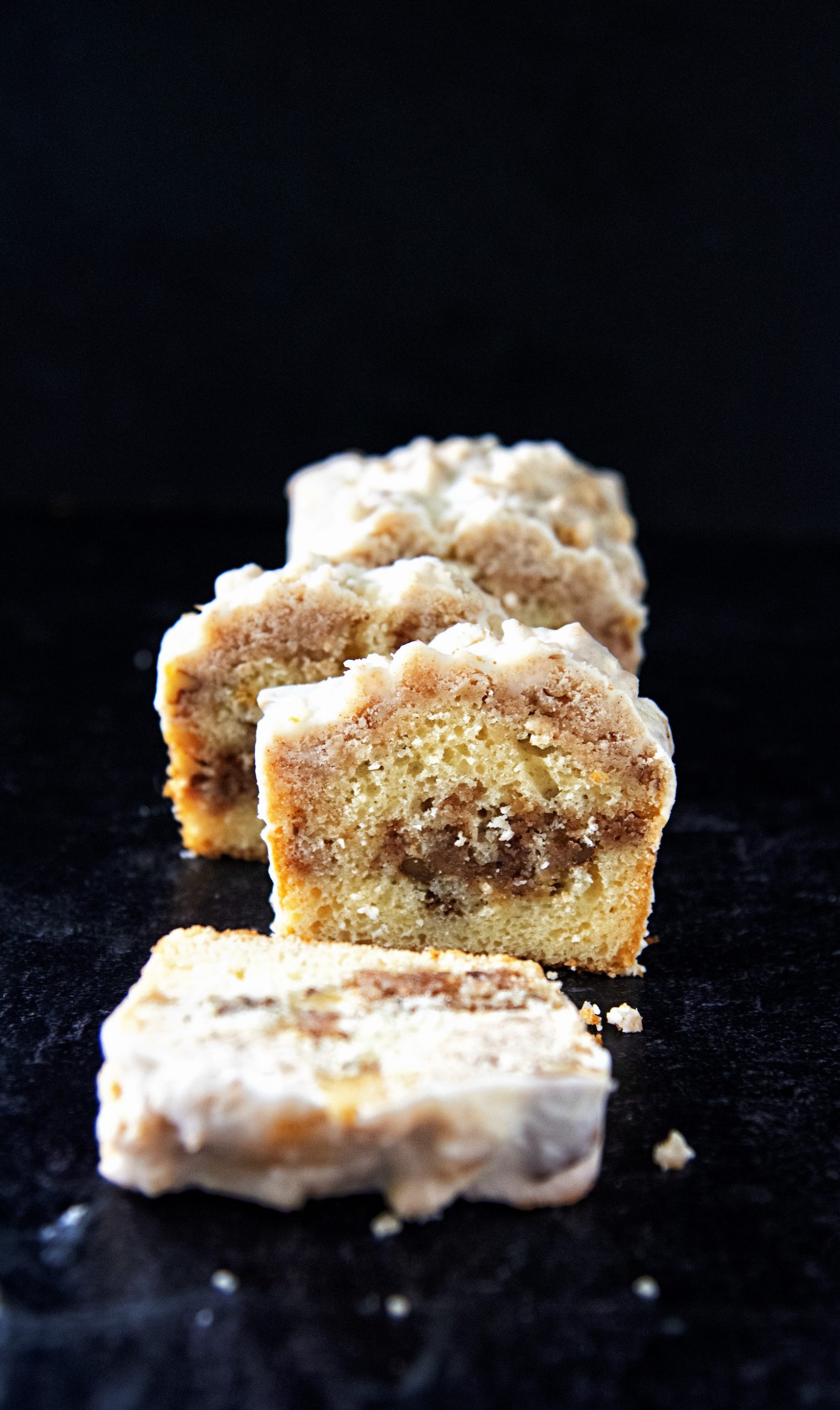 The first time I had Kringle was at a friends house in high school.
I remember the family being excited as it was sent from Wisconsin, where they were originally from.
They explained that they were Scandinavian and it was tradition at Christmas.
Sure, they get a fun pastry filled with nuts and fruit….I get haggis.
Nowadays there are all sorts of varieties of Kringles.
But the majority of the ones that I have had were filled with nuts and spices and so that is what I went with.
Especially since the booze I was using was flavored that way as well.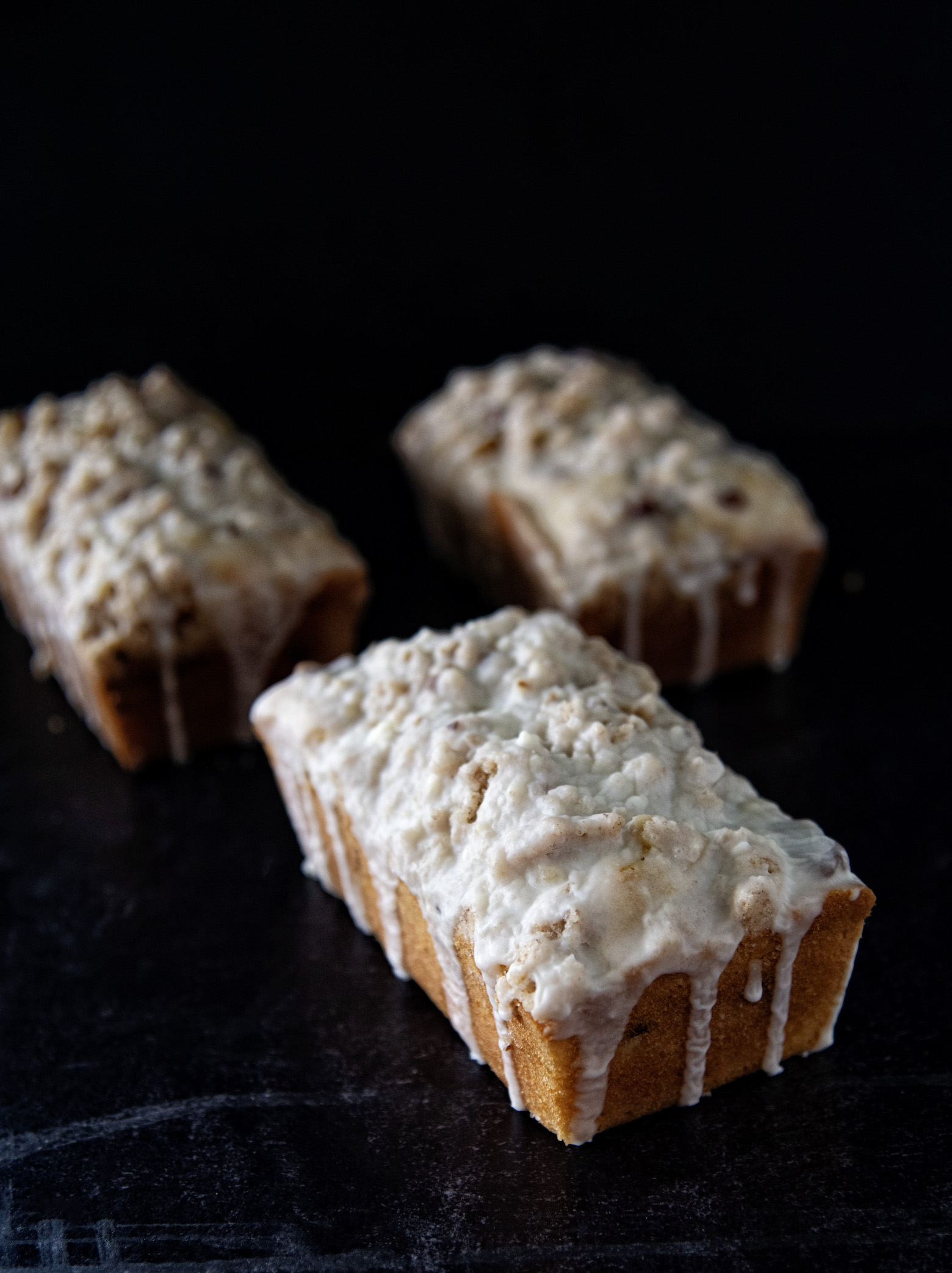 I would love to make a traditional Kringle but that takes something I don't have…counter space.
This time of year makes me super aware of how tiny my 81 square foot kitchen is and how little counter space I have.
So I set out to have the flavors of Kringle but in crumb cake form.
I think I came pretty close with this Kringle Crumb Cake.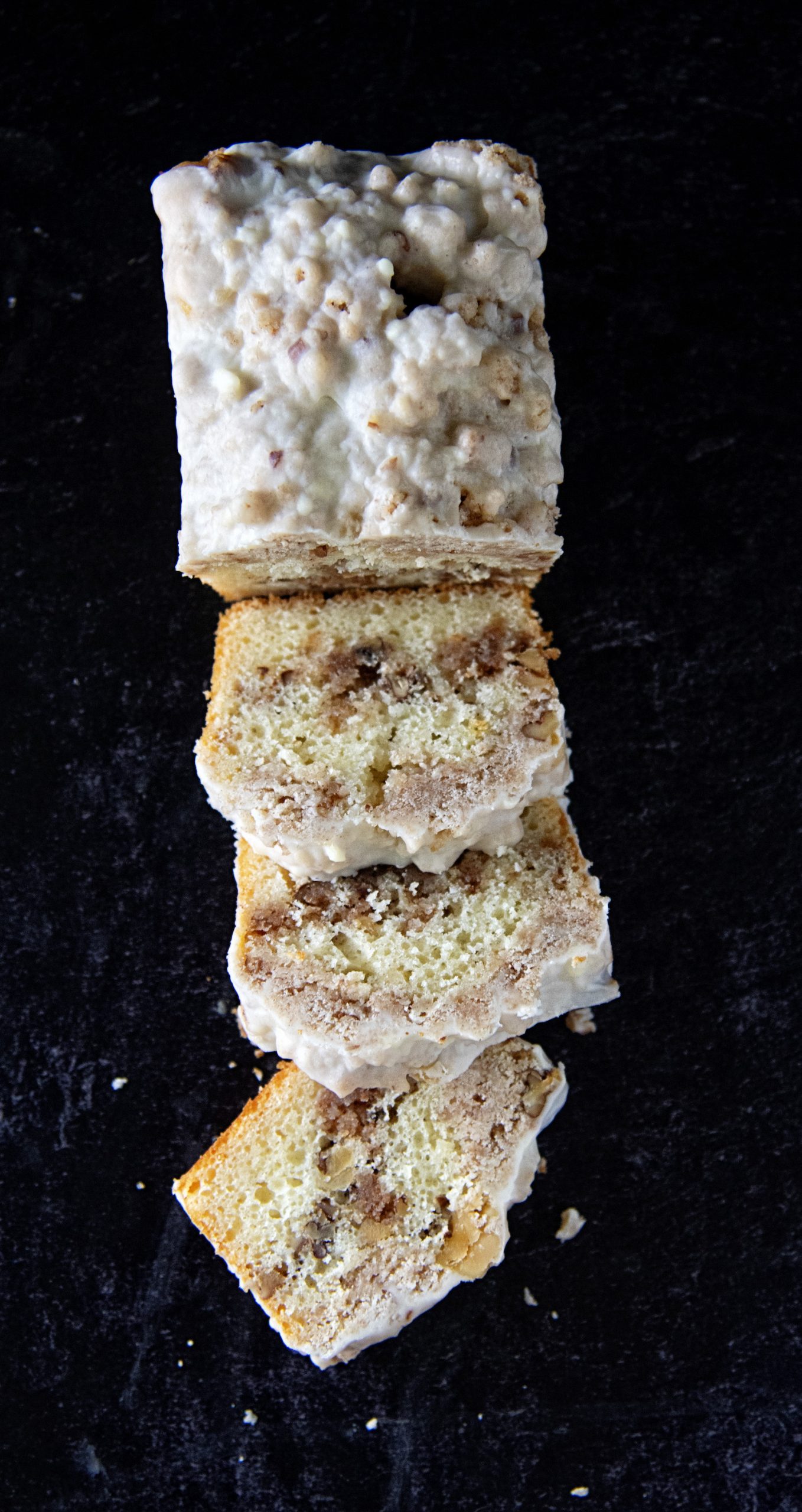 This recipe calls for marzipan.
While you can certainly make it most people just tend to buy it.
I like this marzipan that you can get on Amazon and comes in different flavors.
The liqueur used in this is called Kringle Cream.
You can usually find it at Cost Plus World Market or at Total Wine.
If you can't find it you can still make the cake.
I would just sub the Kringle Cream for an almond liqueur or you could just do all milk if you don't want the booze.
Can you make it in one large loaf?
Sure, but I never have and you would definitely have to bake it way longer than the 30-35 minutes.
Plus the smaller loaves allow for the crumb topping to not sink into the cake.
Do you best to make the crumbs the same size.
Smaller ones work best.
It's also best to have more crumb around the edge of the pan to help prevent sinking of the crumb.
And since everyone always asks what pans I use and I use Chicago Metallic Commercial II Non-Stick Mini Loaf Pans.
It's a great day to order my cookbook.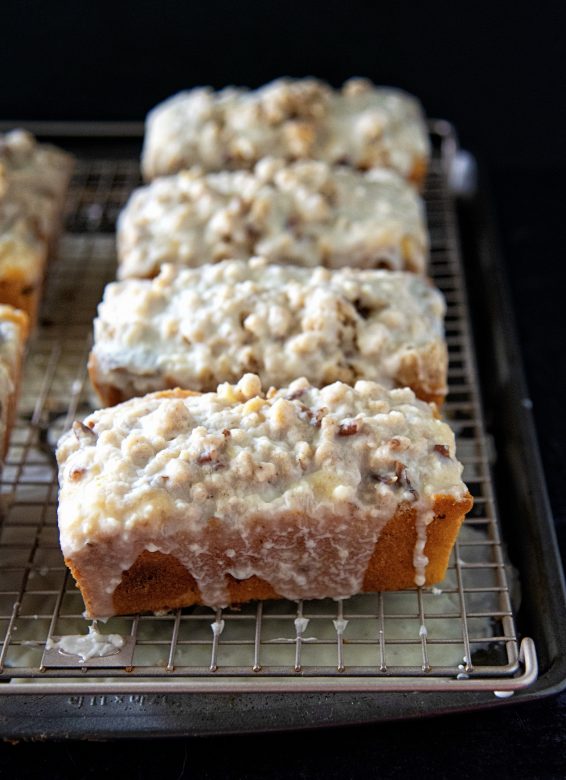 Want other Crumb Cake Recipes?
Caramel Turtle Pumpkin Crumb Cake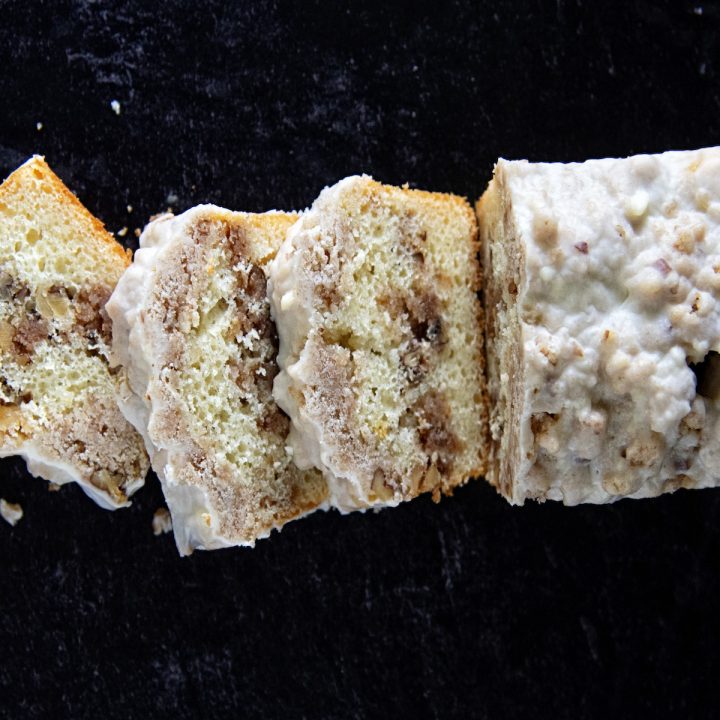 Kringle Crumb Cake
Ingredients
Crumb Topping:
2/3 cup granulated sugar
¼ tsp. salt
8 TBSP  unsalted butter, melted and then slightly cooled
1 ¾ cup cake flour
1/2 tsp. cinnamon
1/4 cup walnuts, chopped finely
1/4 cup pecans, chopped finely
Cake:
½ cup  unsalted butter, at room temperature
1 cup granulated sugar
2 large eggs
1 cup whole milk
1 cup  sour cream
1 tsp. vanilla extract
1 tsp. almond extract
2 ½ cups cake flour
2 tsp. baking powder
½ tsp. baking soda
Pinch of salt
For the filling:
1 cup marzipan (almond paste)
1/2 cup walnuts, finely chopped
1/2 cup pecans, finely chopped
1/2 cup powdered sugar
1 TBSP ground cinnamon
1/4 tsp. salt
Icing:
2 TBSP milk
4 TBSP Kringle Cream Liqueur
1 tsp. almond extract
2 TBSP melted butter
1 1/2 cups powdered sugar
Instructions
For the Crumb Topping:
In a medium sized bowl, sugar, cinnamon, and salt, and stir until combined.
Add the melted butter and then cake flour and mix (hands work best for this).
Add the nuts and mix until fully incorporated. Set aside.
For the Filling:
In a large bowl add the nuts, cinnamon, salt, and powdered sugar together.
Break up the marzipan into little pieces and toss into the mixture. Set aside.
For the Cake:
Preheat oven to 325F.
Spray baking spray in 6 mini loaf pans. Set aside.
Using a stand mixer with a paddle attachment cream together the butter and sugar until light and fluffy, about 3 minutes.
In a separate bowl add the milk, sour cream, vanilla extract, almond extract, and eggs and whisk until fully combined.
In another bowl add flour, baking powder, baking soda, and salt.
Alternate adding dry ingredients, then wet, then dry, then wet, and finish with dry.
Mix on low until fully combined. Be careful to not over-mix.
Using a regular size ice cream scoop evenly distribute half the batter among the six pans.
Divide the filling up equally (best you can) and sprinkle on top of the batter.
Distribute the remaining batter on top of the filling layer.
Evenly divide crumb topping (as evenly as you can) over top of the batter.
Bake for 30-35 minutes depending on your oven. Three of mine took 35 and one did end up taking 40 because it had the most filling in it. The other two took 30 minutes. If you are better at evenly distributing than I am you should have the same bake times. 🙂
Check by using a wooden skewer or knife to see if it comes out clean.
Let cool on wire rack.
While cooling make glaze.
For the Glaze:
Simply whisk together the milk, Kringle Cream Liqueur, almond extract, butter, and powdered sugar in a medium bowl.
When cakes are cool pour glaze over the top of them. .
Let glaze firm up.