This Bourbon Fruitcake Crumb Cake is a vanilla bourbon cake filled with candied fruit and then topped with vanilla crumb and a bourbon glaze.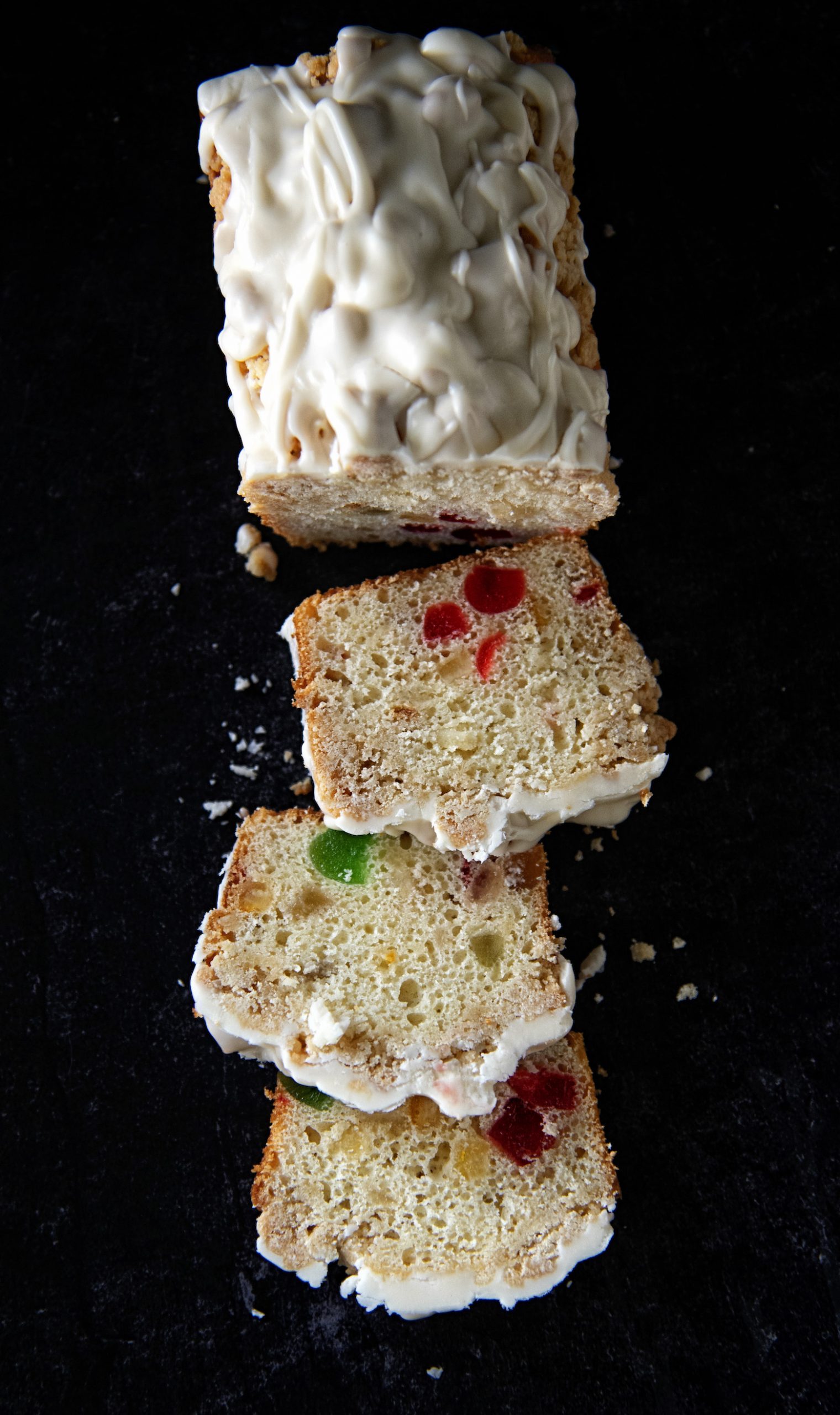 Yes, I am very much on a crumb cake kick.
I can't help it.
They are soooo good.
This Bourbon Fruitcake Crumb Cake is certainly good as well.
This was one of the last things I baked in the old oven.
Yes, I broke down and got a new one.
The husband and I went out and found a scratch and dent that we could take home that night.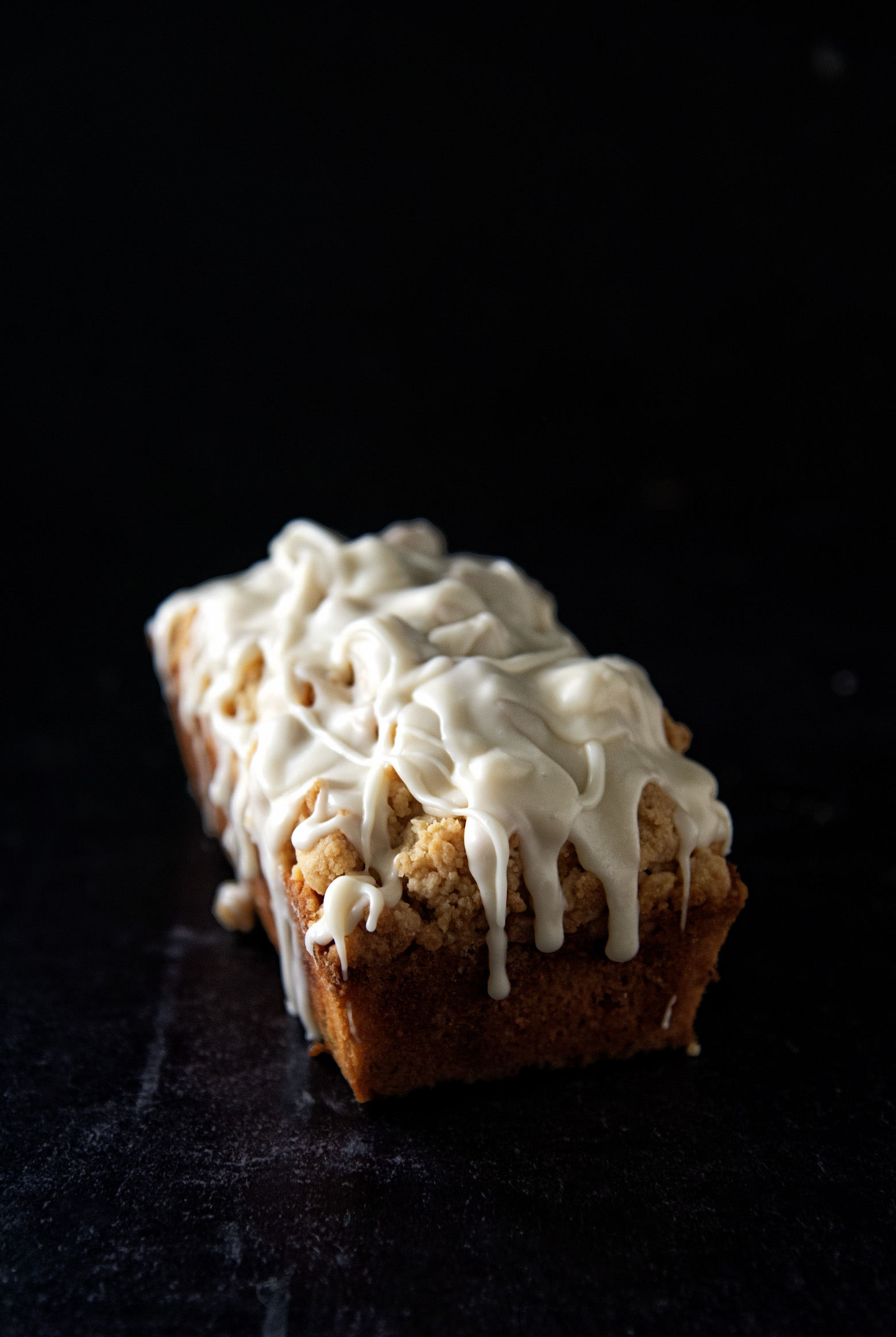 Believe it or not that was quite an ordeal.
With our kitchen only being 81 square feet there are only certain ovens that even fit.
Our house is all electric so sadly no gas.
We needed a pretty cheap one but not crappy.
Didn't want another Whirlpool since they were of no help to us.
And I needed it preferable that day.
Which any one of them on sale on line were not showing up until the end of December or January.
Spending another two hours on the phone yesterday in addition to the four and a half hours already spent had me realize that this was not going to be an easy fix.
Plus every part we looked at would take about 3-4 weeks to get to us.
I have 1/3 of the cookbook due at the end of January so that was SOOOO not going to be happening.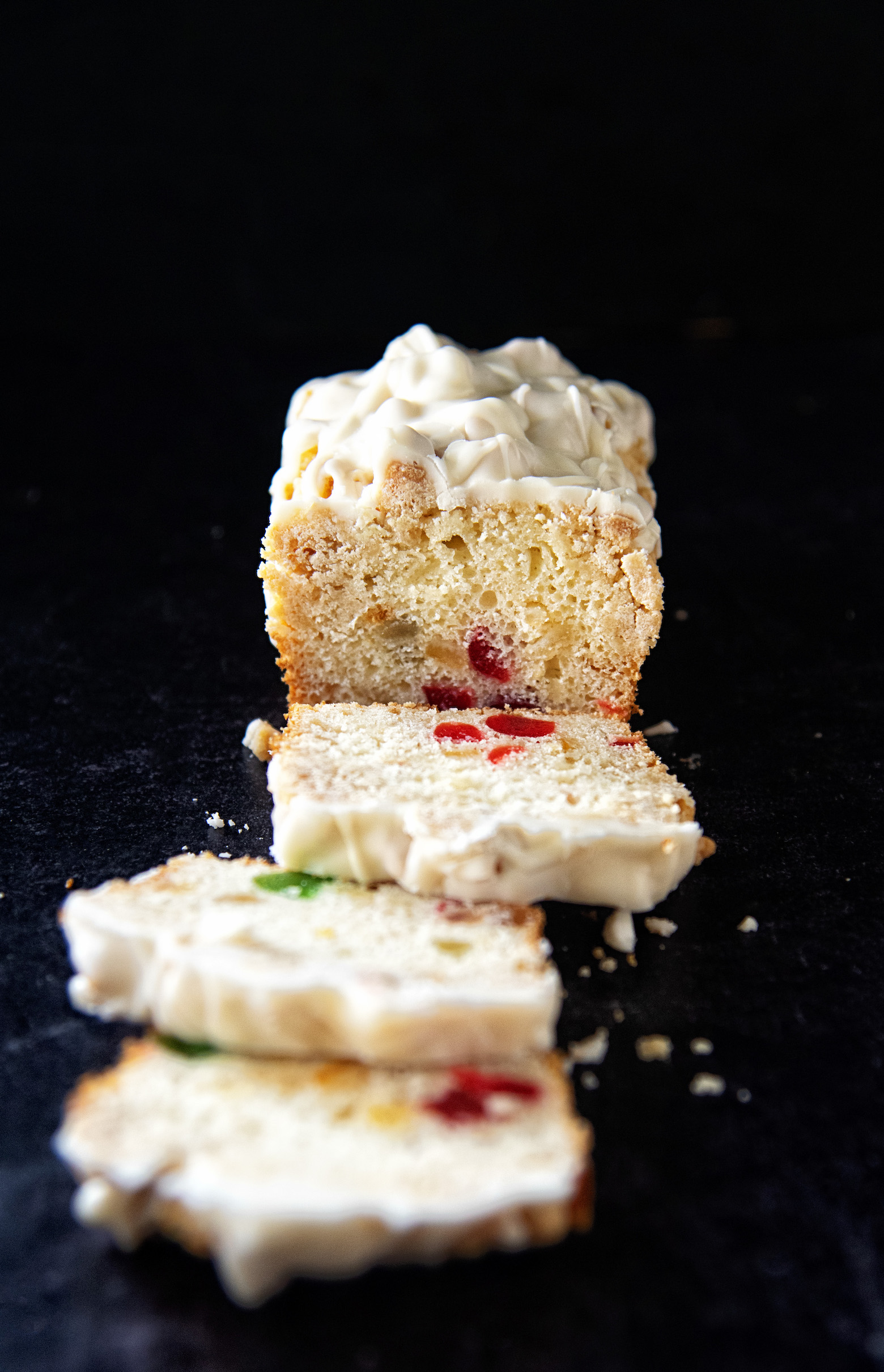 I'm happy (well not happy because I had to go get a new oven) that we did find one that we were able to take home and bake in last night.
It's not a dual oven which will take some getting used to is I actually used both my ovens often.
I just made box cake cupcakes.
Whenever I think my oven is acting up I use boxed cake because it gets consistent results.
It passed that test.
Right now it has a cheesecake in it and I have my fingers crossed.
I guess I will find out soon enough if it bakes well.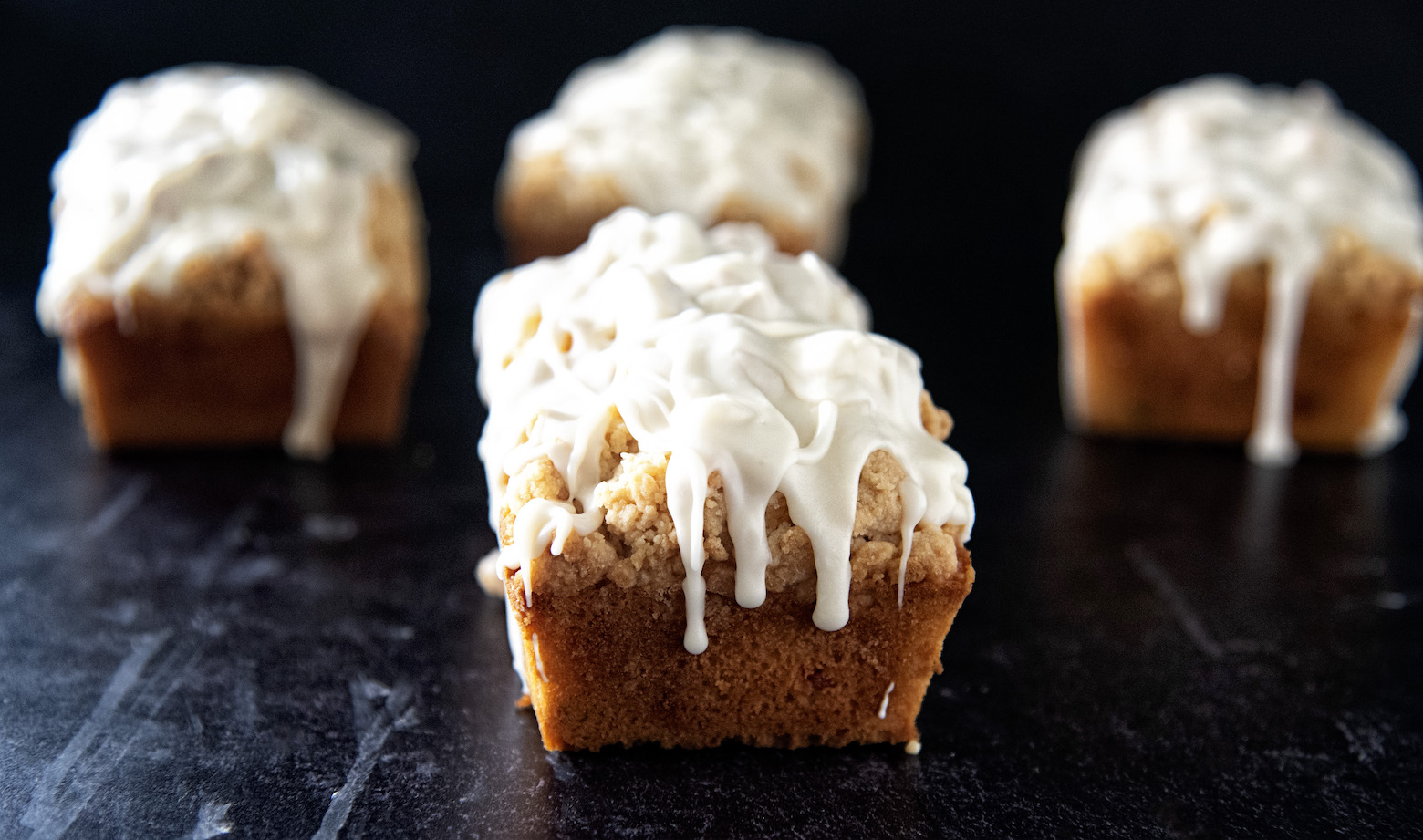 This Bourbon Fruitcake Crumb Cake is a simple vanilla cake with a splash of bourbon in the batter.
Then it has mixed candied fruit folded in.
You can use whatever variety you like.
I used the two different colored cherries, pineapple, citron, lemon, and orange.
A vanilla crumb top and a very boozy bourbon glaze finish this fruitcake off.
P.S. It's a great day to buy my cookbook Holy Sweet!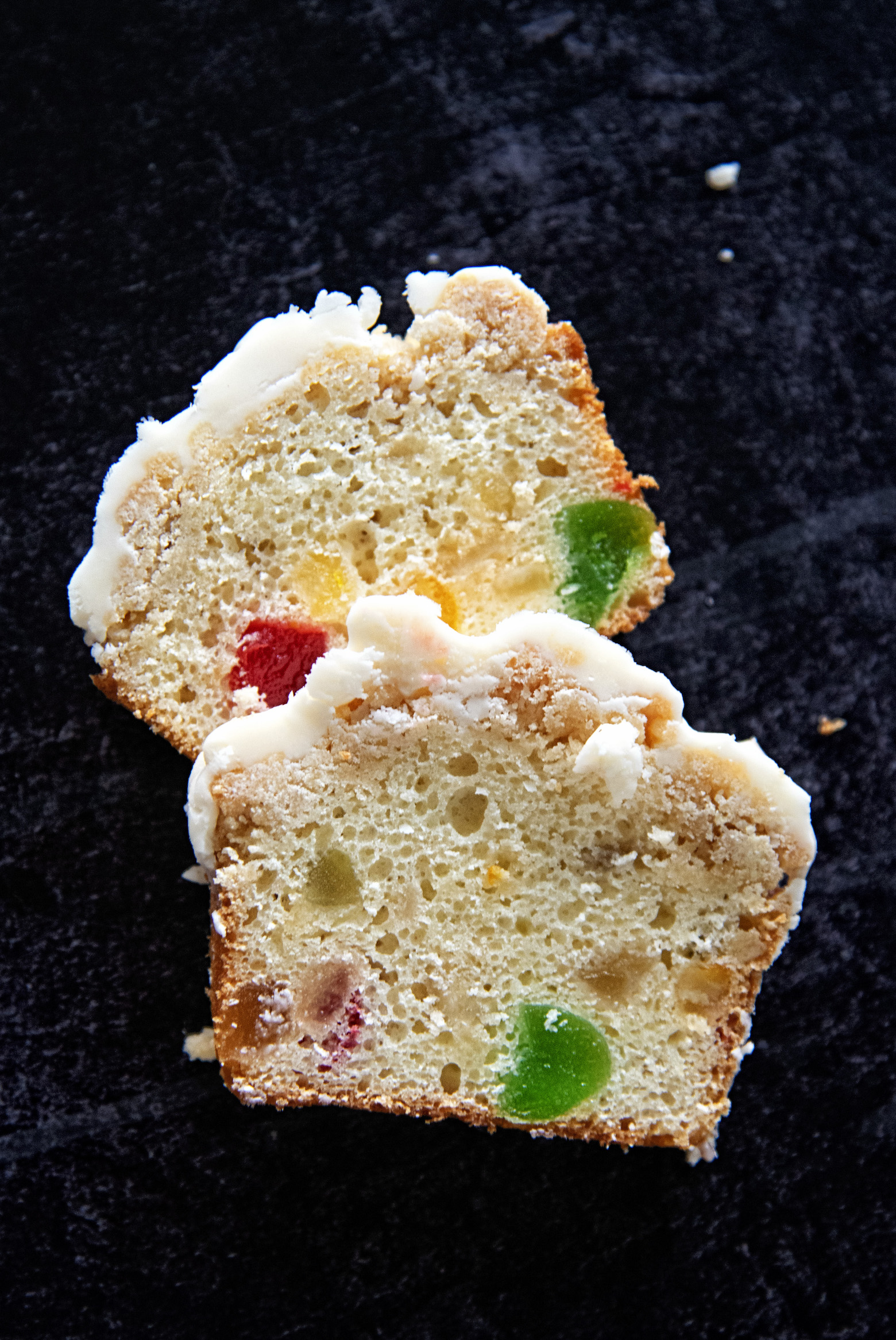 Want more Fruitcake Recipes?
Drunken Orange Cranberry Fruitcake
Orange Glazed Bourbon Soaked Fruitcake Cupcakes
Bourbon Soaked Eggnog Fruitcake Pound Cake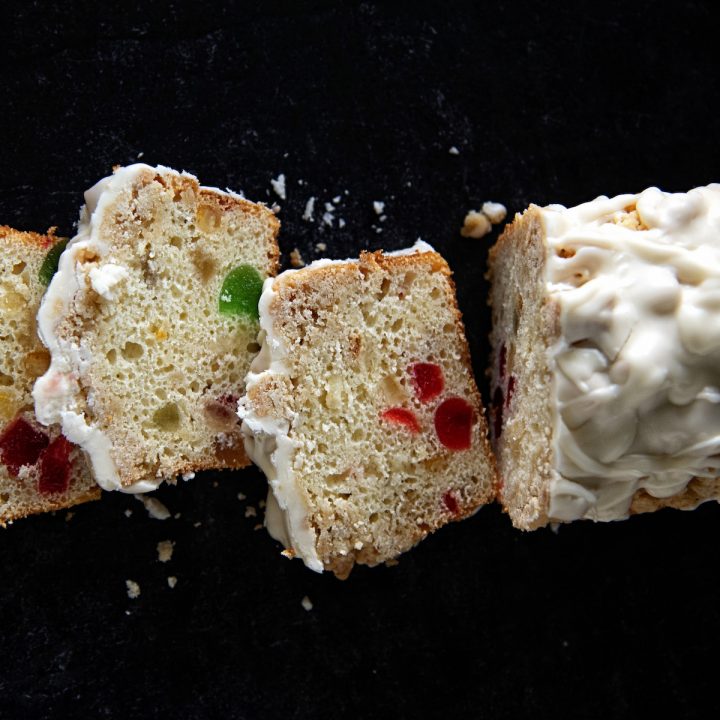 Bourbon Fruitcake Crumb Cake
Ingredients
Crumb Topping:
2/3 cup granulated sugar
¼ tsp. salt
8 TBSP unsalted butter, melted and then slightly cooled
1 ¾ cup cake flour
1 tsp. vanilla bean paste (I used Rodelle)
Cake:
½ cup unsalted butter, at room temperature
1 cup granulated sugar
2 large eggs
1 cup whole milk
1 cup sour cream
1 tsp. vanilla extract
1 TBSP bourbon
2 ½ cups cake flour
2 tsp. baking powder
½ tsp. baking soda
Pinch of salt
1 1/2 cups mixed candied fruit diced and tossed in 1 TBSP flour
Icing:
3 TBSP milk
6 TBSP Bourbon
3 TBSP melted butter
2 1/4 cups powdered sugar
Instructions
For the Crumb Topping:
In a medium sized bowl, sugar, and salt, and stir until combined.
Add the melted butter, vanilla bean paste, and then cake flour and mix (hands work best for this). Set aside.
For the Cake:
Preheat oven to 325F.
Spray baking spray 6 mini loaf pans. Set aside.
Using a stand mixer with a paddle attachment cream together the butter and sugar until light and fluffy, about 3 minutes.
In a separate bowl add the milk, sour cream, vanilla extract, bourbon, and eggs and whisk until fully combined.
In another bowl add flour, baking powder, baking soda, and salt.
Alternate adding dry ingredients, then wet, then dry, then wet, and finish with dry.
Mix on low until fully combined. Be careful to not over-mix.
Fold in the flour coated candied fruit.
Using a regular size ice cream scoop evenly distribute the batter among the four pans.
Evenly divide crumb topping (as evenly as you can) into pieces over top of the batter.
Bake for 30-35 minutes depending on your oven.
Check by using a wooden skewer or knife to see if it comes out clean.
Let cool on wire rack.
While cooling make glaze.
For the Glaze:
Simply whisk together the milk, bourbon, butter, and powdered sugar in a medium bowl.
When cakes are cool pour glaze over the top of them.
Top with sprinkles if desired.
Let glaze firm up.