This Strawberry Lemonade Crumb Cake has lemon flavored cake with freeze dried strawberries topped with crumbs covered in lemonade glaze.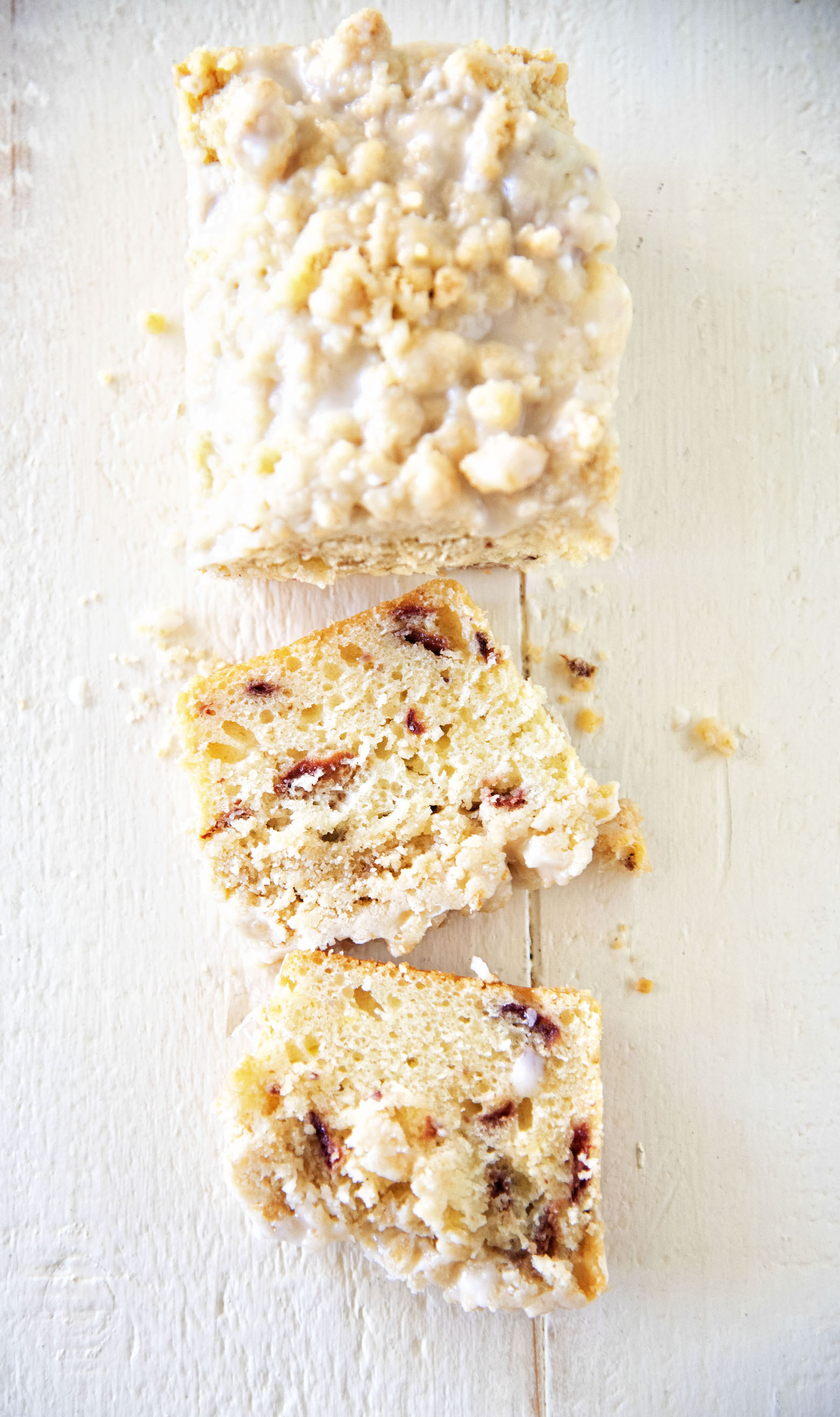 We are at that weird time of year where I live.
Where the weather can't seem to make up its mind.
You start in the morning and it's in the low 40's or even high 30's only to shoot up into the mid 70's or higher.
So you start your day off wanting to have the heater one and walking around in sweats.
Then slowly peel off clothing all day until you are a little sweaty and having to turn the air conditioning on.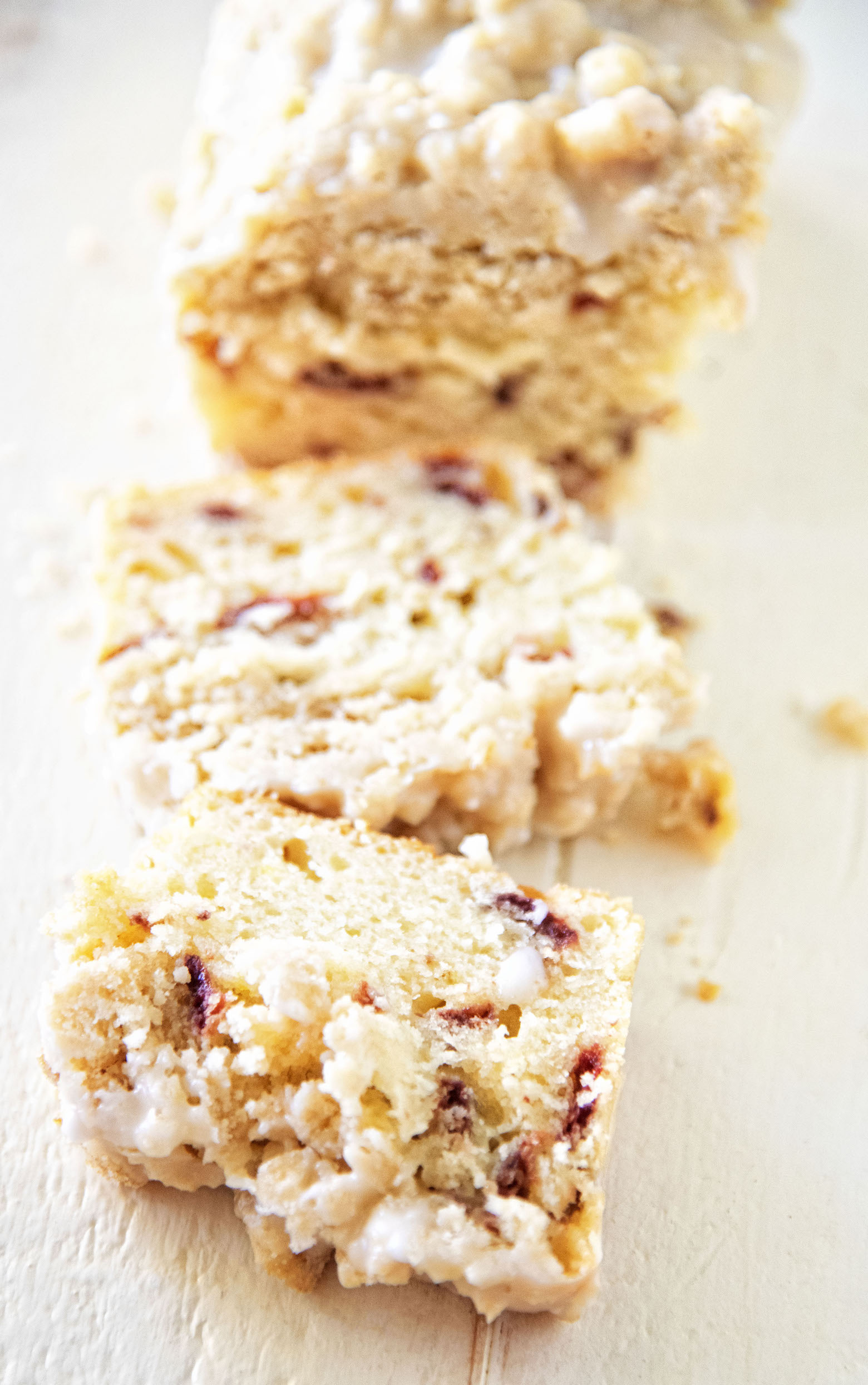 Now I know what you are saying…air conditioning when it's in the 70's?
Yes.
This house gets warm.
And the type of dogs we have have short noses and overheat really easily.
So yes, the ac goes on. 🙂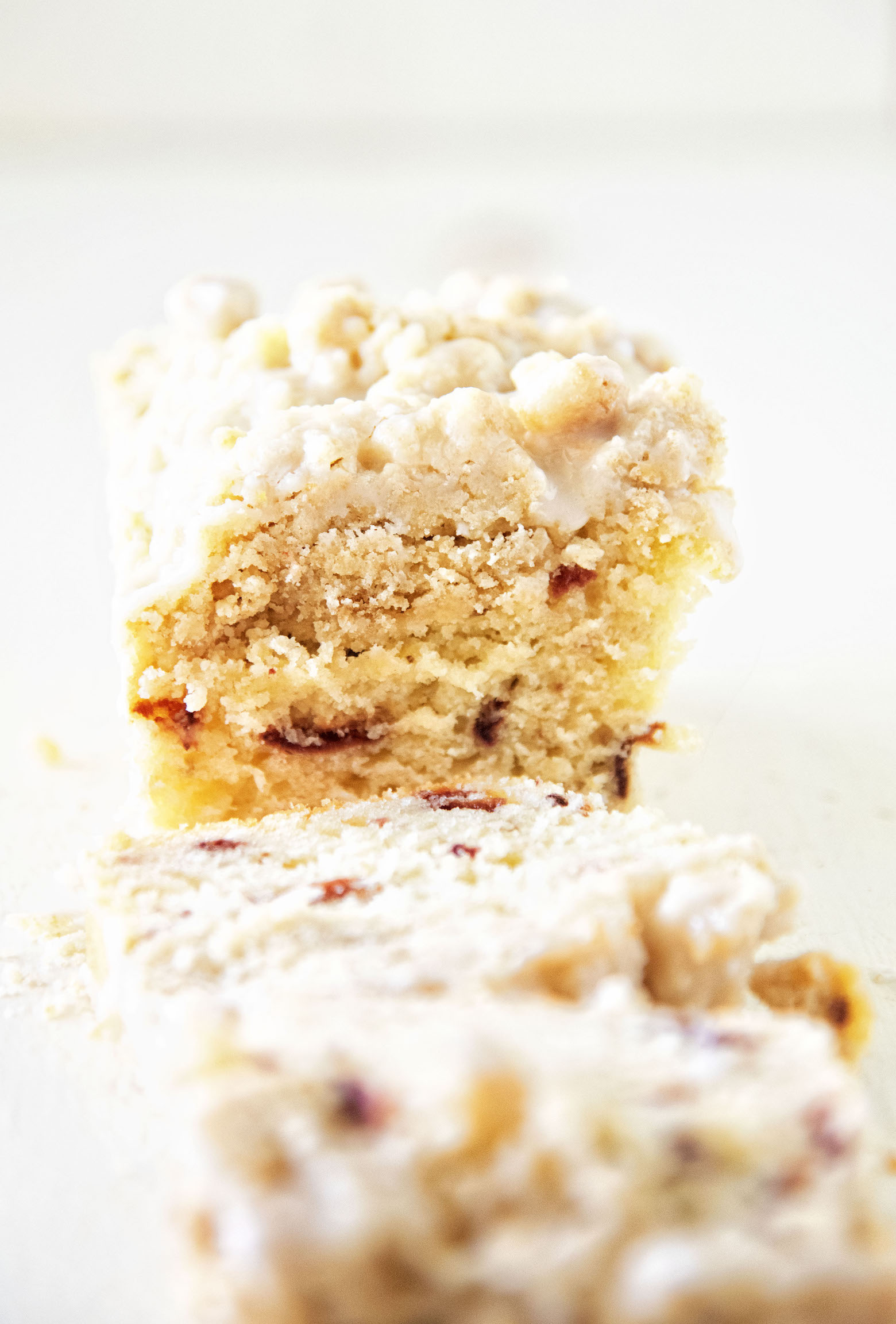 Rounding out the strawberry lemonade recipes is this Strawberry Lemonade Crumb Cake.
I love crumb cake so very much.
But I almost always make it glazed these days.
Why glaze a crumb cake?
I get asked that a lot.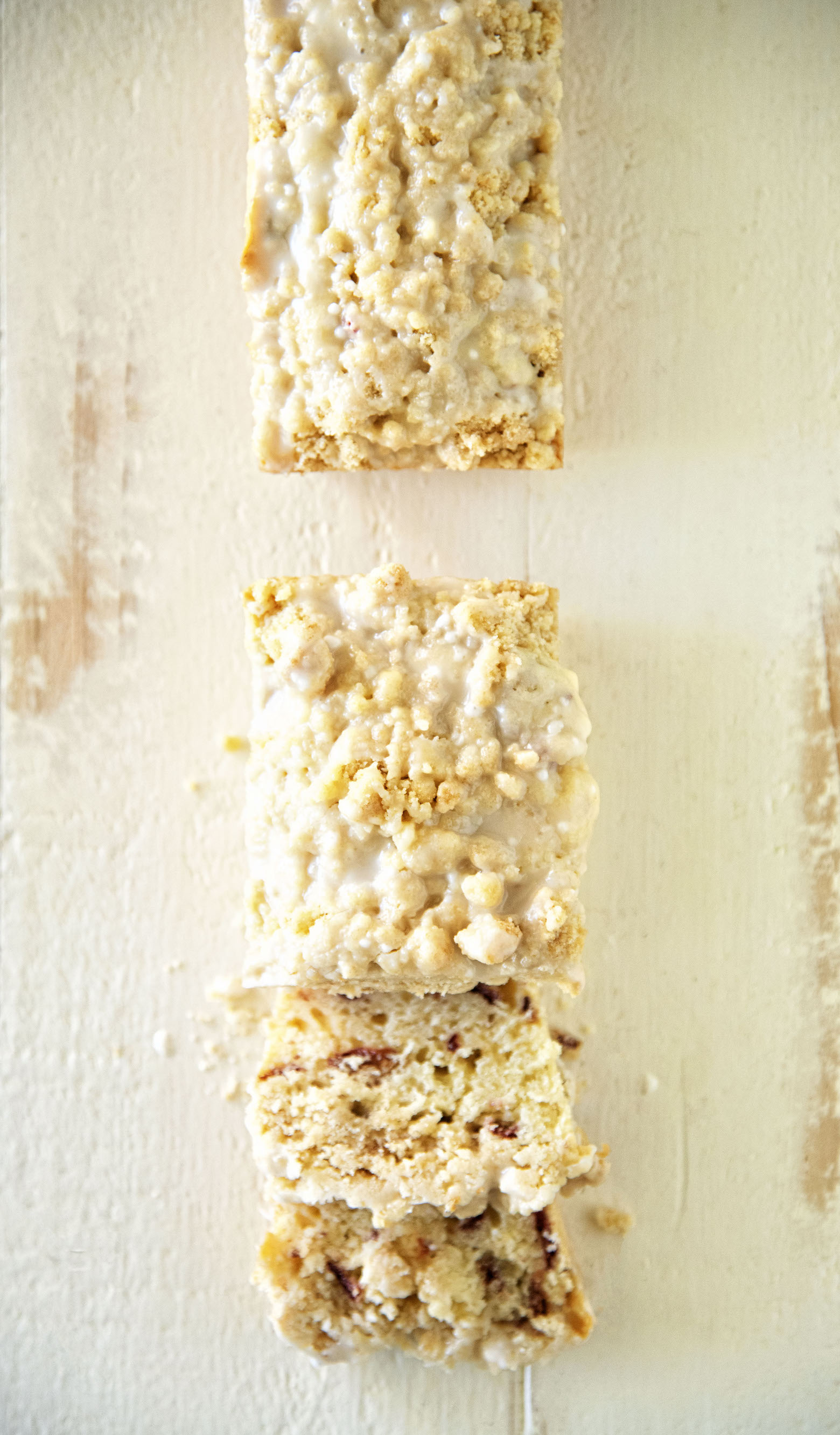 It's quite simple.
For flavor obviously.
And because it keeps the crumb on the cake.
Nothing I hate more than when all my crumb falls off my cake.
This is a simple lemon crumb cake with freeze dried strawberries.
Drizzle with a lemonade glaze.
P.S. It's a great day to buy my cookbook Holy Sweet!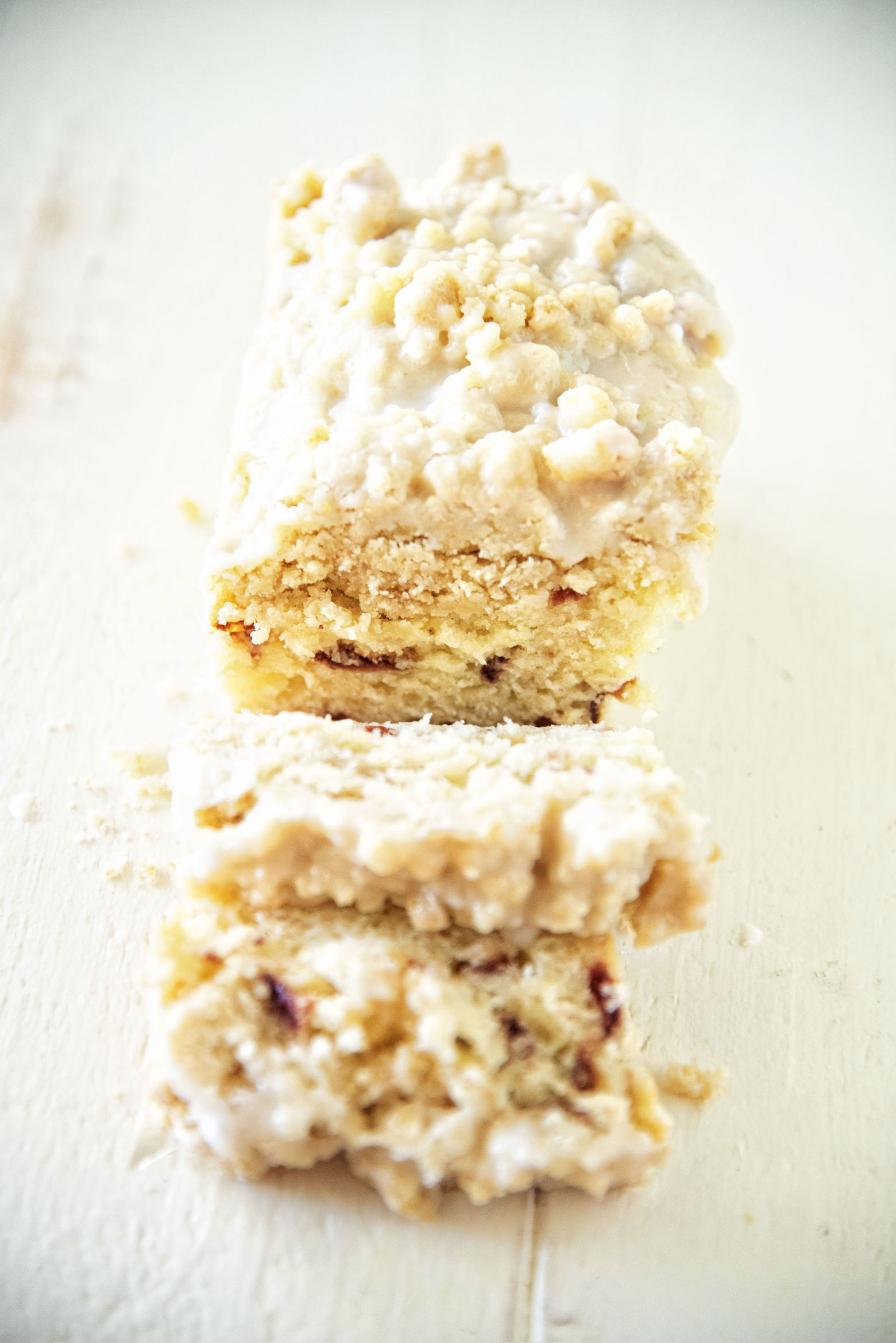 Want More Crumb Topped Recipes?
Creamsicle Crumb Topped Cinnamon Rolls
Cranberry White Chocolate Chip Crumb Topped Muffins
Oatmeal Crumble Caramel Apple Pie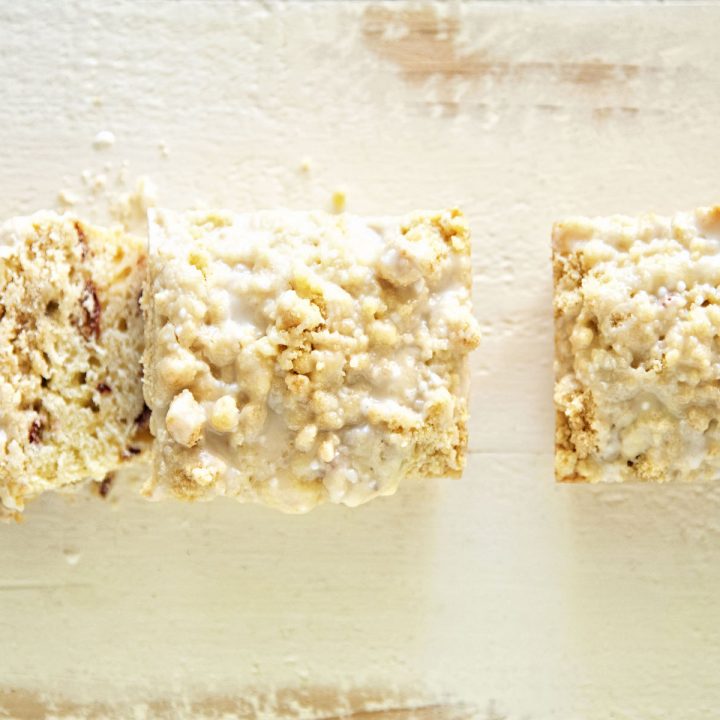 Strawberry Lemonade Crumb Cake
Ingredients
Crumb Topping:
1/3 cup granulated sugar
1/3 cup brown sugar, packed
¼ tsp. salt
8 TBSP unsalted butter, melted and then slightly cooled
1 ¾ cup cake flour
Cake:
½ cup unsalted butter, at room temperature
1 cup granulated sugar
2 large eggs
zest of one lemon
1 cup buttermilk
1 cup sour cream
1 TBSP lemon juice
2 ½ cups cake flour
2 tsp. baking powder
½ tsp. baking soda
Pinch of salt
Icing:
3/4 cup lemonade
4 TBSP melted butter
3 cups powdered sugar
Instructions
For the Crumb Topping:
In a medium sized bowl, put sugars, and salt, and stir until combined.
Add the melted butter and then cake flour and mix (hands work best for this). Set aside.
For the Cake:
Preheat oven to 325F.
Spray baking spray 4 mini loaf pans and set them aside.
In a stand mixer with a paddle attachment cream together the butter and sugar until light and fluffy, about 3 minutes.
In a separate bowl add the buttermilk, sour cream, lemon juice, lemon zest, and eggs and whisk until fully combined.
In another bowl add flour, baking powder, baking soda, and salt.
Alternate adding dry ingredients, then wet, then dry, then wet, and finish with dry.
Mix on low until fully combined. Be careful to not over-mix.
Using a regular size ice cream scoop, scoop three scoops per pan. Even out with a spatula.
Evenly divide crumb topping (as evenly as you can) into pieces over top of the batter.
Bake for 30-35 minutes depending on your oven.
Check by using a wooden skewer or knife to see if it comes out clean.
Let cool on wire rack.
While cooling make glaze.
Simply whisk together the lemonade, butter, and powdered sugar in a medium bowl.
When cakes are cool pour glaze over the top of them. Let glaze firm up.