This Peanut Butter "Sweetie" Pie is a peanut butter cookie based pie filled with peanut butter M&M's and chocolate chips.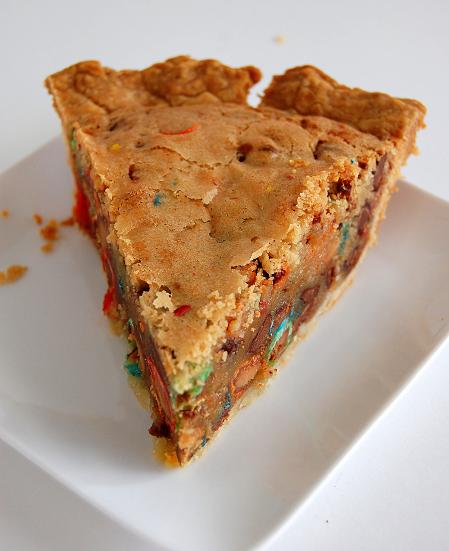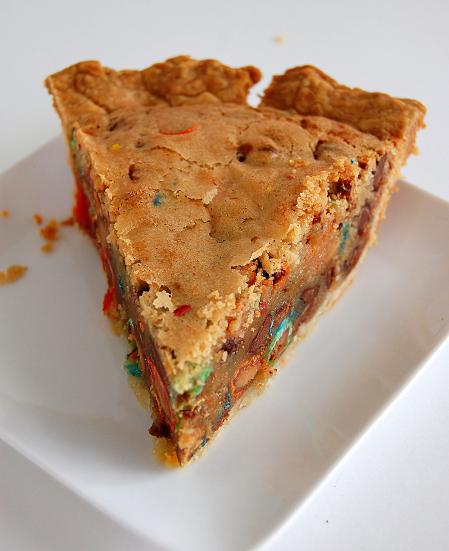 So I ran across a picture the other day.
It's of a cactus staring at a balloon with hearts between them.
Below were the words Impossible Love.
First off I don't think it's impossible for a cactus to love a balloon, if we get passed the whole inanimate object thing.
They can love each other, they just can't touch.
Well, they can touch, but that's pretty bad news for the balloon.
And well, if the cactus is crappy in bed, then the balloon just went and died for nothing. 😉
Odd as it may seem that photo got me to thinking about my friend B who is having a bit of trouble in the love department as of late.
See, she is in love.
Awesome.
That person is in love with her.
Awesome.
Except that everyone feels the need to chime in and judge them.
There were a handful of us (yes, me) who did not care they were together.
When the gossip mongrels came a knocking to tell me the news, which I already knew because I was friends with her, to tell me that she was dating an older man.
A much older (yes, she is more than legal)…they were disappointed in my response.
They wanted the horror stricken look.
The judgment finger and the I can't believe it.
But what they got was, "I know, they are so cute together".
And they are.
Her parents want them broken up.
Why?
Because of a number.
I can assure you that though I may be 37, I have the maturity of a 12 year old.
And sadly usually a 12 year old boy. 🙂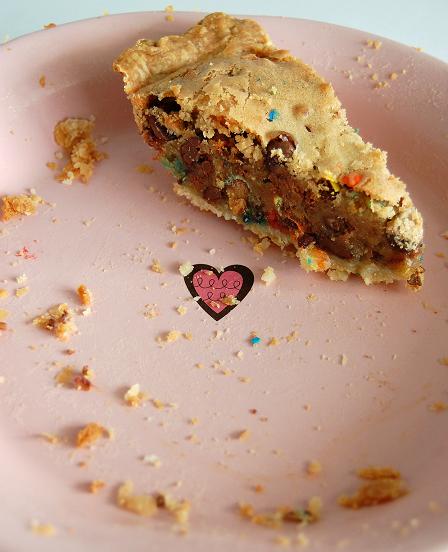 Love is hard enough sometimes, you don't need people chiming in on who you should love.
How you should love.
When you should love.
There is not enough love in the world, so when you or someone else finds it, support it people.
Don't judge it. (removes self from soapbox).
If it's not bad enough she gets bagged on for her heart choices, but the rumor is that because B and I are friends who play hockey we therefore must also be lesbian lovers.
Which technically if it were true we would be bisexual…just saying.
Yes, there are many women who are lesbian and who play hockey.
There are many who are not.
Either way it doesn't matter.
But apparently because we are friends and can stand around and laugh together, we must  BE together.
So as jokes to this we have a pet name for each other…love muffin.
Some people are not fans of the pet names.
I am.
I find them endearing.
Or maybe because they are usually always sugar related.
Honey.
Sweetie.
Sweetie Pie (hence today's dessert).
Honey Bun.
Love Muffin.
Love Nugget.
Sugar Lips.
Stud Muffin.
Lots of food. 🙂
Personally I think I am more of a Cuddle Bunny than any of the sweet based ones.
Since most people don't think of me as sweet.
And, well, Sarcastic Bitch isn't really all that endearing. 😀
So in honour of pet names, I made a Peanut Butter "Sweetie" Pie.
This one is basically a chocolate chip cookie baked into a pie.
Except I used half chocolate chips and half Peanut Butter M&M's.
You can use whatever pie crust you want.
You can even use a store bought one…I wont judge. 🙂
This is about as simple as you can get.
You could throw in just about anything you wanted in this would be my guess and it would be tasty.
Well, almost anything.
Sweet. Simple.
The way love should be.
Make one for your Sweetie Pie today.
P.S. It's a great day to buy my cookbook Holy Sweet!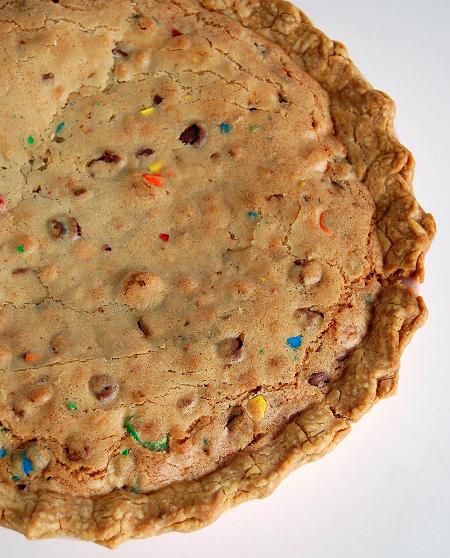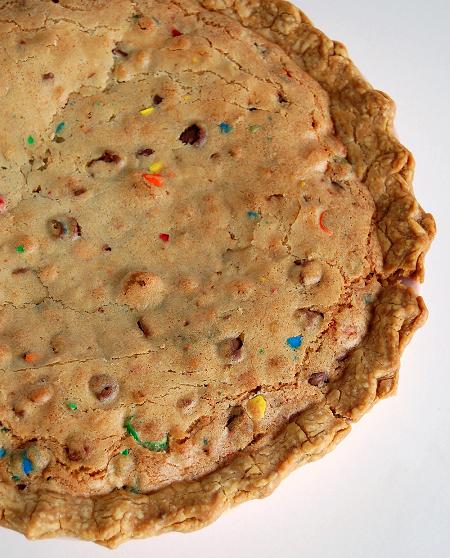 Want More Pie Recipes?
Cinnamon Toast Crunch Apple Slice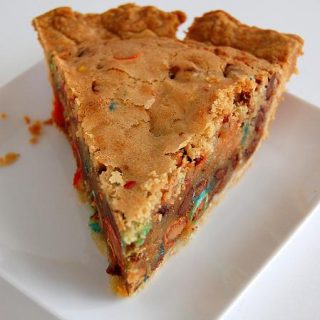 Peanut Butter "Sweetie" Pie
Ingredients
1 recipe pie crust (that will fit one 9-inch pie)
1 cup granulated Sugar
¾ cup all-purpose flour
3 TBSP peanut butter (creamy or chunky)
½ cup unsalted butter, melted
2 large eggs, beaten
1 tsp vanilla extract
1 cup Peanut Butter M&M's
2/3 cup milk chocolate morsels
Instructions
Preheat oven to 350°.
On a lightly floured surface, roll pie crust to ¼ -inch thickness.
Transfer and press into a 9-inch pie plate.
Crimp edge, if desired.
In a medium bowl, combine sugar, flour, peanut butter, and butter, mixing well.
Add eggs, vanilla, Peanut Butter M&M's, and chocolate morsels.
Transfer filling to prepared pie crust.
Bake until firm in the middle, approximately 45 minutes.