These Powdered Jelly Donut Cheesecake Bites have a mini powdered donut bottom filled with vanilla cheesecake swirled with strawberry jelly.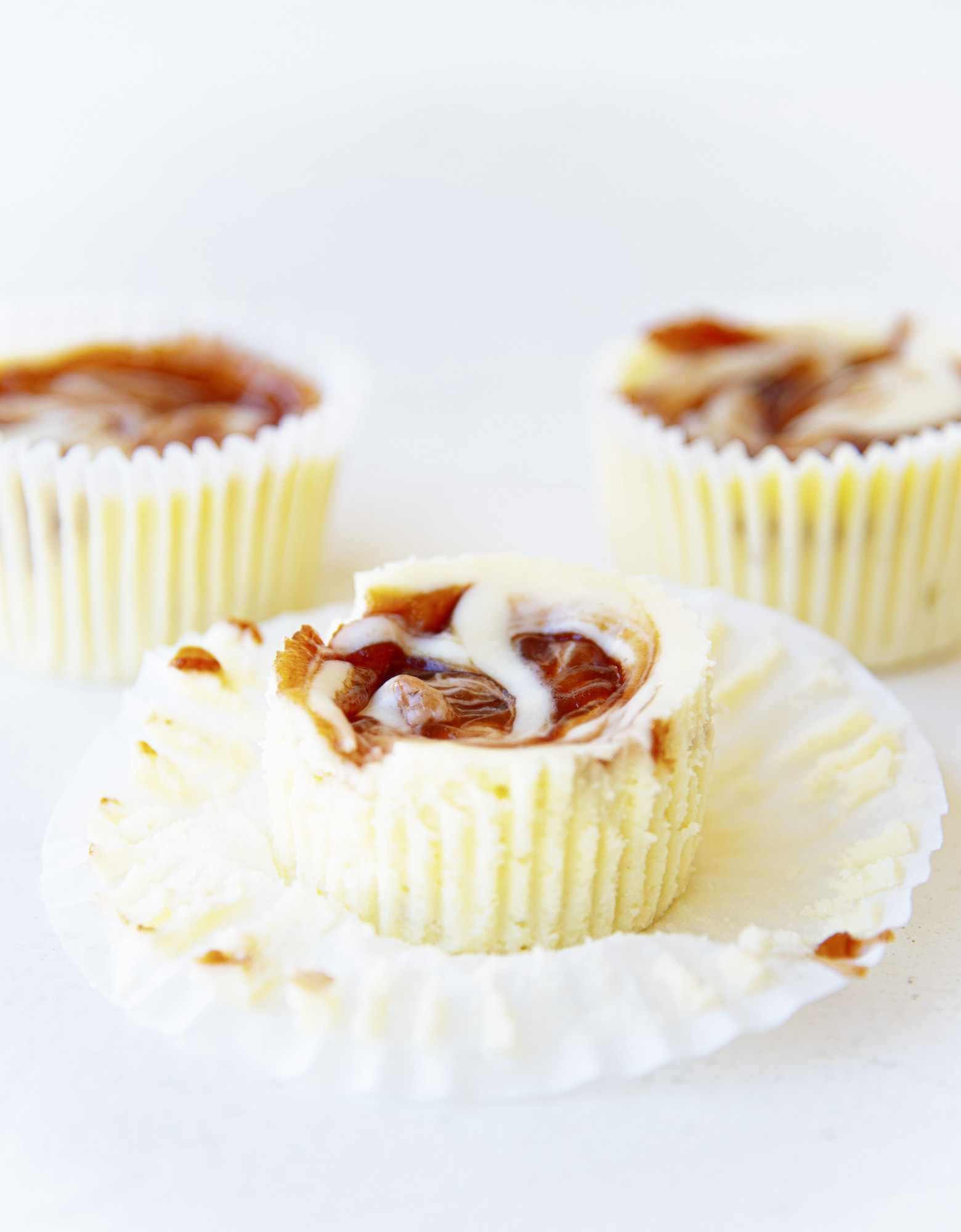 These Powdered Jelly Donut Cheesecake Bites combine my love of cheesecake and donuts.
In full confession mode, while I love jelly filled powdered donuts, I don't at the same time.
Confused?
I just don't like how much they fill them with jelly.
Love the flavor combo but dislike the jelly running down my hands and dropping on to the ground below.
Which is why as a kid I would microwave strawberry or raspberry jam and make it a dip.
A dip for Hostess Powdered Sugar Donettes.
If you have never done that and you enjoy powdered sugar Donettes, I highly suggest it.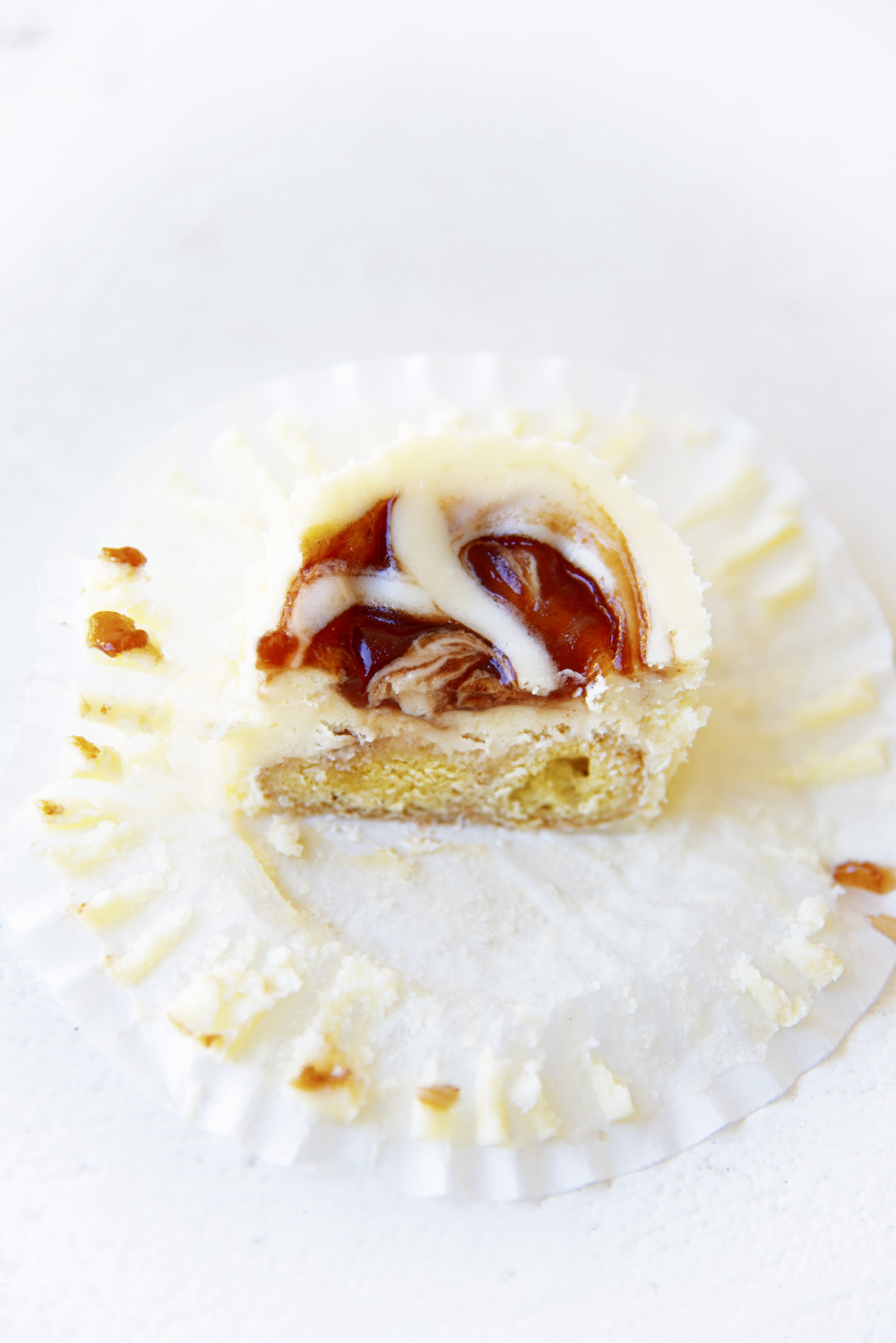 National Donut Day was last week and while we were out getting donuts I really did want a jelly filled one.
But the ones at the store just looked so overfilled.
My nostalgia kicked in and instead I grabbed two bags of powdered sugar Donettes.
Why two bags?
Because I decided I would try and see if they would hold up during baking as the crust of a cheesecake bite.
And if they didn't I wanted to make sure I had extras to eat just in case. 🙂
Obviously, it did work out.
So I got cheesecake and extra Donettes.
A win-win for me.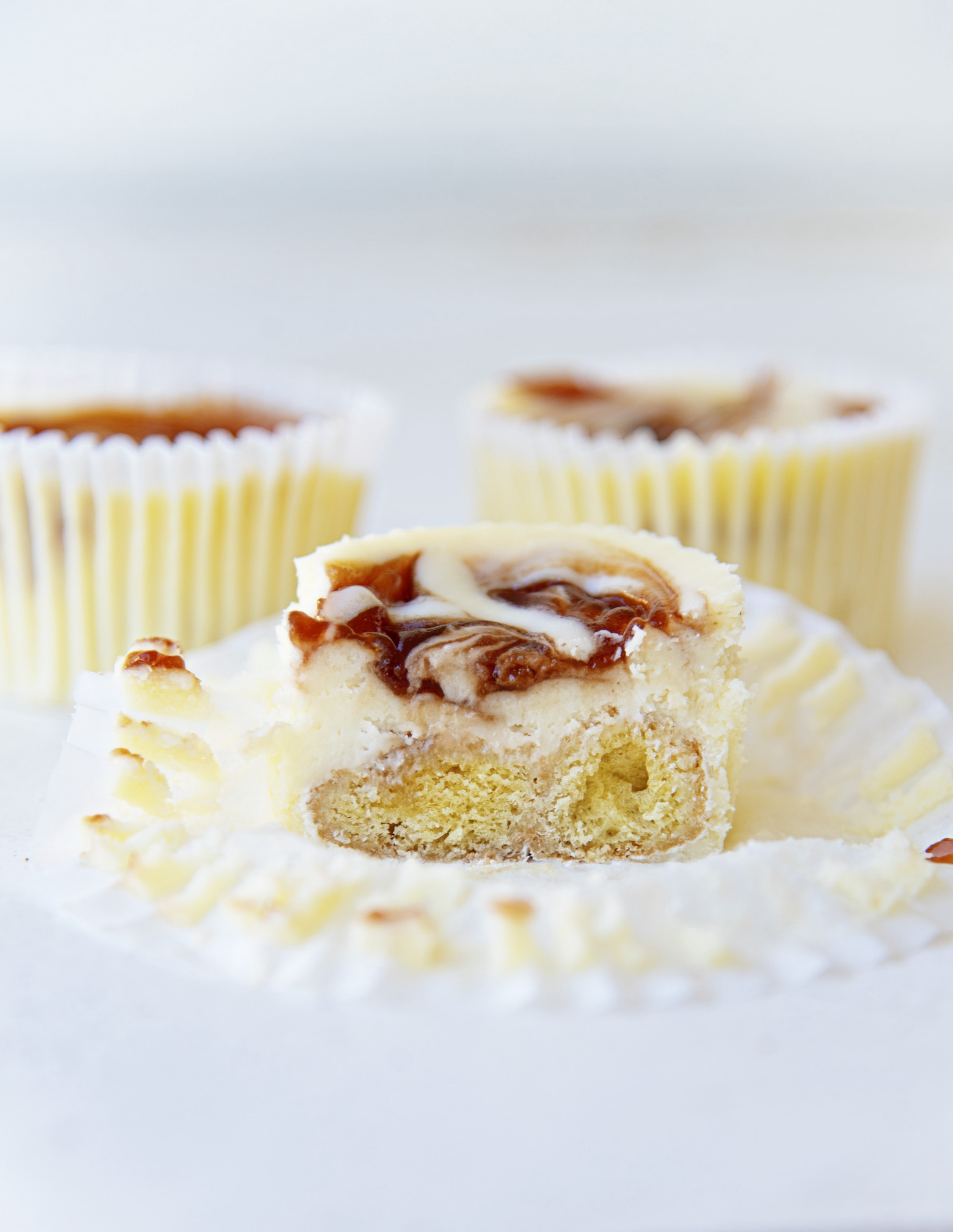 These are great during summertime because you get cheesecake that doesn't require a lot of baking time.
So you are not heating up the house for too long.
Plus, they only bake at 275F so you really are hardly heating anything up.
Another bonus of cheesecake bites is that you don't have to bake them in a water bath.
Since the Donettes are a little thicker than the usual crust I use for cheesecake bites, you actually get a few more.
My cheesecake bite recipes usually make 12 bites.
But I got 14 instead this time.
While extra cheesecake is fun, you will have to use two pans instead of one.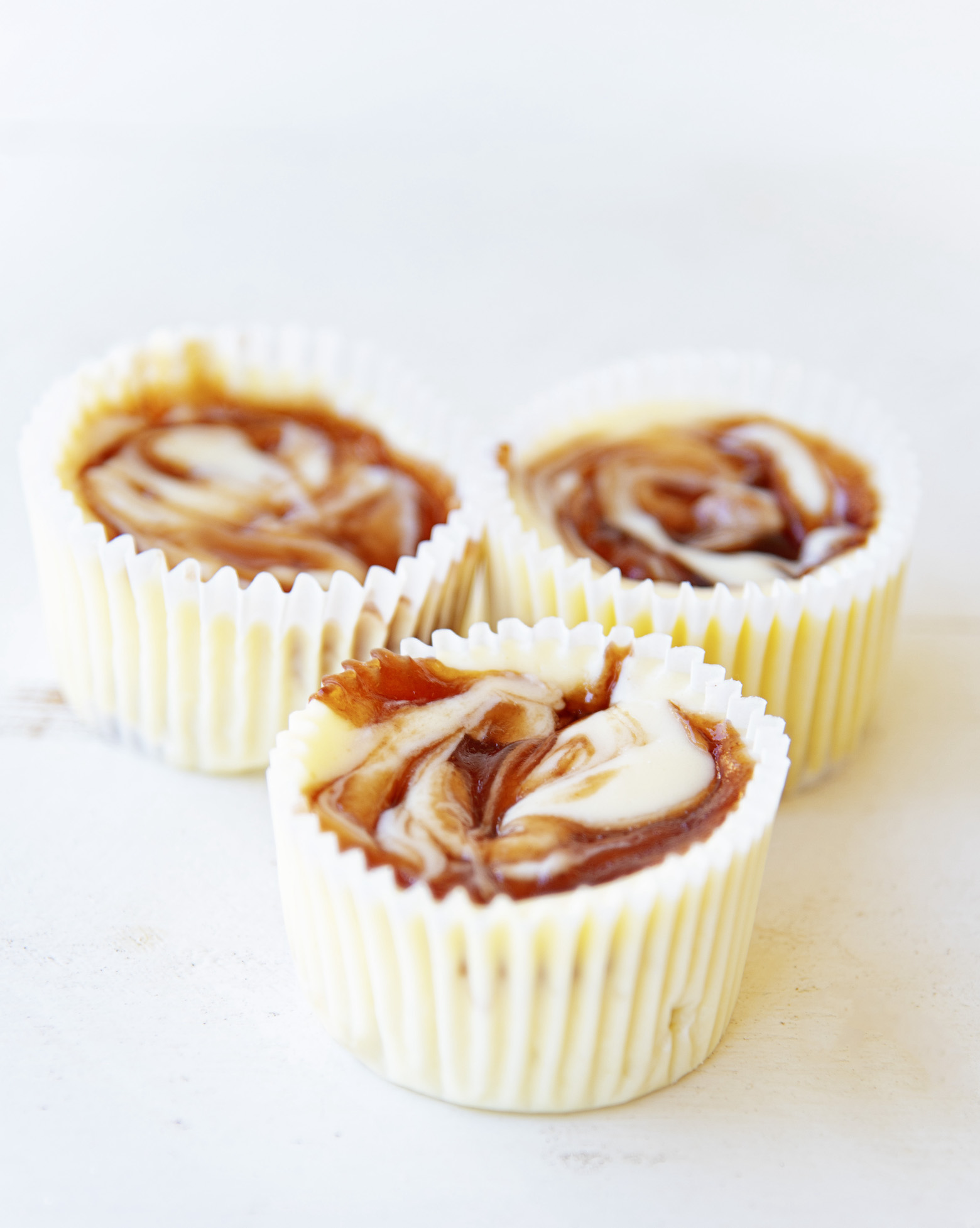 I used seedless strawberry jam for my jelly.
You can use whatever is your favorite flavor of jam.
But I would go with seedless.
And I would go for a smooth jam if not using a jelly.
You swirl the jelly on top of the cheesecakes.
And when they have chunks of fruit in them they just don't swirl right.
P.S. It's a great day to buy my cookbook Holy Sweet!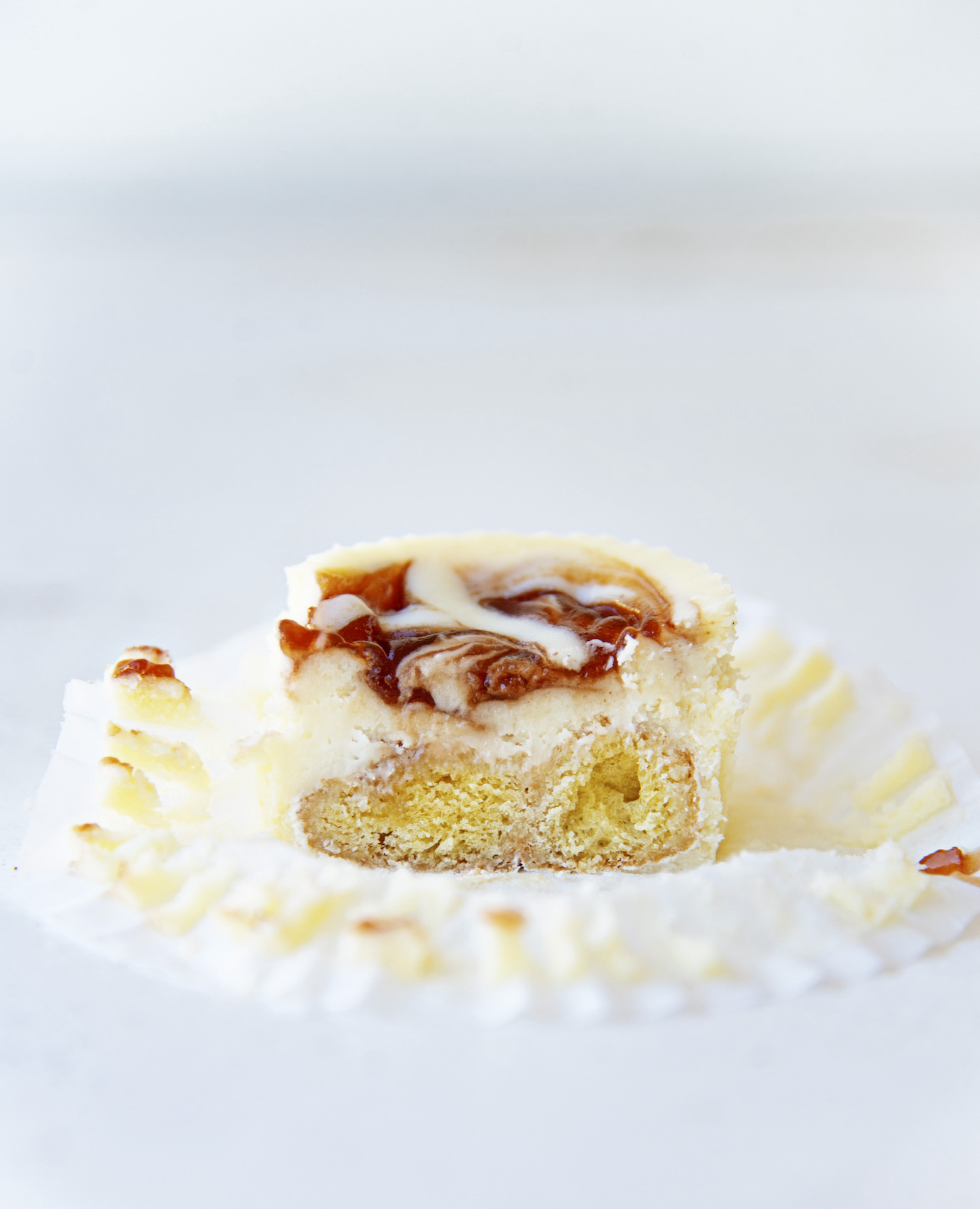 Want More Cheesecake Bites?
Sugar Cookie Dough Cheesecake Cups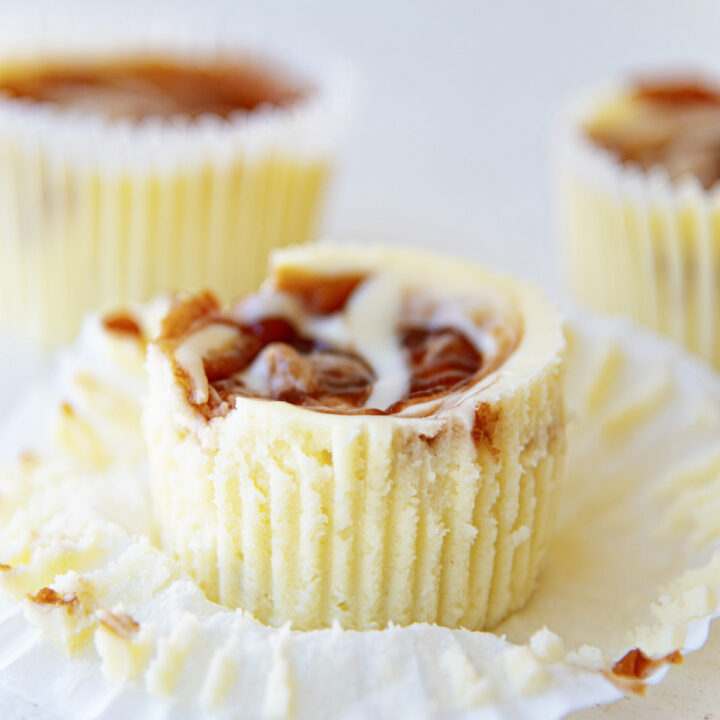 Powdered Jelly Donut Cheesecake Bites
Ingredients
14 Powdered Sugar Mini Donuts (I used Hostess Donettes)
16 ounces cream cheese, at room temperature
1 cup granulated sugar
1 tsp vanilla extract
1 ½ TBSP flour
2 eggs
1/2 cup sour cream
pinch of salt
14 TBSP seedless strawberry jam (or jam of your choice)
Instructions
For the Cheesecakes:
Preheat oven to 275 degrees.
Line standard muffin tins with paper liners.
Place 1 whole mini powdered donut in the bottom of each lined cup.
With an electric mixer or using a stand mixer beat the cream cheese until smooth, scraping down sides of bowl as needed.
Gradually add in the granulated sugar, one TBSP at a time, and beat until combined.
Beat in vanilla.
Beat in the flour until combined.
Add eggs, a bit at a time, beating to combine and scraping down the sides of the bowl as needed.
Beat in sour cream and salt.
Divide batter evenly among cookie-lined cups, filling each almost to the top.
Place the jam into a microwave safe bowl and heat on high for 40 seconds. Mix until smooth.
Spoon 1 TBSP of jam/jelly per cheesecake bite.
Swirl the jam into the cheesecake with a knife.
Bake, rotating pan halfway through, until filling is set, about 24 minutes.
Transfer to wire racks to cool completely.
Refrigerate at least 4 hours (or up to overnight).
Remove from tins just before serving.