These Cookies and Cream Rice Krispie Treats are made with Cookies and Cream Krispies, Double Stuffed Oreos, and have a thick chocolate glaze.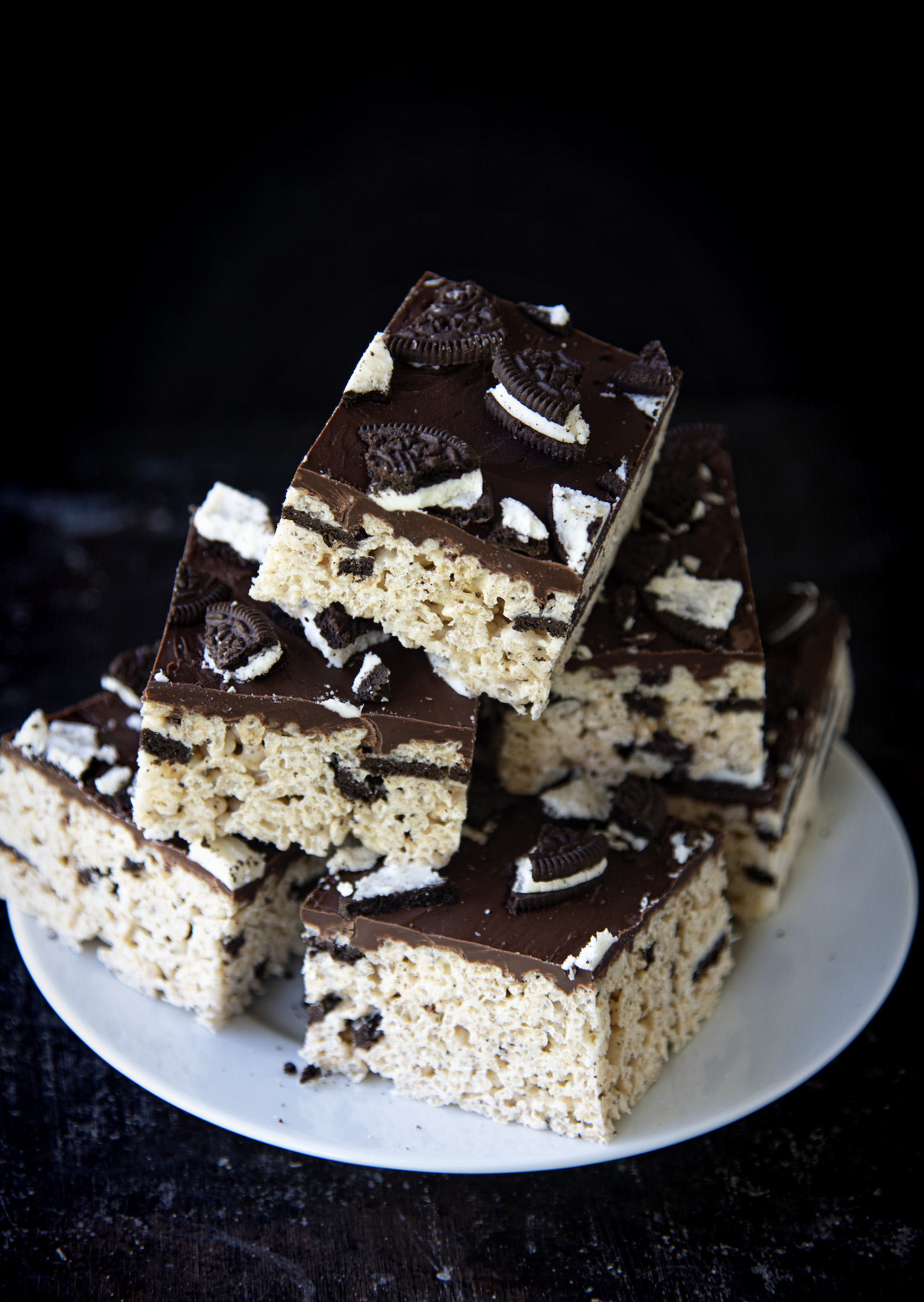 Being married to a food blogger/cookbook author can be hard sometimes.
We make a lot of yummy food and then you don't get to eat it.
Yet.
You have to wait for us to photograph it.
Or, if there are a bunch of items, like cookies, you have to know how to pick out the ugly cookie.
The one your spouse won't want to photograph.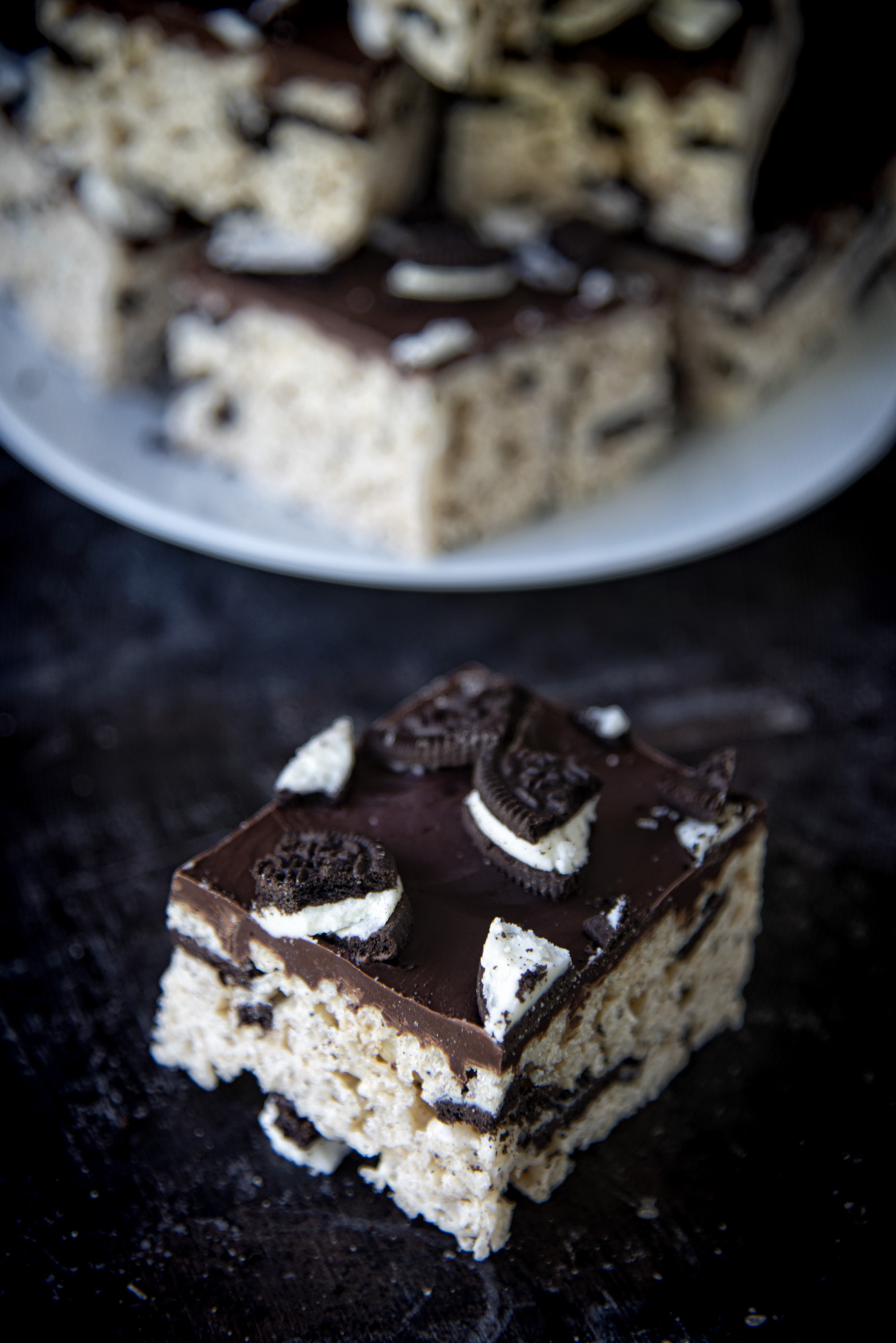 My husband has a hard time with this.
I think he thinks all cookies are beautiful.
And they are.
But some photograph better than others.
So he will usually ask which one I think is ugly. 🙂
He also asks if this has been photographed yet.
When his kids were younger and lived with us I would have colored got stickers to show what was photographed and could be eaten.
And what had not been photographed yet. 😀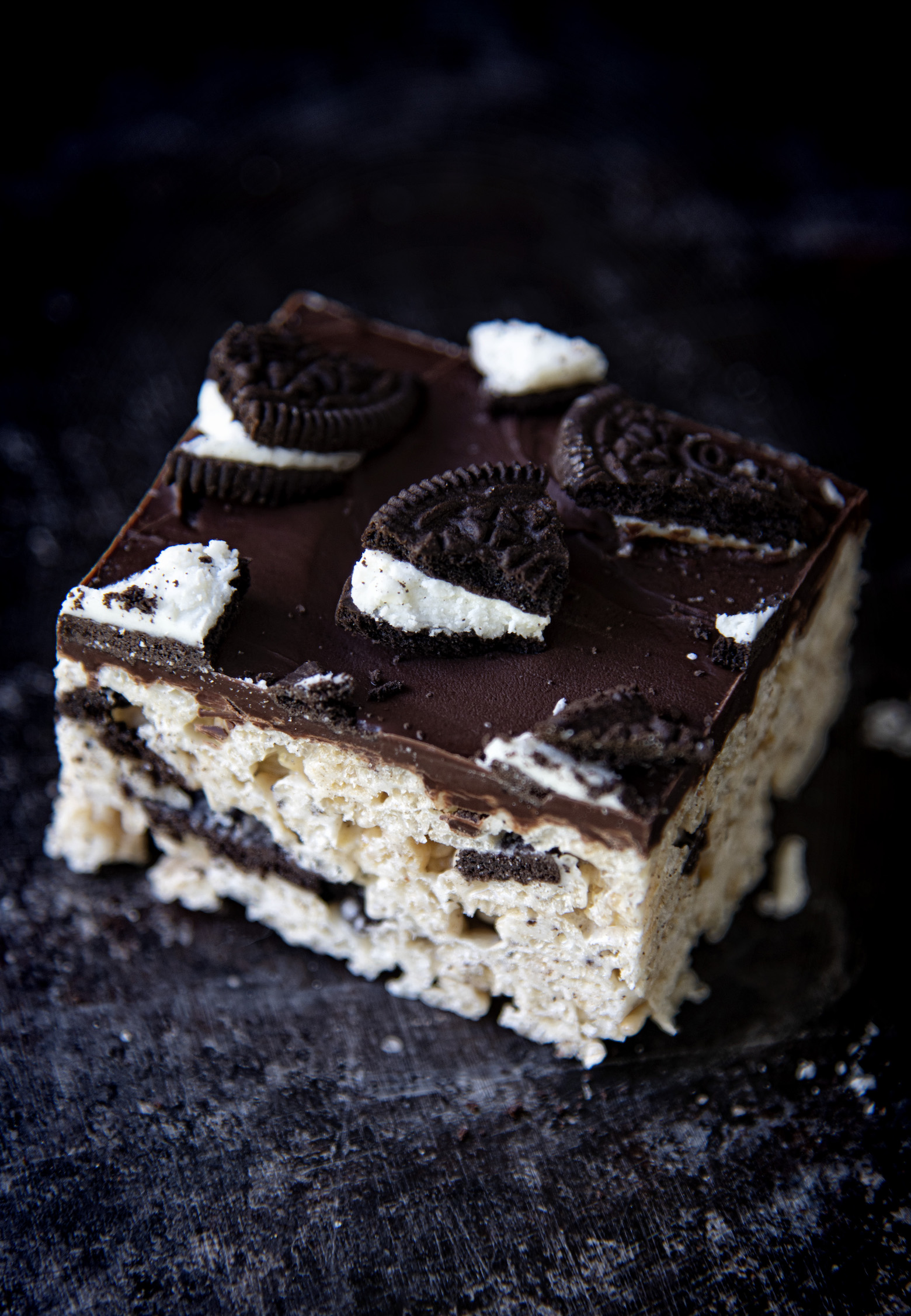 He's also learned over the years to stop at every magazine rack and look for baking magazines.
Especially in the fall and winter.
And extra especially this year since he does all the shopping and I don't get to see.
I am a holiday magazine addict.
The hubby is also good at being on the lookout for new products.
One of those was Cookies and Cream Krispies.
He didn't even bother to text because he knew I would say yes…and obviously I liked them.
Making them into these Cookies and Cream Rice Krispie Treats was exactly what he had in mind when he bought them.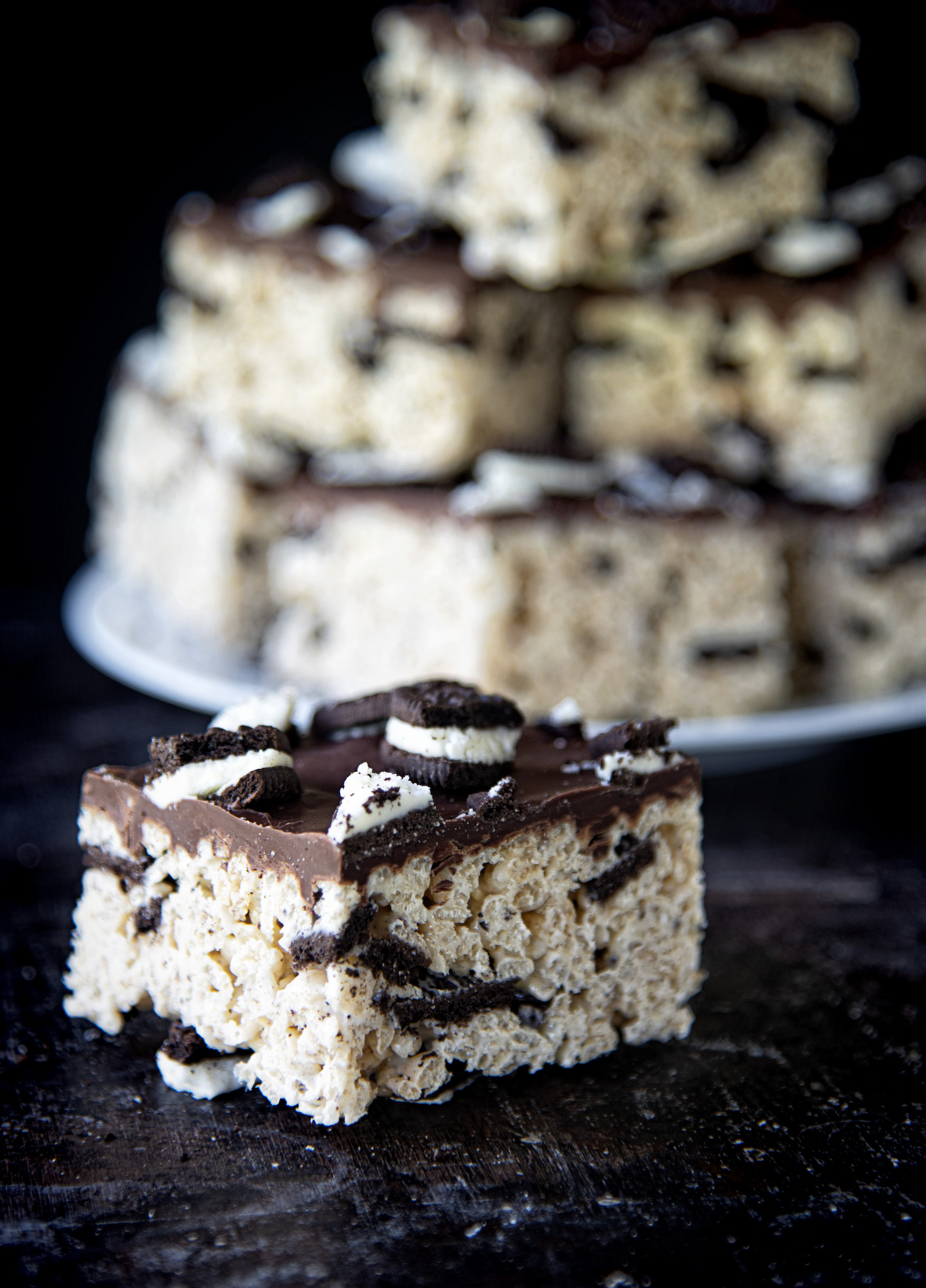 Though I don't think he figured on me taking the extra step of adding a chocolate layer on top.
If you are asking why have butter in them it's because of texture.
Just plain chocolate and they topping would break.
Having the butter in there keeps the top just soft enough to cut nicely but also set up.
I thought about using the Hershey's Cookies and Cream bars but the semisweet cuts some of the sweetness.
Be sure to use Double Stuff…or as I call them regular Oreos as you want that extra filling.
P.S. It's a great day to buy my cookbook.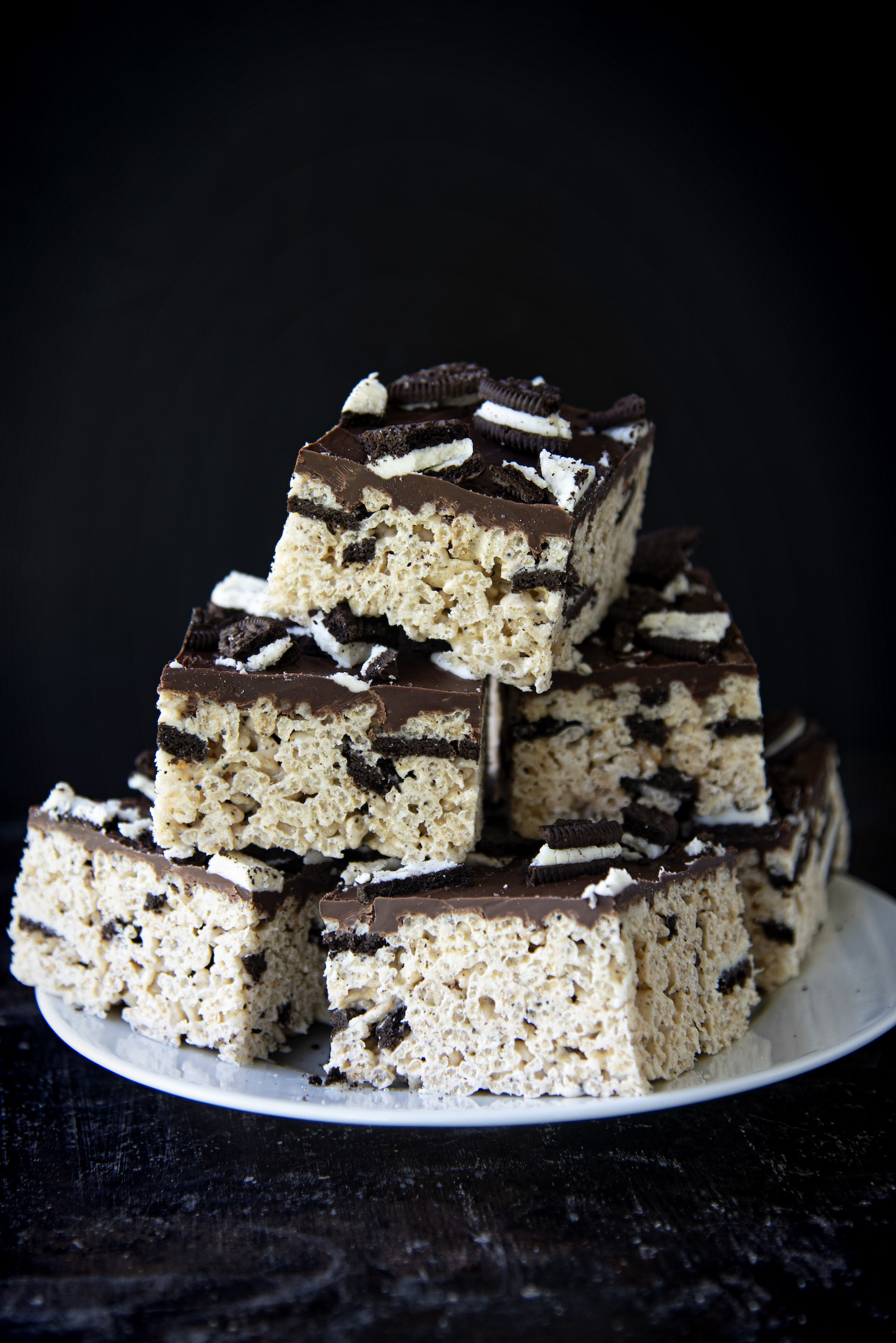 Want More Rice Krispie Recipes?
Vanilla Bean Rice Krispie Treat Cupcakes
Toasted Marshmallow No Bake Cheesecake in Rice Krispie Treat Crust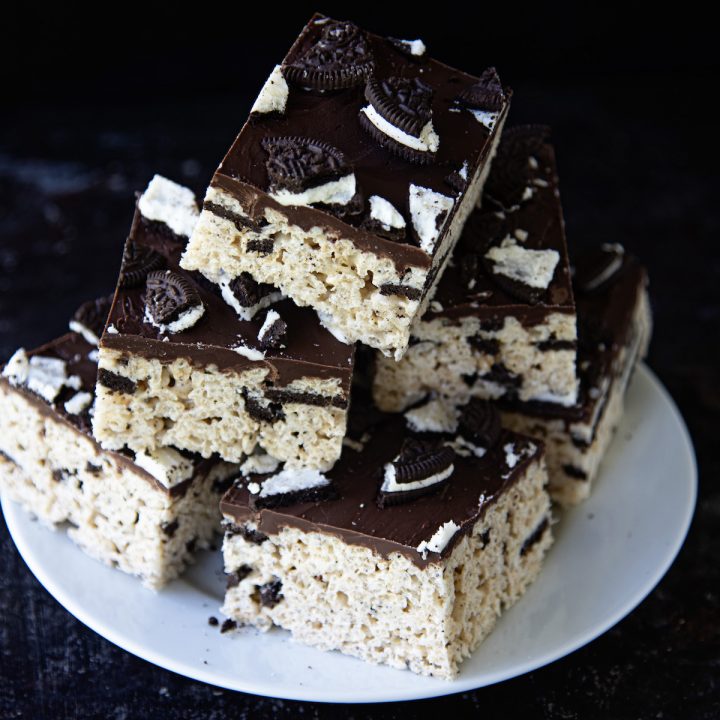 Cookies and Cream Rice Krispie Treats
Ingredients
For the Rice Krispie Treats:
25 Double Stuff Oreos, divided
6 TBSP unsalted butter
16 oz mini marshmallows (fresh, not the stale ones hiding in the back of your pantry that you forgot about)
5 cups Cookies and Cream Krispies Cereal
For the Chocolate Topping:
12 oz semisweet chocolate chips (I like to use the mini)
3 TBSP unsalted butter
crushed Double Stuff Oreos for garnish
Instructions
Butter a 9-x-13-inch baking pan. Or be lazy like me and spray it with non-stick baking spray. Set aside.
Take 5 of the Oreo's and remove the filling from the Double Stuff Oreo cookies. Keep the chocolate cookie parts and add the remaining 20 Oreos and break them into smaller bite size parts.
Over low heat melt butter in a large pot (I like to use my stock pot because I am a messy person).
Once butter has melted, add marshmallows and the 5 Double Stuff Oreo fillings.
Continue to cook over low heat while they melt. It may take a little time. Don't turn up the heat to try and make it go quicker, you could end up with burned marshmallows or your treats could end up too hard once they firm up.
When most of the marshmallows have melted and they resemble marshmallow crème with a few lumps, remove from heat and add the cereal and cookie pieces.
Using a wooden spoon, stir, stir, stir some more, until all the cereal is fully coated and other parts of the pot are not hogging all the marshmallows (so evenly coated).
Pour into prepared baking pan. Take a rubber spatula and either spray it with non-stick spray or simply get some water on it (I just put mine under the faucet real quick). Using the spatula, press the cereal/marshmallow mixture down into the pan, attempting to create a flat, even surface.
Cover with foil and let sit for a few hours to firm up.
Take foil off. Place wax paper down that is a little bit longer than the baking pan. Flip the pan over onto the wax paper.
In a microwave safe bowl combine chocolate and butter in a medium heat-proof bowl set over a medium saucepan of barely simmering water; stir until melted and smooth. Spread the chocolate coating over the top of the Rice Krispie Treats like you are frosting them. Place extra pieces of Oreo cookies on top if desired (but you know you want to).
Let the chocolate top firm up, about 30 minutes depending on how cool it is in your house.
Cut into squares. Some would say 2-inch. But whatever size you would like works.