This Rice Krispie Treat Fudge is white chocolate fudge with Rice Krispie Treat flavoring, Rice Krispie cereal, and Rice Krispie Treats.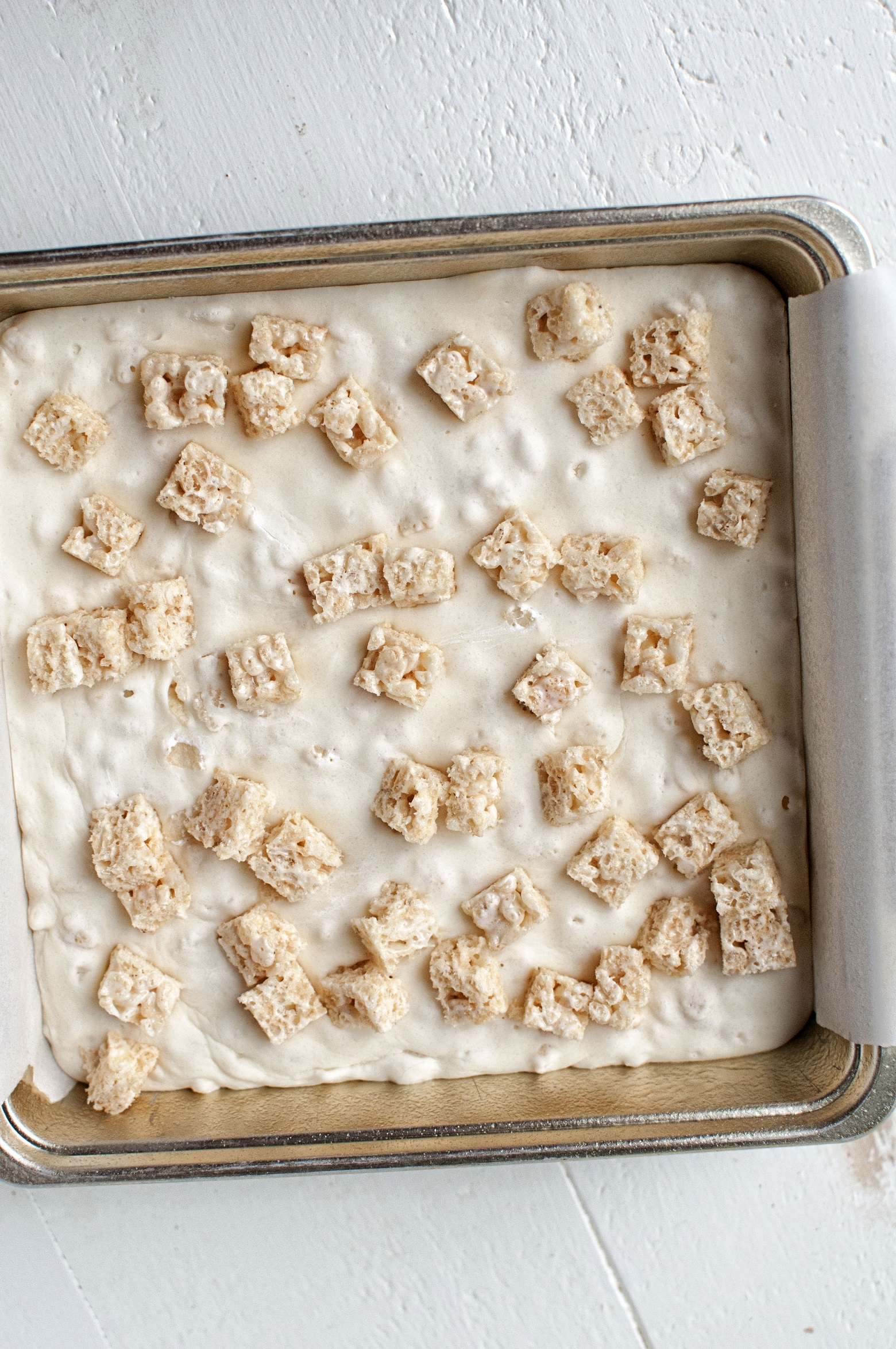 Monday I sold my wedding rings.
No, no…not from my husband now.
My engagement ring now is actually my mom's diamond because that's what I wanted this time around.
She's allergic to metal and can't wear any jewelry so that was an option for me.
I sold my wedding rings from when the Picky Eater and I were together.
They were beautiful rings from Tiffany and Co.
And they were worth quite a bit when purchased.
Not so much for resale.
Because of the fact the Picky Eater and I remained friends I had no big rush to sell them.
I didn't look at them in anger or disgust.
Add to not getting close to the value they were purchased for I held on to them.
But then our dog Holly went to the ER…and well that was a costly trip.
That slowed progress on a financial goal I had and so I decided I would sell them.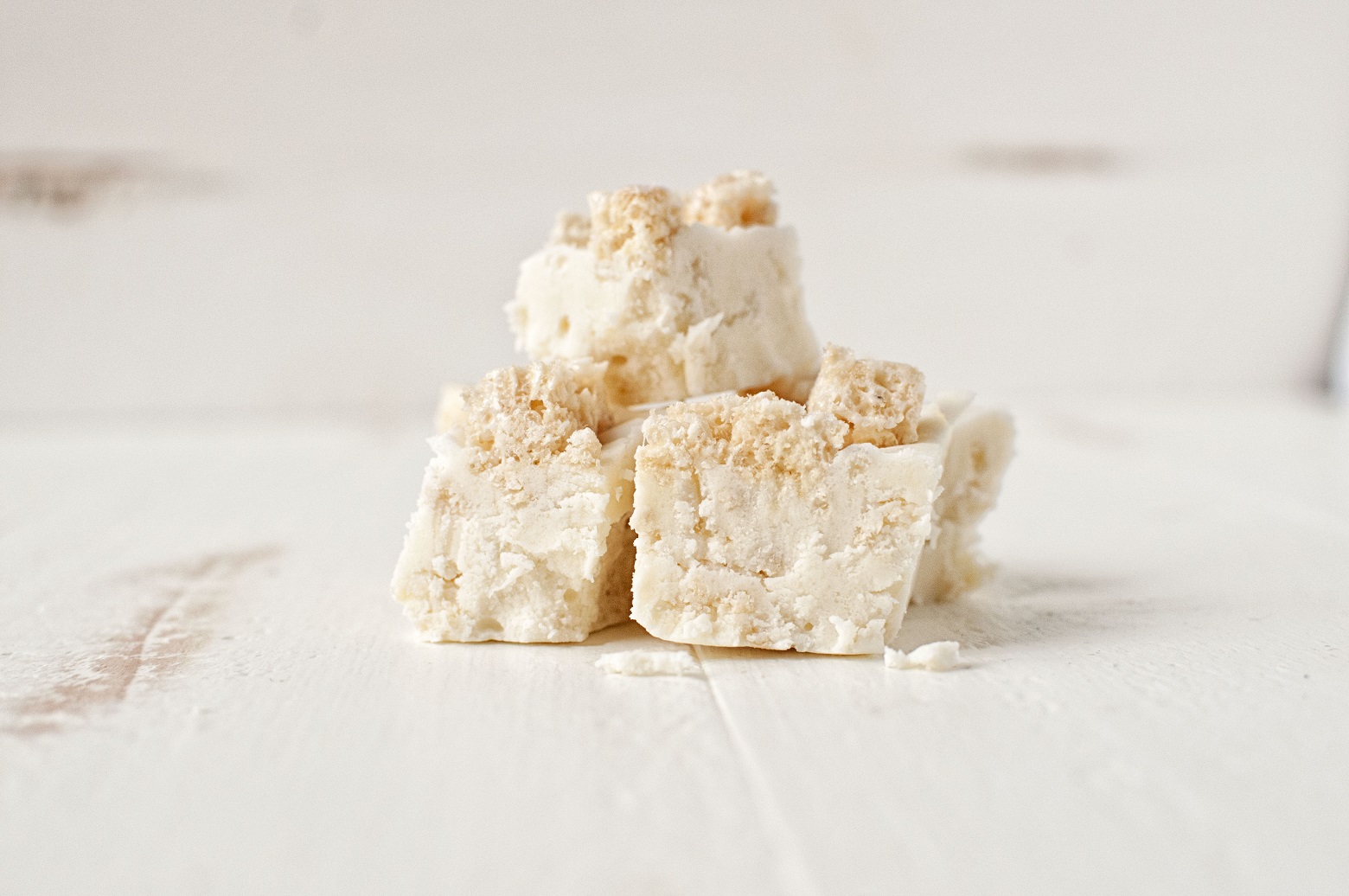 Reality is that if I'm going to keep taking in senior and/or special needs dogs (which I am) then well…I can't have nice things. 🙂
And that's okay.
I'm not trying to impress anyone.
Dogs are better than jewelry any day of the week.
They sparkle in their own way.
So holiday season is in full swing…at least in blogging world.
Which means I am making more fudge.
And since I like to make unique flavors I decided…while eating a Rice Krispie Treat to make it as a fudge flavor.
There is a place called Wizard Labs.
They make tons of unique flavorings. I go kind of crazy every time I order from there.
And they have a Rice Cereal Treat Flavor.
You can make this fudge without the flavoring but reality is…it is better with it than without it if you want more of that Rice Krispie Treat flavor.
This fudge also, because of the Rice Krispies in it, does not cut as well as other fudges.
That's okay.
This fudge is also on the sweeter side because well…it's Rice Krispie Treat Fudge. 🙂
P.S. It's a great day to buy my cookbook Holy Sweet!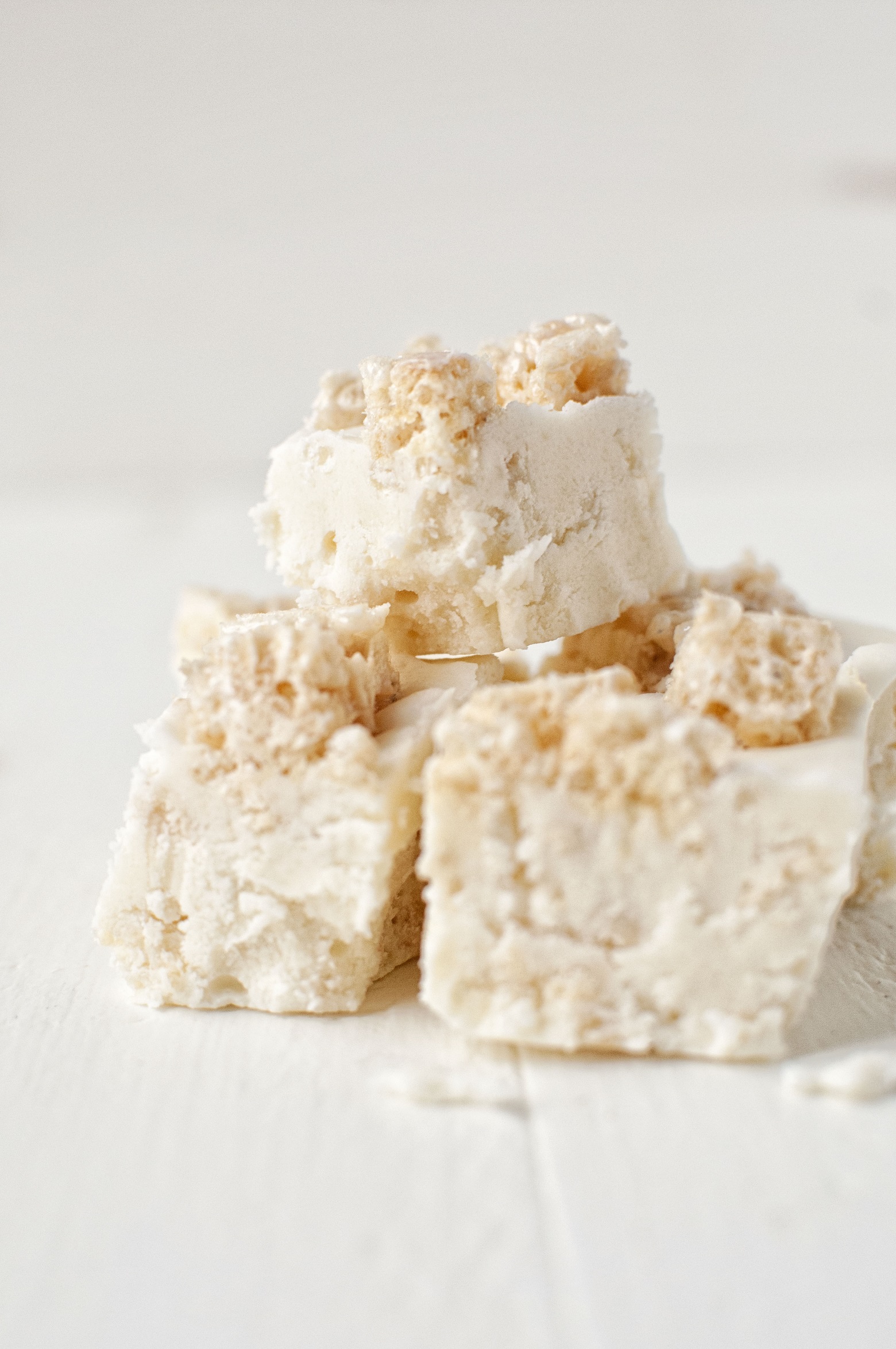 Want More Fudge Recipes?
Lemon Blueberry Mascarpone Fudge
Monster Cookie Chocolate Fudge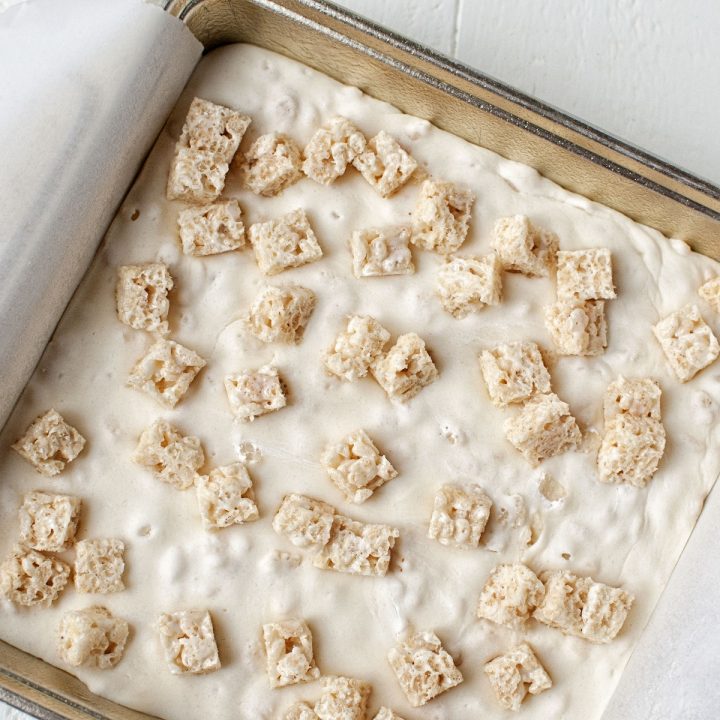 Rice Krispie Treat Fudge
Ingredients
2 cups granulated sugar
4 oz. unsalted butter
½ cup heavy cream
2 cups white chocolate chips
1 tsp. vanilla bean paste (or extract)
3 drops of Rice Cereal Treat Flavoring
7-ounce jar marshmallow crème
½ cup Rice Krispie cereal
Rice Krispie Treats, chopped, used as garnish
Instructions
Line an 8×8 inch pan with parchment with an overhang so you can lift the fudge out later and coat with baking spray.
Combine sugar, butter, and heavy cream into a large heavy bottomed sauce pan and bring to a boil over medium heat.
Once boiling, attach a candy thermometer and reduce the heat to a hair above medium low and cook for 7-10 minutes until your thermometer reads 234°F (soft ball stage) , stirring constantly.
Once you reach 234F remove from heat and add the white chocolate chips, stirring vigorously with a wooden spoon until the chocolate has melted and the mixture is smooth.
Add the vanilla bean paste, rice cereal flavoring and marshmallow crème and mix until well blended.
Fold in Rice Krispie cereal.
Pour into prepared pan.
Top with chopped up Rice Krispie Treat pieces.
Let cool to room temperature. Then lift out of the pan and onto a cutting board. Cut into whatever amount you want. I think I got about 32 pieces.
Notes
You can buy the Rice Krispie Treat Flavoring HERE.