These Chocolate Truffle Spider Cheesecake Bites have an Oreo cookie base, vanilla cheesecake, all topped with a chocolate truffle spider.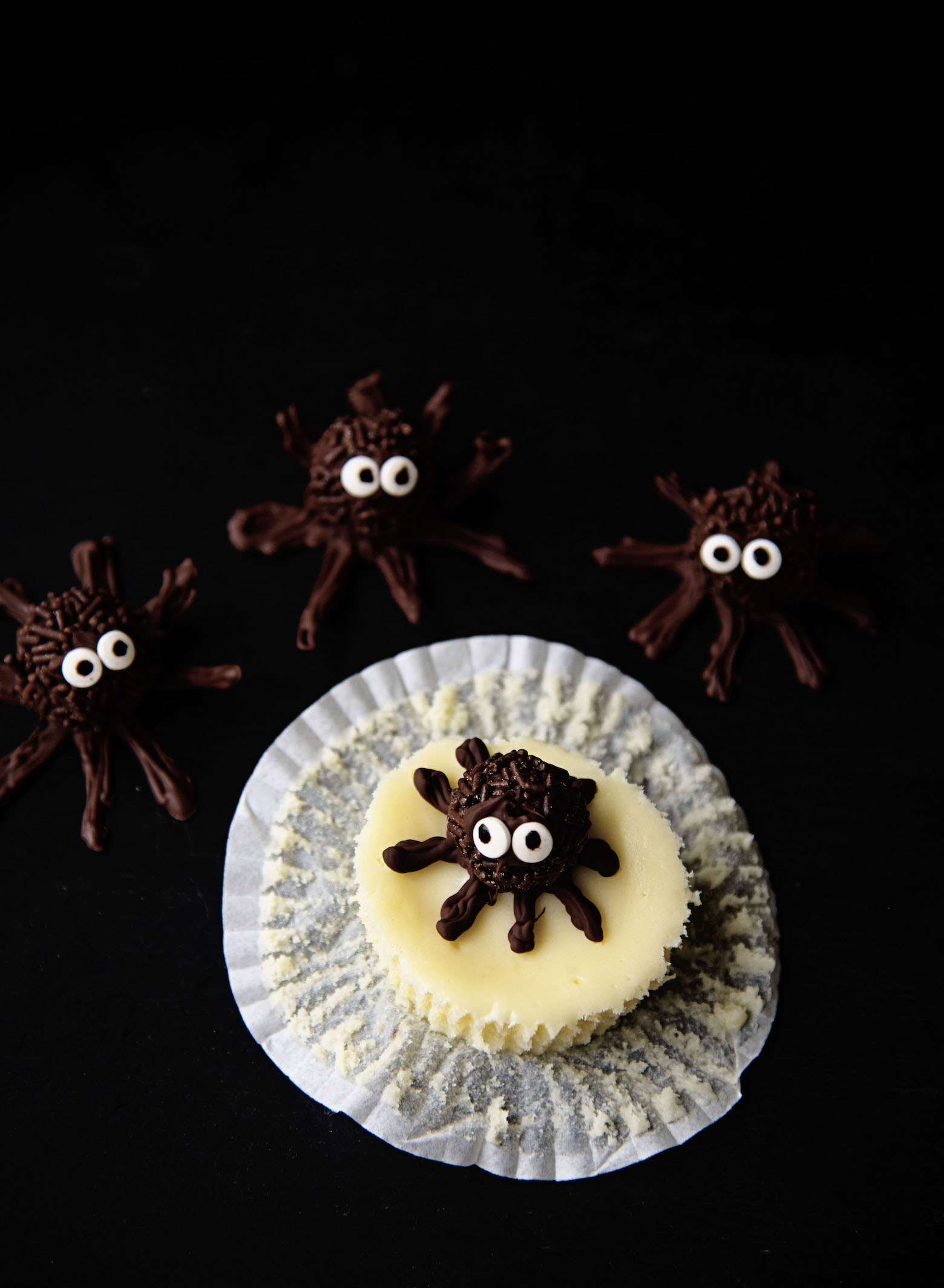 So I called these Chocolate Truffle Spider Cheesecake Bites.
But let's face it…I should probably call them brown fuzzy octopus cheesecake bites.
Because they kind of look more like octopi than spiders.
Which is okay because I find octopi more friendly than spiders.
Sure, spiders are helpful at eating other bugs.
Unfortunately, whenever I get bit by one I usually have to use my epipen and it triggers a lymphatic response.
Which I'm not a fan of.
But a few years ago I made a cute spider cake and wanted to try and repeat it.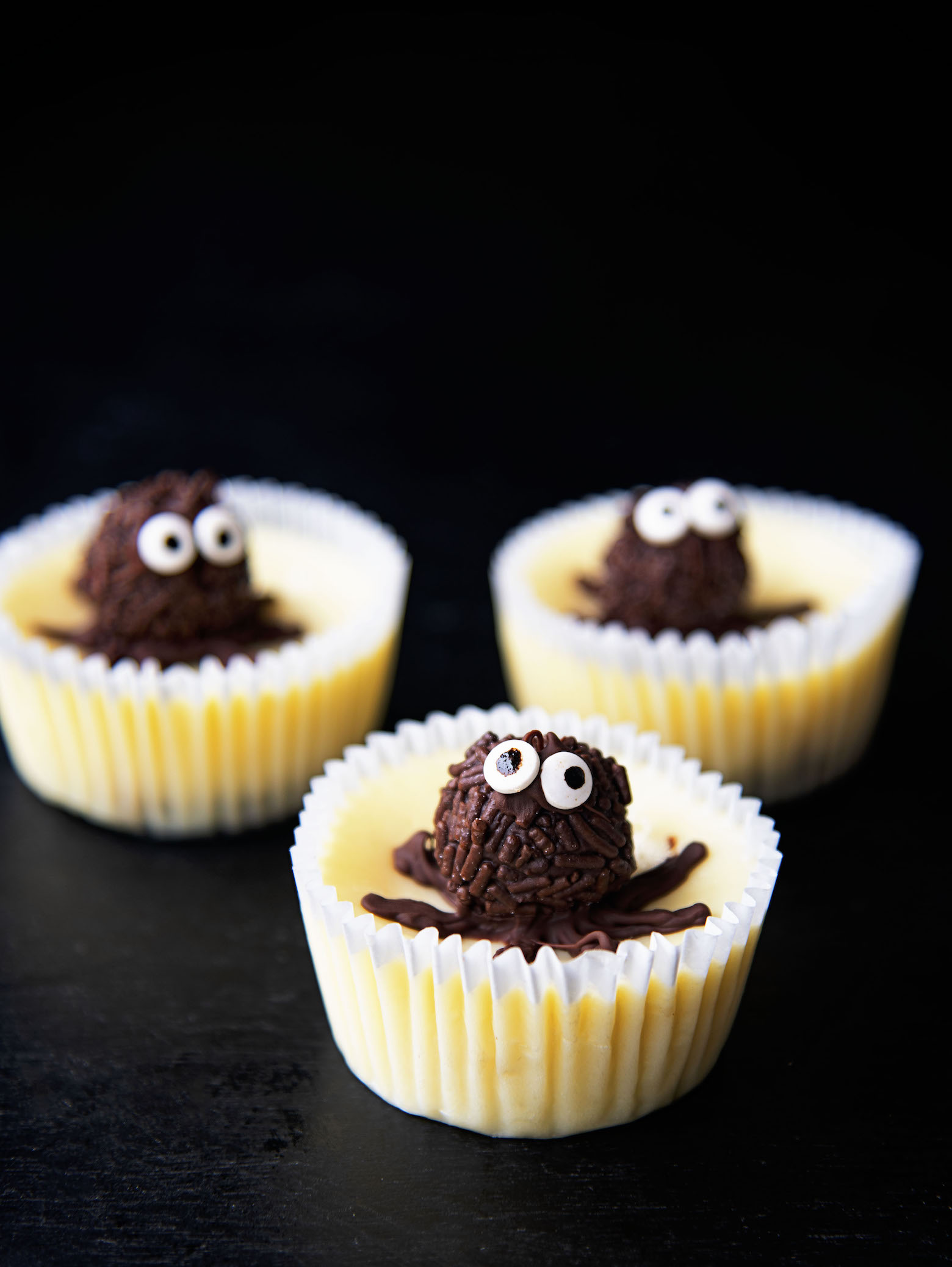 Unfortunately for me the day I was making these my rheumatoid arthritis was acting up.
And well, rheumatoid arthritis and making chocolate spiders don't mix. 🙂
You get blobby spiders.
Which in my house if I see a spider it becomes squashed, so in a way I'm staying true to myself with these.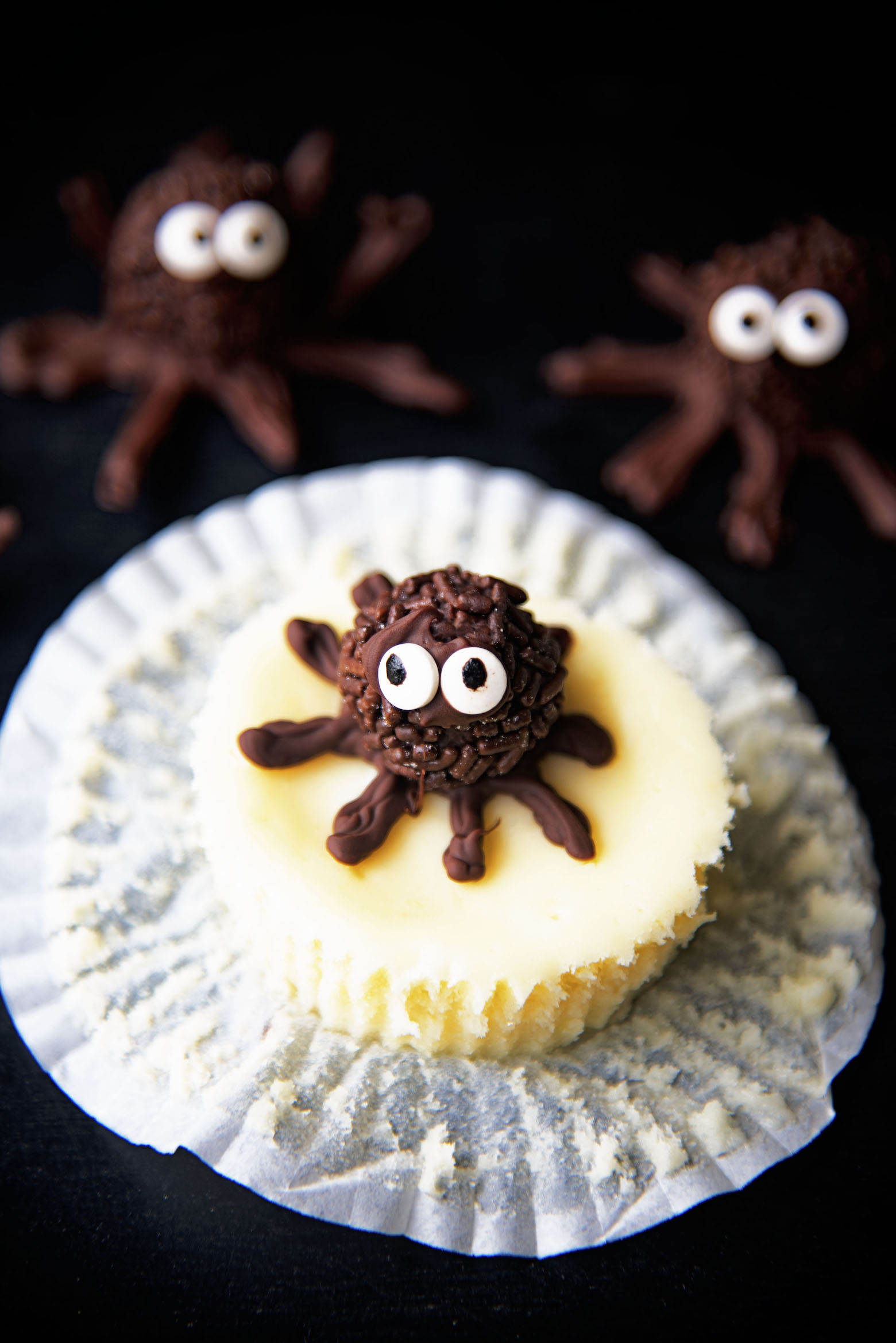 Cheesecake Bites are super easy to make.
I prefer to make them to actual cheesecake most of the time now.
Simply because they are portable and everyone can have an individual dessert…or two.
I won't judge.
These are just plain vanilla ones.
You can add whatever extract you would like.
And you can color them whatever color you like.
I decided they should be orange….right after I already made them. 😀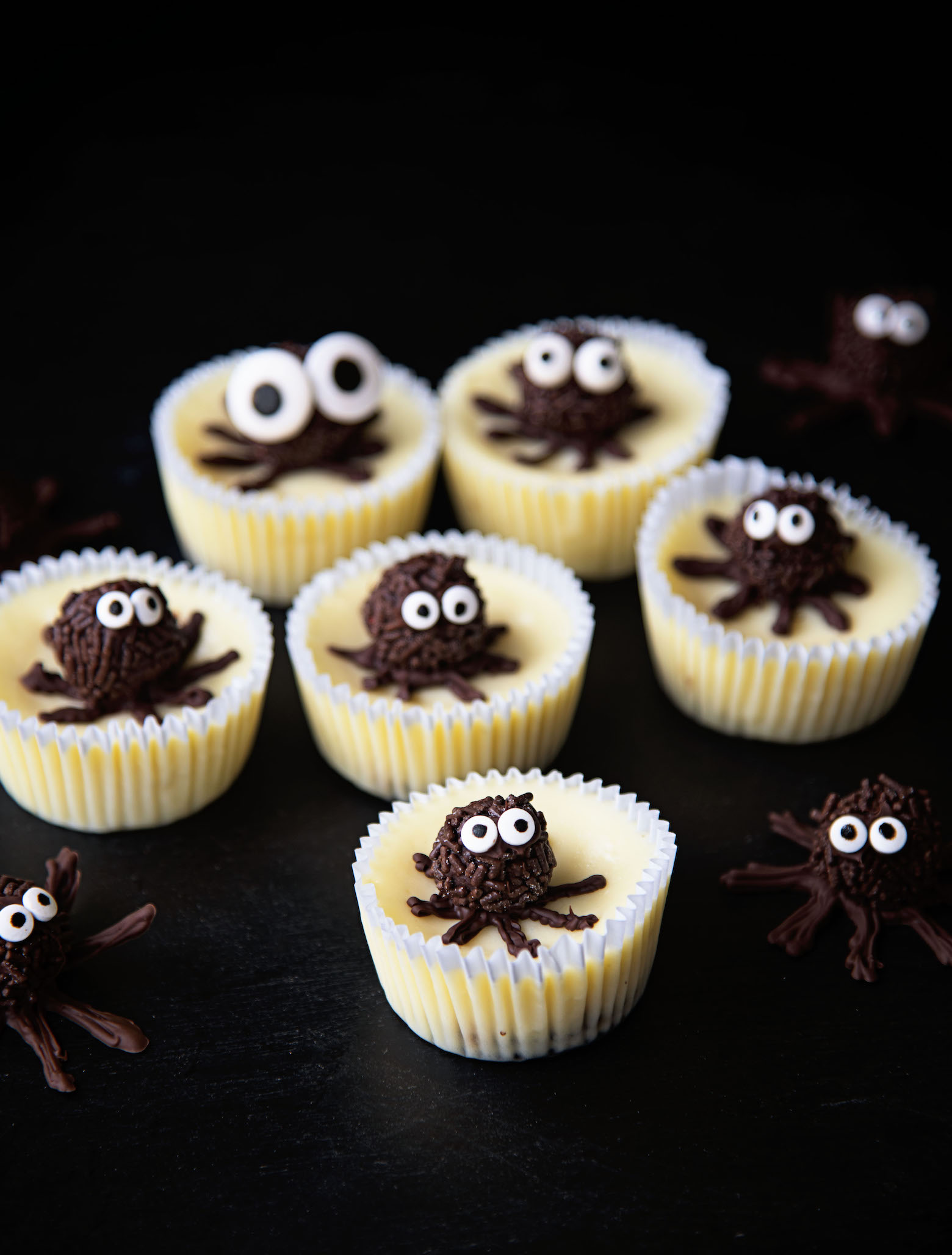 The recipe for the chocolate truffle spiders makes more spiders than you need.
I have tried halving the recipe and I find it's creamier if you make the full batch.
So that's what I did.
Because oh no, I have extra chocolate ganache.
Oh no, I have to eat more chocolate truffles.
The horror. 😛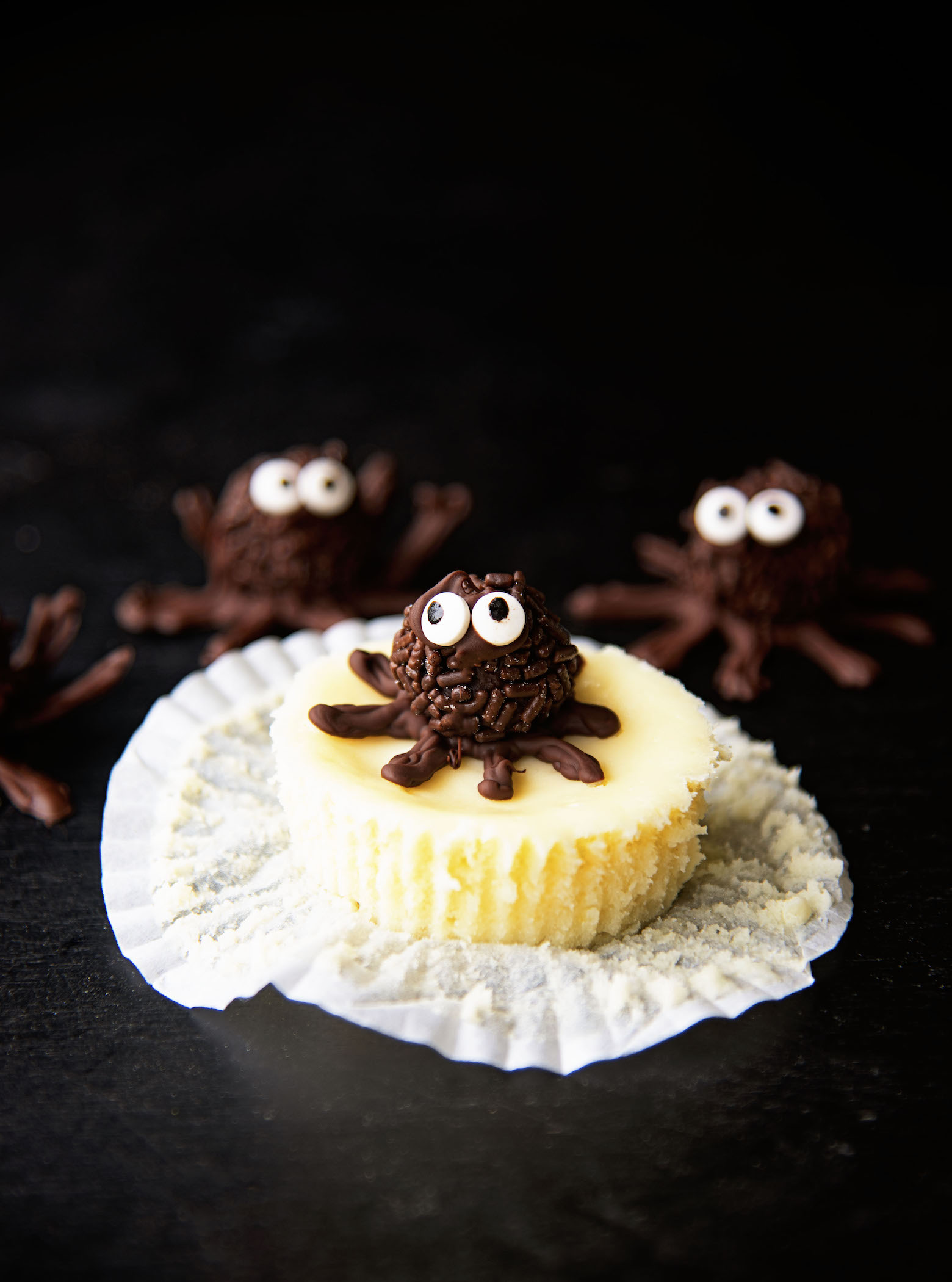 I'm sure your spiders will turn out even cuter.
Because your hands probably cooperate better than mine. 😀
And as always it's a great day to order my cookbook.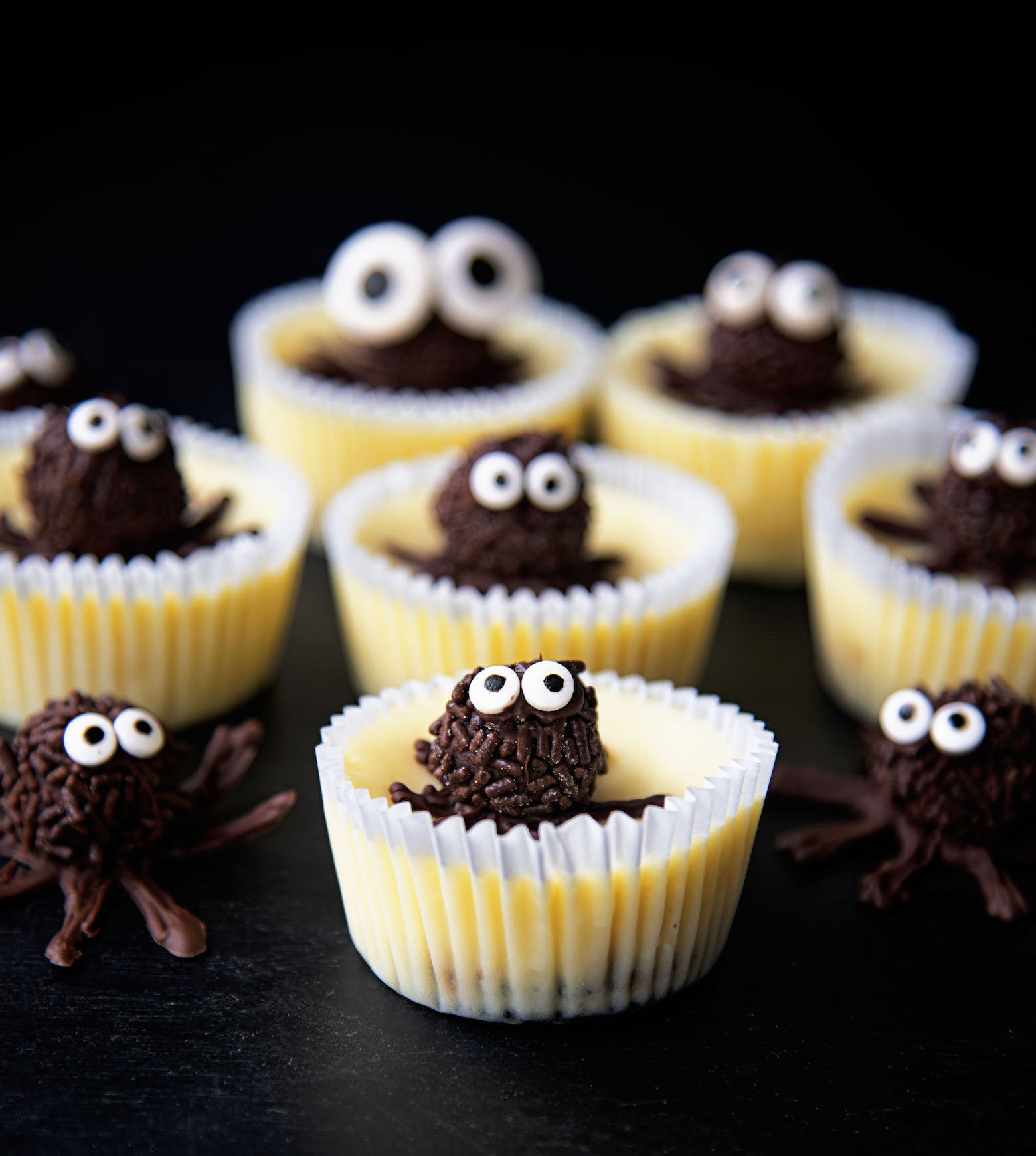 Want More Cheesecake Cups?
Sugar Cookie Dough Cheesecake Cups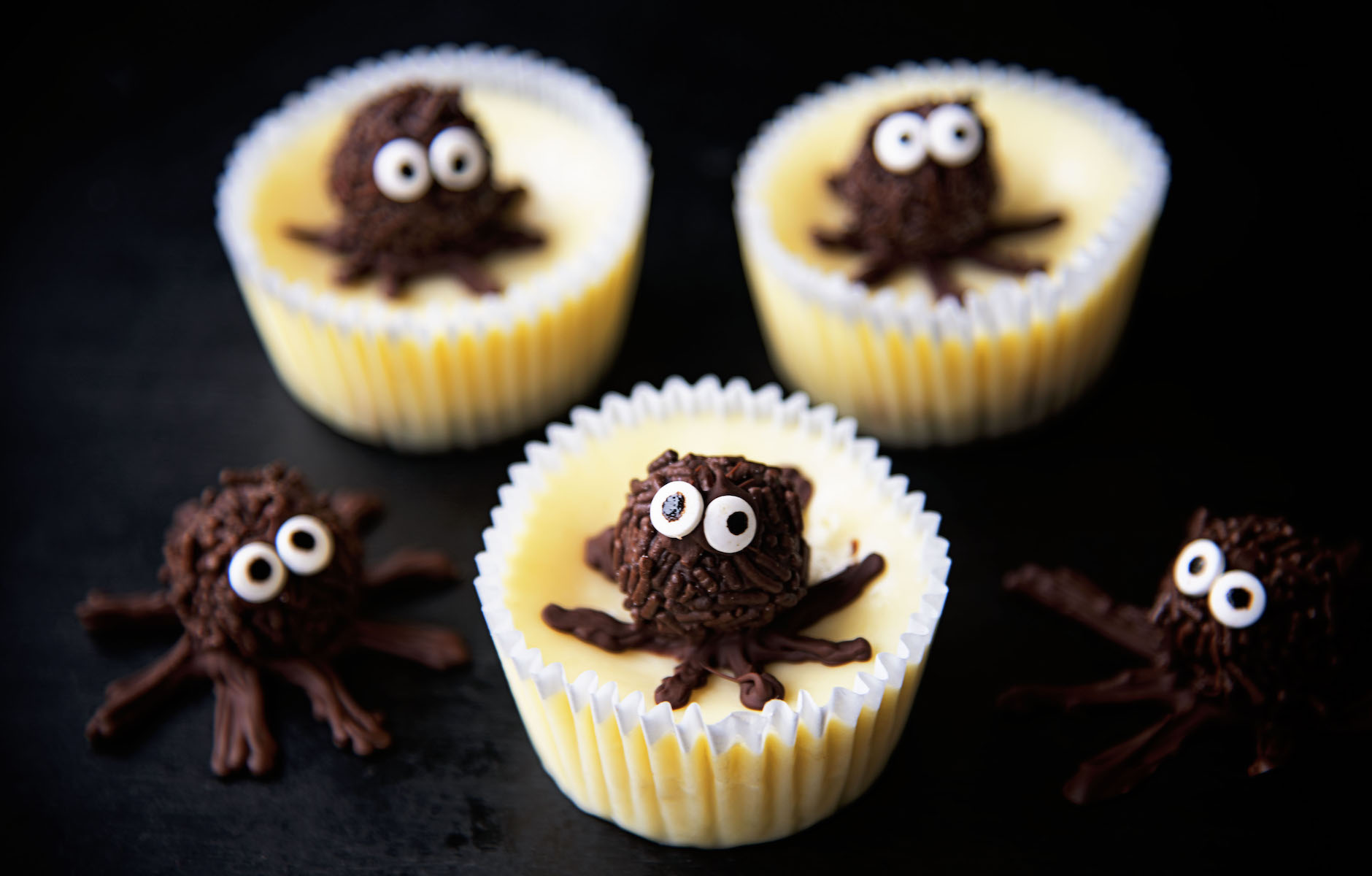 Chocolate Truffle Spider Cheesecake Bites
Ingredients
For the Cheesecake Bites:
12 Oreo Thin Cookies or Regular Oreos
16 ounces cream cheese, at room temperature
1 cup granulated sugar
1 tsp vanilla extract
1 ½ TBSP flour
2 eggs
1/2 cup sour cream
pinch of salt
For the Chocolate Truffle Spiders:
9 oz. semi-sweet chocolate, chopped finely
7 TBSP heavy whipping cream
1 TBSP unsalted butter
1/3-1/2 cup chocolate sprinkles
Instructions
For the Cheesecakes:
Preheat oven to 275 degrees.
Line standard muffin tins with paper liners.
Place 1 whole cookie in the bottom of each lined cup.
With an electric mixer or using a stand mixer beat the cream cheese until smooth, scraping down sides of bowl as needed.
Gradually add in the granulated sugar, one TBSP at a time, and beat until combined.
Beat in vanilla.
Beat in the flour until combined.
Add eggs, a bit at a time, beating to combine and scraping down the sides of the bowl as needed.
Beat in sour cream and salt.
Divide batter evenly among cookie-lined cups, filling each almost to the top.
Bake, rotating pan halfway through, until filling is set, about 22 minutes.
Transfer to wire racks to cool completely.
Refrigerate at least 4 hours (or up to overnight). Remove from tins just before serving.
For the Chocolate Truffles:
Place finely chopped chocolate in a medium-sized mixing bowl.
Heat cream and butter in a small saucepan over medium heat until just starting to simmer.
Immediately add cream mixture to chocolate and loosely cover with a cooking lid or towel to trap the heat in. Do not touch for 5 minutes.
Then lift cover and use a mixing spoon to gently stir, trying not to incorporate air. Continue stirring until completely melted, creamy, and smooth.
Cover the bowl with plastic wrap and place into fridge for at least 3 hours.
Take out pie plate, I prefer these over a regular plate because of the sides. Add the chocolate sprinkles onto the pie plate.
Use a Tablespoon-sized scoop and a teaspoon sized scoop then use your hands to gently but quickly roll/form the chocolate into balls. You can have all TBSP or tsp. sized spiders that is up to you. I liked having the two sizes.
Roll them in chocolate sprinkles, then set on a parchment-lined serving dish. Continue until all chocolate is scooped.
Place in fridge again to firm up, about 30 minutes.
Remove truffles from fridge.
Melt 8 oz. of semi-sweet chocolate until smooth and pipe-able. Place in a piping bag.
Place eyeballs on truffles using the melted chocolate.
Pipe out legs for the spider on top of the cheesecake bites directly.
Pipe a little circle in the middle of the legs to place the body of the spider.
Once you have done how many spiders you want, place cake in fridge to chill again.
Remove from fridge about 15 minutes before serving.
I made extra spiders for eating.

HAPPY HALLOWEEN!!!
Welcome to 2022's #HalloweenTreatsWeek event!
#HalloweenTreatsWeek is a yearly Halloween blogging event that is hosted by Angie from Big Bear's Wife . This event is an online, week-long event that is filled with some amazingly wicked Halloween treats and recipes from some fantastic Halloween loving bloggers!
For this years 5th annual #HalloweenTreatsWeek event we have 20 hauntingly talented bloggers that are sharing their favorite Halloween recipes throughout the week! You can following the hashtag #HalloweenTreatsWeek on social media to collect all of these frightful recipes to use at your own Halloween parties and events!
Make Sure to check out all of the fun Halloween recipes that we're sharing this week!
Check out all of these great #HalloweenTreatsWeek recipes for today