Chocolate Truffle Pumpkin Spider Cake: This whimsical cake is made with layers of pumpkin chocolate chip cake, covered with a fudgy chocolate frosting and chocolate truffle spiders.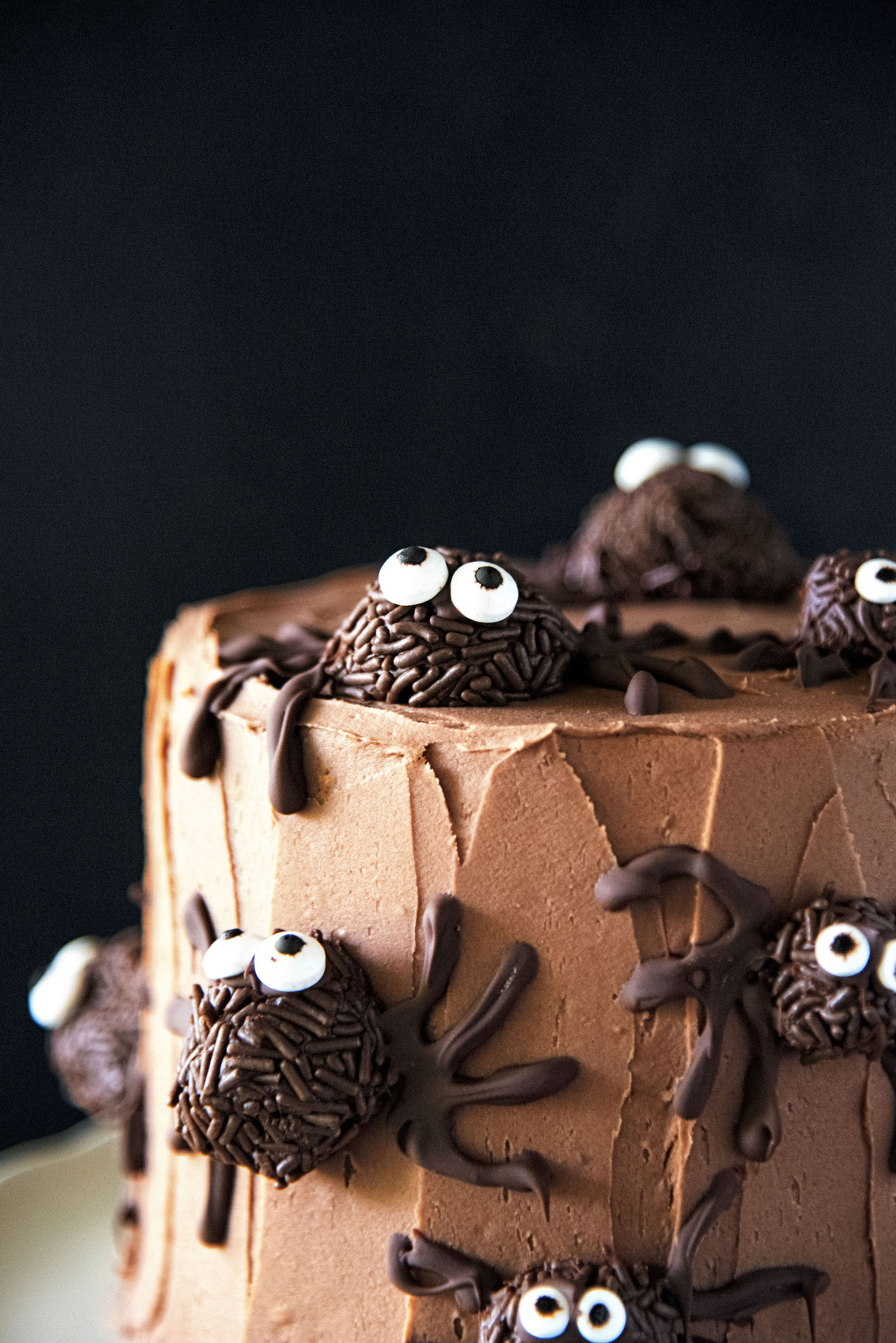 This post and recipe was created for #HalloweenTreatsWeek! I was sent products by some of the sponsor companies but as always opinions, bad grammar, and overuse of emojis are 100% mine.
In this post I used Dixie Crystals Sugar granulated sugar as well Wilton Candy Eyes and sprinkles (I already had) which were sent to me free by both companies for participating in #HalloweenTreatsWeek.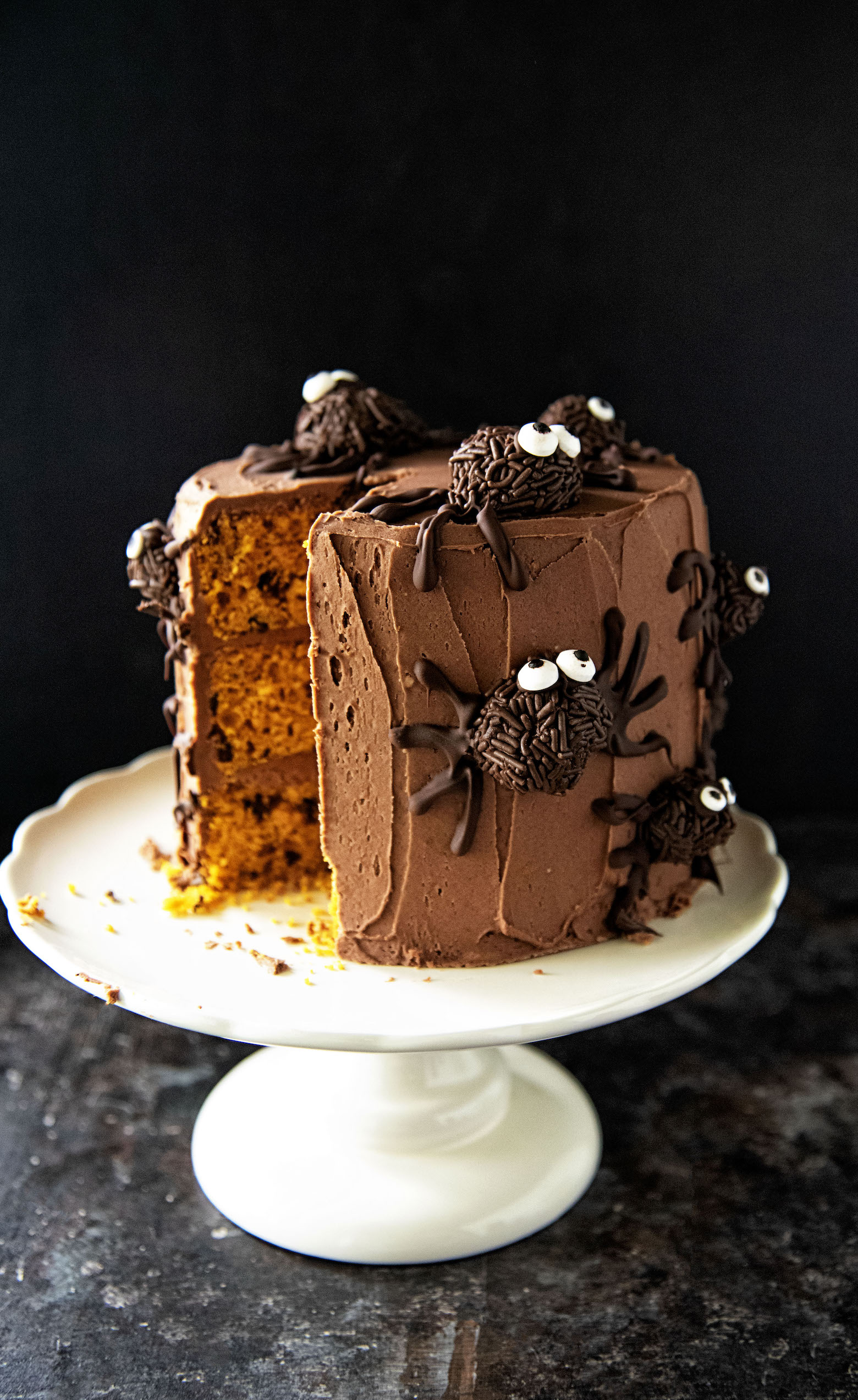 It's that time of year again… Halloween Treats Week.
I participated in it last year and enjoyed it so much that I'm doing it again.
Last year I only participated in 3 out of the 6 days (we are required 2) but this year I'm doing all 6.
Just like the previous times there is a fun giveaway including a crock pot, a large baking pan package, sprinkles galore, and may other items.
You can enter to win at the end of this post.
Here we go….get ready for some Halloween fun!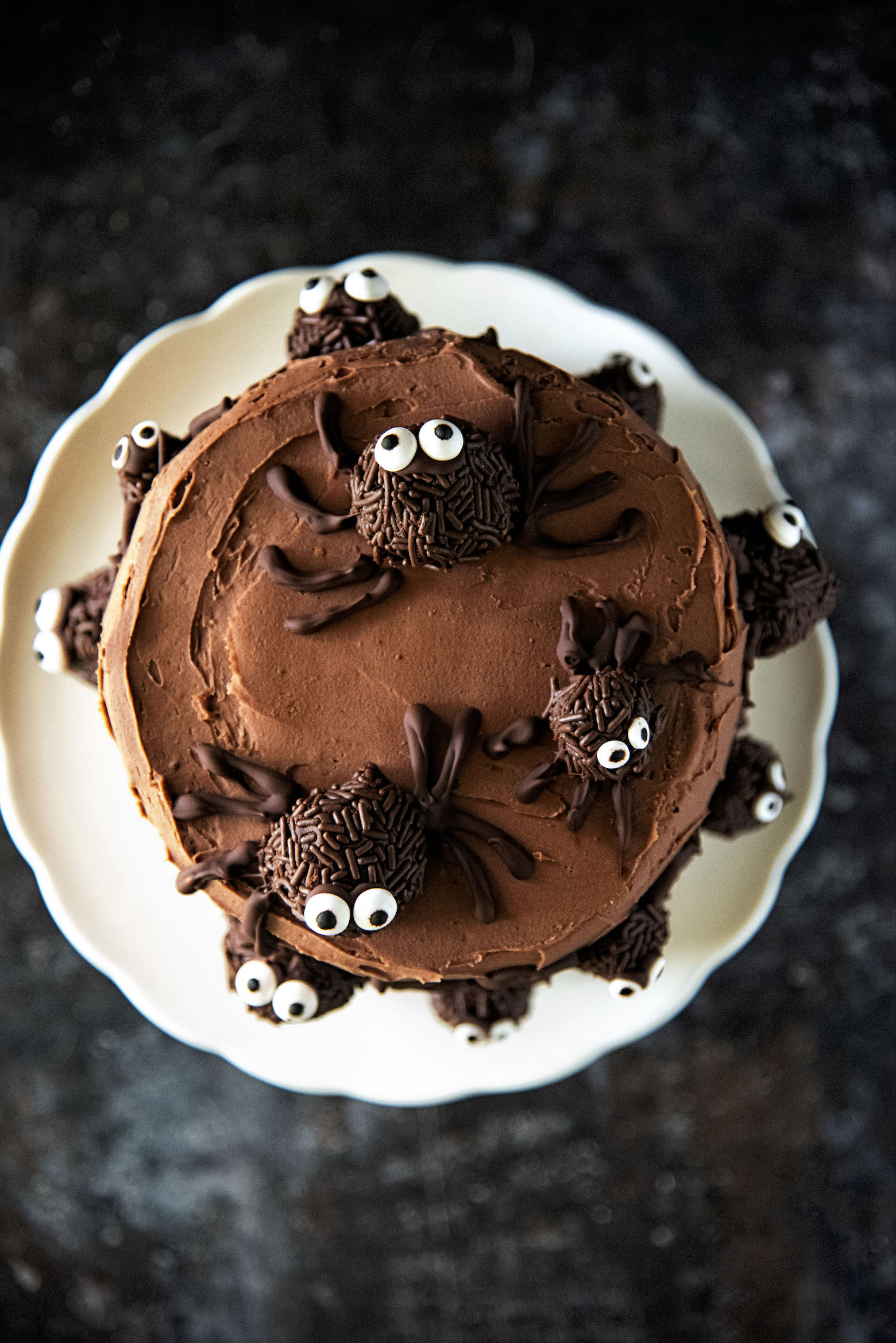 It's rather ironic that I chose to make a spider cake because I'm super afraid of spiders.
And yet, I made a spider dessert last year too.
I think perhaps I'm channeling my inner Dr. Richard Nygard and facing my fears head on.
For those who are not Parks and Rec fans Dr. Nygard is a characters shrink.
So I face my fears and in the process make them cute.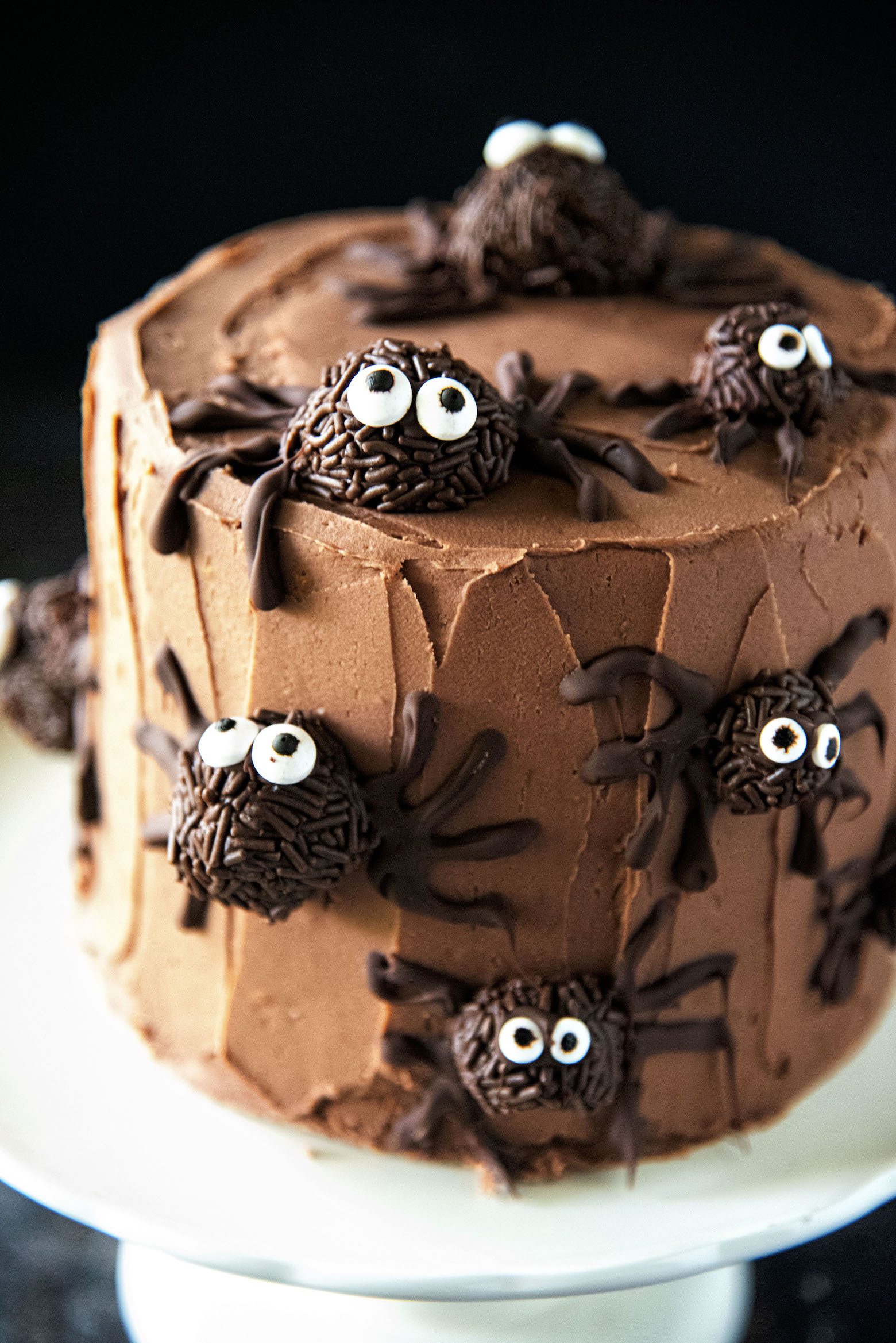 It's always a big gamble with me when I make a cake or dessert that involves some decorating.
Because I got skipped over in the decorating gene lottery.
Also sometimes I have an issue where the nerves in my hand move over a bone spur I have and make my hand go numb.
When that happens, decorating goes very badly. 🙂
But I'm really happy with how it turned out.
So happy that I actually felt guilty cutting into the cake.
Because the way I decorated it the spiders were going to lose at least their legs if not more.
And normally I don't worry about spiders keeping their body parts. 😀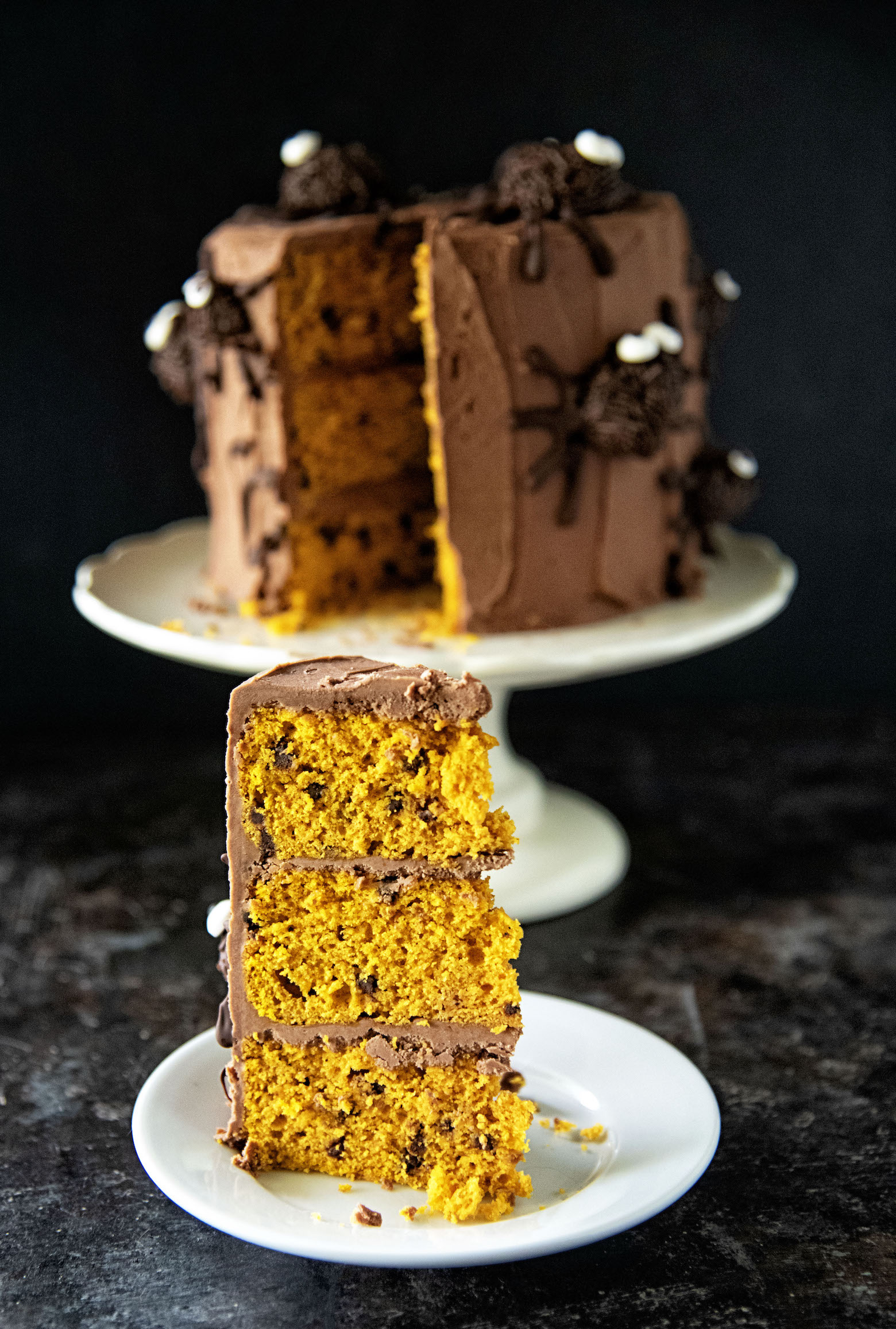 The cake itself is a pumpkin chocolate chip cake.
There is a little bit of pumpkin spice in there but this is definitely not a pumpkin spice cake.
I used mini chocolate chips but if you don't have them you can use standard size.
Mini chips just seem to work better in my opinion though.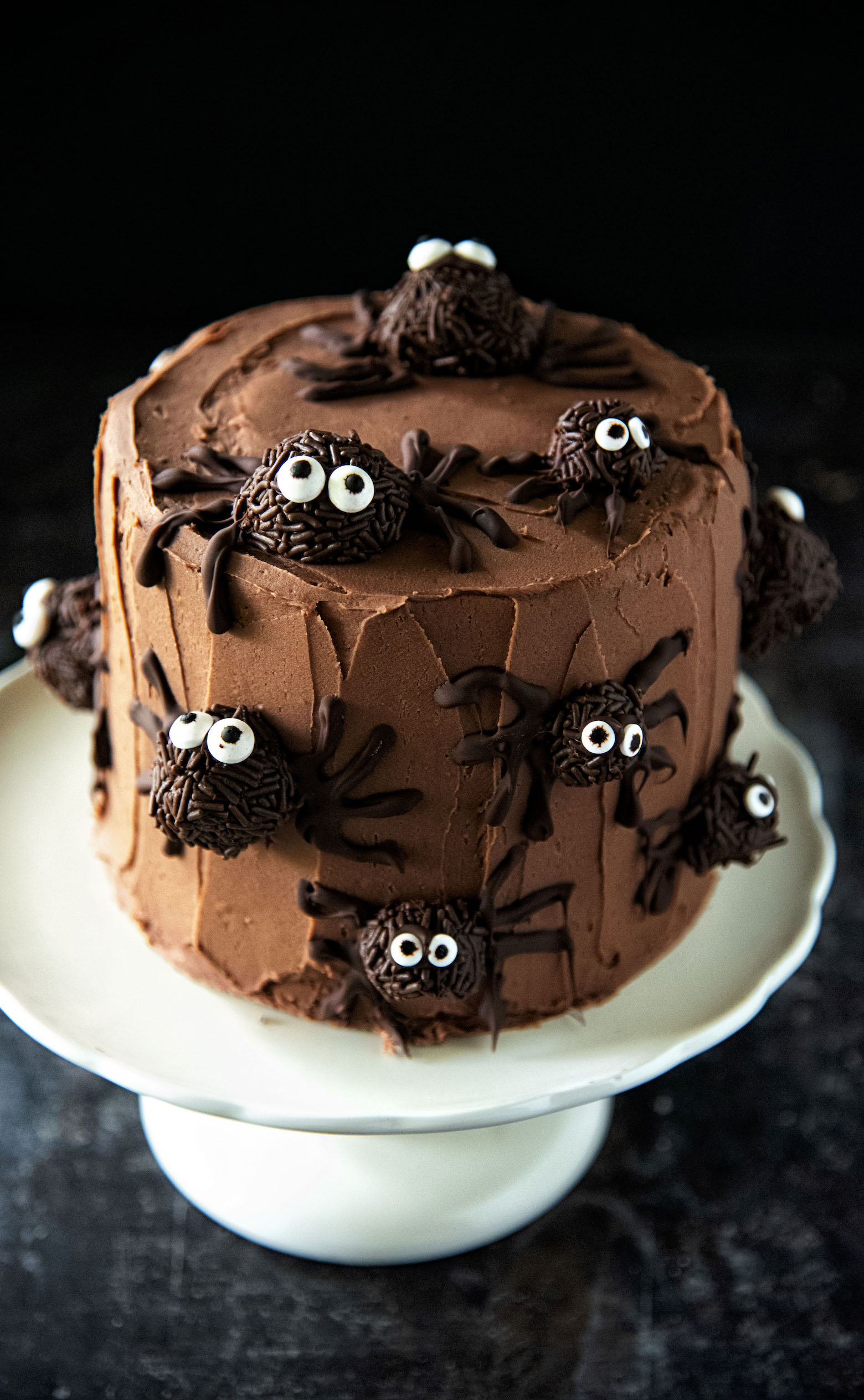 The frosting is my favorite chocolate frosting of all time.
I use it a lot on this blog.
I'm not even that big of a chocolate fan but this stuff is so good that there is only a thin layer of frosting on this cake because I sampled too much frosting as I was making it. 😛
For real.
So you will probably have more frosting than what is in the picture.
Unless of course, you are like me and can't control yourself.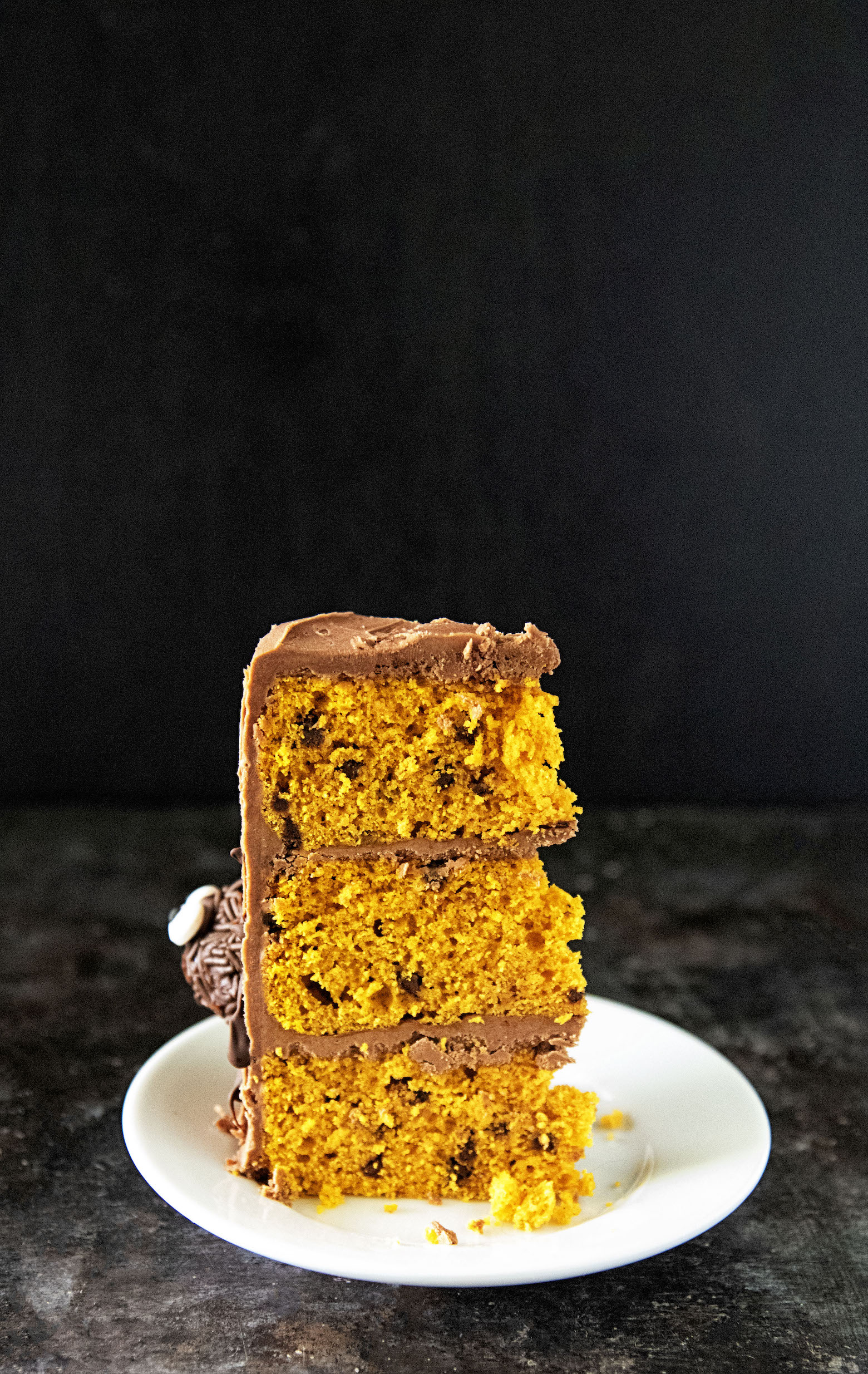 The spider idea came to me when flipping through a magazine.
In the magazine, the cake was a bright orange color and the spiders were all gumdrops.
I live in horror thinking about a purple or green spider.
So that was a big no on the gum drops.
Truffles sounded way better.
And I'm glad I went that route because not only are they cute but tasty.*
*Many, many chocolate spiders were harmed in the making and eating of this cake.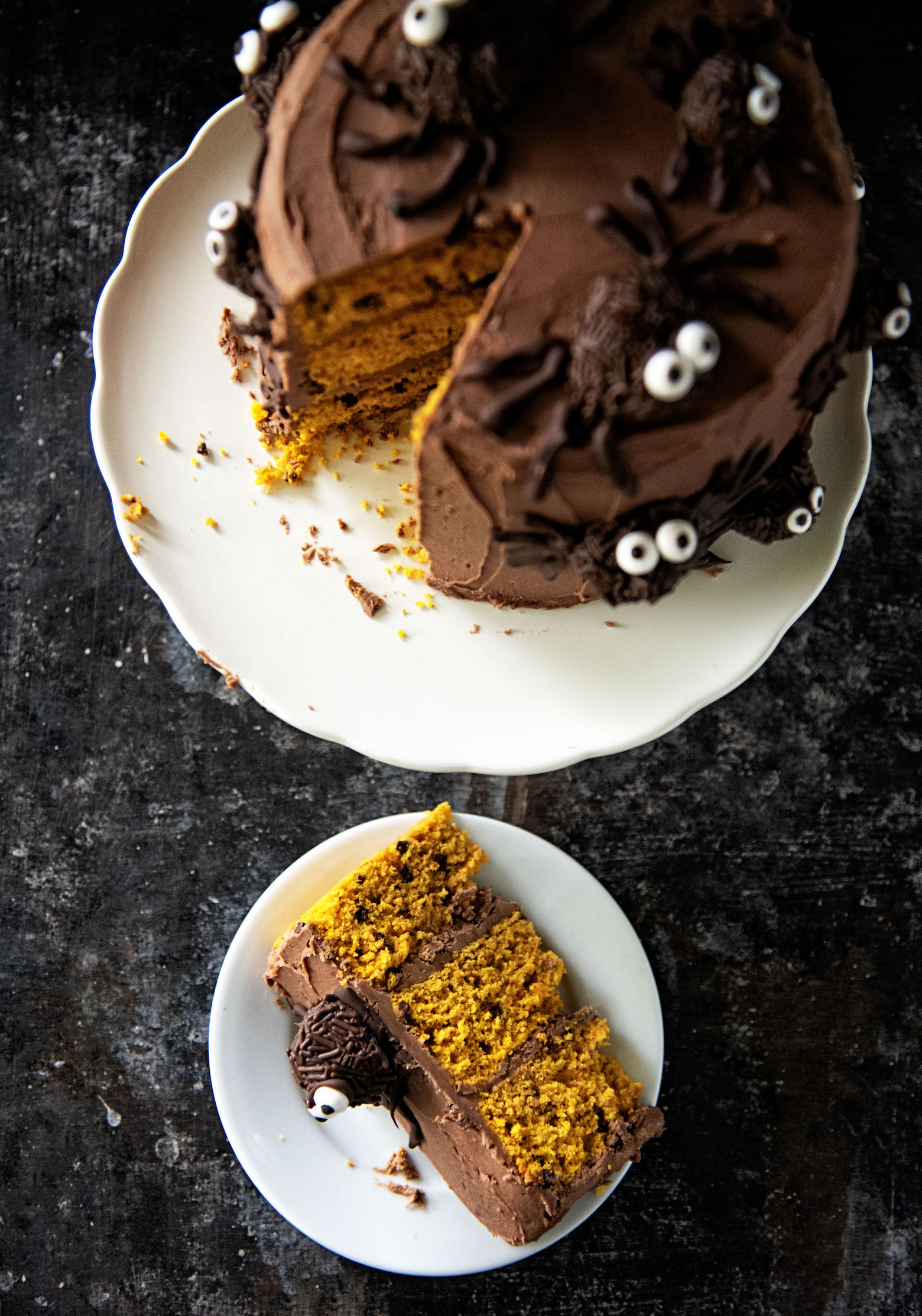 See what the other bloggers made:
Check out the amazing #HalloweenTreatsWeek recipes from our bloggers today!