This Pumpkin Patch Focaccia has a pumpkin focaccia topped with cheddar cheese, shoestring potato chips, and little cheese pumpkins.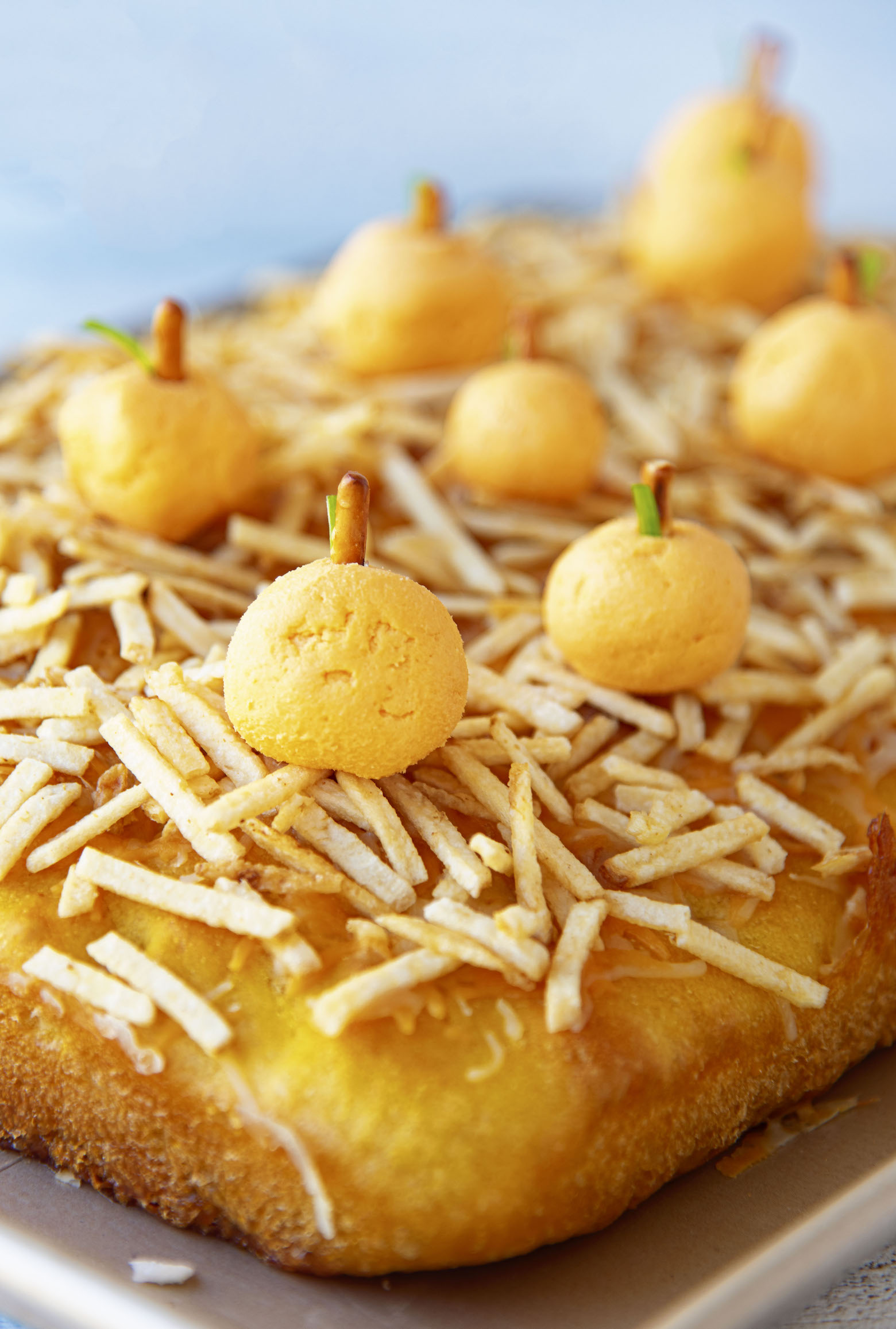 This Pumpkin Patch Focaccia is a homage to the pumpkin patches of my youth.
Most of my youth was spent in Phoenix.
Which is not exactly known for it's fall like weather.
Going out to a pumpkin patch wasn't really a thing.
As there weren't really any pumpkin patches around.
Instead you went to a place on the side of the road that laid out some hay and scattered pumpkins for you to pick.
Not exactly an outing.
But when you are little you don't really care all that much.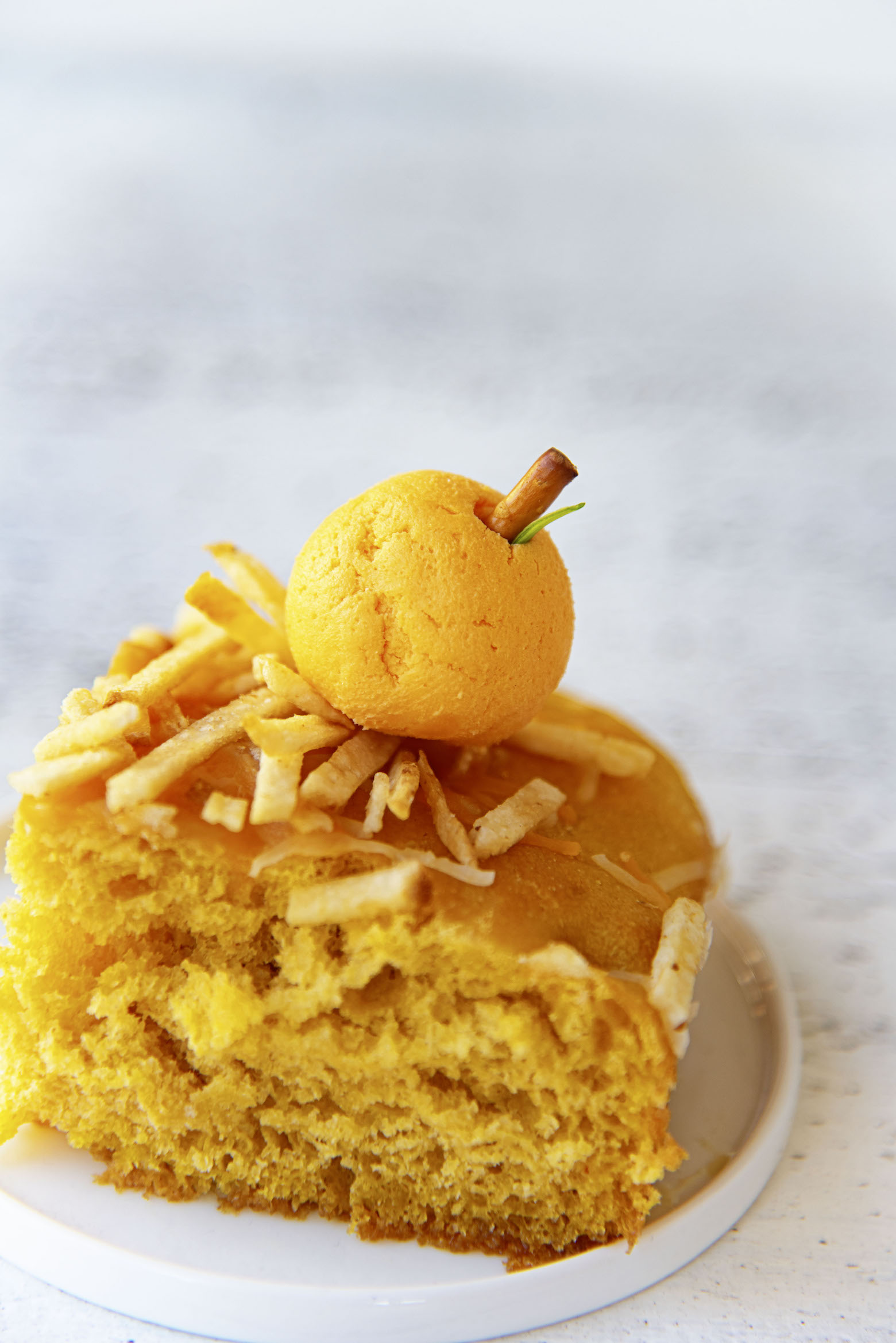 Nowadays I literally live down the street from a pumpkin patch.
And there are 8 more with in a few mile radius of my house.
I have my pumpkin patch options.
Big time.
We always go to the one that allows dogs…as you can see below.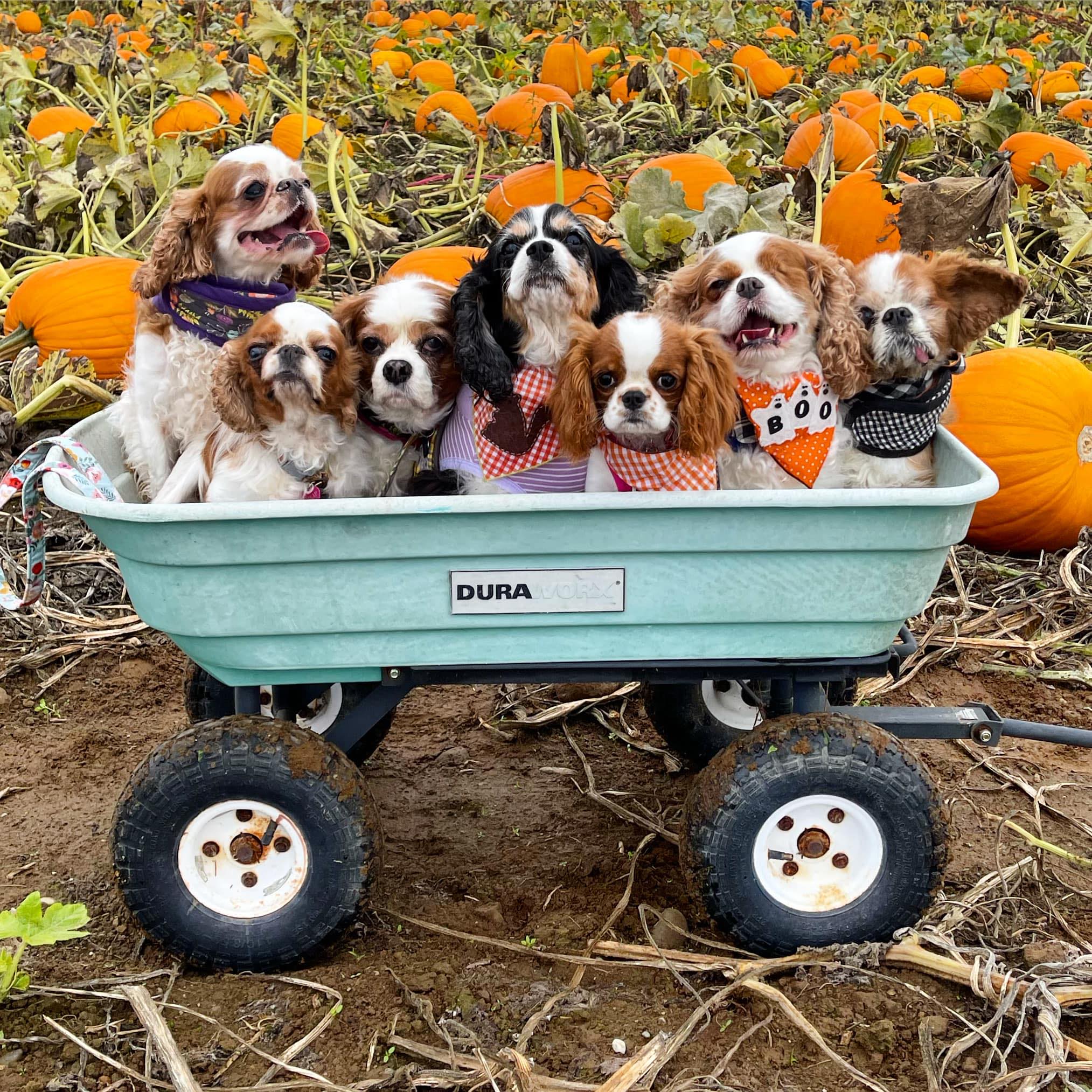 Focaccia recipe for this is slightly adapted from How Sweet Eats.
The only real difference is what we topped ours with.
Mine instead of greenery has Pik-Nik shoestring potato chips to represent the hay they used to throw down.
Which they have hay here in the PNW as well but it serves a purpose…to soak up the mud and water.
Phoenix is not a wealth of rain so hay is just there for looks I guess.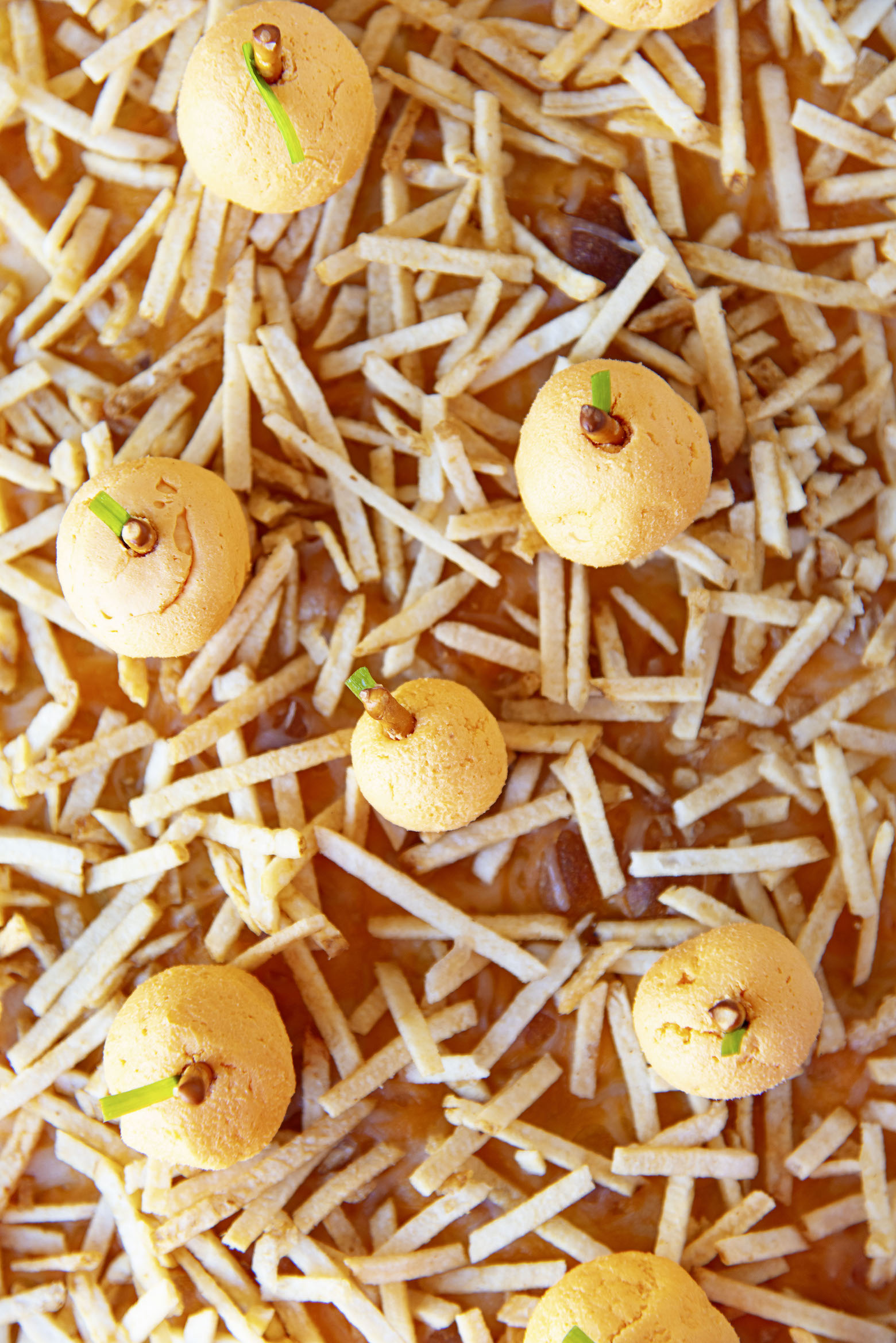 The little pumpkins are made of pub cheese.
Which is just spreadable cheese.
Personally, I buy mine at Trader Joes but they sell it at regular grocery stores as well.
I can't tell you exactly how many pumpkins you get because it depends on how big or small you make them.
For I wanted varying sizes just like you would find at a pumpkin patch.
I think I got 11.
Pretty sure I had more but my husband ate some of them.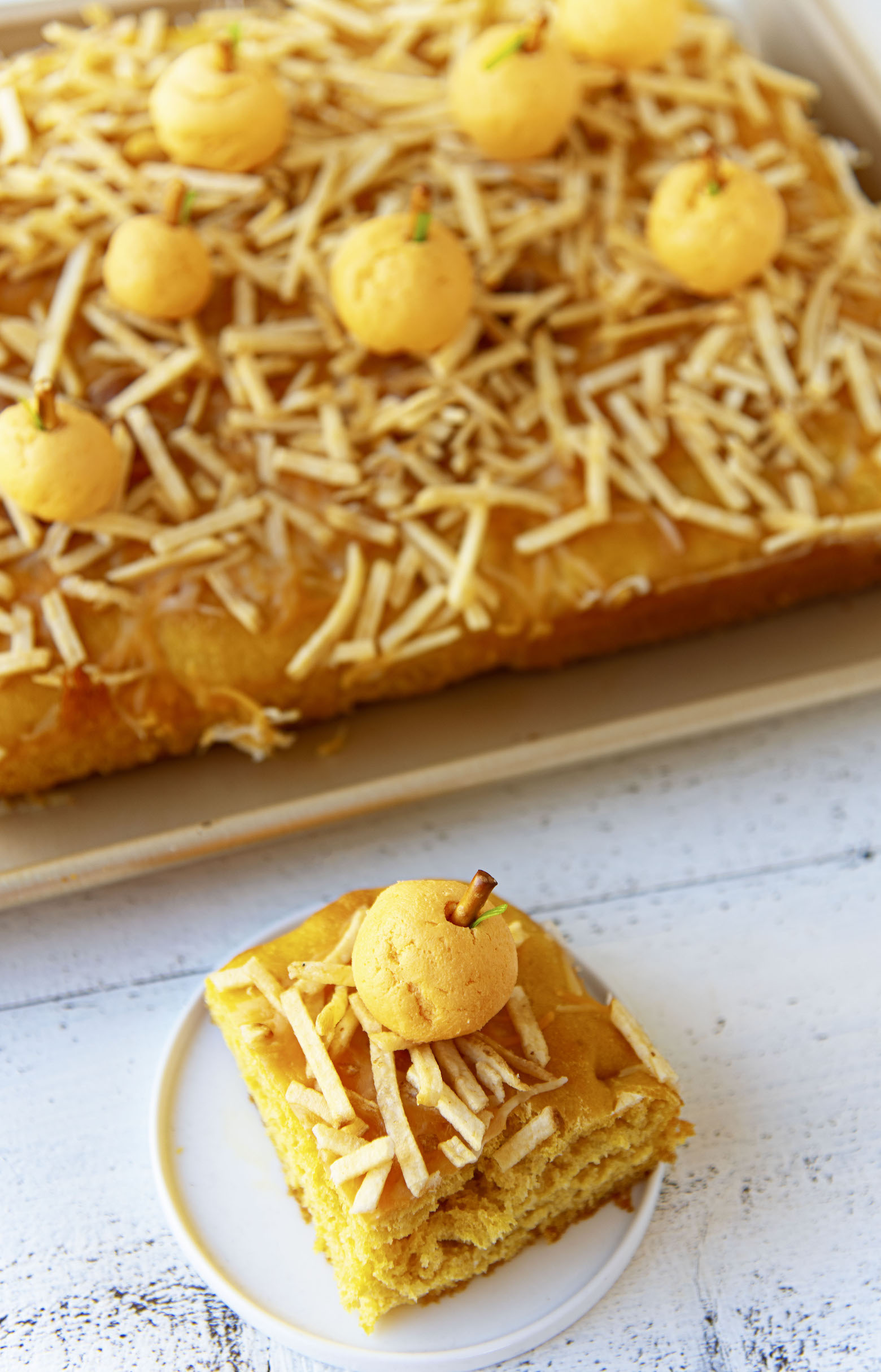 You basically want enough cheese pumpkins so that each piece you cut will have a pumpkin.
Because you want to use the cheese to spread onto the focaccia.
The cheese pumpkins use a pretzel stick and in my case green onion as a leaf.
If I had parsley leaves that would have been cute.
But I didn't have any…so onion it was.
And as always it's a great day to order my cookbook.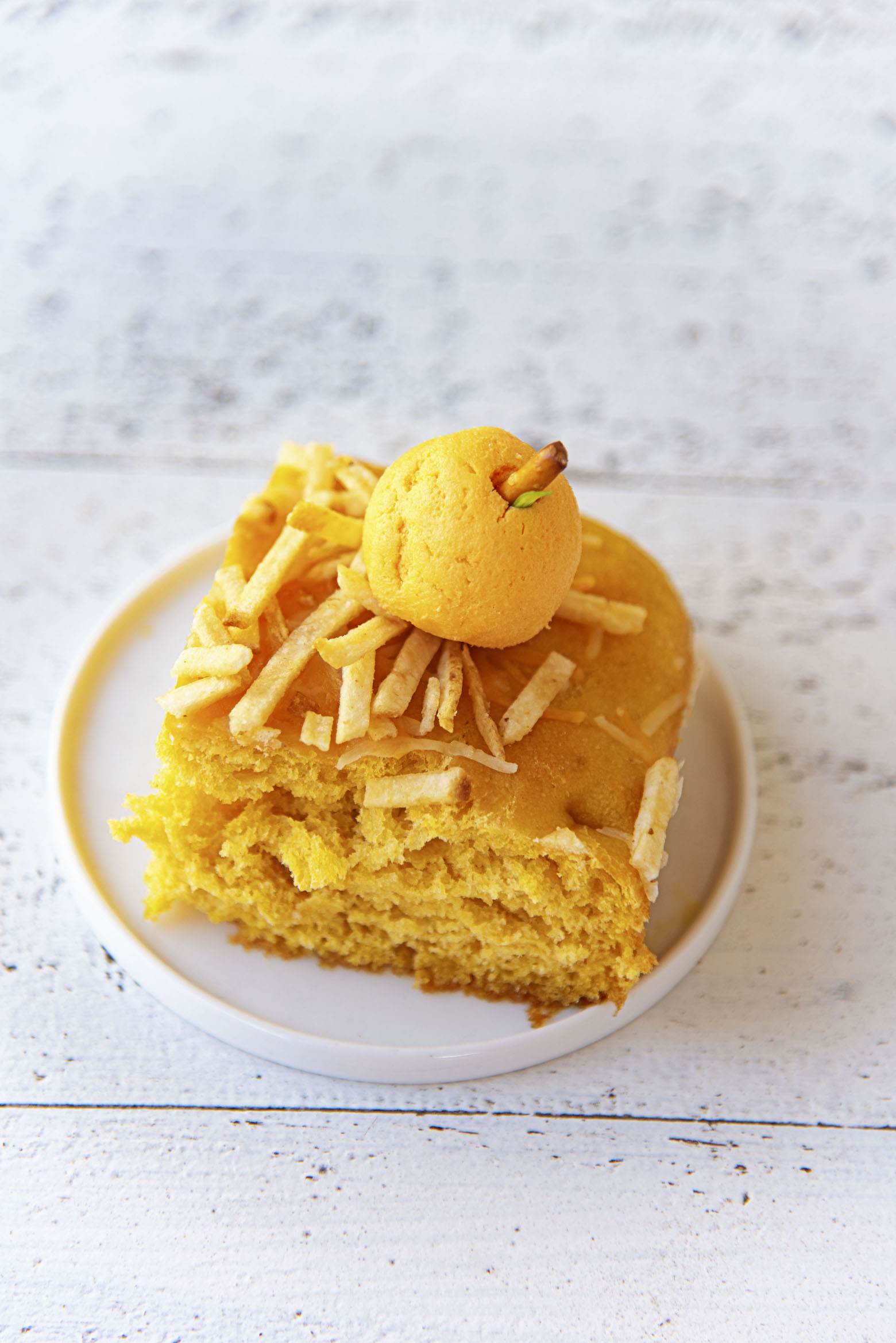 Want More Bread Recipes?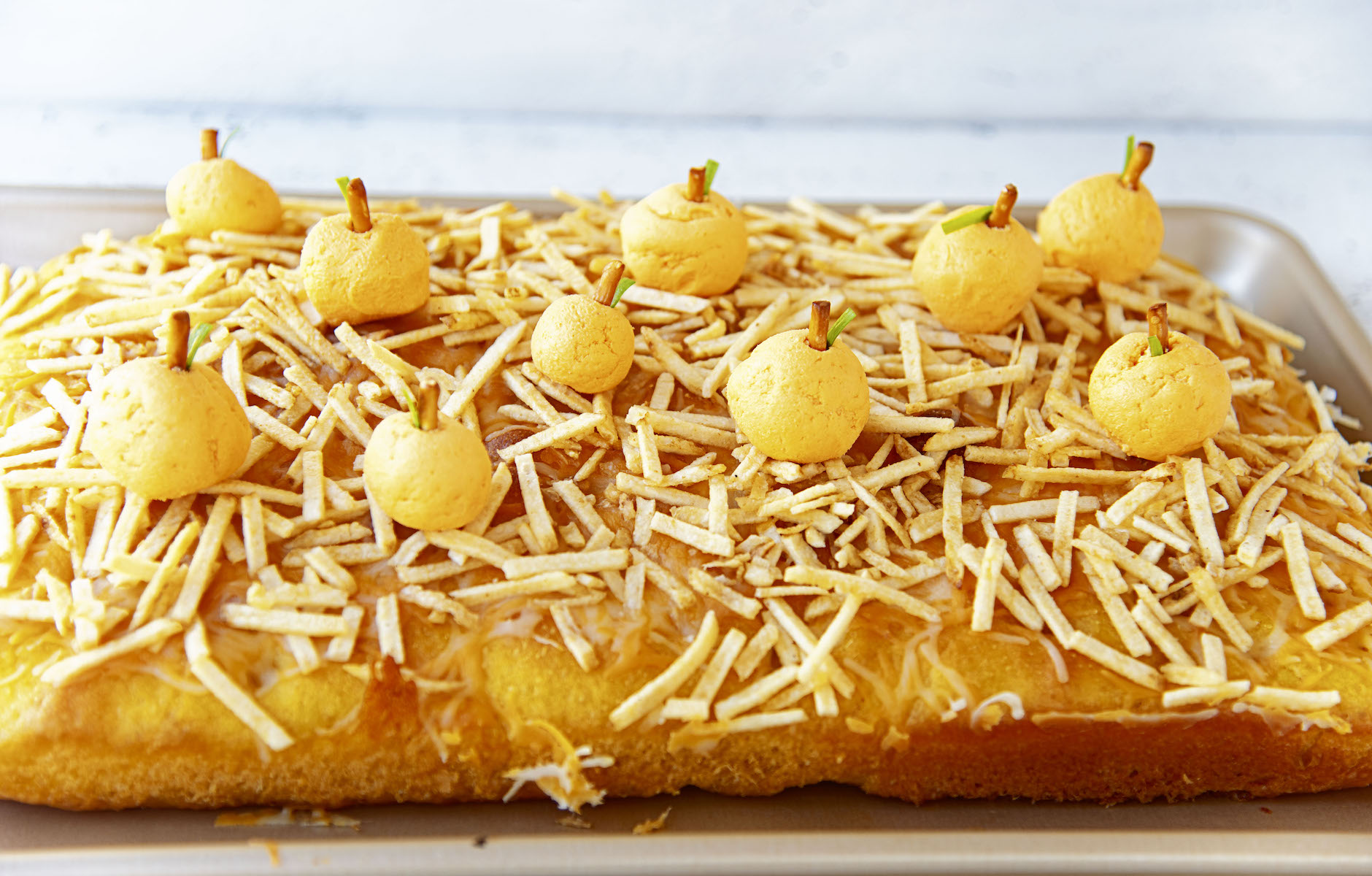 Pumpkin Patch Focaccia
Ingredients
For the Focaccia:
1 3/4 cups warm water (100-105F)
2 1/4 tsp active dry yeast
1 TBSP honey
5 cups all-purpose flour plus more for your workspace
⅔ cup pumpkin puree (not pumpkin pie filling)
1 TBSP kosher salt
½ tsp fresh grated nutmeg
¼ teaspoon dried sage
1 cup extra virgin olive oil
1 cup finely shredded cheddar cheese (mine was a mix of cheddars)
2 cups Pik-Nik Shoestring Potatoes
For the Cheese Pumpkins:
8 oz container cheddar pub cheese
4 butter-flavored pretzel spindles or sticks, broken in half
parsley leaves or green onion slivers for garnish
Instructions
In a bowl, stir together the water, yeast and honey. Let it sit for 10 to 15 minutes until foamy.
In the bowl of your stand mixer, add the flour, pumpkin, 1 tablespoon of salt, nutmeg, sage, 1/2 cup of olive oil and the yeast mixture.
Stir, using the dough hook, until the mixture comes together.
Knead it on medium-low speed for 5 to 6 minutes. If it's super sticky, sprinkle in a bit of extra flour. You want it to be silky.
Put the dough in an oiled bowl and cover it. Place it in a warm spot and let it rise for 1 hour, or until it's doubled in size.
After it's doubled, place the remaining oil in a 15 1/2 x 10 inch jelly roll sheet pan.
Place the dough in the sheet pan and turn it over to cover it in the oil once, then press and spread it until it fits in the pan (or almost fits in the pan. it's going to rise again!).
While doing this, press to make finger marks in the dough so it looks like traditional focaccia.
Cover the sheet pan and place the dough back in a warm place to rise for another 30 to 60 minutes.
Preheat the oven to 425 degrees F.
Uncover the pan and add another sprinkle of sea salt and drizzle of olive oil.
Bake the bread for 15 to 20 minutes, until it's golden and toasty. Remove from the oven and immediately sprinkle on the cheddar cheese over the entire bread.
Place back in oven for 1 minute, just for the cheese to melt.
Immediately add the shoestring potato chips and push them into the cheese so they will stay in place.
For the Cheese Pumpkins:
Line small serving plate with waxed paper.
Roll pub cheese into a ball (you can do them all the same size or different sizes...I went for different sizes).
Refrigerate 10 to 15 minutes for easier handling.
Just before serving, insert pretzel halves into cheese balls for pumpkin stems and use either green onion or parsley for leaves.
Once the focaccia bread has cooled to room temperature add the cheese pumpkins to the top of the bread (scattered) and serve.

HAPPY HALLOWEEN!!!
Welcome to 2022's #HalloweenTreatsWeek event!
#HalloweenTreatsWeek is a yearly Halloween blogging event that is hosted by Angie from Big Bear's Wife . This event is an online, week-long event that is filled with some amazingly wicked Halloween treats and recipes from some fantastic Halloween loving bloggers!
For this years 5th annual #HalloweenTreatsWeek event we have 20 hauntingly talented bloggers that are sharing their favorite Halloween recipes throughout the week! You can following the hashtag #HalloweenTreatsWeek on social media to collect all of these frightful recipes to use at your own Halloween parties and events!
Make Sure to check out all of the fun Halloween recipes that we're sharing this week!
Check out all of these great #HalloweenTreatsWeek recipes for today