This Strawberry Balsamic Jam Flatbread is completed with mozzarella, feta, arugula, fresh strawberries, and balsamic glaze.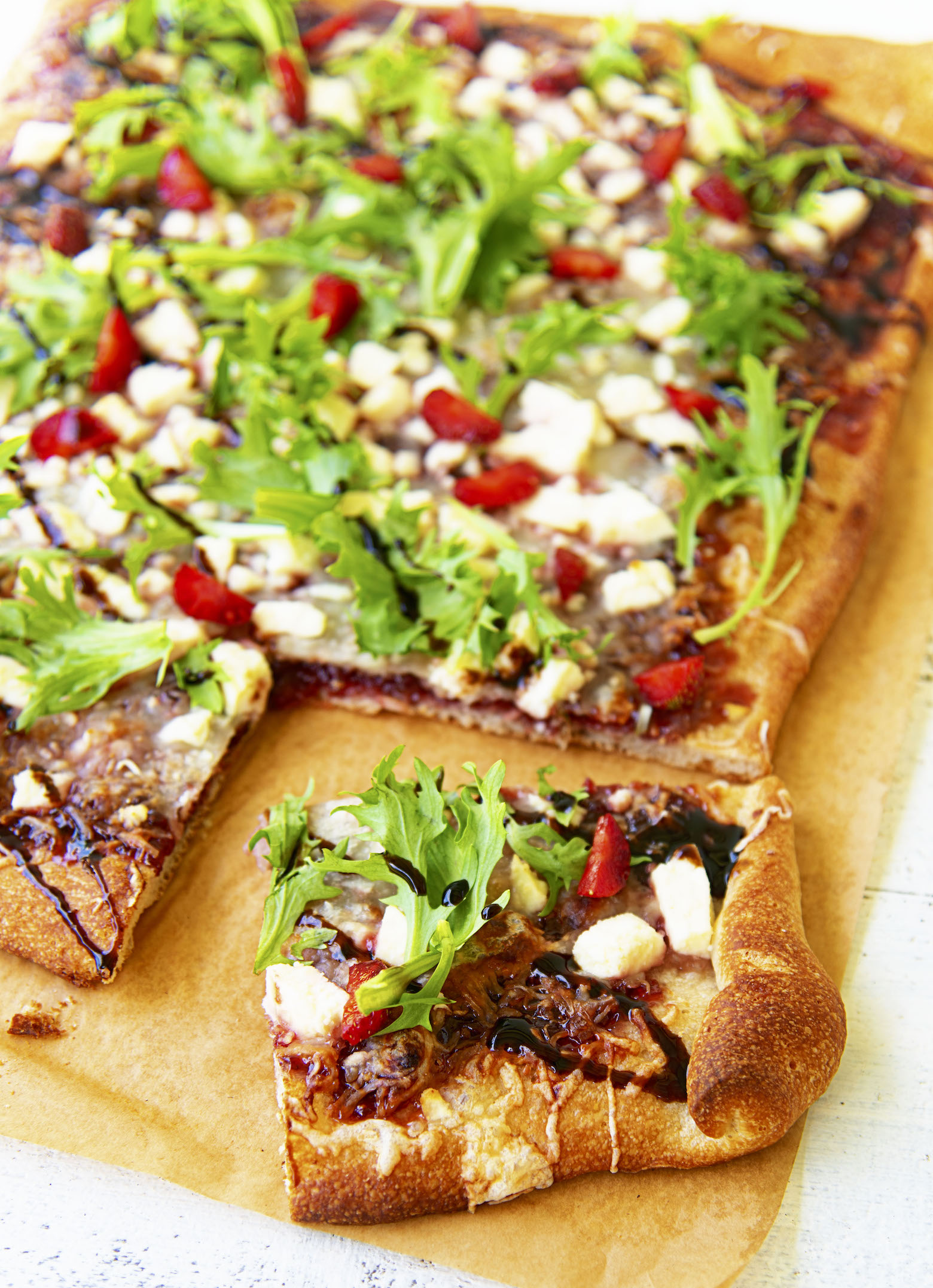 This Strawberry Balsamic Jam Flatbread is the perfect way to celebrate summer.
All summer long my house is filled with flatbreads that are topped with a sweet and sour savory jam.
Just depends on what season it is.
This year, due to our cold June and now warm July a lot of our fruit is all out at the same time.
And I'm kind of in fruit overload.
Which is a good thing and a bad thing.
Because I just can't keep up.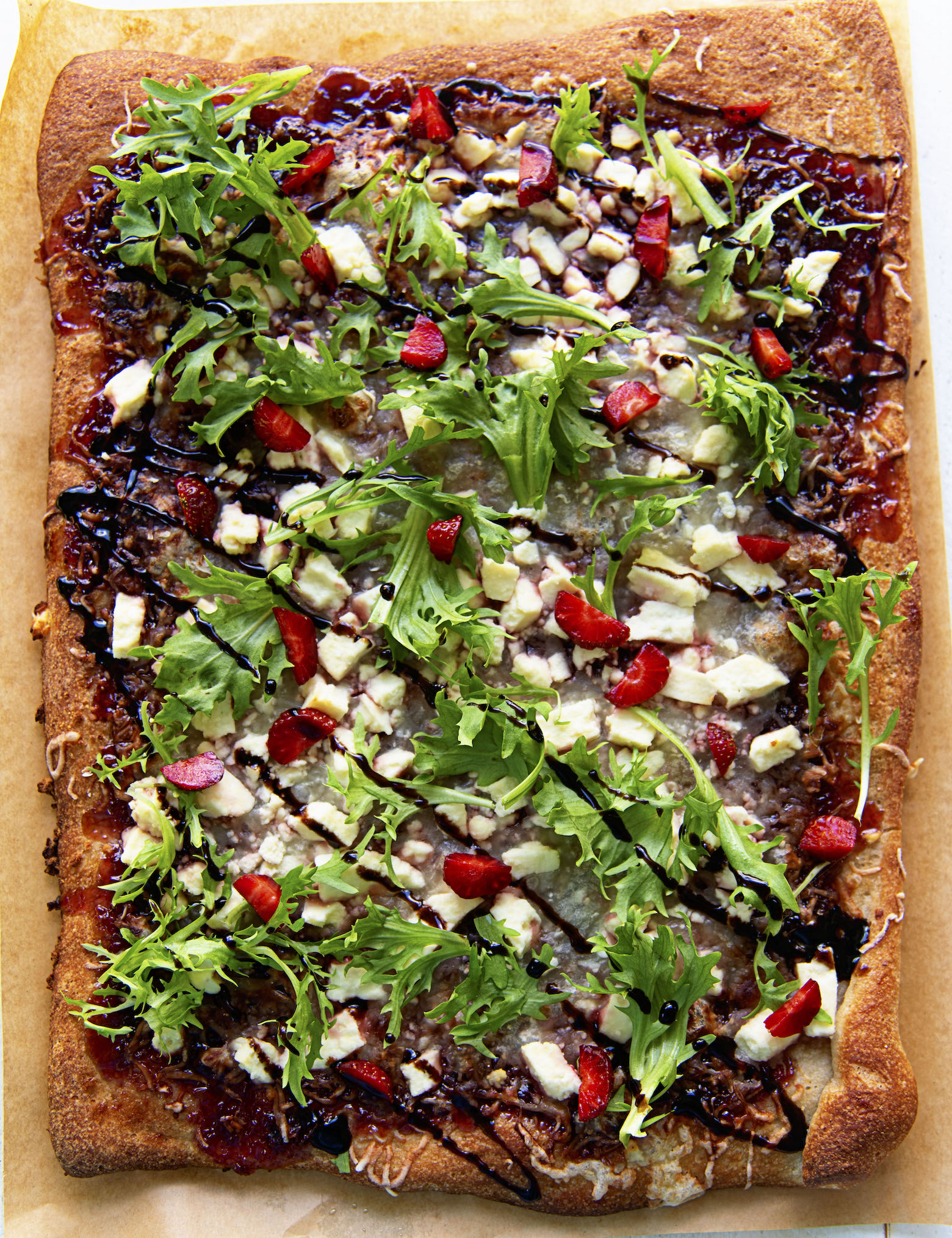 However, this year I think I can.
In a way.
Now my usual way is just to eat a ton of fruit and make fruit and onion jams.
But my freezer broke a few weeks ago.
Luckily, I have two fridges, but the main freezer went out.
Sadly, I learned that Kitchen Aid makes a crappy, yet very expensive refrigerator.
However, in all of that we ended up getting a stand up freezer.
Which it turns out I never realized I needed until we got it.
Because I finally have space to freeze fruit!
Which is a big deal to me.
Because while you can get some fruit year round frozen, the more interesting varieties like tayberries and golden raspberries you cannot.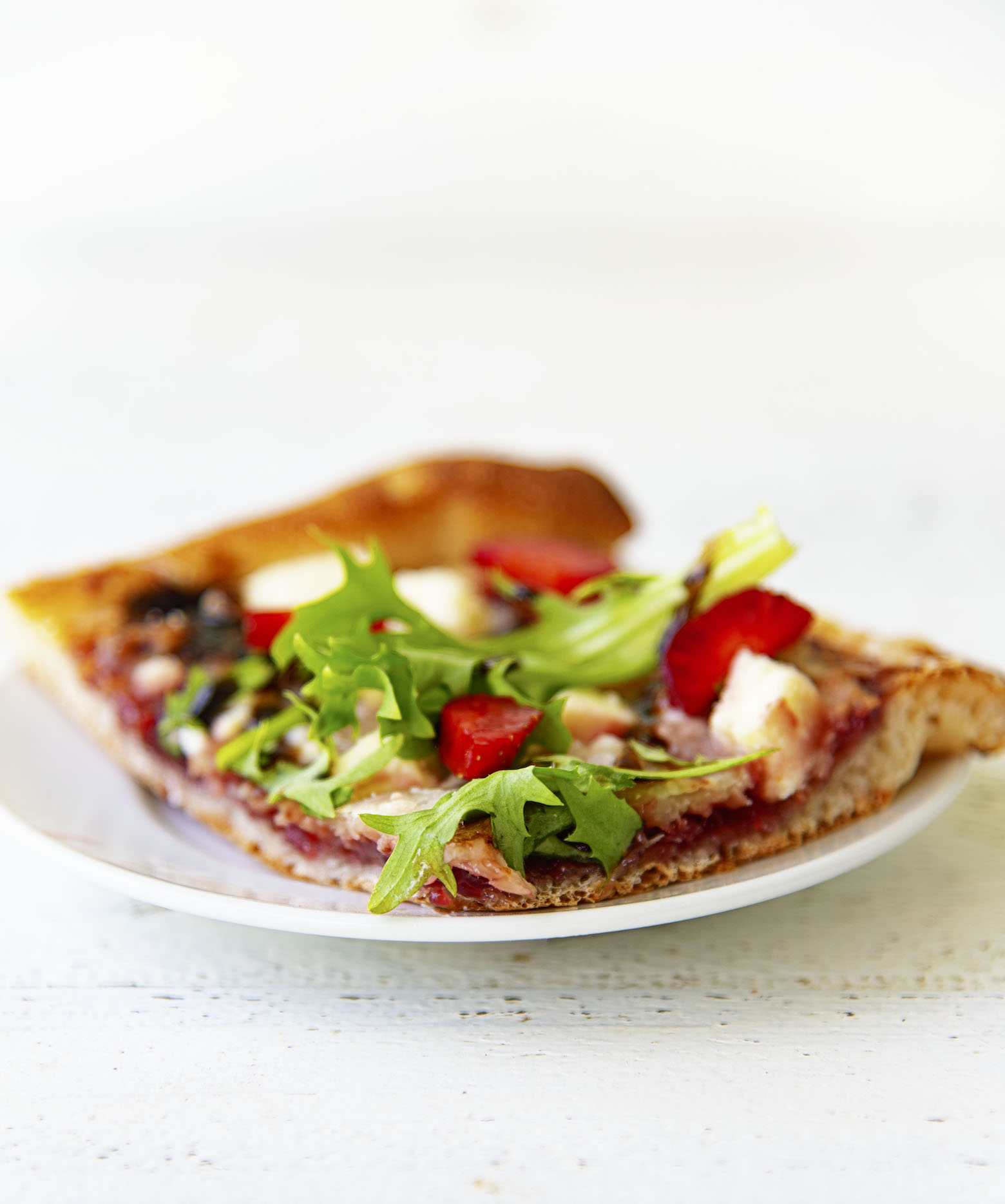 So that means while I may not be able to have them fresh I can make fruit onion jams and cobblers all year long instead of trying to eat 6 cobblers a week. 🙂
Though I do enjoy eating a cobbler a day. 😛
It also means I can freeze some of the produce from my CSA that I also never fully get through each week.
Granted, not all things can be frozen, but many can.
I only wish we had the stand up freezer before all the local strawberries ran out.
While we did have local strawberries I made this flatbread.
Which turned out fantastic.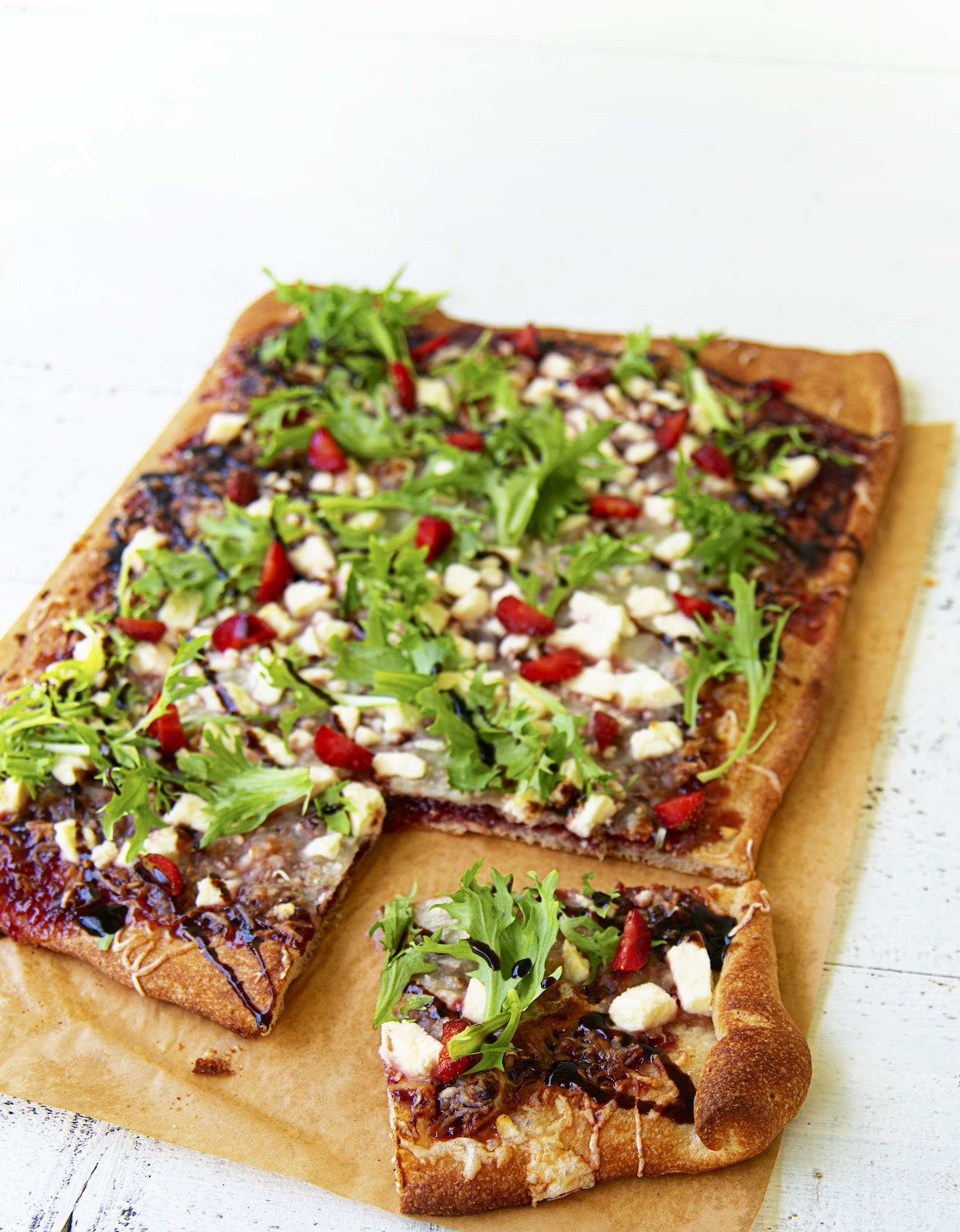 Can I make the jam with frozen berries?
While I always prefer fresh when making flatbread (because I like the fresh fruit on top) you can use frozen.
As I said above I got a new stand up freezer and have become a fruit freezing crazy lady. 🙂
As opposed to my usual crazy lady.
Do I have to use the cheese you did?
No you do not.
Mozzarella, goat cheese, feta cheese, cream cheese, brie cheese, and any soft cheese goes well with strawberries.
So any combo of those can work.
I would just make sure that one of your cheeses is good at melting.
While I love feta it doesn't melt that great. As where mozzarella does.
P.S. It's a great day to buy my cookbook Holy Sweet!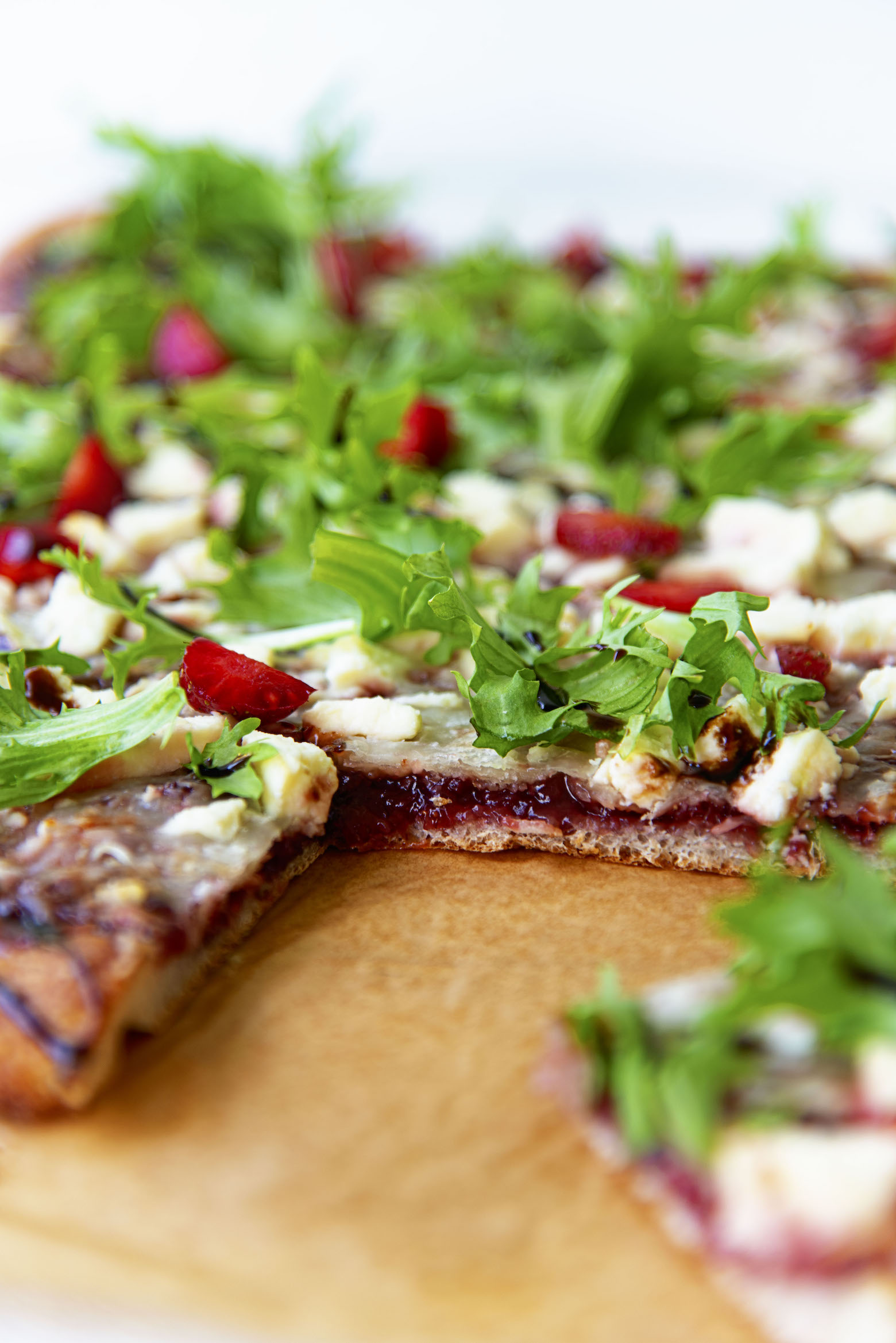 Want more appetizer ideas?
Cheddar Cheese Green Olive Nuggets
Gorgonzola, Walnut, and Pear Jam Flatbread
Baked Brie with Caramelized Onions and Candied Walnuts
Mini Manchego Cheesecakes with Apple Onion Jam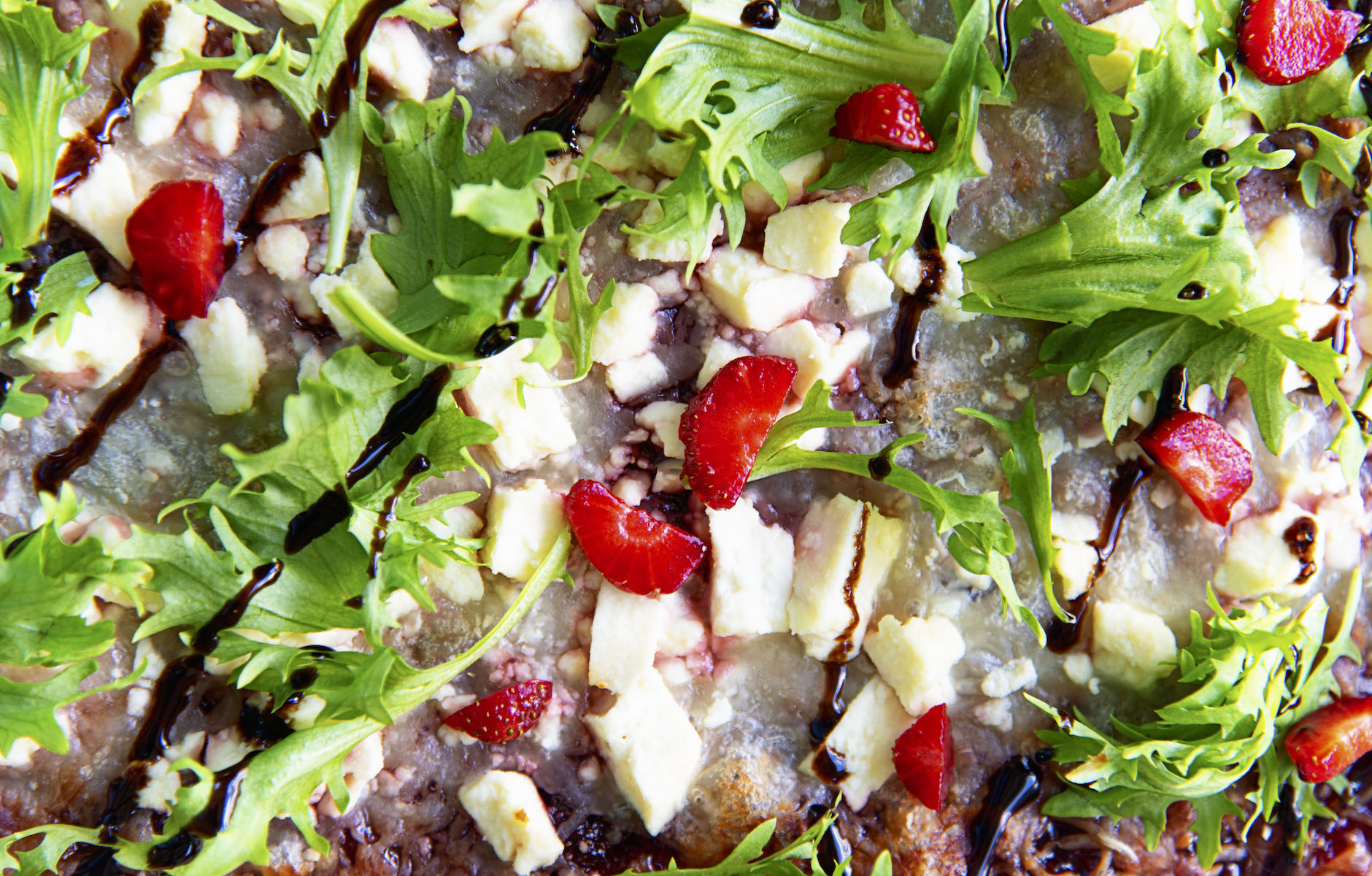 Strawberry Balsamic Jam Flatbread
Ingredients
1 batch pizza dough (recipe follows)
1 cup feta cheese
1/2 cup mozzarella cheese
1 batch Strawberry Balsamic Jam (recipe follows)
1 cup sliced fresh strawberries
3 TBSP balsamic glaze
handful of arugula
For the Pizza Dough:
3/4 cup warm water (105°F to 115F)
1 envelope active dry yeast (I used Red Star Yeast)
2 cups (or more) all-purpose flour
1 tsp. granulated sugar
3/4 tsp. salt
3 TBSP olive oil
For the Strawberry Balsamic Jam:
1 TBSP oil
2 large sweet onions (such as Walla Walla or Maui)
3 cups fresh strawberries, hulled and cut into quarters
1/2 cup balsamic vinegar
1 cup granulated sugar
1/2 cup apple juice
Instructions
To make the dough:
Pour 3/4 cup warm water into small bowl; stir in yeast.
Let stand until yeast dissolves, about 5 minutes.
Brush large bowl lightly with olive oil.
Mix 2 cups flour, sugar, and salt in processor.
Add yeast mixture and 3 tablespoons oil; process until dough forms a sticky ball. Transfer to lightly floured surface. KNEAD dough until smooth, adding more flour by tablespoonfuls if dough is very sticky, about 1 minute.
Transfer to prepared bowl; turn dough in bowl to coat with oil.
Cover bowl with plastic wrap and let dough rise in warm draft-free area until doubled in volume, about 1 hour.
Punch down dough.
Roll out dough and cut into a rectangle or leave rustic.
For the Strawberry Balsamic
In a large saute pan over medium heat add 1 TBSP oil and onions and cook until tender and become translucent in color.
Add the remaining ingredients and reduce to a low simmer.
Let the ingredients cook down, stirring about every 10 minutes, until they for a syrup or jam like consistency, this will take about an hour or so.
To make the flatbread:
On a lightly floured surface pat out dough evenly with your fingers, keeping hands flat and lifting and turning dough over several times, into a 9-inch round. (Do not handle dough more than necessary. If dough is sticky, dust it lightly with flour.)
Dust a baker's peel or rimless baking sheet with flour and carefully transfer dough to it.
Jerk peel or baking sheet once or twice and, if dough is sticking, lift dough and sprinkle flour underneath it, reshaping dough if necessary.
If you do not have a peel, the back of a cookie sheet works in a pinch.
Bake without topping for 5 minutes.
Remove from oven and spread on jam.
Sprinkle with mozzarella cheese and feta cheese and place back into oven for another 10 minutes until things get bubbly.
You are going to want to watch this since the sauce has a higher sugar content and can burn.
Remove from oven and top with fresh strawberry slices and arugula.
Drizzle with balsamic glaze.